Go Ahead And Ask: Marshall Amplification
Marshall Amplification answers ten of your questions.
Some of us make gear, some of us play it, and, in our case, some of us work at a media company that aims to keep everyone informed. That's why we facilitate this discussion every month. There are certain conversations that need to take place just between us gearheads. This month, we wanted to give you a chance to ask the folks at Marshall Amplification a few questions.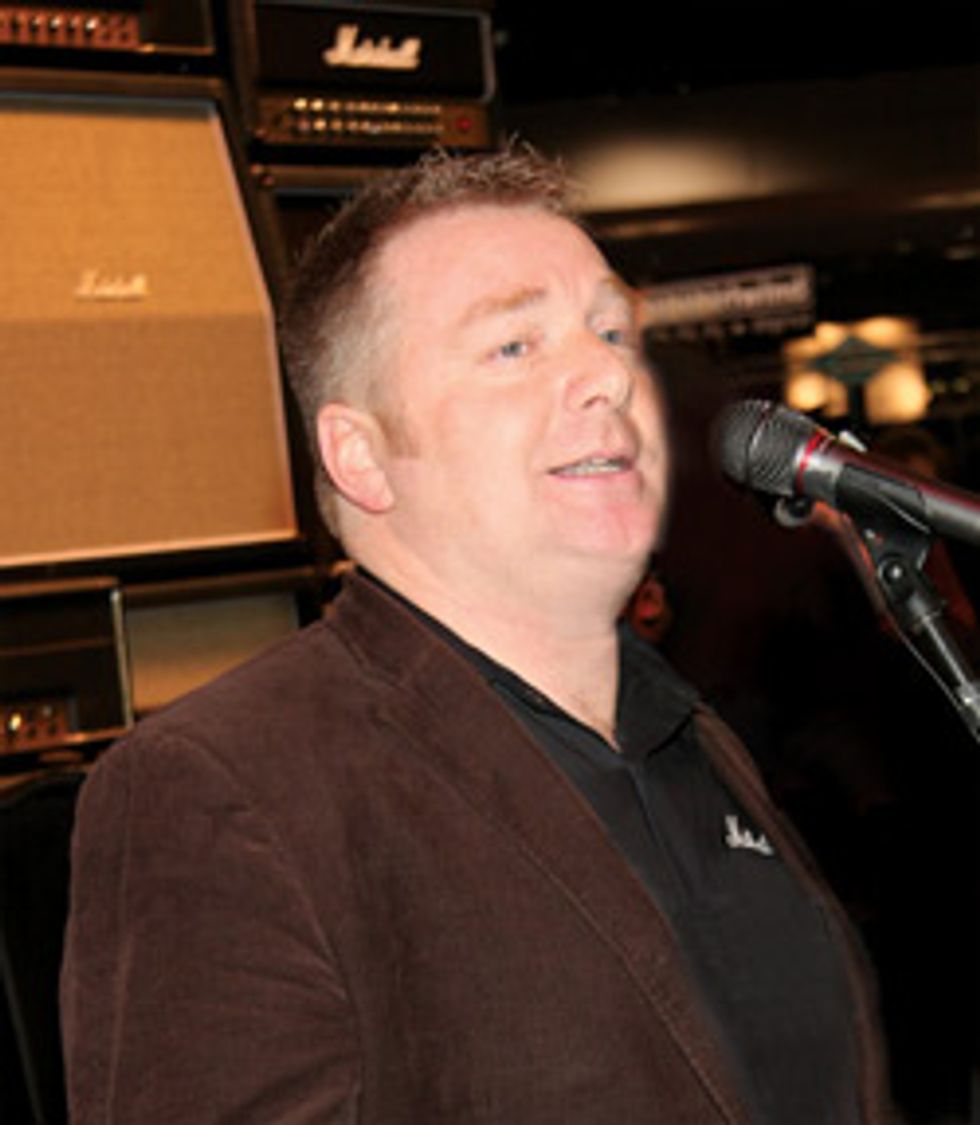 Dr. Jim Marshall, OBE                                     Paul Marshall

Company founder Jim Marshall's face is undoubtedly one of the few that belongs on the gear version of Mount Rushmore. His tones are already immortalized in rock. Many of his amps, like the JTM-45 and the JCM-800, are more than just amps. In the greater scheme of things, they're now categories of amps—iconic to the degree of being tonal reference points for a global industry of gear makers wanting to emulate and digitally model those tones both out of respect and demand. The list of players to impact the world with Marshall amps is literally endless when you consider that the historic notables—Townshend, Hendrix, Rhoads, Mustaine, and Slash, to name a few—continue to be joined by new generations of players. Quite frankly, much of rock and roll's history is Marshall's history.

Below are 10 of the questions you submitted to us, answered by Dr. Jim Marshall, OBE, his son Paul Marshall, and various company engineers.

1. With the popularity of the Silver Jubilee series and the release of the limited-edition Slash amp, does Marshall have plans to release more amps based on the Silver Jubilee? Those are great amps and it would be nice if you retooled and re-released a similar amp. —Todd Cralley, Santa Maria, California

You are absolutely right. The Jubilee was and is a great amp. It is still used today by many people. For instance, Joe Bonamassa uses one in his rig. At the moment, there are no plans to release the Jubilee again, or indeed another amp based on it. However, we work with many artists and listen to what guitarists around the world—both professional and amateur—are telling us, so you never know what might happen in the future. —Paul Marshall, Artist and Customer Liaison Manager

2. I've got a 25/50 Jubilee head/speaker combo that I bought secondhand a few years ago. It's a little bit battered but sounds fantastic. I'd love to know a lot more about these incredible amps—the history, the circuitry, the secret to why they just sing. —Steve Cohn, Lower Hutt, Wellington, New Zealand

The Silver Jubilee was released in 1987. The line included the model 2555 100-watt head, the 2550 50-watt head, the 2558 50-watt 2x12 combo, the 2554 50-watt 1x12 combo, and the 2553 50-watt short-chassis head. A range of cabinets were produced, including the 2551A and 2551B 280- watt 4x12s, and the 2556A and 2556B 2x12s. From 1988-90, the Jubilee range continued to be manufactured as the Custom range, with standard Marshall black vinyl and a gold panel. In 1996 and '97, we reintroduced the 2555 as a very limited-edition Slash signature head and 4x12 cabinet. This was Marshall's first signature amplifier, and it continues to be much sought after. —Marshall Amplification Service Staff

3. What is the most important Marshall amp in existence? Which model is it, where is it, and can I come play it? — Roger Blocker, Santa Fe, New Mexico

It must be Number 1. It was a defining moment in the history of Marshall—it set the Marshall tone. Unfortunately, you cannot play it. However, you are more than welcome to visit Marshall in Bletchley, Milton Keynes, England, to have a factory tour so you can see how we manufacture our product. You can then visit the Marshall museum, where Number 1 is on display. If you would like, you could always play in our Marshall theater on the stage that has seen the likes of Gary Moore, Dave Mustaine, Zakk Wylde, Slash, Kerry King, and Yngwie Malmsteen play, to name but a few. —Jim and Paul Marshall

4. Which amp is Jim Marshall's favorite? You're not supposed to have favorite children but I'm very curious as to whether or not a particular amp is special to him and why. —Kelly McRae, Carmel, California

I think the JCM 800 2203 is probably another defining moment in the history of Marshall, so it could be called one of my favorites. Also, you might be aware that my (Jim Marshall) car carries the private registration [license plate] "JCM 800." For many players, the 100-watt 2203 became the amp to have—and it still is today. In fact, we still sell this amp as a reissue, and the Kerry King signature amp is a 2203, as well. —Jim Marshall

Another amp we are soon to launch, a second Slash signature, has an interesting story behind it. It could be a 2203—or a 1959 or a 1959T. Either way, the mod that was performed turned it into a modified 2203. I have heard the prototype, and believe me when I say it sounds amazing! —Paul Marshall

5. On the back of some Marshall amps there are three bias test points. Is the middle point the ground? —Dave Green, Deadwood, South Dakota and Bruce Deuchars, Milwaukee, Wisconsin

The center pin on the three-pin bias socket is at the same potential as the chassis. The bias presets should be adjusted by a qualified engineer. —Marshall Amplification Service Staff

6. I would like to ask about the 4x12 cabs of the late '60s and early '70s— for me, that is the tone to die for. Wasn't there a cab loaded with 20-watt Celestions speakers? Which model was it? I'm thinking G12M. —Don Wingle, Lakewood, Ohio

The 20-watt speakers were fitted to early 4x12s from 1963-64. —Marshall Amplification Service Staff

7. I own a 4x10 slanted cabinet with red Tolex. Can I still obtain parts specific to this cabinet? (By the way, UR AMPS F@$KIN RAWK!!!!) —Jay Spencer, Longwood, Florida

Our service department carries a wide range of replacement parts for our back catalog. When we are unable to offer original components, we can usually offer an alternative of similar or often superior quality. I'd suggest you contact our service department through our website, marshallamps.com. —Paul Marshall

8. I'm a really big fan of modern Marshalls, but are there any plans to reissue handwired versions of the uber-classic Bluesbreaker combos and the JTM45 head? I think those are the amps all the "real" tone connoisseurs are waiting for. I want one of each! —Mitch Keen, Swindon, Wiltshire, United Kingdom

We still produce the 1962 (Bluesbreaker) and 2245 (JTM45), which are mainly handwired. They contain a preloaded circuit board that is then handwired to the valve bases, transformers, potentiometers, etc. With regard to a fully handwired version, we are always striving to bring products to market that are relevant to our customers' needs and wishes. So never say never. —The Marshall staff

9. You've done quite a few reissues of classic Marshall amplifiers over the years. Are you going to do a reissue of the 200-watt Marshall Major? —Kevin McKenna, West Covina, California

We don't have any plans to reissue the Marshall Major at this time. We are concentrating on developing our current range of products and we are working very closely with a number of artists on some very exciting new products in the pipeline. —The Marshall staff

10. I'm the proud owner of two Mode Four MF350 heads. Why was this amp discontinued? It's probably the best amp you guys have ever made. —Mickey Thomas, Chicago, Illinois

Glad to hear that you are a proud owner of two MF350s. We still make the MF350, although it is now one of our special-order items that can be ordered from the factory in Bletchley, Milton Keynes, England. —The Marshall staff

Next month
For next month's "Go Ahead and Ask," head online to premierguitar.com/goaheadandask and let us know what questions you'd like to ask pickup pioneer Larry DiMarzio.