Juliet Collective Circadia Pedal Review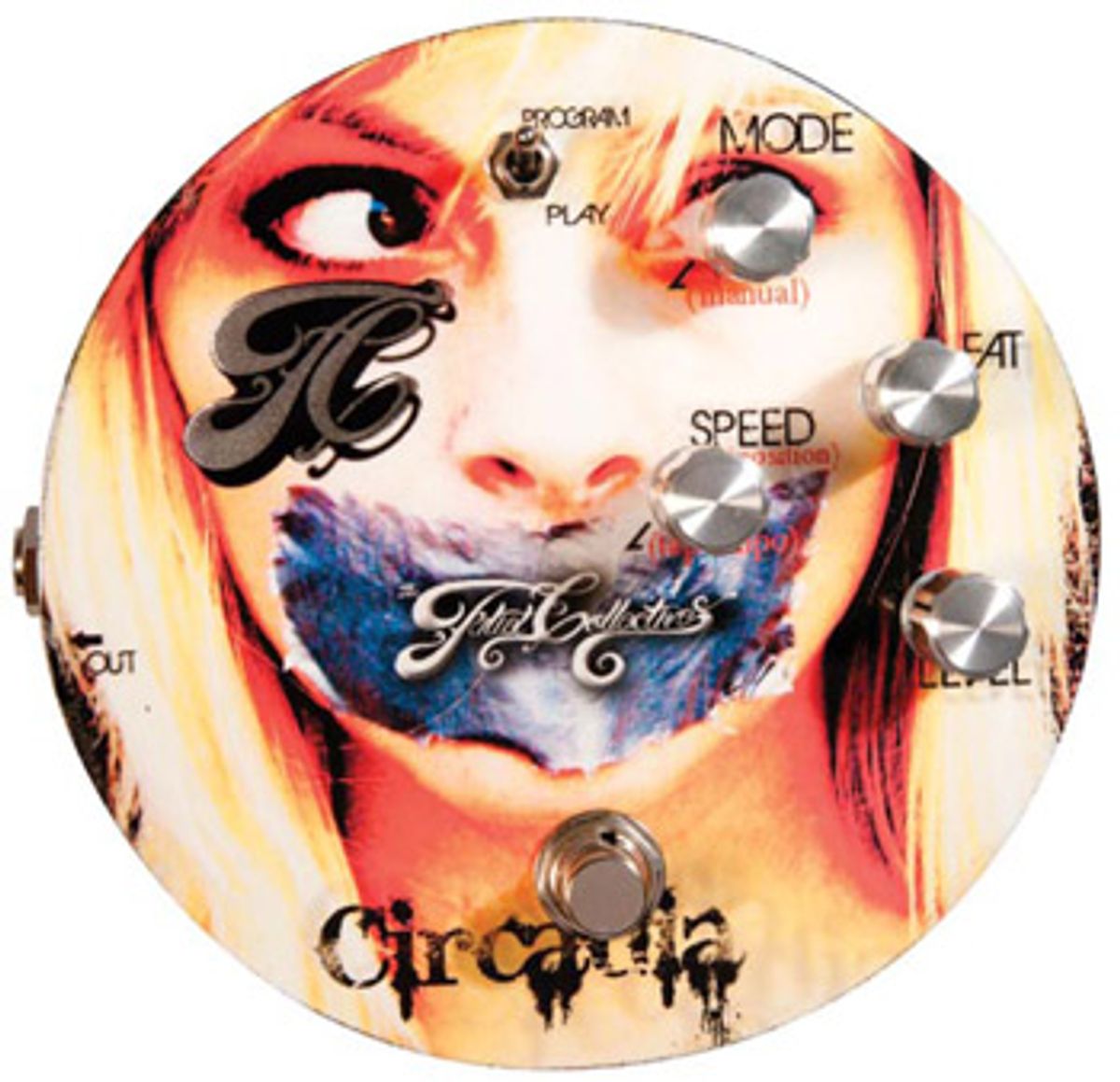 The Circadia polyrhythmic auto wah is the perfect embodiment of the Juliet Collective's philosophy. Not every player will find a need for one, but those who do are likely to cover interesting new ground.
Even in today's golden age of boutique stompboxes, not many pedal builders embody the boundlessly imaginative, renegade spirit of pioneers like Electro- Harmonix, Morley, and Mu-Tron quite like Mississippi's Juliet Collective. As a peek at any of the Collective's short YouTube videos illustrates, they like to do things their own way—traditionalists be damned. Juliet Collective's irreverence is more than just posturing, though: The young company, which is headed up by a partnership that includes designer Robbie Spears, builds pedals that break away from established templates and rewards adventurous approaches to the guitar. The Circadia polyrhythmic auto wah is the perfect embodiment of the Juliet Collective's philosophy. Not every player will find a need for one, but those who do are likely to cover interesting new ground.
In Search Of…
The Circadia is nothing if not an eyeful. The graphics, which are actually screened onto a thin piece of plastic and applied to the round metal chassis, aren't likely to be mistaken for anything else on your pedalboard. The control set is a little unconventional, too, and it takes a few minutes of playing with the thing before you really understand how they work together.
The Mode function enables you to scroll through the Circadia's preset polyrhythms, which play behind your picking, and the presets range from cool, Bolerostyle 3/4 rhythms to drum-and-bass-type syncopations and four-on-the-floor beats. Rhythms are visually represented through the glowing, multicolored JC logo on the left of the pedal, which looks a lot like a lighted disco floor.
The tempo of any preset can be altered with the Speed knob, which can take your preset rhythm to the stratosphere or slow things to a glacial crawl. Twisting it completely counterclockwise selects tap-tempo mode, which is activated by turning the pedal off and then on again.
The Fat knob makes wah swells rounder and more vowel-like as you turn it clockwise. The Level control is both aggressively voiced and reactive—especially when you use the Fat knob to create resonant peaks. At high Level settings, the peaks can be downright dangerous, but set just right they can be a funky accent for solos.
…The Lost Wah
Thanks to the polyrhythm presets, the Circadia does things that no ordinary wah or auto-wah can do. Slow, odd-meter tempos create cool, wah-like swells ideal for rhythmically oriented ambient work or slower soul and blues tunes—and they can also inspire cool counterpoints to a vocal melody, or even a whole drum part.
For the latter reason, control freaks may have a hard time with the Circadia. It often does seem to have a mind of its own. And it may, at times, ask you to play to what it's doing instead of the other way around. But jamming away in my rehearsal space with a drummer, a syncopated rhythm played off a simple funk rhythm became a whole new groove, mood, and song. In this way, the Circadia has the potential to be one of those magic bullets when you're in a compositional rut. It may not have the answer you were looking for, but it can lead you down paths you may not have known to exist.
Tweaking the Fat knob gives you a Funkadelic-/Garcia-esque envelope filter effect, regardless of the tempo, and the resonant peaks can punctuate percussive picking in an intriguing way.
The Verdict
The Juliet Collective Circadia will take you on an adventure every time you plug it in. However, it demands that you release a lot of preconceptions about how a pedal should work—and at times you almost have to regard it as an accompanist or an additional member of your band who leads the way. The controls aren't entirely intuitive, either, but this isn't really a pedal for a player who wants things neat and easy, anyway. Sign up at your own risk, but get ready for a wild ride.
Buy if...
you're fearlessly adventurous and intrigued by the thought of an auto-wah that sometimes seems to have a mind of its own.
Skip if...
4/4 time is about as tricky as you like to get.
Rating...