Premier Collector #1: Kramers, Coronados & More
Our first Premier Collector has a slew of Kramers, along with Gibson RDs, Charvel Surfcasters, Kents and more!
Mark Schwarzel let the gear speak for itself when he sent in his expansive collection. Pictured are Mark''s 108 guitars and basses from Kramer, Fender, Gibson, Kent, and Charvel.
You, too, can have your collection featured on PremierGuitar.com and in our weekly
Backstage Pass e-mail updates
. Just
drop us a line
with some photos of your guitars, amps, effects or any combination of the above, along with any interesting gear stories, and you could be featured next.
Kramer Series XL5, XL24 and XL98, plus the Simmons Axe
Kramer Series Wedge and Flying V
Kramer Headless Guitars
Kramer Series DMZ5000, DMZ6000 and Stagemaster Deluxe
Kramer Series DMZ1000, DMZ2000, DMZ3000, DMZ4000 and DMZ4001
Kramer Series 250, 350, 450 and 650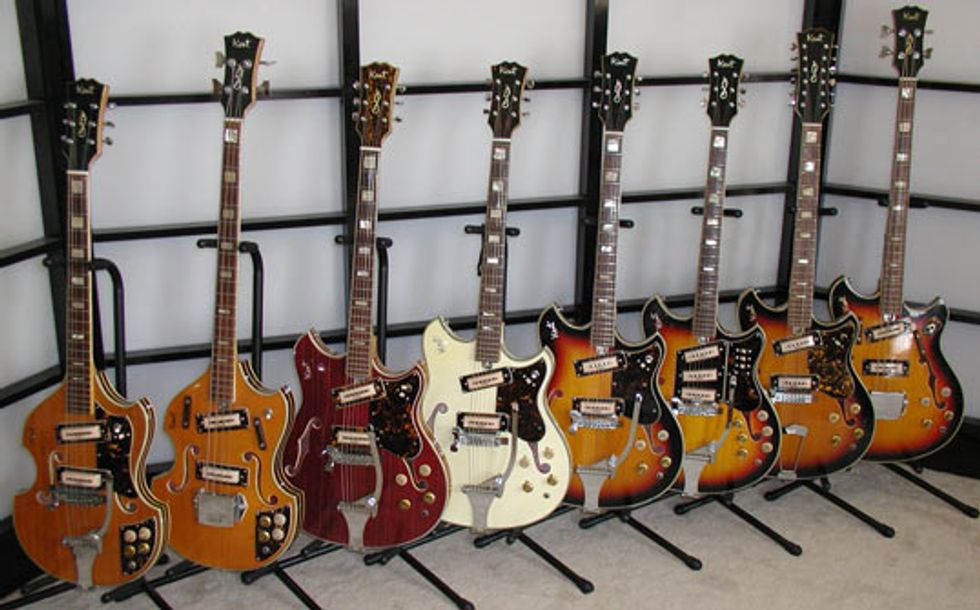 Collection of Kents
Charvel Surfcasters
Gibson Les Pauls
Gibson Flying Vs
Gibson Reverse Vs
Gibson RD models
Gisbon Firebirds
Gibson ES-335s
Fender Coronados
To have your collection considered for Premier Collector, just
e-mail us pictures and descriptions
. It doesn''t have to be the biggest or oldest, and it doesn''t even have to be guitars -- we love amps and effects as well. Send all requests to
rebecca@premierguitar.com
.