Premier Collector #4: Oddballs
Upwards of 50 guitars -- some of which are so unique you have to see them to believe it.
A few things struck us about Russ Dunn''s collection. First, was the variety -- he''s no Fender or Gibson devotee. Second, was the amount of one-of-a-kind, handpainted and modified guitars. Finally, we were convinced to show off Russ'' collection when we realized that it represented one thing: a love for the instrument. There''s nothing snooty about his collection -- no vintage treasures or high-end masterpieces -- instead you''ll see a collection of guitars that Russ just plain likes.
"The physical guitar for me is an art piece," Dunn explains. " I really don''t know if there is any consistency in my collection. Some I bought because of the beautiful wood and finish. Some had a really cool shape. Some are just plain weird and unique."
His collecting hobby began as a way to boost his motivation to play. "I played a little bit in college, and then after college I jumped into my career in fiber-optic networking. Working a lot and trying to climb the corporate ladder I found that I never had time to play but seemed to have a little spare cash. I think I started collecting because I believed that if I got a new guitar I would somehow budget my time for more playing and practicing. So, I''d buy another guitar and a few months later another. Before I knew it I had a dozen guitars, then two dozen, and today I think I''ve passed the 50 mark."
Russ now plays worship music at a friend''s church. His rig is simple, just a Line 6 POD XT through a Line 6 Spider Amp, and a Fender Acoustasonic 30 for acoustic songs. He says, "It''s nothing high end, but I can come up with a variety of sounds and it''s easy to blend in with the worship band when you''re trying to imitate other artists'' sounds... I have fun playing with different effects and just adding a little dimension or alteration to the music I''m playing."
To have your collection featured as a Premier Collection, send pictures and descriptions to
rebecca@premierguitar.com
.
"On the far left is a hot-rodded V guitar by Stagg. Yup, those are chorme exhaust pipes coming out of it -- I just have to figure out how to get it to smoke! After that is a BC Rich Mockingbird, which is actually an acoustic thin-body done in transparent blue. After thatis my Star Wars Yoda guitar, which is part of a series of three Star Wars guitars that Fernandez did. On the end is an American flag guitar by Galveston."
"Continuing down the same wall, to the far right is a Fender Strat that I had a local artist paint up to match Eric Clapton''s "Tuxedo" Guitar. Next to it is an Epiphone USA map guitar. Someday I''ll probably woodburn the states into it. Third in line is a Kramer Pacer guitar that I had custom painted with a Mustang theme. If you look closely, you can see a flaming horse running down the neck. I''ve hardly played these guitars; they hang over my staircase and are pretty much just for show."
"The natural-finish guitar that is partially cut off is a Washburn N2 Nuno Bettencourt model -- a true shred guitar with great neck action. After that is my BC Rich 10-Bich. This is the more recent recreation of the original that was introduced in the late seventies. I loved this guitar from the first time I saw it in a Jefferson Airplane video -- with four of the strings strung backward and the tuning pegs down past the bridge, this guitar was an awesome design and concept.
"The acoustic "skeletal" one was just something I found on the internet. The sides come off, so I suppose it could be a good travel guitar. The orange-red burst guitar on the end is made by Hohner and it''s a really nice playing and sounding guitar. The bridge has a switch that locks the tremolo in place, which could be a handy feature if it fits your playing style. The quilted finish with the orange to red burst is gorgeous."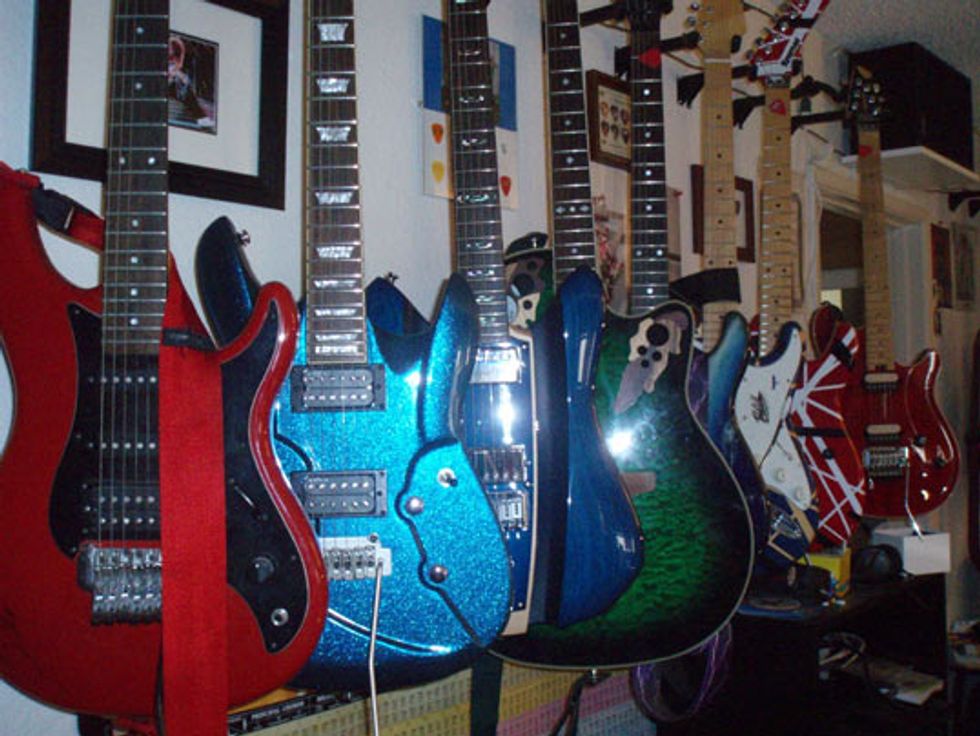 "The red guitar in the front is my Yamaha. This is one of my favorite and most played guitars, as well as being the one I''ve had the longest. I bought it in college in ''88. It''s quite versatile with H-S-S pickup configuration and a coil tap for the
humbucker
. The guitar plays like a dream and anytime I take it in to get a professional setup done I always get complimented. I recently met Lincoln Brewster at a worship seminar and he signed the guitar for me.
"The blue sparkle guitar behind it is by Switch-Wilkinson. It''s actually a hollow guitar for better sustain. It''s a unique and attractive guitar and also plays really well. Behind it is another blue guitar with an interesting contour. The sides are beveled out, and you can actually remove the body piece and still play it -- sort of like a Steinberger. It''s a wonderful and beautiful instrument made by RKS with a very innovative design. Then the green acoustic is my Ovation A/E. This is my favorite acoustic; it has really nice tone whether it''s plugged in or not and the neck action is almost like that of an electric guitar."
"Along the same wall as the previous picture, I have a couple of my Eddie Van Halen guitars. The blue one with gold stripes is one that I put together with guitar parts that I had on hand and painted myself. The pick guard is signed by Eddie. The 5150 striped guitar is another homemade, but it''s a little more authentic. It has the Kramer Baretta body and the neck was constructed with the "banana" shaped headstock. The body was painted by an artist I found online who specializes in painting Eddie guitars. The red on on the end is one of Eddie''s signature Peavey Wolfgang guitars that I ordered with the red flame-top finish. The white one in the middle somehow jumped into the picture with the Eddie guitars. It''s a Yamaha RGX A2. It''s very light and it''s actually not made of wood but some kind of composite material. It''s plays great and I enjoy just practicing around the house with it."
"This picture is my Strat corner. The one to the left is a very unique guitar, and I''m not sure of its history. The serial number indicates that it''s a ''79 Strat. It has DiMarzio pickups with active electronics and a Kahler tremolo. The frets are fat and shaved a bit, and the neck action is so low a newborn could probably play it. The guitar is very heavy and I actually get a sore back after a couple hours with it. I''m not sure what the wood is.
"The next one is a 24 fret Stagemaster with Semour Duncans. This guitar is a real shred machine and the finish is just beautiful with the birdseye maple veneer. Next on the right is the Eric Clapton that I described before. Finally, because I''m Scott-Irish, is the Celtic Strat. Satin silver paint with black chrome hardware and a Celtic Knot at the 12th fret."
"Here are a few more of my electrics. In front is my Ibanez JPM 2000 -- The John Petrucci Model with the Picasso graphic. I thought these guitars were really cool, and when I finally found one it played so well. It''s another great shredding guitar. Behind it is another of my BC Rich Bich guitars. This one is custom-painted with a Coke theme by a local airbrush artist named Daneen, who also painted my Mustang guitar and the Eric Clapton "Tuxedo" guitar. The silver sparkle guitar is an Orange County Chopper guitar by OLP. The red and black swirl guitar that is partially hidden is an Ibanez RG series guitar. You can''t see it in this picture but it has the handle cut-out like the JEM guitar."
"This picture shows my wall of acoustics. Each one is unique. From left to right, first up is a 1999 Takamine AE Limited Addition. It has a mountain scene inlaid with wood around the soundhole and the 12th fret has a snow covered mountain done in shell inlay. Next is an Ibanez acoustic with a very cool curly maple top. The headstock actually broke off this guitar and was repaired. The result is a great playing great feeling guitar. The middle guitar is a Hohner acoustic that actually sounds and plays quite nice for the price, but my attraction was the Golden Gate Bridge that was wood-burned into the body prior to finishing. I currently live in the San Francisco Bay area and the Golden Gate Bridge is one of my favorite places to visit. A Washburn single cutaway is next in line. This is the Craig Chaquico model with Phoenix inlays in the neck. Craig is one of my favorite players and after one of his shows I got to meet him and have him sign it. You can see the signature just below the bridge. The guitar on the right is the Takamine 2003 AE Limited Addition. It features a beautiful soaring eagle inlayed around the soundhole in wood and shell and an eagle eye at the 12th fret."
"Here are most of the rest of my acoustics, some I play and some are just for display. The teal colored acoustic on the left is a Jay Turser guitar. It has a beautiful eagle inlay at the soundhole position and the sound hole is in the shape of its wing (more or less). I''m not real happy with the tone of this guitar, but it''s a beautiful eyepiece. Next one to the right is a Yamaha FG with an aftermarket mic installed in the soundhole. This is a great playing instrument with great general acoustic tone. It''s signed by Phil Keaggy (next to the bridge) whom I met at a worship music seminar and is also one of my favorite players. In the center is a Dean Acoustic V. It''s unique and cool and didn''t break my wallet, so I got it for my collection. The 12 string in the back is a Takamine AE. This was the first 12 string I ever purchased. It plays nice, but I''d like to find one with a fuller low end. On the right is a Carvin thin body 12 string. The sound isn''t much to brag about but this is a beautiful looking instrument with blue transparent finish over a flametop and gold frets and tuners."
"This picture shows my Raven guitar and an acrylic guitar. The Raven is one of my favorites -- it''s great to play and it looks awesome. The neck action is incredible and the guitar is superbly well built. The gold hardware on the transparent purple quilt top is stunning. This guitar is probably in my top five best players. The acrylic guitar is by Grand, and is really just one I felt I should have in my collection. The second picture is an OLP double neck. Nice playing instrument with a cool sunburst finish on quilt top body."
"The silver guitar with the colored marks is a homemade guitar. I bought the separate parts and completed it to my liking. I''m not sure who made the body, but the neck is a Kramer. I installed the Floyd Rose tremolo and all the electronics are Carvin. My favorite feature of this guitar is that each pickup has an on/off switch so I can use both the neck and bridge pickups if I want. The artwork is airbrushed by Daneen.
"The yellow guitar isn''t a mistake or a severly blemished clearance item. This is a Dewey Decibel "Flip-Out" Guitar. It''s so strange and unique it''s actually cool. These are well-built, quality instruments that are actually stage worthy, but for me it''s just part of the collection.
"Finally, the red Hawaiian tiki idol-looking guitar is probably more of a novelty than anything else. I bought it because it was unique and the price was right, but the guitar plays fine and the artist did an incredible job with it."
Premier Collector #3: Vintage Fender Amps and Guitars
Premier Collector #2: Gibson Customs and Modded Marshalls
Premier Collector #1: Kramers, Coronados and More