Standards of the Industry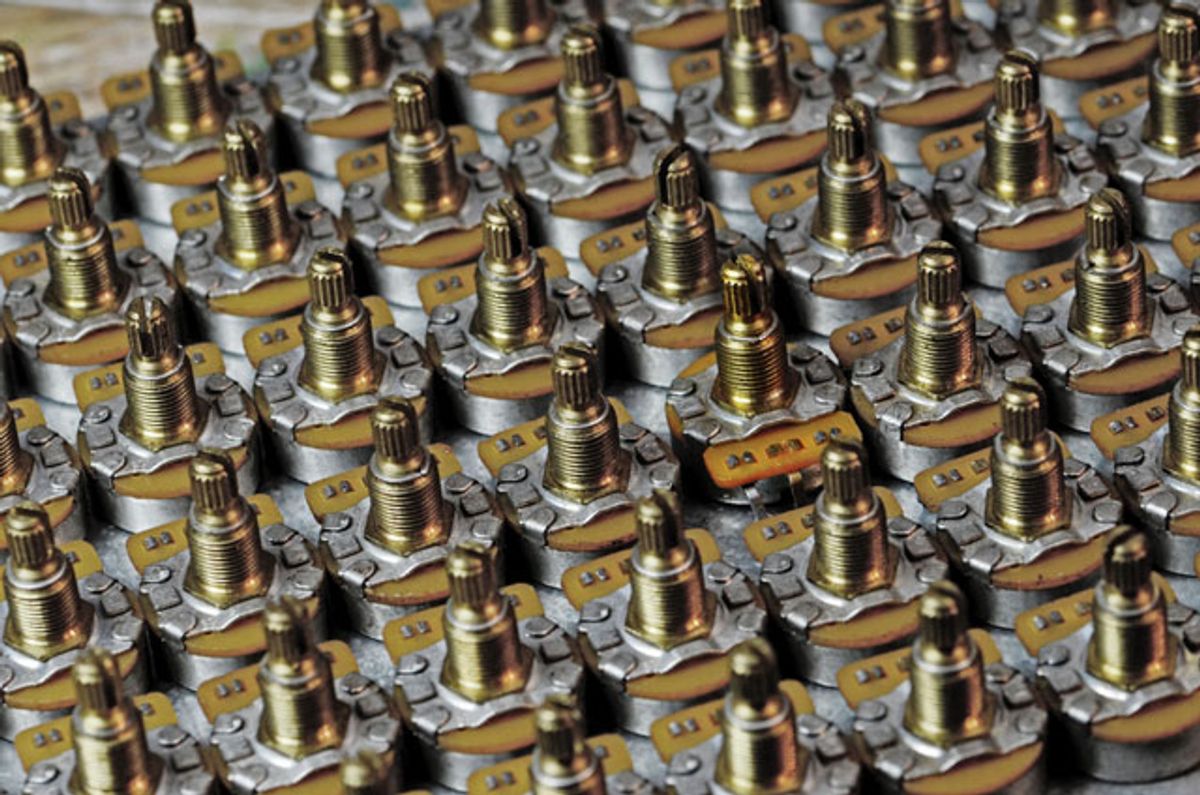 With the availability of standard parts like the potentiometers shown here, along with today's CNC technology, are most modern-day guitars actually built, or are they really just assembled?
Giving shop tours is one of my favorite activities, and I've done quite a few over the years. The payoff is always when visitors get to the point where the guitar-building process seems so overwhelming to them, that they get that deer-in-the-headlights look. As their eyes start to spin like pinwheels, I'm often worried that I've bored my guests close to death with explanations of wood-cell structure, equilibrium moisture content, grain orientation, proper joint prep, adhesive selection, and finish atomization. But to my amazement, more times than not, they explain their condition with a statement about how they never realized—and are now impressed by—what it really takes to make a guitar.
I've been lucky, because I've had the experience of working in shops that make guitars from scratch. Sure, there are always going to be components and sub-assemblies that are purchased from contract vendors. I mean, who makes their own tuning machines or potentiometers? But for the most part, my experience has been creating instruments from raw materials to specifications that are not interchangeable with other guitars. That's to say that my fretboard won't automatically pin to somebody else's neck, and "brand X" neck won't be pitched in exactly the correct way to bond to my body. When I design a pickguard, for instance, my only concern is that it fits my guitar. Of course, this isn't always the case with building guitars. In fact, in terms of sheer numbers, it's usually the other way around.
After World War II—and following on Henry Ford's earlier lead—Leo Fender perfected the production-friendly, bolt-on-style solidbody instrument that has become the king of all guitar forms. The notion that a fretted instrument could be screwed together from interchangeable components and sub-assemblies was possibly the most brilliant and revolutionary idea our boy Leo ever came up with. At the time, the use of what's known as "standard parts" was certainly nothing new in the manufacturing world, but Fender was the first to apply it to guitars. And though the term might conjure up visions of industrial bins brimming with nuts and bolts, it's really much more interesting than that. The following is how the FAA defined standard parts in their advisory circular 21-29:
"A part manufactured in complete compliance with an established industry or U.S. Government specification which includes design, manufacturing, test and acceptance criteria, and uniform identification requirements … The specification must include all information necessary to produce and conform the part and be published so that any party may manufacture the part."
Now, I don't think for a moment that Leo was systematizing designs for anything other than internal efficiency. Making a buck was the name of the game here. But the very last part of the FAA's definition is interesting, because the subsequent explosion of Fender's sales—combined with their product's simplicity of manufacture—did indeed create a de facto industry standard. Patents, trademarks, and the will to defend them aside—the very nature of the bolt-on guitar invited replication. Beginning with the whisper of aftermarket-replacement parts and, over time, reaching the crescendo that it is today, the bolt-on slab guitar is the musical equivalent of the Shelby Cobra, with more copies available than genuine articles. In fact, there are so many small shops turning out replica guitars that there is a cottage industry for parts suppliers that deal only with "builders," as opposed to enthusiast musicians.
Sign some endorsement deals with dudes sporting black nail polish and plenty of piercings, hire a few hot babes to wear your T-shirts at NAMM, and badda-bing, you're a brand.
There is also an abundance of CNC (computer numerical control) machining woodshops right here in North America. And they churn out component parts for what are essentially assembly companies that market the finished instruments under their own name. Hell, if you're lazy enough, you can just buy the finished product with your own logo already on it. Sign some endorsement deals with dudes sporting black nail polish and plenty of piercings, hire a few hot babes to wear your T-shirts at NAMM, and badda-bing, you're a brand.
There's plenty of this going on, but if you really want to go big-time, you'll need the capabilities and efficiencies of offshore manufacturing. And it's not hard to find. A month rarely goes by without an email finding its way to my inbox from some factory in Asia fishing for business. Some of these outfits I've visited, some I've only heard of, and others are complete newcomers, but they all seem to have pretty much the same wares for sale. They are the ghost-building powerhouses that produce and populate what is known as the "private label" guitar business.
The emails I receive from them include lots of photos depicting their manufacturing capabilities—images showing rows of woodworking machinery and carts stacked sky-high with easily recognizable guitars in various states of completion. The final sales tactic—in an unbelievable breach of confidence—is a list of brand names that have utilized their services. Not that it's needed, mind you, because the logos in the photos are clearly visible. But hey, I thought those guys actually made their own guitars!
I know this matters little to most guitarists—those who just want a good instrument at a fair price. Not everybody cares about where their iPhone is made, or for that matter, if their Cadillac is just a Chevrolet with some bling that's hot glued to it. On the other hand, however, consumers will pay extra for the same factory-made shirt if it has a little boomerang symbol on it. Don't get me wrong: I'm not claiming that private-label guitars aren't capable tools. There's a lot to be said for nice paint, solid assembly, and a good setup. It just doesn't make for a great shop tour.
---
Jol Dantzig
is a noted designer, builder, and player who co-founded Hamer Guitars, one of the first boutique guitar brands, in 1973. Today, as the director of Dantzig Guitar Design, he continues to help define the art of custom guitar. To learn more, visit
guitardesigner.com
.