The Best of PremierGuitar.com's "Show Us Your Gear" 2010
We asked you to show us yours—your pedals, guitars, practice spaces, and more. And you did. In droves. Here we highlight some of the coolest, most esoteric, and most mind-boggling pictures submitted to date.
Loads of shiny, new gear comes through the doors of Premier Guitar headquarters every month. We polish the pristine finishes, breathe in the scents of fresh wood and lacquer, and delight in turning knobs and flipping switches for the very first time. But while we'll frankly admit we're in a pretty enviable position to be able to go through this unboxing ritual just about every day of the week, there's something to be said for the romance and nostalgia of storied gear that's served its time. Whether it's put to use on stages or in bedrooms, loved gear often means so much more to us than the brand-new stuff. That's why we introduced a new online feature this year called "Show Us Your Gear." These web-exclusive galleries give you the opportunity to peek into each other's rigs and see what's being used in real life, not just on our review bench. And from the response we've gotten so far, you enjoy these glimpses as much as we do.

So far this year, we've asked to see your go-to guitar, your favorite dirt box, your practice or recording spaces, and your pedalboards. In the following pages, you'll find some of our favorite submissions— but there's a lot more where they came from. We couldn't possibly fit them all in here, check out the rest in the full galleries and make sure to submit your photos for future galleries.

#1 Guitars - See the full gallery here


2007 Gibson Les Paul Custom, Justin Pfeiffer
"I recently purchased this rare Gibson Les Paul Custom in sparkle finish with the rare 'Stinger' on the back of the headstock. It's a 2007 Custom Shop model and is my new favorite. The guitar weighs just shy of 11 lbs. The pictures do not do this one justice—in person it looks absolutely amazing."
1983 Electra X935CS Pro Endorser, Pete Palmeri
"This guitar is more like my best friend. No really, I've spent more countless hours with it than most people I know. It's my favorite (I have 12) because, firstly, look at it, it's just beautiful! It has never let me down, it stays in tune no matter what I do to it. It was not my first, but it was the first one that I really became attached to. It was the only electric guitar that I played on stage during my ten years with a working band. I don't play out anymore, but I do play often, and my Electra is always there."
Artinger Guitars Custom Hollow Sport
"I'd been playing Matt's [Artinger] prototype Hollow Sport model with my trio (instrumental jazz/pop/rock), and for some of the tunes I was writing I started hearing a Bigsby and single-coil pickups. I started talking to Matt and the idea for this guitar took shape: start with the Hollow Sport platform, add a Bigsby, a pair of P-90s (in this case a vintage pair along with a vintage wiring harness), an ebony fretboard with a 25.5-inch scale length, and a transparent green finish over a flame maple top. The back and sides are mahogany with a 'warm natural' finish. The underlying idea was to take an ES-330/Casino (personal references: Grant Green and the Beatles) and Gretschify it some, hence the green color, logo, and inlays (logo and inlays courtesy of my designer friend and fellow gearhead, Tom Kesel). For me, it absolutely nailed the sound and look I had envisioned."
Hamer Monaco SuperPro, Jeff Williams
"I am very fortunate to have several beautiful guitars, but this one with a 25" scale, chambered body and Brazilian rosewood fingerboard just has that 'thing.' The 25" scale gives it the snap of a Fender, while the humbuckers and Brazilian board add the Les Paul mojo. The humbuckers have coil taps, so they become crisp and clear taking on the single-coil realm! I play blues, funk and country and my Hamer lets me do it all!"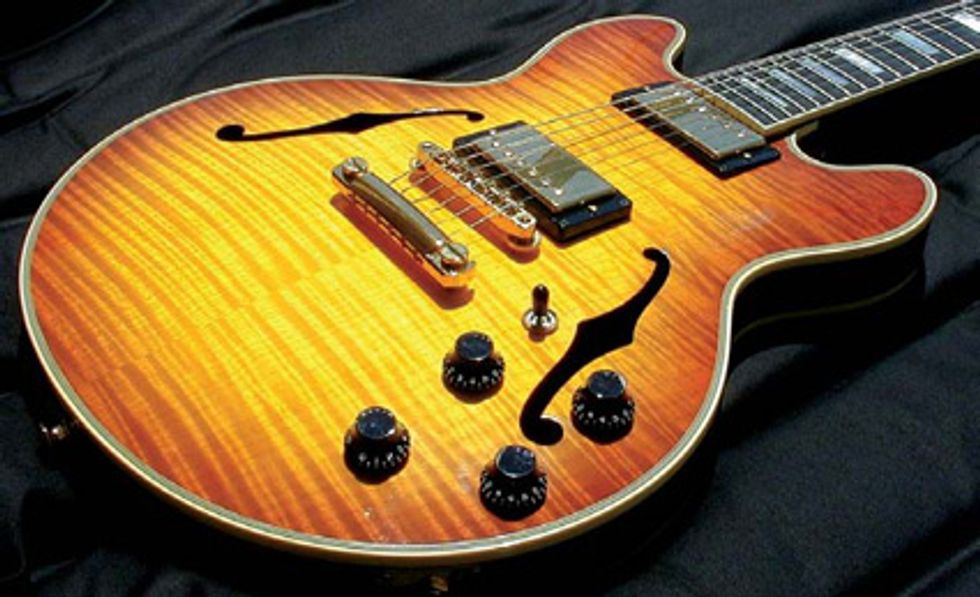 2004 Gibson CS-356, Mike McQuain
"This 2004 Gibson CS-356 is one of a limited run of about 40 that were made in honeyburst with a slim '60s neck for Wildwood Guitars in Colorado. She is all stock except I put speed knobs on her to match my Les Paul Custom. This guitar is my #1 and has the perfect blend of features in my opinion, with a Les Paul-sized body (but a little lighter, it weighs 7 lbs 4.2 oz) and similar tones. The Classic 57 pickups give me everything from a Les Paul's growl and bite to an ES-335's 'woody' tones, and I can even make it sound like a Tele if I play near the bridge on the front pickup and set my amp just right!"
Recording and Practice Spaces
-
See the full gallery here
Polk Street Studios, Teel Merrick
Teel Merrick is the owner of Polk Street Studios in Amarillo, Texas. He says, "I have been an avid reader of
Premier Guitar
for three years now. A good portion of my guitar gear in this studio was bought because of reviews and articles I read in your magazine. This space was opened to provide a vibey space for local players to come and hang out and record. My band from church and I use the space for rehearsal as well."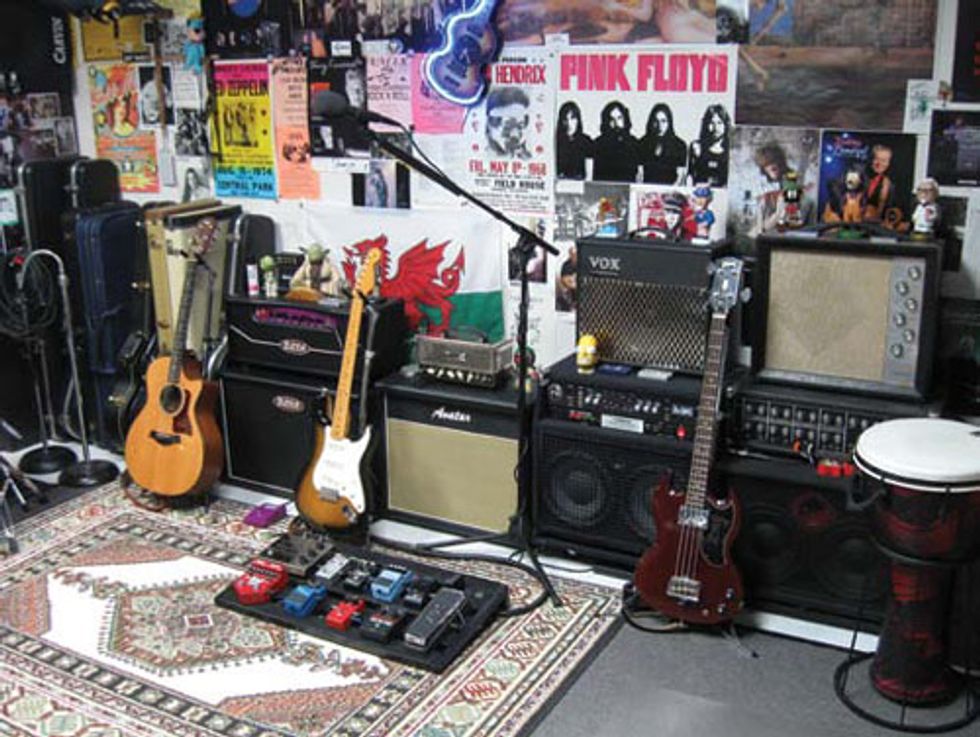 Basement Haven, Jason Lisle
"My practice room in my basement is where I spend most of my time. Currently out are my 2001 Taylor 314ce, 2006 Eric Johnson Strat, and a 1968 Gibson EB-0 bass. The amps shown are a Budda Superdrive 30 II with a Budda 2x12 cab, Vox Night Train with an Avatar 1x12 cab, Vox AD-30VT, SWR Workingmans 2x10c, Silvertone 1472, and an Earth Sound Research Concertmaster with a Carvin 2x10 cab. Also shown is my current Pedaltrain board configuration with a Visual Sound Jekyll & Hyde, Keeley Blues Driver, MXR Dyna Comp, Voodoo Lab Micro Vibe, Vox V847, E.H. Deluxe Electric Mistress, Loop-Master A/B box, MXR Carbon Copy, Boss CH-1, and finally a Korg Pitchblack."
Jerry-Rigged Rig, Dave Gonsalves
"When my amp died off, I recalled seeing an input jack on my old Kimball Organ. Yep, sure enough—it worked! So, as odd as it may seem, this is my current rig: MJ Guitar Engineering Roadster Jr., DigiTech RP255, and Kimball EP12."
Dad's Garage, Daniel Kerwood
Daniel Kerwood, a 14-year-old axe slinger from Texas, says, "My rehearsal space is my dad's garage. He gave it up so my band could practice for our gigs, and to get my Marshall Plexi [reissue, not pictured] out of the house. My main pursuit is the electric guitar, but I also play the acoustic and classical guitars, the piano, and the cello in my high school orchestra."
Favorite Overdrive or Distortion
-
See the full gallery here
Random Device
Thermonuclear Drive, Phil Douglas
"The Thermonuclear Drive from Random Device is my Swiss Army-knife pedal. It is an overdrive/ boost that sounds great with both my tube and solid-state amps. It has a built-in loop to run other effects through—I like to plug my old Big Muff into the loop as it doesn't have true bypass and the OD on the Thermonuclear added to it makes it sound amazing—or you can use the loop without the overdrive or use it as an AB box. One thing I would like to see in other overdrive pedals is it has a switch on it that reduces the voltage, giving it that great half-dead-battery-in-your-overdrive sound without having to use a half-dead battery. It's one of my favorite gigging pedals, and I always get comments on it, just 'cause it looks so damn cool!"
Penfar FX Fat Foot, Jim Woods
"This thing rocks my socks!"
BlueAim Neodrive, John Evosovic
"Impossible to pick just one, but this left field entry is definitely a favorite. Seems similar to a Zendrive in some respects, but definitely has its own vibe. The Middle control, always a useful though usually neglected feature, has the nice sonic effect of sounding as though the speaker cab is being moved forward when turning clockwise."
Visual Sound Open Road, Tre Sheppard
"I've liked the Visual Sound stuff for many years and I've literally toured around the globe with VS pedals, but they really went to a new special place in my heart when this yellow beauty made its entrance. It has loads of touch sensitivity and a wonderfully amp-like drive sound, and it doesn't compress and hump the mids like the green perennial favorite. I like the Open Road so much that it's kicked off several much more expensive, wait-listed, boutique, and esoteric pedals from my live board"
Pedalboards
-
See the full gallery here


Never-Ending Board, Chuck Stevens
Stevens' signal chain goes from a TC PolyTune to an ISP G-String Decimator, Snarling Dogs Mold Spore wah, and Mars Effects Manipulator (programmable true bypass looper) out to the right channel of two 50-watt Trace Elliot Bonnevilles (one 4x10 set to Tweed preamp and one 1x12 set to Plexi preamp) and the left channel of a Hiwatt Custom 50 (with bridged inputs) driving a 2x12 closed back and a 2x10 open-back cab. Loop 1 of the Manipulator is a modified ProCo Rat into a Rocktron Banshee. Loop 2 is a DigiTech Whammy feeding a Snarling Dogs Erogenous Moan volume pedal and an Electro-Harmonix POG2. Loop 3 (which is on most of the time) is a Keeley Compressor feeding a Fulltone GT500 and a Fulltone Mini-Deja'Vibe 2. Loop 4 is a Zoom Tri Metal feeding a WMD Geiger Counter with a Control Voltage pedal. Loop 5 is an MXR Phase 100 routed to an MXR Flanger (18-volt). Loop 6 (always on) is the ISP G-String Decimator in gate function. Loop 7 is a Tortuga Effects Martini feeding an Electro-Harmonix Stereo Pulsar set to slow pan right/left. Loop 8 is two BBE Two-Timers (with the right channel set no higher than 330 ms, and the left channel set to a quick slapback echo).
Experimental Indie Pop Board, Matt Ramey
Ramey's signal chain goes from a Boss TU-2 Tuner to an Electro-Harmonix POG, MXR Dyna Comp, Pigtronix Mothership, Blackstone Appliances Mosfet Overdrive, Electro-Harmonix Germanium4 Big Muff, Devi Ever Legend of Fuzz, Moog MuRF, Electro- Harmonix Deluxe Electric Mistress, Electro-Harmonix The Wiggler, Strymon Blue Sky Reverberator, and a TC Electronic Nova Delay.
Trade Show Board, John Bachety
Bachety used this rig to demo for KW Cabs at the Nashville Amp Expo. The signal chain is a prototype Badgerplex Plural, prototype Badgerplex Vintage Pre, VHT Valvulator I, Pedal Board Patch guitar-out jumpered to Pedal Board Patch guitar-in (for an ISP Decimator Pro Rack G Channel One when using a MIDI four-amp switcher with an effects loop), Real McCoy Custom Wizard Wah, custom-color Keeley 4-Knob Compressor, Build Your Own Tone Klon Clone, Hermida Zendrive 2, Rock Box Boiling Point, Franklin ProDrive, Keeley-modified Ibanez 4x2 Turbo Tube Screamer, Xotic BB Preamp, TC Electronic PolyTune, Badger Effects Dual True Bypass Switch (first switch is MXR EVH Phase 90 on Script setting, second is a DigiTech Whammy), Pedal Board Patch guitar-out to amp or custom MIDI amp switcher. If that wasn't enough, the effects loop contains a Strymon Ola Chorus, Strymon Orbit Flanger, Badger Effects True Bypass Single with a Boss HF-2 HiBand Flanger in its loop, T-Rex Replica Delay, Strymon El Capistan dTape Echo, Strymon Favorite Switch for controlling the El Capistan, and a Strymon Blue Sky Reverberator.
Super-Clean Board, Angelo Toorré
Toorré is a session guitarist from Amsterdam who has used this Paul Lenders custom pedalboard on tour and for musicals. His signal chain goes from a Little Lehle II A/B box to a Dunlop Crybaby 535Q, Korg Pitchblack tuner, Barber Electronics Tone Press, Retro Sonic Phaser, Wampler Pedals Super Plextortion, then to his amp. In the effects loop are a Retro Sonic Chorus, Ernie Ball JR Volume Pedal, T-Rex Replica delay, and a Fulltone Supa-Trem. The power supply is a Burkey Flatliner Pro, which supplies AC power in 9, 18 (for the wah), and 12 volts (for the delay).
Piles of Pedals, Joe Sigretto
Joe has a studio called The Tone Lab in Oakland, California. The board to the left of the wahs is his main board. His complex setup includes a Lehle switcher that he usually configures for two amps, plus the Fulltone Tube Tape Echo and one Echoplex.
Top row, left to right:
DLS EffectsEchoTap delay, Prescription Electronics Experience Fuzz, Keeley Fuzz Head, Z.Vex Fuzz Factory, Keeley-modded Boss DS-1, Build Your Own Clone E.S.V. 2-Knob Bender, Build Your Own Clone Fixed Wah.
Second row, left to right:
Maestro Echoplex, Fulltone '70, Analog Man-modded Ibanez Tube Screamer, Chandler Tube Driver.
Third row, left-to-right:
Maestro Echoplex, Fulltone Tube Tape Echo, (below TTE) General Guitar Gadgets ITS8, General Guitar Gadgets PT80 Analog Delay, BYOC Large Beaver
Pedalboard:
Anlaog Man-modded Electro-Harmonix Deluxe Memory Man, Analog Man Chorus, Malekko Chicklet Reverb, Boss TU-12H Tuner, Prescription Electronics Vibe-Unit, Keeley 4-Knob Compressor, Fulltone '69, MI Audio Boost n Buff, TC Electronic Nova Delay, Paul Cochrane Timmy Overdrive, Hermida Zendrive, Keeley-modded ProCo Rat, General Guitar Gadgets TOCT, General Guitar Gadget FF5 (Boutique Late '60s Fuzz Face). Switching is a Pedalracks.com True Bypass Loop Switcher and Lehle 1@3 Amp Switcher.
Wah Pedals:
Top three are vintage Thomas Organ Co. Cry Baby wahs. Bottom three are Area 51 Wah, Real McCoy Custom RMC-1, vintage Schaller Bow Wow/Yoy Yoy.