Eventide lives up to their reputation of stellar studio effects with the rackmount Eclipse V4
The way the guitar-playing community shuns rack equipment can be surprising. Despite the fact that innumerable top-name guitarists of every kind use them in their live and studio rigs and that guitar rack effects even become go-to effects in studios, they often suffer a knee-jerk association with really bad, nasally '80s shred tone. Eventide is one rack gear manufacturer that typically rises above such prejudices and misperceptions. The H3000 Harmonizer, used famously and extensively by Steve Vai may be Eventide's most famous rack unit and arguably the most famous harmonizer. Eventide gear typically commands high prices. But with the introduction of the Eclipse V4, Eventide has built a rack-mount multi-effects unit worthy of their reputation that, while not cheap, does a lot for the price.
Start Me Up
The Eclipse can be an intimidating beast at first glance—packed with enough features and controls to keep me wrapped up for days. But a little study reveals it to be a fairly guitarist-friendly unit. The construction quality was rock solid, with a classy, brushed aluminum faceplate that housed a super clear Vacuum Fluorescent Display (VFD) screen, a 15-button keypad with a satisfying feel, and the famous Eventide control wheel for scrolling between patches and altering program parameters. In addition, there was a highly useful dual level meter to let me know if my signal was clipping the inputs, and a memory card slot for saving presets to a compact flash memory card. The neon green, LED backlit Tap Tempo button was a nice touch too, making it a snap for me to punch in a tempo for modulation and time-based effects.
The rear panel of the Eclipse has more connections and routing options than I could shake a stick at. Eventide has always been really good about designing processors that anticipate any connection setup in live and studio rigs alike, and the Eclipse is no exception. In addition to the standard dual analog audio inputs—specially calibrated for either unbalanced ¼" or balanced XLR cables, the device has an XLR digital interface, along with separate digital interfaces for RCA and optical connections. Eventide's engineers even included a serial port for transferring data between the Eclipse and a PC—evidence of the company's well-known dedication to the pickiest studio rats.
There's also a Remote Power In jack for powering an optional MIDI foot controller, effectively making the Eclipse an all-in-one MIDI effects solution without the need for an additional wall wart for foot control power. Granted, most guitarists would probably only rely on the analog ins and outs—and possibly the MIDI interface, but it was really nice to see Eventide go well beyond the average guitarist's conventional needs and provide interface options for any stage or studio situation.
Setting up and using the Eclipse seemed daunting at first, but overall the interface is fairly intuitive and reduces the learning curve for what is a very feature-rich processor. You can effectively think of the Eclipse as not just one effects unit, but two working in tandem. The device contains two separate effects "blocks" that are essentially separate effects processors. I had the option of using either block separately, or both together. This was an immensely cool feature that opens up the unique tones that are possible from chaining multiple effect units, while eliminating noise, clutter, and messy cable patching problems.
Building Blocks of Tone
I set up the Eclipse via the effects loop of a Diezel Schmidt head and a matching 2x12 halfback cabinet with a Fender Stratocaster, and a set-neck 1978 Ibanez Iceman. The Eventide emitted a short boot screen as I powered it up, and in no time I was ready to go. There are five program categories to choose from in the program list—guitars, vocals, drums, keyboards, and special effects, which range from subtle delays and reverbs to radical pitch shifts. There are a number of presets that can provide a good starting point for the player, which is a great idea considering the Eclipse's position as an entry-level effects processor in their product lineup.
From a sound quality standpoint, the Eclipse is a glorious piece of equipment. The overdrive patches may have been the most challenging effects to dial in (I usually had to work to eliminate some digital graininess) But apart from distortion flavors, it was hard for me to find an effect that I didn't think sounded absolutely stellar. The clean, crisp delays and reverbs that helped put Eventide on the map were lush and touch sensitive and delayed signals rose and fell very naturally with my varied pick attack. The same touch sensitivity was also evident in effects like the phasers.
Obviously, Eventide is well known for its harmonizer effects, and the harmonizers on the Eclipse are distinguished by super-quick tracking and dual, fully adjustable pitch parameters. Parameters were extremely simple to access and alter. Just one tap of the Program button, a twirl of the control knob and pressing the Load command was all it took to bring up a patch. After it was loaded, the four rubber buttons lying across the bottom of the display were each assigned to the effect's parameters, such as wet/dry mix, rate, depth, and feedback.
Still, for all of its bells and whistles, the Eclipse's simple dual effect block design was its strongest aspect. Crafting the perfect delay tone with just the right bounce and rhythm, then joining it with one of Eventide's famous, carefully tweaked reverbs was an experience that I will not soon forget. And the amount of depth that the unit added to my tone in these applications was staggering.
As great as the Eclipse is at producing mammoth-sized effects in crystal-clear detail, I never really forgot that it was there while I was playing. Quiet though it may be, the Eventide isn't exactly transparent (if that's a priority). The inherent clarity of some of these effects can often make them stand out and feel distinctly more
processed
, which might be a turn-off to players who prefer the fuzzier tones of analog distortions and delays. But if you're willing to work with more clinical and precise tones, there's no end to the textures you can create.
The Verdict
The Eventide Eclipse is designed to be an effects workhorse, and it's a powerful tool for the guitarist that works across multiple styles and uses a broad array of textures to create moods and enhance songs and compositions. The time-based and modulation effects are flat out extraordinary, and the reverb capabilities are stellar. Such effects can possess a kind of sterility if you're a stickler for analog sounds. But what you might lose in analog authenticity, you gain in detail, noiseless performance, and touch sensitivity. If you're interested in a pro-level rack effects unit that covers a
lot
of territory and can spare the expense, look no further than the Eventide Eclipse V4.
Buy if...
classic Eventide quality and sonic range in a convenient multi-effects unit justify the price.
Skip if...
you only use a few effects or insist on analog sounds.
Rating...


An affordable rendition of the classic Vox Phantom shape
Though you're likely to encounter very divided opinion on the subject, many guitarists, myself included, consider the Vox Phantom one of the coolest-looking stringed instruments ever. Over the years, Tom Petty has played Phantom 6- and 12-strings. Joy Division's Ian Curtis made a high-strapped Phantom one of the band's visual and sonic trademarks. And perhaps no guitar player ever looked cooler than the Velvet Underground's black-clad, wraparound- wearing Sterling Morrison slinging a white Phantom.
Italy's Eko Guitars, always had a close relationship with Vox. In the 60s, the Eko factory produced many of Vox's most iconic guitars—the Phantom and Mark VI Teardrop included—under license. And, while certain guitar purists regard them as B-grade vintage instruments, they remain some of the most unique-sounding electric instruments on the planet.
The Eko Ghost VI is a stab at reinterpreting the Phantom for the modern player. With its single-coil-sized blade humbuckers and 5-way, Strat-style pickup switch, the Ghost VI will never be mistaken sonically or visually for a vintage Vox—or Eko, for that matter. But it's an interesting evolution of what was always a fascinating instrument.
Modern Deviations
The Ghost makes no apologies for its design inspiration. But it also deviates from the Vox Phantom in several fundamental respects. First, the basswood body's profile—though clearly derived from Vox's original, is cut with a shallower arc along the bass side of the body. It's a subtle difference, but it does alter the classic proportions of the original Phantom. The headstock is also slightly smaller, though it retains much of the original's oval shape. And the substantial pickguard, which is in pearloid rather than plain white plastic, comes off as a little glitzy.
The three-in-a-row knob configuration is carried over from the original Vox, but the Bigsby-inspired Hank Marvin Tremolo on the original is replaced by Eko's own very cool-looking and very '60s-Italian-styled adjustable-tension vibrato unit.
Some of the Ghost VI's changes work quite nicely. It has a very comfortable, fast-playing, satin-finished neck with a slim C profile and vintage-sized fretwire that's reminiscent of a '60s Fender neck. It's an ideal fit for the guitar's 25.5" scale.
Contemporary Color
Any doubts about where the Ghost VI resides on the line between modern and vintage, from a sound perspective, will be answered the second you plug in and turn up, which I did through a Fender Bassman 4x10 reissue and a silverface Fender Twin. The bridge humbucker has a distinct humbucker-equipped-Telecaster snap that would cut through any band mix, and it worked very nicely with the high-headroom Twin and the darker, meatier Bassman for a little chicken-pickin' paradise. Selecting the bridge and middle pickups transformed the tone into a classic Richard Thompson/ Knopfler-esque, out-of-phase Strat tone that inspired me to play along with a few favorite Fairport Convention jams. It's a great illustration of how these pickups manage to impart a lot of single-coil character with much greater headroom.
With an admitted predisposition about how a Vox-style guitar should sound, I was initially a little confused by the disparity between the look of the guitar hanging around my shoulder and the Fender-y tones that spilled forth. And the light setup (the guitar was strung with .009s and low action) confounded my initial attempts to dig in and play the fast, heavy folk-rock arpeggios I'd be inclined to play on a vintage Phantom. But once I was better acquainted with the tonal characteristics of the pickups and the Ghost's slinky feel, I was more than happy to string together some legato runs, full-step bends, and fast finger vibrato. And that re-orientation of my approach to the guitar reinforced my thoughts about how comfortable and playable its neck is.
Neck and neck-and-middle pickup configurations delivered more of the familiar Strat-with-headroom quality you tend to get out of blade-style humbuckers. But they seemed to work best in out-of-phase positions, where working the tone knob summoned all kinds of cool, boxy tones that still sustained and sang beautifully.
In general, the tremolo system was ill-matched to the Ghost as it was set up. The attractive, Bigsby-inspired unit worked with a mellow touch when I reduced the tension on the arm, but that adjustment seemed to also make the guitar more susceptible to slipping out of tune. If you choose to forego the tremolo entirely, it can be tucked away just like a Bigsby by turning the arm around backwards, which also has the benefit of improving access to the aft-most tone control.
The Verdict
There is definitely a disconnect between how the Eko Ghost VI plays and sounds and how most experienced Vox fans will expect it to play. But for players unfamiliar with the vintage Vox and Eko legacy of snorkely pickup tones and jangle-ready setups, the Ghost VI is an appealing way to get Fender-style playability and tones while getting a whole different visual vibe. Fans of out-of-phase Knopfler sounds will find a lot to like about the clarity and headroom from the humbuckers in bridge-and-middle and neck-and-middle settings. And honky-tonkin' Telecaster fans will love the civilized-but-nasty treble bite of the bridge pickup through a loud Fender amp. Will those factors sway a buyer otherwise bound for a Strat? From psychedelic revivalists and garage punks to art rockers Phantom-style guitars have always attracted some very left-of-center characters. But it's fascinating to imagine how players with those sensibilities might appreciate this very playable take on a '60s-style icon.
Buy if...
you love the out-of-left-field '60s look but need modern playability and tones.
Skip if...
you think Phantom-style guitars are only good for paddling a canoe.
Rating...


Appreciating the complexity and beauty of binding
Binding strips.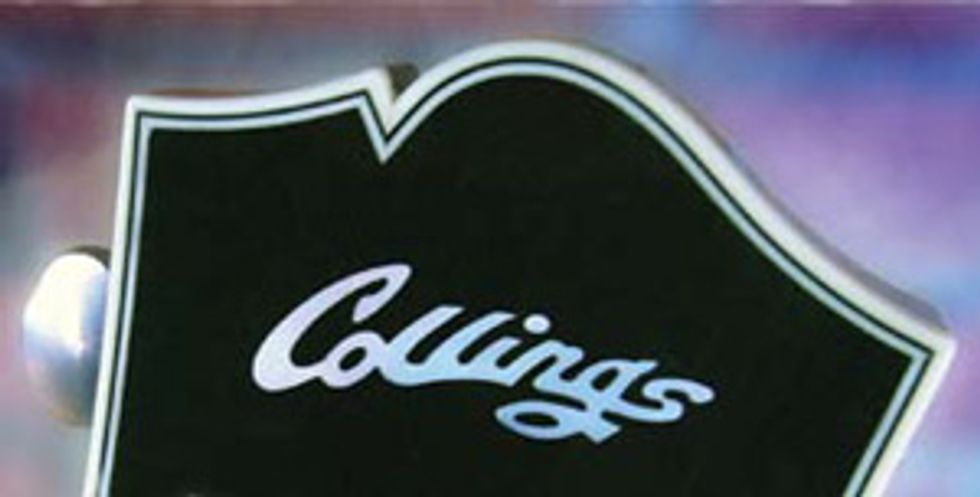 Collings headstock binding.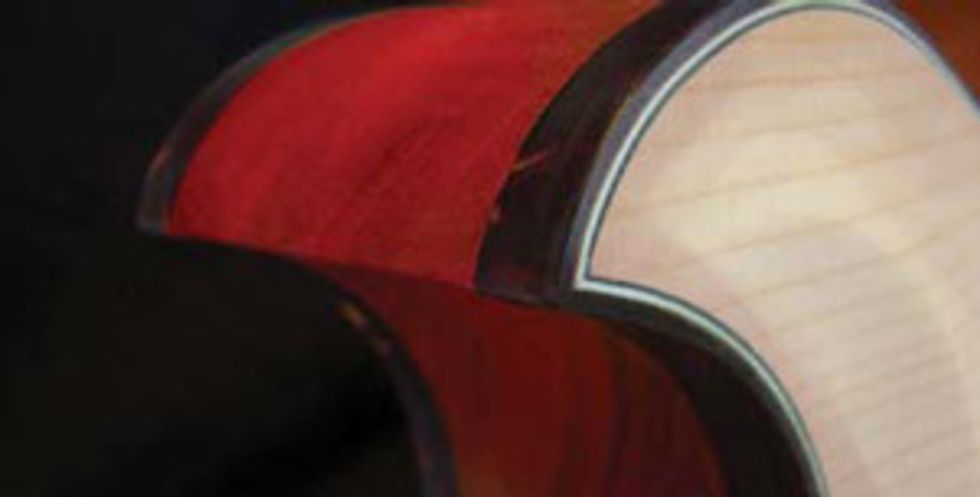 A Florentine cutaway with mitered binding.
Martin purfling.
As builders, we tend to take certain things for granted. When I give a shop tour, I'm often struck by what surprises people most about making guitars. Usually, it's the complexity of the job. Other times, it's something most people don't really think about.
Take binding, for example. Binding a guitar can be an elaborate, yet under-appreciated task. I've had visitors remark that they thought the binding was "painted on" and voice surprise at the difficulty of doing a proper job. Binding has been used on guitars for centuries, and initially it served to reinforce the top and back plates on an acoustic. Binding these plates with a strip of material helps prevent cracking along the open-grained edges. Beyond the practical considerations, binding also provides an opportunity to enhance the instrument's look.
Binding also allows the builder to add purfling or extra rows of decorative material. To visually express their attention to detail, luthiers have long adorned their pieces with stripes on tops, sides, necks, and headstocks. Martin Guitars has a history of using abalone and mother-of-pearl purfling on their premium instruments to differentiate them from their lower-priced siblings.
Classic Materials
Wooden bindings are usually found on high-end acoustic instruments, but their use on electrics is growing. Woods most often used for bindings are rosewood, maple, and ebony, though koa, boxwood, and holly are favorites too.
Cellulose-based bindings are found in a multitude of colors including white, black, ivoroid, and faux tortoise-shell. Ivoroid was originally developed for piano-key veneers. Although it was introduced as a cost-saving substitute for real ivory, ivoroid is now associated with premium guitars. Manufactured in Italy, these cellulose bindings are formed in a solid block that weighs more than 300 pounds. Layers of tinting are added to create patterns like the ivoroid "grain." The large block is shaved into sheets, which are then cut into strips. Various combinations of contrasting layers are laminated to create either a striped pattern when they're cut in one direction, or a checked design when cut in the other.

Modern Trends
As plastics became more sophisticated, guitar manufacturers turned to such materials as ABS and Boltaron because they were more stable and inexpensive, and they came in a multitude of colors. This is the typical white or crème-colored material we associate with 1950s Gibsons or the ultra-bright white bindings that became popular in the 1970s. In the case of solidbodies, the binding was mostly decorative, but Gibson also used bindings on the fretboard edge that transitioned over the fret ends. This protected the player's hand from sharp fret ends, which can be a problem when fretboards shrink during periods of low humidity.
As sales skyrocketed during the guitar boom of the early '60s, manufacturers felt that binding guitars was too time consuming and investigated ways to streamline it. Leo Fender, the most efficiency-minded of all, practically eschewed it completely. Stan Rendell, who was Gibson's president in the 1960s and '70s, once showed me a complete Les Paul Custom headstock binding that was injection molded, including the black purfling stripes. This piece only needed to be glued to the headstock, yet it gave the impression of a multiple-layered binding job. Similar parts are used for f-hole bindings on some factory-built archtops.
Another fascinating variation is masked (or mock) wood binding. This is created in a process that uses a tape strip to block the application of tinted paint or stain to create the appearance of binding. In a modification of this technique, a maple top can be stained with a dark color so that its edge can be sanded to remove the stain. This is a purely cosmetic design that is beautiful because the "binding" features the maple's figure or curl.
Today, big factories use computer numerical controlled (CNC) machinery to cut and pre-miter binding pieces that are then assembled in pneumatic fixtures before being glued to the guitar. Industrial lasers that look and operate like oversized desktop printers cut complete bindings from flat sheets. If past masters could have had access to CNC mills and lasers, you can be sure they'd have used them. The fact that they didn't is one of the reasons collectors and aficionados value their work today. Of course, not everyone likes instrument binding, and there's no denying the clean and stripped-down look of a Telecaster. Whether or not you like binding, the next time you inspect a bound guitar you'll have to respect the effort and tradition behind it.
Jol Dantzig
Noted designer, builder, and player Jol Dantzig founded Hamer Guitars, the first boutique guitar brand, in 1973. Since then, he has worked or recorded with many of the most talented and famous names in music. Today, as the director of Dantzig Guitar Design he continues to help define the art of custom guitar.