Appreciating the complexity and beauty of binding
Binding strips.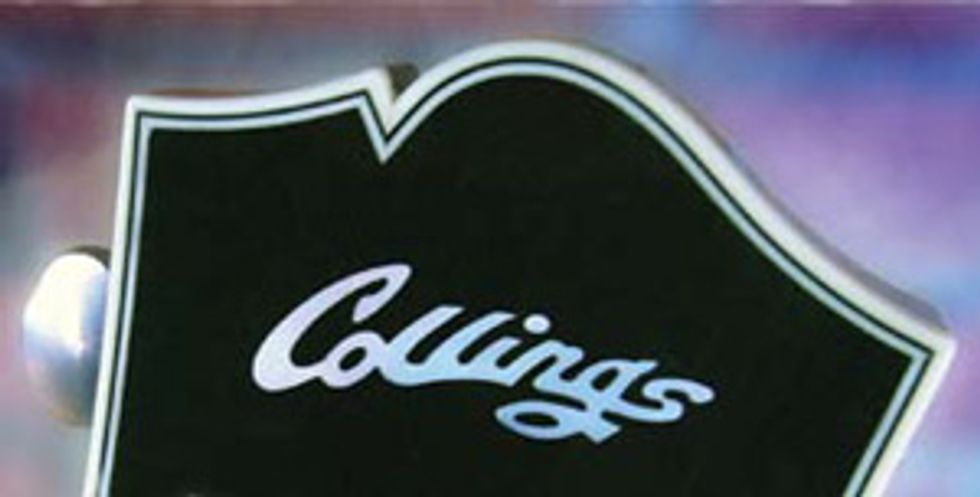 Collings headstock binding.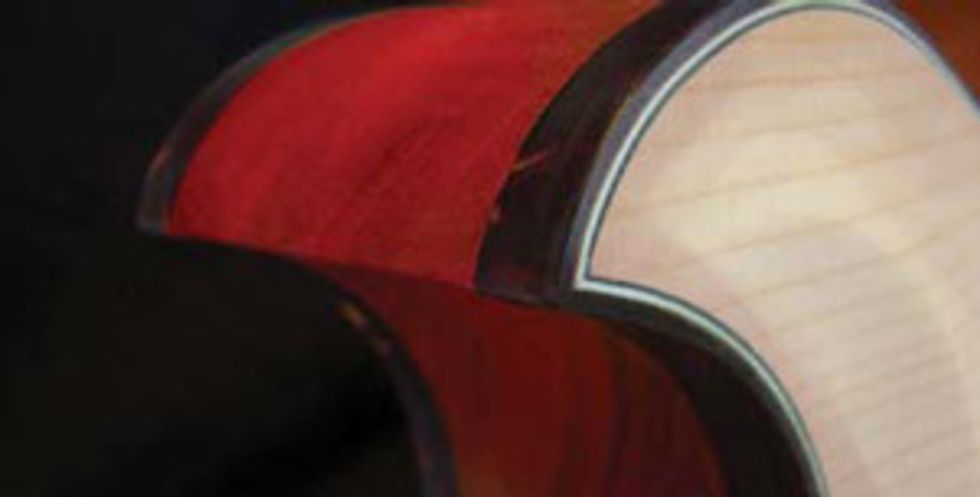 A Florentine cutaway with mitered binding.
Martin purfling.
As builders, we tend to take certain things for granted. When I give a shop tour, I'm often struck by what surprises people most about making guitars. Usually, it's the complexity of the job. Other times, it's something most people don't really think about.
Take binding, for example. Binding a guitar can be an elaborate, yet under-appreciated task. I've had visitors remark that they thought the binding was "painted on" and voice surprise at the difficulty of doing a proper job. Binding has been used on guitars for centuries, and initially it served to reinforce the top and back plates on an acoustic. Binding these plates with a strip of material helps prevent cracking along the open-grained edges. Beyond the practical considerations, binding also provides an opportunity to enhance the instrument's look.
Binding also allows the builder to add purfling or extra rows of decorative material. To visually express their attention to detail, luthiers have long adorned their pieces with stripes on tops, sides, necks, and headstocks. Martin Guitars has a history of using abalone and mother-of-pearl purfling on their premium instruments to differentiate them from their lower-priced siblings.
Classic Materials
Wooden bindings are usually found on high-end acoustic instruments, but their use on electrics is growing. Woods most often used for bindings are rosewood, maple, and ebony, though koa, boxwood, and holly are favorites too.
Cellulose-based bindings are found in a multitude of colors including white, black, ivoroid, and faux tortoise-shell. Ivoroid was originally developed for piano-key veneers. Although it was introduced as a cost-saving substitute for real ivory, ivoroid is now associated with premium guitars. Manufactured in Italy, these cellulose bindings are formed in a solid block that weighs more than 300 pounds. Layers of tinting are added to create patterns like the ivoroid "grain." The large block is shaved into sheets, which are then cut into strips. Various combinations of contrasting layers are laminated to create either a striped pattern when they're cut in one direction, or a checked design when cut in the other.

Modern Trends
As plastics became more sophisticated, guitar manufacturers turned to such materials as ABS and Boltaron because they were more stable and inexpensive, and they came in a multitude of colors. This is the typical white or crème-colored material we associate with 1950s Gibsons or the ultra-bright white bindings that became popular in the 1970s. In the case of solidbodies, the binding was mostly decorative, but Gibson also used bindings on the fretboard edge that transitioned over the fret ends. This protected the player's hand from sharp fret ends, which can be a problem when fretboards shrink during periods of low humidity.
As sales skyrocketed during the guitar boom of the early '60s, manufacturers felt that binding guitars was too time consuming and investigated ways to streamline it. Leo Fender, the most efficiency-minded of all, practically eschewed it completely. Stan Rendell, who was Gibson's president in the 1960s and '70s, once showed me a complete Les Paul Custom headstock binding that was injection molded, including the black purfling stripes. This piece only needed to be glued to the headstock, yet it gave the impression of a multiple-layered binding job. Similar parts are used for f-hole bindings on some factory-built archtops.
Another fascinating variation is masked (or mock) wood binding. This is created in a process that uses a tape strip to block the application of tinted paint or stain to create the appearance of binding. In a modification of this technique, a maple top can be stained with a dark color so that its edge can be sanded to remove the stain. This is a purely cosmetic design that is beautiful because the "binding" features the maple's figure or curl.
Today, big factories use computer numerical controlled (CNC) machinery to cut and pre-miter binding pieces that are then assembled in pneumatic fixtures before being glued to the guitar. Industrial lasers that look and operate like oversized desktop printers cut complete bindings from flat sheets. If past masters could have had access to CNC mills and lasers, you can be sure they'd have used them. The fact that they didn't is one of the reasons collectors and aficionados value their work today. Of course, not everyone likes instrument binding, and there's no denying the clean and stripped-down look of a Telecaster. Whether or not you like binding, the next time you inspect a bound guitar you'll have to respect the effort and tradition behind it.
Jol Dantzig
Noted designer, builder, and player Jol Dantzig founded Hamer Guitars, the first boutique guitar brand, in 1973. Since then, he has worked or recorded with many of the most talented and famous names in music. Today, as the director of Dantzig Guitar Design he continues to help define the art of custom guitar.