Modern overdrive tones and vintage-flavored cleans from Orange
Watch a video review of this amp on Page Two!

For England's Orange Amplification, lower-wattage amps have become a major pedestal of their recent success and resurgence. While the company founded its reputation in the late '60s and early to mid '70s with bold, brash-looking high-wattage monsters and big cabinets that spruced up the stage for everyone from Fleetwood Mac to Led Zeppelin, Black Sabbath, and James Brown, the company's recent renaissance has been driven by the success of the AD30, Rocker 30, and especially the wildly popular Tiny Terror. The company's recent release of the new EL84-driven TH30 head (also available as a combo) shows that they're eager to build on success in this moderate-power category, and the TH30 turns out to be one the company's most versatile and usable amps to date.
Peeling Away the Layers
The simple control layouts of Orange amplifiers have always been a design strength. In the case of the TH30, that philosophy remains very much intact. Each of the amp's two channels—which you can select using a front-panel toggle—is controlled by just three knobs, which means you can dial in both clean and dirty sounds with very little fuss. The Clean channel features a Volume knob and Bass and Treble EQ controls, while the Dirty channel features Gain, Volume, and Shape knobs.
The amp's overall wattage can be cut from the maximum of 30 watts to 15 watts, using the 3-way standby switch on the front panel. And if you're in the mood for some low-wattage, greasy-amp goodness, another rear-panel switch lets you knock the wattage down to a tiny seven watts by bypassing two of the four power tubes. Rounding out the modern options are a series effects loop and a jack for an optional channel footswitch.
Thunder and Lightning, Very Frightening!
Even though TH30 can summon classic Orange voices with ease, it has a personality—or rather
personalities
—all its own. And I set about exploring them with by routing the head through Orange PPC 4x12 and PPC 4x10 cabinets and plugging in a 1978 Gibson Les Paul Custom with Tom Anderson pickups. Using different combinations of tone settings and the full- and half-power options, I was able to achieve some really unique, usable tones in each channel.
The TH30's Dirty channel is classic Orange, through and through. There's no shortage of gain on tap, and the amp retains the quintessentially Orange characteristic of a bright top end with a rounded, expansive low-end foundation. The TH30 also barks with a grinding midrange that cuts well, even when the shape control is dialed to a more scooped setting. And it adds a lot of range to the amp's voice. I can't think of too many amps with an EL84 power section that kick out vintage and modern stoner metal tones with equal aplomb, but the TH30 is certainly one of them.
Cutting two of the amp's power tubes via the rear switch cut the headroom considerably, shifting the amp's gears into a Billy Gibbons-inspired overdrive that sliced and wailed with authority. For most of these tests, I was using the PPC 4x12 cabinet, which had more of a scooped midrange. But I got very cool results by splitting the signal into both the 4x12 the PPC 4x10—combining the 10" speakers' tight, snappy character with the looser, brawnier response of the four 12" speakers. And this best-of- both-worlds scenario resulted in one of the best Orange overdrive tones I've ever heard.
While I had a blast with the Dirty channel tones, I unearthed the TH30's real tone gems in the Clean channel. I was floored by how close it was in performance and tone to some of the best nonmaster-volume amps I've come across. The punch and clarity reminded me of a healthy, early-'70s Marshall Super Lead, but melded with Orange's bright top end and elastic low end. And, just like some of the best vintage nonmaster-volume amps, the response and touch sensitivity improved the more I turned up the volume.
Plugging in a Bill Nash S-63 Strat-style guitar helped me access the Clean channel's sweetest spots. Every playing nuance, right down to slight pick scrapes against the low-E-string wraps, was highlighted in full harmonic color. The PPC 4x10 cab excited the S-63's naturally bouncy tone. And when I plugged in both cabs and stood in front of the stack, the TH30/S-63 combination provided the perfect mixture of tonal heft and balance. Sonically, it totally lived up to how intimidating it looked.
Balancing Act
Though the varied personalities of the TH30's two channels opened up a world of switching possibilities, balancing the volume between the two and accessing their respective sweet spots took some work. If I had the Clean channel's Volume at 10 o'clock, the Dirty channel's Volume had to be at around 2 o'clock for it to have any perceivable punch over the clean tone. At that point, I had to drop the preamp gain considerably to retain the definition of the overdrive tone, and then I had to use the Shape control to dial in the right amount of bite. With time, however, I was able to achieve a good balance for band work, but occasionally at the expense of some of the dirty channel's better, more aggressive tones.

The Verdict
Orange's TH30 is a fine addition to their product line. With its simple layout and feature set and its flexible voicing, it packs the potential to deliver that classic fat and bright Orange tone, but it also stays punchy and refined without having to be blisteringly loud. And that simplicity makes this perhaps the perfect place to start for a neophyte looking for the classic, brawny Orange sound. It's easy to see how the TH30 could win over the hearts and ears of players otherwise sold on classic, clean nonmaster-volume circuits and high-gain aficionados seeking a little more flexibility.
Buy if...
you need modern, British-voiced overdrive and clean tones reminiscent of vintage nonmaster-volume British amps.
Skip if...
you only need British-style high-gain ferocity.
Rating...


Street $1199 (head), $1349 (1x12 combo) -

Orange Amplification

- orangeamps.com
Looking for more great gear for the guitar player in your life (yourself included!)? Check out this year's Holiday Gear Finds!
Outlaw Effects introduces their next generation of NOMAD rechargeable battery-powered pedal boards.
Available in two sizes, NOMAD ISO is a compact, versatile tool that offers the convenience of a fully powered board plus the additional freedom of not having to plug into an outlet. NOMAD ISO is ideal for stages with limited outlet availability, quick changeovers, busking outdoors, temporary rehearsal locations, and more!
NOMAD ISO builds upon the legacy of the ultra-convenient and reliable NOMAD rechargeable pedalboard line originally launched in 2018. The brand new NOMAD ISO editions feature eight isolated outputs (1 x 9V DC, and 1 switchable 9V/12V DC) for even more versatility and clean, quiet power. With an integrated lithium-ion battery pack boasting 12800mAh capacity, NOMAD ISO can fuel a wide array of pedals, and will last over 10 hours* on a single charge.
Each NOMAD ISO pedal board includes adhesive hook & loop pedal-mounting tape, eight (8) standard DC connector cables, and one (1) reverse polarity DC cable, giving you everything you need to build your ultimate "off-the-grid" rig. A rugged, road-ready padded gig bag with shoulder strap is also included, to safely protect your gear while you're on the move.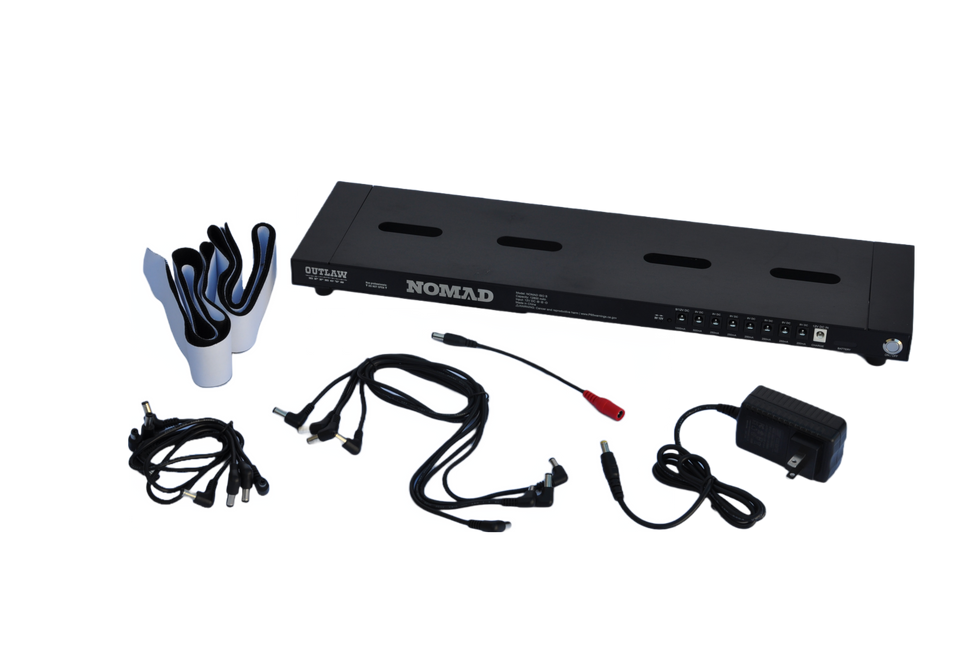 Dunable announce new Minotaur model featuring Grover Rotomatic Keystone tuners.
The Minotaur's DNA is rooted in their classic Moonflower model, which Dunable discontinued in 2017. However, they have long since wanted to create a fresh take on a carved top guitar design, and various attempts to rework the Moonflower led them to a brand new concept with the Minotuar.
Dunable's goal is to give the player a guitar that plays fast and smooth, sounds amazing, and gives maximum physical ergonomic comfort. The Minotaur's soft and meticulous contours, simple and effective control layout, and 25.5" scale length are designed to easily meet this criteria.

Dunable Minotaur!
Features
25.5" scale length
Dual Humbucker
one volume, one tone, push pull for coil splitting
Grover Rotomatic Keystone tuners
Grover Tune O Matic bridge with brass Kluson top-mount tailpiece
jumbo nickel frets
12" fretboard radius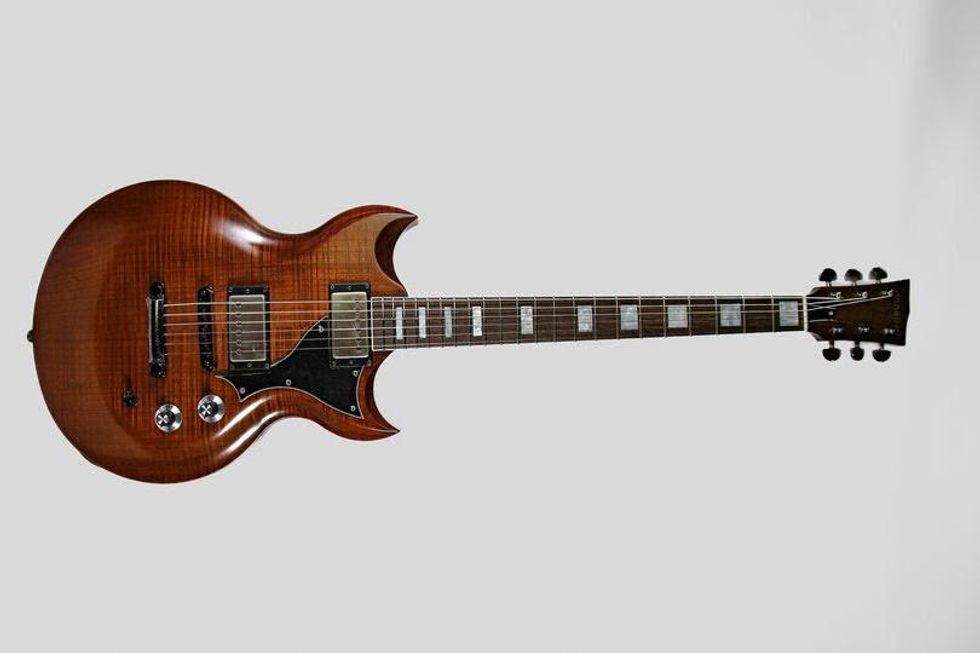 Dunable
This full-amp-stack-in-a-box pedal brings a new flavor to the Guitar Legend Tone Series of pedals, Missing Link Audio's flagship product line.
Adding to the company's line of premium-quality effects pedals, Missing Link Audio has unleashed the new AC/Overdrive pedal. This full-amp-stack-in-a-box pedal – the only Angus & Malcom all-in-one stompbox on the market – brings a new flavor to the Guitar Legend Tone Series of pedals, Missing Link Audio's flagship product line.
The AC/OD layout has three knobs to control Volume, Gain and Tone. That user-friendly format is perfect for quickly getting your ideal tone, and it also offers a ton of versatility. MLA's new AC/OD absolutely nails the Angus tone from the days of "High Voltage" to "Back in Black". You can also easily dial inMalcom with the turn of a knob. The pedal covers a broad range of sonic terrain, from boost to hot overdrive to complete tube-like saturation. The pedal is designed to leave on all the time and is very touch responsive. You can get everything from fat rhythm tones to a perfect lead tone just by using your guitar's volume knob and your right-hand attack.
Features 
Three knobs to control Volume, Gain and Tone
Die-cast aluminum cases for gig-worthy durability
Limited lifetime warranty
True bypass on/off switch
9-volt DC input
Made in the USA
MLA Pedals AC/OD - Music & Demo by A. Barrero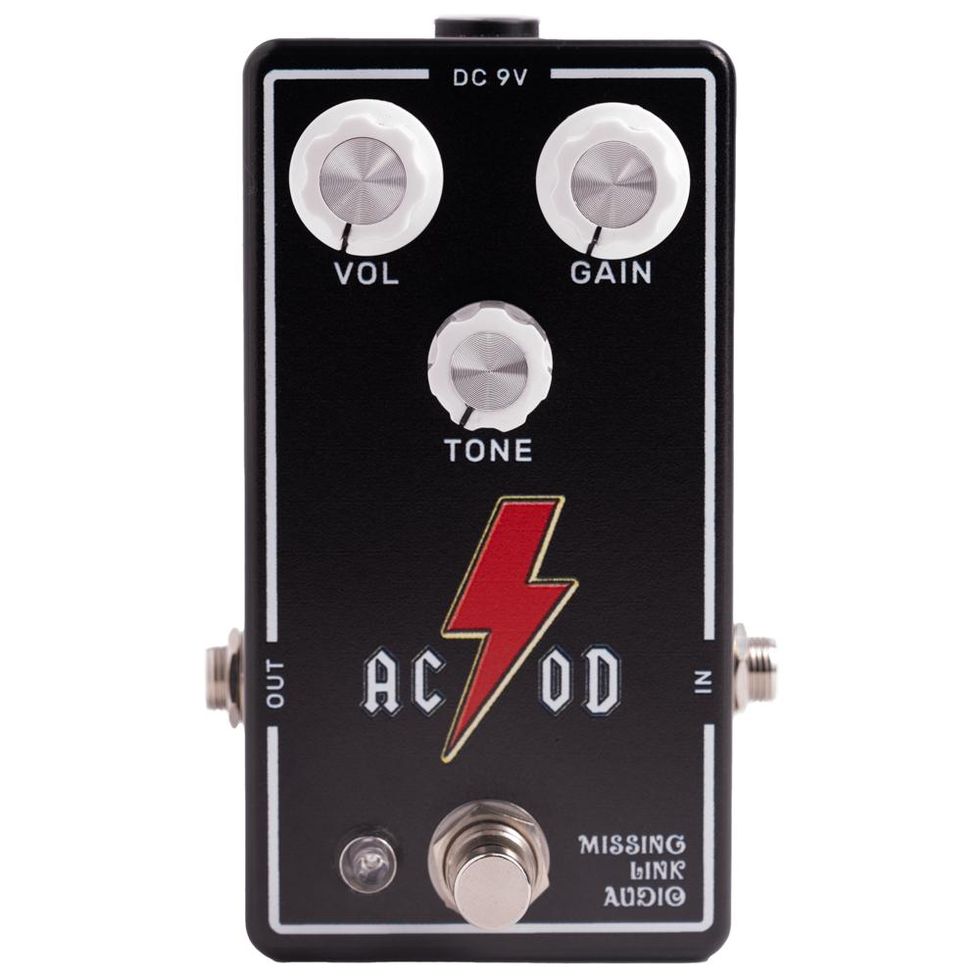 www.mlapedals.com.