Thorpy FX Fallout Cloud Review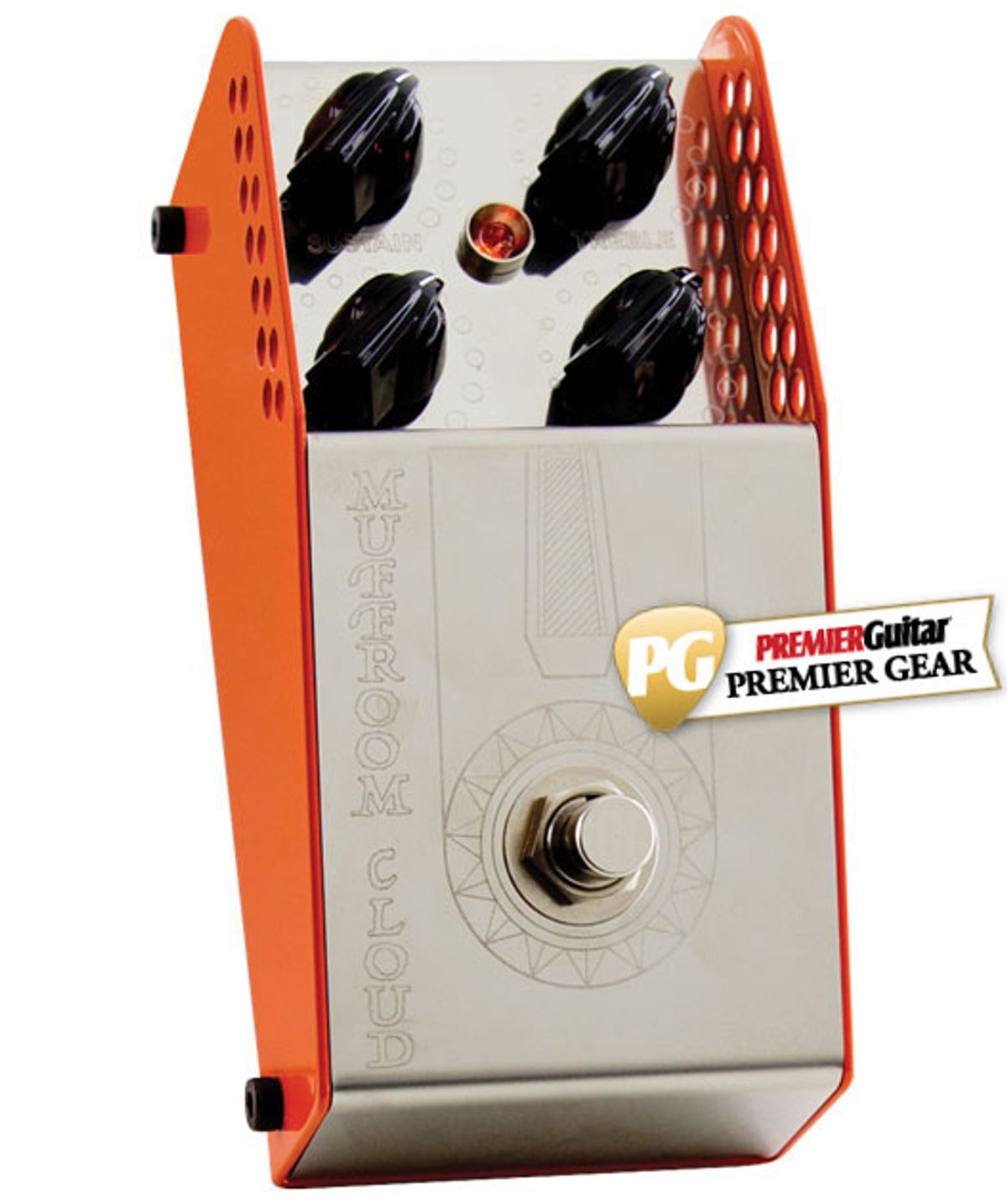 The Rolls Royce of Muff clones delivers unique tone-shaping capabilities and incredible articulation.
Fender Stratocaster into a Fender Bassman: Rhythm track is the bridge pickup with fuzz volume, sustain, treble and bass set at noon. Lead portion is the neck pickup with treble and sustain at 2 o'clock, and volume and and bass at 11 o'clock.

I'm an Anglophile about many things. But even if I was unencumbered by such cultural leanings, I'd venture that the stompbox makers of Albion have been on fire of late. One of the best of the bunch is Adrian Thorpe and the pedal making concern he calls Thorpy FX. We last checked in with Thorpy when we reviewed the Gunshot in our October 2015 issue. Like a lot of pedal spotters, we were knocked out by how complete the Gunshot was as a stompbox—from the design to the construction to the expansive sound shaping power of the thing.
The Fallout Cloud (previously known as the Muffroom Cloud) is Thorpe's head-on charge at the populous Muff clone realm. Yet even in that very cramped corner of the fuzz cosmos, the Fallout Cloud stands apart in terms of quality, tone, and the sound sculpting power of its impressive, interactive tone and gain sections. And while it's derived from an early "Triangle" Muff circuit, its expansive, malleable voice readily spans huge sonic swaths of the Muff's history from "Triangle" to the "Ram's Head" to the Sovtek years and beyond.
Built to Blast
The laser-engraved stainless steel and international orange Fallout, which uses the same enclosure as the other pedals in the Thorpy line, is a cool synthesis of '60s fuzz chic (a chunky, steel, slope-front enclosure with chicken head knobs) and more contemporary industrial design elements. None of the design is frivolous, however. The pedal is actually more compact than it looks in pictures—about a ¼" wider and just an inch longer than a standard Boss pedal. The bored steel sections keep you from kicking the knobs out of place. The sturdy Neutrik I/O jacks and 9V DC jack are situated on the top of the pedal, lending a clean, streamlined look and saving pedalboard space.
Many Muff clones use a midrange control to add presence. But the Thorpy's more amp-like bass/treble controls are arguably
much more effective.

You open up the enclosure via four hex bolts on the side. And if the cool exterior doesn't sell you on Thorpe's exacting sense of craft, the guts of the Fallout will. The circuit board is immaculately wired. I can't recall seeing a cleaner one. Although the copious capacitors and four-transistor layout scream "Muff" right away, there is a modern watchmaker's sense of precision and execution that suggests evolution beyond the Muff's time-tested circuit. And even though the tone shaping circuit makes the Thorpy slightly more complex than the average Muff clone, it looks beautifully simple and ordered.
Sonic Megatonnage
You could set the knobs on the Thorpy just about anywhere and hear the pedal's fat, unmistakable "Muffiness" immediately. But the differences between the Thorpy and an average Muff become apparent nearly as fast. One of the most profound differences between the Thorpy and Muffs from across the family tree is its ability to stay articulate in high-gain chording situations.
Sabbathoid I-V chords growled with throaty complexity that highlighted overtones and revealed a lot of the guitar's intrinsic voice. But even pitch-bended, blurry Kevin Shields chords with ringing open strings and odd intervals retained harmonic intricacy as overtones mingled and mutated with tremolo bar dives. This is no mean feat for the best Big Muffs, but what's more remarkable is that the Thorpy delivers all this articulation and detail without sacrificing the warm, wooly bigness that makes Muffs perfect for desert rock riffs and singing, sustained leads.
Ratings
Pros:
Incredibly articulate and detailed for a Muff clone. Detailed and airy in high-gain applications. Unique compression voice. Bulletproof and beautifully built.
Cons:
Might be a touch quiet for fans of the loudest Muffs or for players coaxing maximum attack from smaller amps.
Tones:


Ease of Use:


Build/Design:


Value:



Street:
$290 (at time of writing)
Thorpy FX Fallout Cloud
thorpyfx.com
Some of the ability to straddle the detail versus dynamite divide comes via the Thorpy's unique compressed quality. It's much more amp-like than the leaden compression that Muffs typically generate at high volume and gain settings—which is to say, it's a lot airier and much more responsive and dynamic. Some of this may be down to the fact that the Thorpy is a just a little bit quieter than many Muffs at full tilt. Our test Fallout Cloud was quieter than an original green Sovtek and "Civil War" and "Ram's Head" clones, but still decidedly on the deafening side of the spectrum. And if relative lack of volume is initially a source of anxiety, you soon realize that the extra note articulation makes the extra volume a lot less necessary. The Thorpy reveals a lot about how nuance and nimbleness can trounce brute strength—a trick not often observed nor savored in the Muff universe.
Don't Need No Whip, Just Equalize!
A lot of the Thorpy's extra-articulate voice comes via use of the splendidly executed EQ section. Many Muff clones use a midrange control to add presence. But the Thorpy's more amp-like bass/treble controls are arguably much more effective at the task, and you can pinpoint very specific stops along the EQ spectrum using the two knobs together. One of my favorite, if less common, uses for a Muff is using maximum-gain/low-volume/high-treble settings to conjure raspy biker fuzz tones. At these settings the Thorpy generates a gloriously scuzzy, buzzy voice. But the bass/treble control can really help hone this sound—enabling everything from a hollowed-out Tone Bender wallop to raspy, sustained Fuzzrite or Bosstone style buzz.
Guitar volume control dynamics are better than many Muffs, but, on balance, rather typical of the breed. You won't be going from fuzzy to clean with a flick of the pinky—more like fuzzy to slightly less fuzzy to thin and raspy to inaudible.
The Verdict
In terms of design and sheer robustness, the Fallout Cloud is nearly impossible to top. But it's also one the most unique, versatile, and musically practical Muffs you'll ever encounter. While it's expensive, the superb quality makes it hard to quibble with the price—especially given what vintage Muff specimens and even some lesser boutique versions command these days. And apart from the budget constrained and players with an insatiable need to have the loudest pedal in five counties, it's hard to imagine a fuzz fanatic that won't be twitching at the prospect of a turn with this new contender for Alpha Muff.