Golden Gear Ticket: Winter NAMM 2011
Go with us as we take you inside Winter NAMM 2011–the year''s biggest musical products show in the US.
For serious players who obsess about everything in their signal chain, attending the January NAMM show in Anaheim, California—the year's biggest US gear show—is the stuff of dreams. It's the guitarist's equivalent of stepping inside Willy Wonka's Chocolate Factory. Everywhere you look there are wonders to make you gasp in awe or blanch in terror. Instead of Oompa-Loompas, you've got hordes of mullet wearers, goths, shred heads, aging hippies, rockabilly dudes, and hair-metal survivors and revivalists in their respective garb, all intermingling with more "normal"-looking people, all striding purposefully toward the next piece of gear promising to revolutionize their tone and/or how they play. Instead of people inflating into giant human blueberries or getting swept away by chocolate rivers, you've got product guys doing their best to hawk their wares—and sometimes employing rather gratuitous hyperbole to inflate their value—while sweep-picking maniacs wail across the way in an attempt to lure you to their booth. Instead of spoiled Veruca Salts marching off to steal squirrels busily sorting nuts, you've got buxom, scantily clad booth candy leading vulnerable attendees around by their . . . well, you get the idea. It's madness. Glorious, glorious madness.

This year's NAMM was remarkably busy, which was somewhat surprising, considering the economy is still hurting pretty badly. Unlike last Summer NAMM, which had a public day to boost attendance, this show didn't have a public day, but you never would've known it. Whether the place was hopping because people knew there would be so many cool new products or whether that was just a lucky coincidence, the fact remains that this was one of the most productive NAMMs in a while. And that holds true for both exhibitors and Premier Guitar . As usual, our entire editorial staff was there, keeping you up to date with constant posts and pictures on Facebook and Twitter, shooting more than 100 demo videos, sending e-newsletters with our daily Editors' Picks from the floor, and arranging for gear to be sent in for reviews.

Here we've assembled a selection of electric, acoustic, and bass gear that grabbed our ears and/or eyes. Look for reviews of many of these in the coming months, and be sure to check out our demo videos. Let us know what you think via email and online posts. Enjoy!

Electric and Acoustic Guitars


Gretsch G6128T-GH George Harrison Tribute – This painstaking recreation of the Beatle's '57
Duo Jet has a mahogany back, 3-ply maple top,
1-piece mahogany neck, rosewood fretboard,
and Seymour Duncan-designed recreations of the
original DynaSonic pickups. Only 60 will be made.
MSRP $20,000 gretschguitars.com
---
Framus Vintage 5/131 Hollywood (LEFT) – This semi-hollow
looker had one of the best-playing necks
at the show and features a plywood body (like
an old department store guitar from the '50s),
vintage-voiced single-coils, an aluminum pickguard,
a 4-position selector knob that includes
an "0" position for off, and Volume, Bass, and
Treble knobs. framus.de

Manuel Rodr'guez Sr. Nylon-String (RIGHT) –
This masterfully made classical instrument
features a solid Canadian cedar top, an
ebony fretboard, a Honduran cedar neck,
a cow-bone nut and saddle, and eye-popping
solid Brazilian rosewood back and
sides (inset). guitars-m-r-sons.com
---
AXL Badwater USA (LEFT)
– This 24 3/4"-scale single-cutaway features a mahogany
slab body, a set solid-mahogany neck with
a rosewood fretboard, a single P-90, and a wraparound
bridge/tailpiece. axlguitars.com

Sugi Guitars & Basses DS499R (RIGHT)
– Built by Makoto "Nick" Sugimoto—who built guitars for Fender and
Ibanez at Fujigen for 23 years—the DS499R has an alder body, an
aqua timber maple neck, 22-fret rosewood fretboard, Sugi pickups
(including a tappable humbucker), Gotoh SGS510 tuners, and a
Wilkinson VG300 tremolo. sugiguitars.com
---
B.C. Rich USA Gunslinger –
This shred machine has a bolt-on
maple neck, EMG 81 and 85 pickups,
Floyd Rose Special trem, and
a Mike Learn zombie graphic on
the basswood body. bcrich.com
---
James Trussart
Custom Guitars
SteelX (LEFT)
– The SteelX features
a '59 Standard neck
shape and a korina
body with a recessed
metal top in "Antique
Silver Gator."
National Reso-Phonic
ResoElectric Ra3 (MIDDLE)
– The new hollowbody ResoElectric
RA3 has a koa
top and mahogany back
and sides, and sports an
L.R. Baggs Hex pickup
in its biscuit bridge.
Fender Wayne Kramer
Stratocaster (RIGHT) –
The MC5 guitarist's stars-and-stripes Strat features two
single-coils and a Duncan humbucker
for kicking out the jams.
Ernie Ball music man Game
Changer Reflex Guitar –
The 25 1/2"-scale Game Changer
features a chambered basswood body
with a maple top and mahogany tone
block. Its electronics let you combine the
custom DiMarzio humbuckers' coils in
any order and save analog presets to the
5-way switch. Controls include push-pull
Volume (push restores factory defaults)
and Tone knobs (the latter selects between
banks A and B), and an optional
piezo Volume. With a USB cord and a
click of a mouse, the included software
lets you make real-time, analog circuit adjustment,
as well as access artist presets.
The Game Changer Reflex Bass with dual
ceramic-magnet humbucking pickups is
also available.

---
Floyd Rose for
Stop-Tail Guitars –
Itching to add locking-tremolo
action to your stop-tailpiece-equipped
guitar? This new
Floyd Rose model enables you
to do so without any sustain-robbing
routing. floydrose.com
---
Takamine TF87-PT Acoustic (LEFT) –
The TF87-PT has koa back and
sides, a cedar top, a 12AU7-driven
onboard preamp, and a 12th-fret
inlay of palm trees and a sunset.
Breedlove Cascade Series (MIDDLE) –
The J25/CRe has a western red cedar top,
rosewood back and sides, mahogany neck,
rosewood fretboard, Sitka spruce top bracing,
and L.R. Baggs Element active VTC
electronics. breedlovemusic.com

Santa Cruz Don Edwards
Signature Cowboy Singer (RIGHT) –
This immaculate, all-mahogany OO
sounds warm, alive, and sweetly
popping whether fingerpicked or
flatpicked. santacruzguitar.com
Guitar Amps
Dwarfcraft Love Buzz –
The quasi flower-power styling
of the two-channel, 50-watt
Love Buzz might not be everyone's
cup o' tea (for the record,
we love it), but its EL34-driven,
class AB tones are stellar.
(Using a Squier Classic Vibe
'50s Duo-Sonic, Dwarfcraft's
Ben Hinz nailed the gritty, detuned
glory of Radiohead's "I
Might Be Wrong.") It features
turret-board construction
that aims for Bassman-about-to-explode tones, and its
controls include Fuyamater
(gain), Trebles, Mids, Bass,
Presence, and Master.
---
Bogner Panama (LEFT) –
The new 4-watt, 6V6-powered Panama offers '80s-style high-gain
tones at bedroom levels and features Volume and Schizo
knobs—the latter has four EQ presets—a Mode toggle, and a
Hi/Standby/Low toggle that lets you power down to 1.5 watts.
3rd Power British Dream (RIGHT) –
This handwired, all-tube 45-watt combo offers two
channels—one inspired by a '59 Vox AC30, the other
by a '68 Marshall plexi—and a half-power switch.
The 12" Celestion Alnico Gold is housed in 3rd
Power's proprietary Switchback triangular enclosure.
---
Rivera RockCrusher Power Attenuator –
The RockCrusher allows you to attenuate the
speaker output from any amp while controlling
equalization characteristics with Edge and Warm
switches. Ideal for capturing the full bloom of tube
amps at workable volumes, it also features a balanced
XLR out, a 1/4" unbalanced out, two 1/4"
speaker outs, variable Studio and Line Out controls,
8 or 16 ohm impedance control, and true bypass.
Vox Tony Bruno 1x12 Combo
– Boutique amp guru Tony Bruno helped design this classic-voiced, 6V6-
powered 35-watt combo that's equally capable of super-high headroom and
chime and bruising brawn. It features a Master Volume, a Master Volume
bypass toggle, a 3-band EQ (Bass, Middle, and Treble knobs), Volume and
Reverb knobs, a Bass Boost toggle, a Macho gain boost switch (which is
also footswitchable), and a Celestion G12-65 speaker. Also available in 2x12
form. voxamps.com
---
Marshall AFD 100 –
The long-awaited 100-watt AFD100 Slash signature head is based on the
third prototype presented to Slash and features two gain structures—#34
and AFD. Marshall modeled the #34 side after Slash's modded JCM800 and
added more gain to thicken up the tone for the AFD side. Only 2300 units will
be available worldwide. marshallamps.com
---
Mesa/Boogie RA-100 Royal Atlantic –
The 100-watt RA-100 Royal Atlantic can be powered by EL34s or 6L6s and runs on class
AB power. Tonally, the combo launches off the TransAtlantic platform and mixes both classic
and modified British sounds with Boogie's trademark high-gain thump. It also has the
company's proprietary new Multi-Soak feature, which lets you notch either channel down
16, 12, 8, or 4 dB. Front-panel Clean channel controls are Master, Bass, Middle, Treble, and
Gain, while the Hi/Lo channel has vintage high-gain and vintage low-gain modes and front-panel
Master Hi, Master Lo, Bass, Middle, Treble, and Gain knobs. mesaboogie.com
---
65amps Empire (LEFT) –
The 6V6-powered Empire features a trio of classic high-gain British
voices from different eras. The first offers early '60s tones, the
second aims for '68-'72 tones, and the third offers up hot-rodded
'80s tones. The amp is powered by 22 very loud watts, but it also
features a Master Voltage control for bringing the volume down to
bedroom levels. 65amps.com

Celestion G12H 30-Watt 75 Hz (RIGHT) –
The new addition to Celestion's blockbuster
G12H30 series features a resonant bass
frequency of 75 Hz (the original's is 55 Hz) to
offer players a tighter, more articulate low-end
response. professional. celestion.com
Effects, Etc.
Misa Digital Instruments Kitara
– Touch-screen devices are everywhere these days, so it's no shock that a company
would decide to integrate one with a unit dedicated to creating music.
Adventurous players like Muse's Matt Bellamy had electric guitars modified
with parameter-controlling devices like the Korg KAOSS Pad many years ago,
but the Kitara isn't going for that—it has no strings, so it's really not a guitar in
even the most lax interpretation of the word. Although its neck has 24 "frets,"
each with six buttons, the Kitara runs on a Linux operating system and has
more than 100 internal synth sounds that are activated via an 8" multi-touch
display. You can choose to display six lines representing strings if you wish,
and the touch screen also enables manipulation of up to six built-in effects
that you can assign to the screen's X and Y axes.
The Kitara will never replace a serious guitarist's real 6-strings—but it's still
intriguing for several reasons. First, it may be the most affordable, most convenient,
and coolest-looking way for guitarists to play synth-generated music
using the same chord and scale shapes they've always used on their solidbody
and flattop guitars. Second, its form factor likely avoids the glitchy tracking
and latency issues that often plague traditional guitars outfitted with a MIDI
pickup. Though $2800 seems steep for the aluminum-bodied version, $800 for
the heavy-duty polycarbonate version seems quite reasonable. Connections
include MIDI, 1/4", and headphone outputs, and both designs can easily be
configured for left-handed players. misadigital.com
---
Kemper Profiling Amplifier –
Technically, it's not an amp because it can't power a cabinet
(though plans for that option are in the works), but this new unit
from Germany's Christoph Kemper, designer of the Virus line
of acclaimed synthesizers, effectively takes amp modeling to
the next logical level. Yeah, it comes stocked with "profiles" of
venerated vintage and modern tube amps (as well as lots of additional
effects, cabinet simulations, and extensive EQ-ing capabilities),
but what's revolutionary about the Profiling Amp is that
it enables you to capture the tone of any amp at your disposal.
Whether you've got your own killer collection of amps you wish
you could gig or record with more easily, or whether you know a
magnanimous dude who'll let you Napster-ize his collection of
mind-boggling amps, there's some pretty mouth-watering potential
here. Here's how it works: Mic the source amp and connect
the Kemper to its input via 1/4" cable, and then wait about 30
seconds while the Kemper routes a series of test signals through
the source amp's circuitry and captures the amplified tone as a
snapshot inside the Profiling Amp. kemper-amps.com
Tech 21 Roto Choir (LEFT) –
This rotary speaker simulator
emulates the entire signal chain of a
mic'd Leslie cabinet, from the tube
power amp to the low-frequency
speaker, high-frequency horn, and
XY stereo-mic setup. The pedal's
Fast/Slow switch lets you slow
down, ramp up, or even pause the
simulated rotary speaker in a variety
of positions to create a cool "frozen
flange" effect. The Roto Choir has a
buffered bypass, a Bi-Amp switch,
a Drive control, and stereo outputs.
Source Audio Soundblox Guitar
Envelope Filter (RIGHT) –
Optimized for guitar and compatible
with the Hot Hand Motion Controller
Ring, this stompbox contains 21
different filter types—including 2-pole
low-pass, 4-pole low-pass, single
peak, triple peak, and phaser—and
you can adjust the direction and
speed of the filters. sourceaudio.net
---
Red Witch Seven Sisters
– This new line of diminutive pedals—the Lily Boost, Eve Tremolo, Ivy Distortion,
Scarlett Overdrive, Violet Delay, Grace Compressor, and Ruby Fuzz—
provides a lot of pedalboard convenience. For starters, each is powered by
a rechargeable lithium-ion battery, thus eliminating the need for outboard
power. Secondly, their jacks are located along the top edge, which means
they can be placed closer together to optimize pedalboard space.
---
Roland GR-55 Guitar Synthesizer
– Roland has long been a leader in the guitar-synth industry, but the new GR-55
goes a long way toward simplifying the process of getting a universe of sounds
out of your MIDI-pickup-equipped guitar. It's housed in the smallest guitar-synth
housing we've seen, and has perhaps the cleanest, most uncluttered interface
on the market. It includes revamped pitch-detection technology, more than 900
editable PCM sounds, COSM modeling (23 guitar types and 17 bass types), two
multi-effect engines, looping capability, and 297 memory slots. rolandus.com
---
Visual Sound Dual
Tap Delay
– The Dual Tap features
two independent
delay circuits that
are identical except
for the Modulation
control that lets you
add some chorus-type
sounds to the
second circuit. The
Tap Tempo footswitch
locks both channels
into a single tempo,
or a metronome input
allows you to sync
delays with an outside
source. You can
also select quarter,
eighth, dotted-eighth,
and eighth-note-triplet
repeat values.
---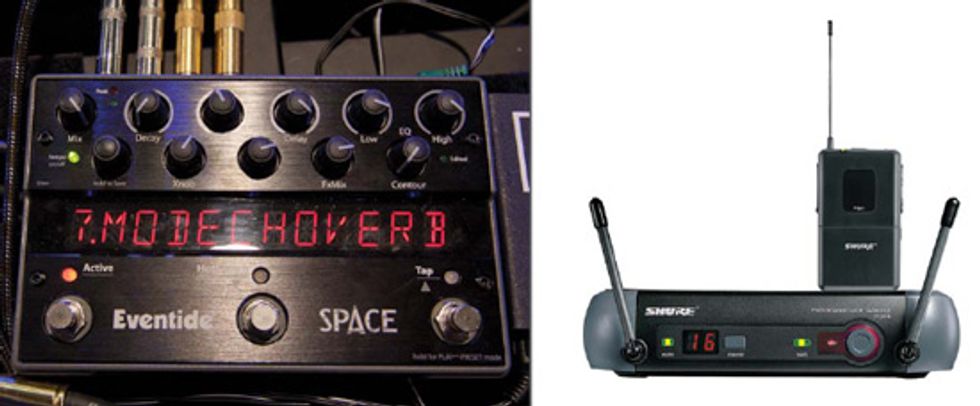 Eventide Space Reverb (LEFT) –
The Space is a pedal worthy of its name. With reverb modes ranging
from the super-cosmic Blackhole mode to settings that sound
like U2's the Edge, it also offers a vast menu of tremolo and delay
effects. eventide.com

Shure PGXD14 Wireless System
(RIGHT) – This 24-bit, 48 kHz digital wireless system
includes the PGXD1 transmitter and PGXD4
receiver, which operates in the 900 MHz range.
The PGXD1 transmitter is sleek and has a tiny,
recessed pot for varying your output from line
level to +26 dB. shure.com
Bass Gear
Reverend Basses (LEFT) –
Left to right: the Mercali
5-FM 5-string, Decision,
Justice, Thunder Gun, and
short-scale Dub King have
solid korina bodies and new
Reverend pickups.
Noguera Yves Carbonne Signature 8-String Fretless
(RIGHT) – This 34"-scale, left-handed wonder features a chambered
mahogany body, spruce top, ebony fingerboard, ebony
bridge with brass saddles, thumb rest, and Volume, Bass,
Mid, and Treble knobs. noguera-basses.com
---
Henman Rolla Prototype –
The Rick Turner-built Rolla has '60s
Hagstrom-style humbuckers, a Hipshot
bridge, a 5-piece African sapele
neck, 24-fret Makassar ebony fretboard,
a chambered African mahogany
body, and a figured-maple top.
---
Ken Bebensee Fretless
Semi-Hollow 4-String
(LEFT) – This earthy, elegant beauty features a
walnut top and back, a fl amed-maple body
core, a lined fretless fingerboard, Bartolini
humbuckers, a piezo-equipped bridge, and
Hipshot tuners. kbguitars.com

Fender Custom Shop
1960 Jazz and
P-Bass Pro (RIGHT) –
These basses both feature
an alder body with a
maple neck and a 1960
U-shaped carve. The
Jazz has a 7.25"-radius
rosewood fretboard with
vintage-size frets, vintage-voiced
J pickups, and
stacked controls. The PBass
Pro has a 10"-radius
rosewood fretboard with
medium-jumbo frets, a P
pickup under the chrome
cover, a J pickup in the
1970s P-bass position,
and a Badass bridge. fendercustomshop.com
---
Aquilina Shelby 5-String (LEFT) –
This 34.5"-scale tribute to the Ford Shelby
GT350 Mustang has a sycamore neck, alder
body, Indian rosewood fretboard, Delano
single-coils, and E-PRO BTB-01 electronics.
Danelectro Mid '60s (MIDDLE) –
Dano's latest has dramatically
curved horns, lipstick-tube pickups,
dual-concentric Volume/
Tone knobs, and a 3-position
pickup selector. danelectro.com

Brubaker MJX-4 Brute (RIGHT) –
Luthier Kevin Brubaker's new import
line features his famous "bolt-on
neck-thru" design, a humbucker
and a single-coil, and Blend,
Volume, Bass, and Treble knobs.
Eden WTDI Direct Box/Preamp (LEFT) – The WTDI features a 3-band
EQ with Bass Boost and
Mid Shift switches, Gain,
Enhance (boosts low bass,
upper middle, and high frequencies),
Compressor, and
Volume knobs, and 1/4" and
XLR outs with a ground lift.
T.C. Electronic
Blacksmith (RIGHT) –
The Blacksmith
pumps out 1600
watts, and its TubeTone
control offers
vintage sounds while
the SpectraComp
knob offers 3-band
compression. tcelectronic.com
---
Aguilar Tone Hammer 500 –
This tiny, 500-watt head
weighs 4 pounds and its
Drive control features Aguilar's
popular AGS (Adaptive
Gain Switching) circuitry.
---
Epifani Piccolo Head
and Prototype Cab
– The Piccolo can be picked up
with a pinky finger and pumps
out 600 watts of class AB
power at 4 ohms. Front-panel
controls include Active/Passive,
Mid-Cut, Mute, and Vintage
voice buttons, and Gain, Mid
Cut, Bas, Mid, and Treble
knobs. The incredibly light prototype
cab will be available later
this year. epifani.com
---
Ampeg Portaflex PF-500
(shown) and PF-350
– Compact and potent, the MOSFETdriven
PF-500 and PF-350 weigh
11 and eight pounds, respectively,
and, at $399 and $299 (street), drop
a lot of thump for the buck. Controls
include Ultra Hi/Lo boosts,
Bass, Mid, and Treble controls and
a -40 dB pad. ampeg.com
---

Gallien-Krueger MB800
– Driving 800 watts at 4
ohms, the MB800 weighs
4.9 pounds and features
a discreet FET preamp,
effects loop, pre/post XLR
out, defeatable limiter, dual
Speakon outs, Headphone/
Line out, and backlit front-panel
controls.
---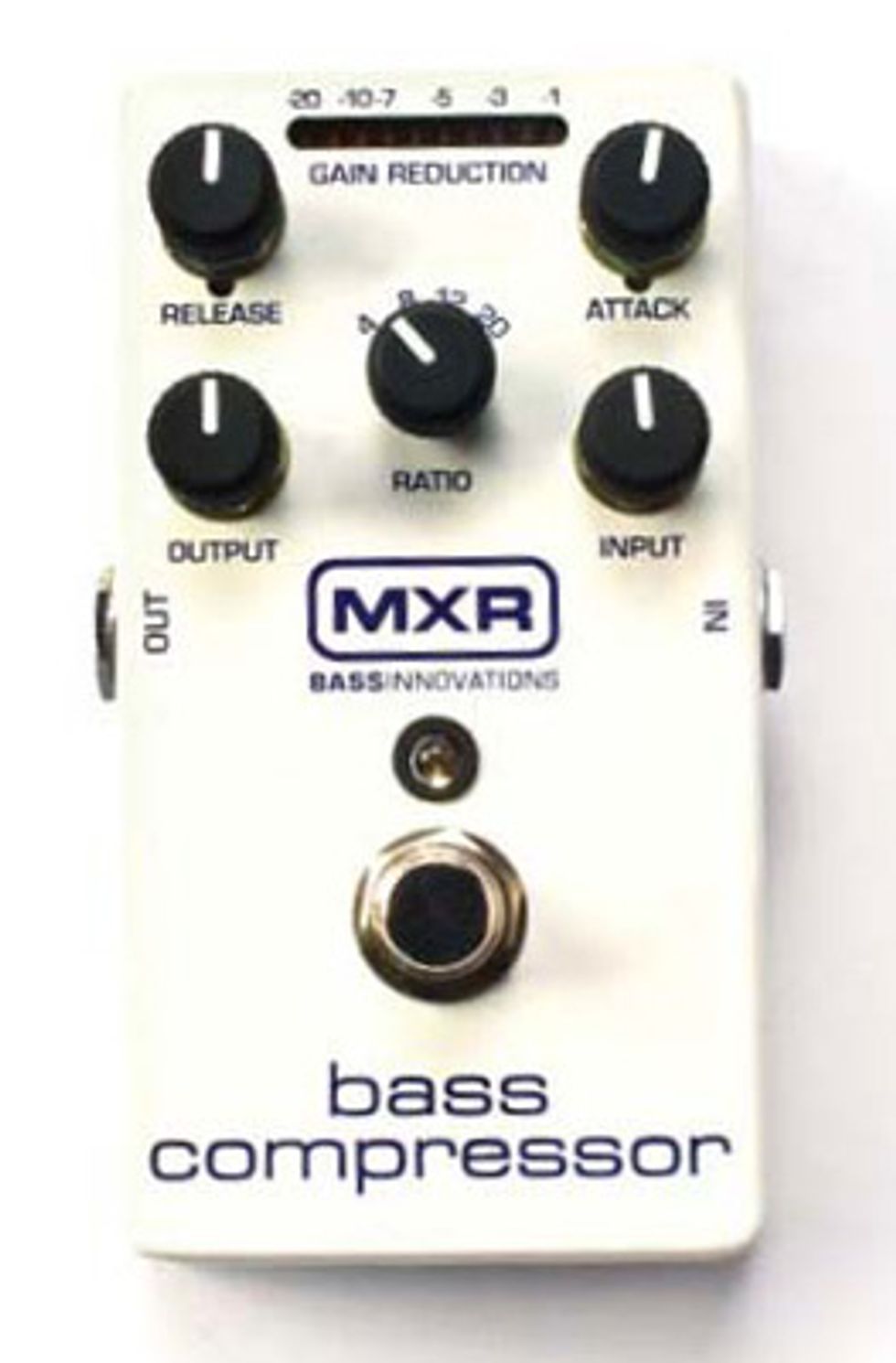 MXR M87
Bass Compressor
(LEFT) – With Release, Attack,
Ratio, Input, and Output
controls, and an LED
readout for gain-reduction
status, the M87 offers
bassists and guitarists
formidable tone-sculpting
capabilities.
Ibanez TS9B Bass
Tube Screamer (RIGHT) –
The venerated guitar
overdrive has been
customized for low-end
lovers. It features
Drive, Level, Mix, Bass,
and Treble knobs, and
can add up to 30 dB of
gain for everything from
warm, vintage growl to
all-out fuzz mayhem.