Hayden Launches New Mofo Range of Heads, Combos, and Cabinets
Combining new looks, increased features and a very special 'magic eye' tube creates a range that stands out from the crowd more than ever.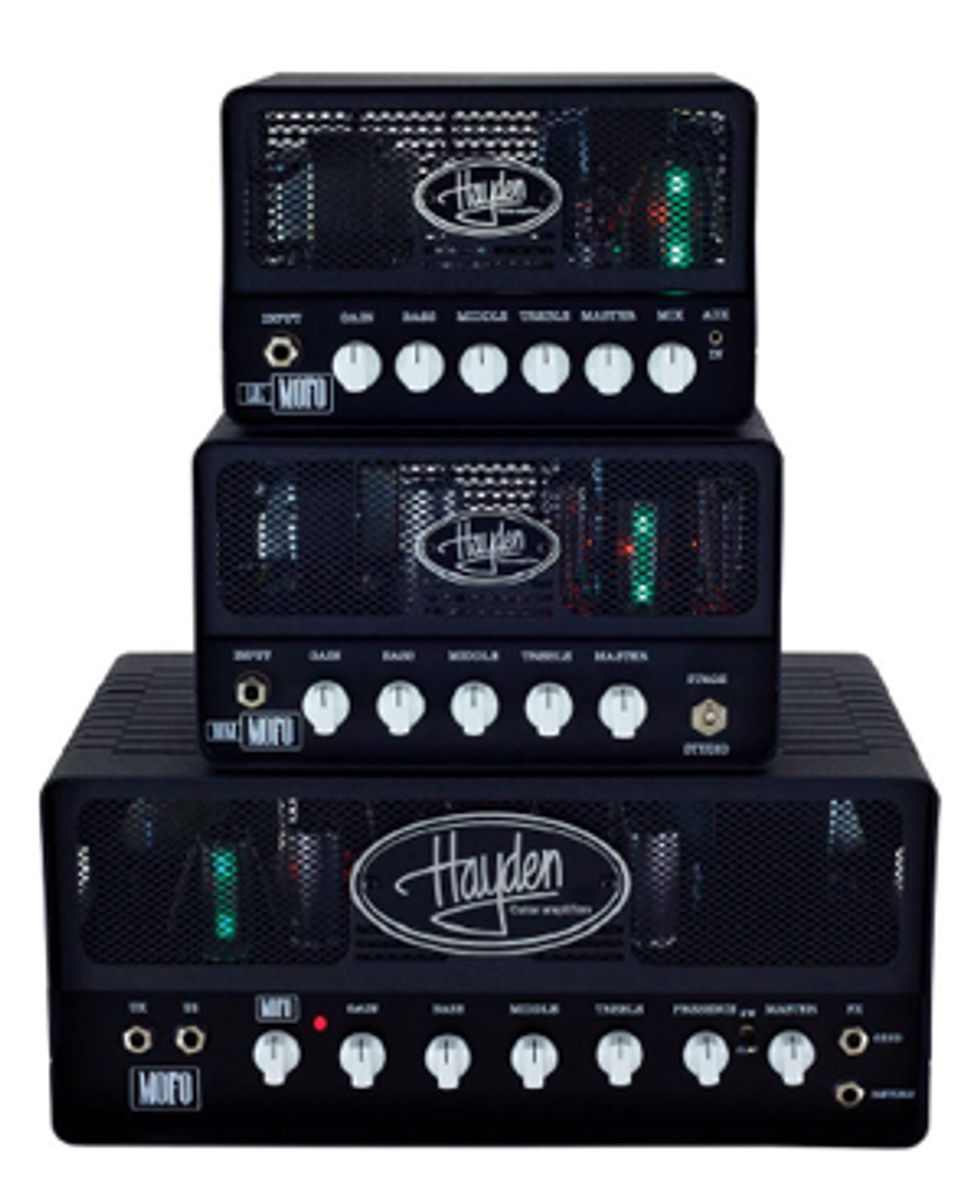 United Kingdom (January 17, 2012) – Expanding on Hayden's much loved Mofo range 2013 sees Hayden truly come of age with a brand new Mofo range. Combining new looks, increased features and a very special 'magic eye' tube creates a range that stands out from the crowd more than ever. A direct response to the over saturated 'lunch box market' where many small amps are found to be lacking, the Mofo range proves real tone, style and versatility can be found in small packages.
The Mofo that started it all, the Mofo 30 has had an overhaul that begins with a totally new custom designed heavy duty housing with integrated side handle. The updates continue with a new full FX send and return, front mounted stealth switch(30 Watt to 2 watt Attenuation), new cast badge and 'magic eye' tube input monitoring. The only thing to stay the same is the amazing tone, power and versatility that made the original Mofo 30 so special.
Now truly living up to its name the new Mini Mofo 15 watt all tube head is dramatically reduced in size and the addition of a new simplified preamp means dialing in your sound is easier than ever. New looks including the 'magic eye' preamp tube and a front mounted stage/studio attenuation switch means you can hit the sweet spot whether practicing, recording or playing live. The new Hayden Mini Mofo truly belies its small size with huge all tube tone ranging from jangling cleans right through to face melting overdrive.
Last but certainly not least, the all new Lil' Mofo 2 watt all tube head is a tiny tone monster. Perfect for home and studio use, the Lil' Mofo produces real all tube tone at more manageable volume levels. Featuring an MP3 input with level control so you can play along to your favourite songs, as well as a headphone out, he Mini Mofo is the ultimate choice when you have to compromise on volume but won't on tone. Don't be fooled though, paired with the right cabinet the Lil' Mofo packs a huge punch.
For the ultimate in portability Hayden has also developed a new range of combos. Finished in stunning two tone heavy duty tolex and protected by brushed steel corners, the new Mofo combos look every bit as good as they sound. The Dual Mofo combo features a custom Hayden 1 x 12 driver, 15 watts of all tube power, 2 independent channels plus an accutronics Belton block reverb. The Mighty 5 Mofo features a custom designed 1 x 12 driver with a Belton block reverb and produces 5 watts of glorious all tube power. Last but by no means least The Lil' Mofo 2 watt combo drives a Celestion 1 x 8 speaker and also features the Belton block reverb. All Mofo combos feature the captivating 'Magic Eye' tube underneath the front panel.
Biffy Clyro, Anthrax, The Eagles of Death Metal, legendary producer Andy Johns and many more players are huge fans of the original Mofo range using them both on stage and in the studio. We are sure the new range will appeal to even more players of all levels and from all genres.
The final additions to the new Hayden range for 2013 are an exciting new range of cabinets. Designed from the ground up Hayden wanted the new cabinets to be made as small as possible whilst maintaining the quality of tone and projection that Hayden cabinets are already known for. The new compact range achieves these goals and are constructed from quality 15mm ply and contain Hayden custom designed drivers delivering whatever is thrown at them with authority despite their small stature. The compact range consists of 1x12 Angled, 1x12 Flat, 2x12 Angled, 2x12 Flat and 4x12 Flat cabinets. Designed to perfectly compliment the Lil' Mofo head, there is also, for the first time, a Hayden 1x8 cabinet.
The Compact Cabs will also be produced to order in the Hayden UK Custom shop for those requiring something that little bit extra special. Constructed using premium grade 15mm Latvian birch ply and using Celestion Vintage 30 drivers, these are the ultimate in guitar cabinets.
For more information:
www.haydenamps.com