Kahler Hybrid 7300 Tremolo Install
In the early '80s, I was basically living out of my suitcase, eating Top Ramen twice a day and being a rockstar at night. The band was performing wherever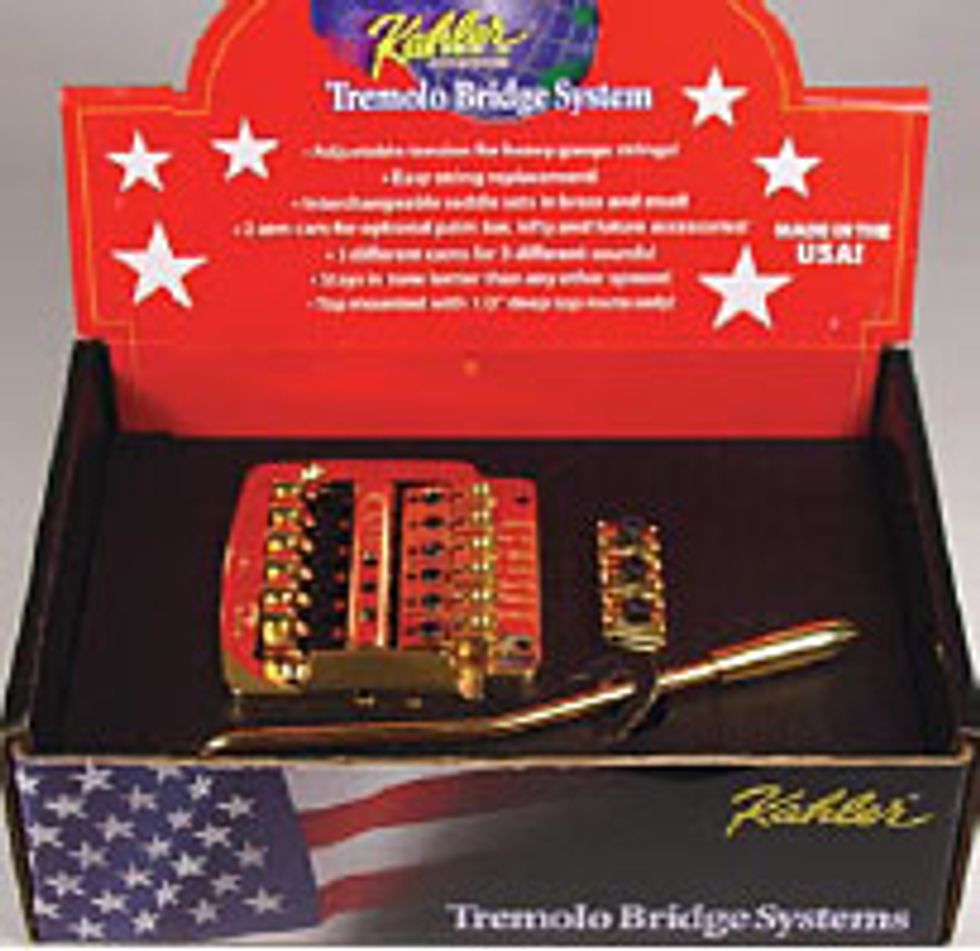 In the early '80s, I was basically living out of my suitcase, eating Top Ramen twice a day and being a rockstar at night. The band was performing wherever there was a gig to be had until at least one in the morning, then we would tear down our equipment and load out around three. My brother Bill would drive the van along with the other band members, and I would handle driving the equipment truck. Then, a couple of states later, while watching the sun coming up over the horizon, I would realize I was in for a long day.
Another ingrained memory from that time is how this unique, wicked-looking tremolo generated a frenzy among guitar players. Every band that I ran into on the road had at least one member using this contraption. It was the one and only Kahler tremolo by Kahler International, Inc. You could truly say Kahler was taking the guitar world by storm.
Sure, there were other off-the-wall innovations being developed as there still are today, but Kahler managed to break it all down and ask a simple question: what are guitarist's problems, and what are solutions to those problems? If you can provide that solution, and do so with the best product possible, you'll win over players. Kahler did that, and is still kicking after over two decades of global change in the music industry. The Kahler tremolo is still the first and only choice for many guitar and bass players alike.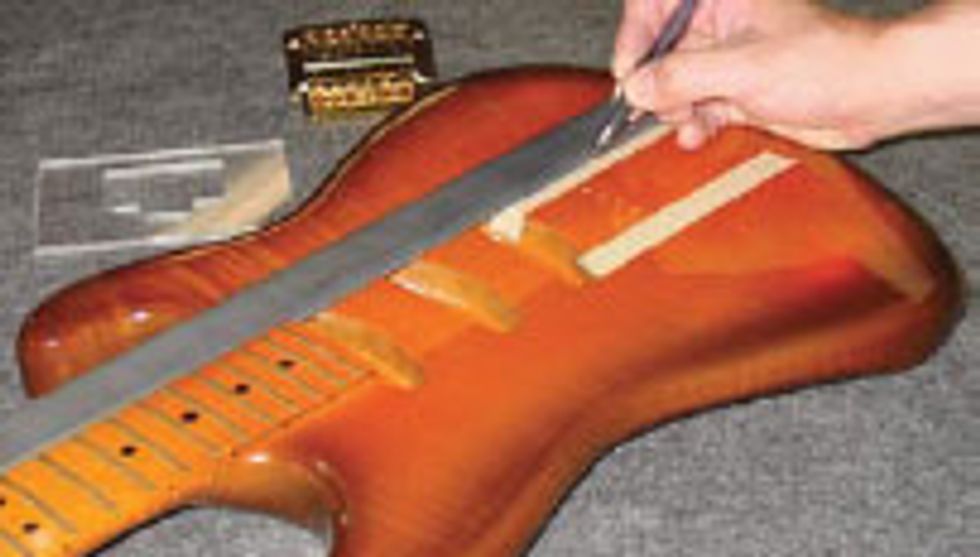 Tremolo Profile
Kahler's 2200 Professional stud-mount series is designed to retrofit to most stud-mount bridges and will work with carved tops. But since the customer's guitar is a Strat-style design, his choice was the Hybrid 7300 flat mount, made out of 360HH brass. If he wanted the option of having the tremolo left or right handed, made out of 303 stainless or 7075 aircraft grade aluminum, he would have chosen the 2300 Professional flat mount, which offers a few extra options for a few extra bucks. A critical component in all of Kahler's cam-operated tremolos is the use of 2-R2ZZ precision ball bearings, which create the ultra-smooth feel and allow the tremolo to come back to intuneness.
Measuring Up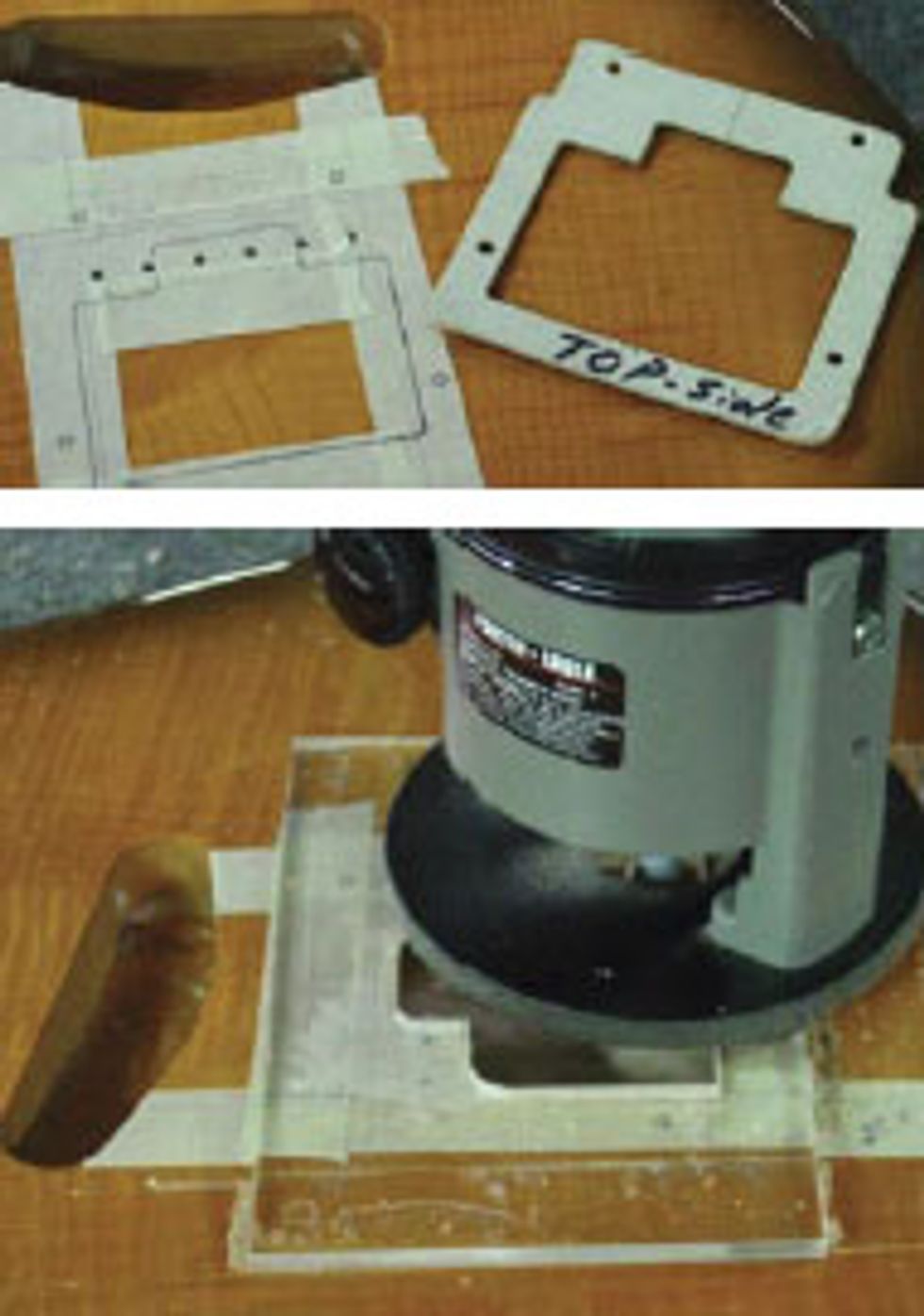 I used my Stew Mac precision straightedge, laying it across both sides of the fingerboard. As it extended out over the body, I marked the straightedge lines onto tape that I had previously placed on the body. Measuring between these two marked lines established the center and the scale-length of 25-1/2" to position the cardboard template Kahler provided. Note: Do not mark the center line gauging by the two front mounting holes of the cardboard template as they are not on center. I marked center by the inner cutout of the template. This is used as a guide for locating the area to be routed and locating the four screw mounting holes; it's not intended to be used as a routing template.
For a routing template, I used our 3/16" acrylic template which is designed to take a leaner cut from a pre-finished guitar. To keep the route tight I used a 3/8" diameter ball-bearing router bit to follow the template, routing out the cavity to a ¾" depth We were then ready to mount the tremolo. The chassis ground wire was channeled through the body and was making contact on the underside of the tremolo for passive pickup compatibility. Kahler's six-way adjustable saddles made the setup and intonation a breeze. Thanks to Robert Buffalo for allowing me to use his guitar for this article.
Please take a moment to check out Kahler's websites,
kahlerusa.com
and
kahlerparts.com
, where you will find more info on products, maintenance, and Kahler's history.
---
John Brown
John Brown, of Brown''s Guitar Factory, is the inventor of the Fretted/Less bass. He owns and operates a full guitar manufacturing and repair/restoration facility, which is staffed by a team of talented luthiers. He is also the designer of guitar making/repair tools and accessories that are used today by instrument builders throughout the world.
www.brownsguitarfactory.com
info@brownsguitarfactory.com