One group of products that has made a huge impact on the guitar modeling world is the VG series from Roland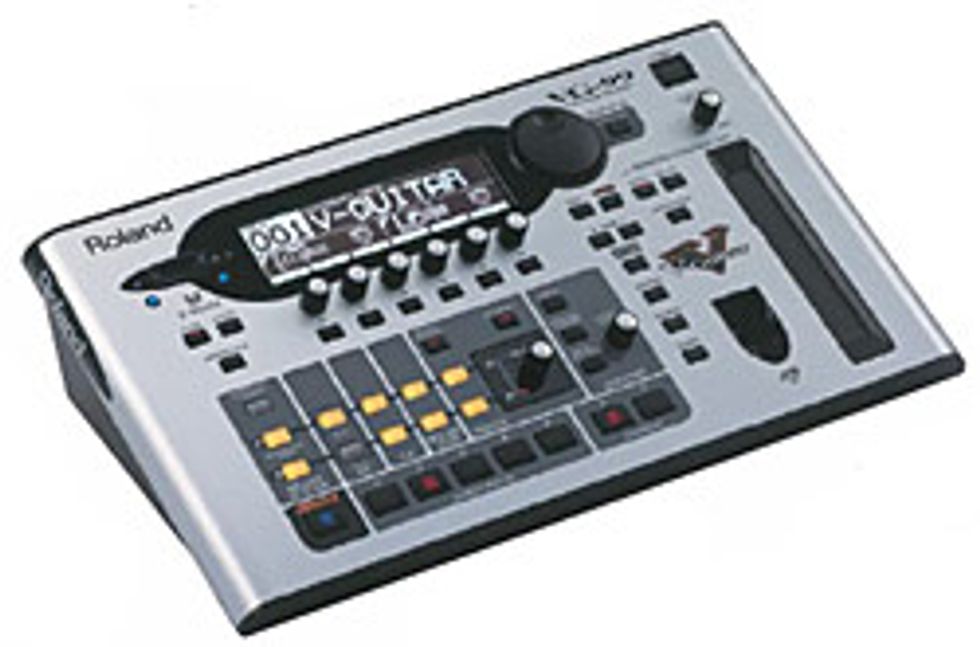 In past editions of this column, we've discussed physical modeling and its benefits. One group of products that has made a huge impact on the guitar modeling world is the VG series from Roland. I've been playing guitar for over 30 years and I can't count — much less remember — all the guitars and amplifiers that I've owned over that time. But I must tell you that if I could put them all in one room, they still wouldn't come close to number of tones that Roland has packed into their amazing VG99 guitar modeling system.
First Out Of The Gate
Roland was the first to introduce guitar-centric physical modeling in a box in 1996. The unit was called the VG8, and it was amazing. I remember playing it at a prerelease training session, and realizing within 15 minutes that I should go home and sell that basement full of guitar amps as well as a halfdozen guitars!
After the VG8 was released, Roland continued to refine the technology with improvements and updates, and eventually brought out the follow-up VG88. Now Roland has introduced their latest guitar modeling system, the VG99, which will be shipping about the same time that you read this article.
You can find out much more about the VG99 at sweetwater.com, or by visiting the Roland website (rolandus.com) for specifics. What I would like to cover in this column is something that you won't find on these sites: some practical applications for this product.
In The Studio
I often take calls from musicians who are just starting to record, and the question that comes up is, "How do I get that sound in the studio?"
There are several factors, if we follow the chain: the guitar, amp head, cabinet, effects, microphones, mic placement, mic preamp, and analog-to-digital conversion … and that just gets us into the recorder. With the VG99, all those items are included and set up for the perfect ready-to-record sound. And it's all in one easy-to-use box! For example, you can choose between an acoustic guitar with a large-diaphragm close mic, and instantly switch to a Tele played through a Fender tube amp with a Shure dynamic mic off-axis; after that, you can explore just about every other possible combination you can come up with.
It's a studio owner's dream, as it combines all that equipment into one box, and at a price that's far lower than owning each separate piece. This leads us to the next practical use, for session work.
The Session Player
I can't tell you how valuable the VG99 would be for session work. As a session player, if you own one or two amplifiers and a couple of guitars, you're only going to be able to fit into a small category of sessions – you only have those sounds to offer. With the VG99, you can walk into any session from rock or jazz to country or rap to the latest heavy-hitting elevator music, and you'll instantly have the right tone — and without a huge cartage bill!
The Live Guy
Imagine going to a gig with dozens of guitars and amplifiers, all sitting on the car seat next to you — but not taking much more room than this magazine. No more tearing up your car hauling tons of gear, no more backbreaking load-ins, and only one trip to the car. If that doesn't get your attention, a two-minute setup and a lower stage volume (for us old guys) should. The idea of having a unit onstage and being able to switch quickly between guitars (including the "pain in the live player's butt" acoustics) different tunings, different amplifiers, and different effects is invaluable.
I wish I could emphasize how well this product delivers on its promise. Not only is it very deep, but it's very broad — there's so much flexibility and power in the VG99. If you're a guitar nut like me, then this is the product, whether you're playing live or recording tracks.
---
Jeff Law
Jeff Law has played guitar for 30 years — everything from high school and college bands to studio sessions. He's also an experienced live sound and recording engineer, and has been a Sales Engineer at Sweetwater for over 17 years. You can reach him at
jeff_law@sweetwater.com
or at 800-222-4700 x1229