Charvel Unveils the Prashant Aswani Signature
This signature Pro-Mod So-Cal model features a lightweight alder body with scalloped lower back bout and shredder's cut heel offering easier access to the higher frets.
---
This Strat-style guitar is crafted to deliver world-class playability and performance. In the case of the PA28, this means an ultra durable and lightweight alder body with scalloped lower back bout and shredder's cut heel offering effortless access to the higher frets. The graphite reinforced bolt-on maple neck with 12" radius rosewood fingerboard and 42mm Graph Tech TUSQ XL nut is custom crafted for lightning fast riffs and chugging rhythms alike. At the heart of the Charvel PA28 are a set of custom made Charvel humbuckers. These pickups were made with direct input from Aswani himself and feature alnico 3 magnets that offer a uniquely dynamic palette of tones ranging from fiery distorted leads to crystalline cleans. Boasting a mystifying Inca Silver thin skin nitro lacquer finish and parchment pickguard, this instrument truly looks just as good as it sounds.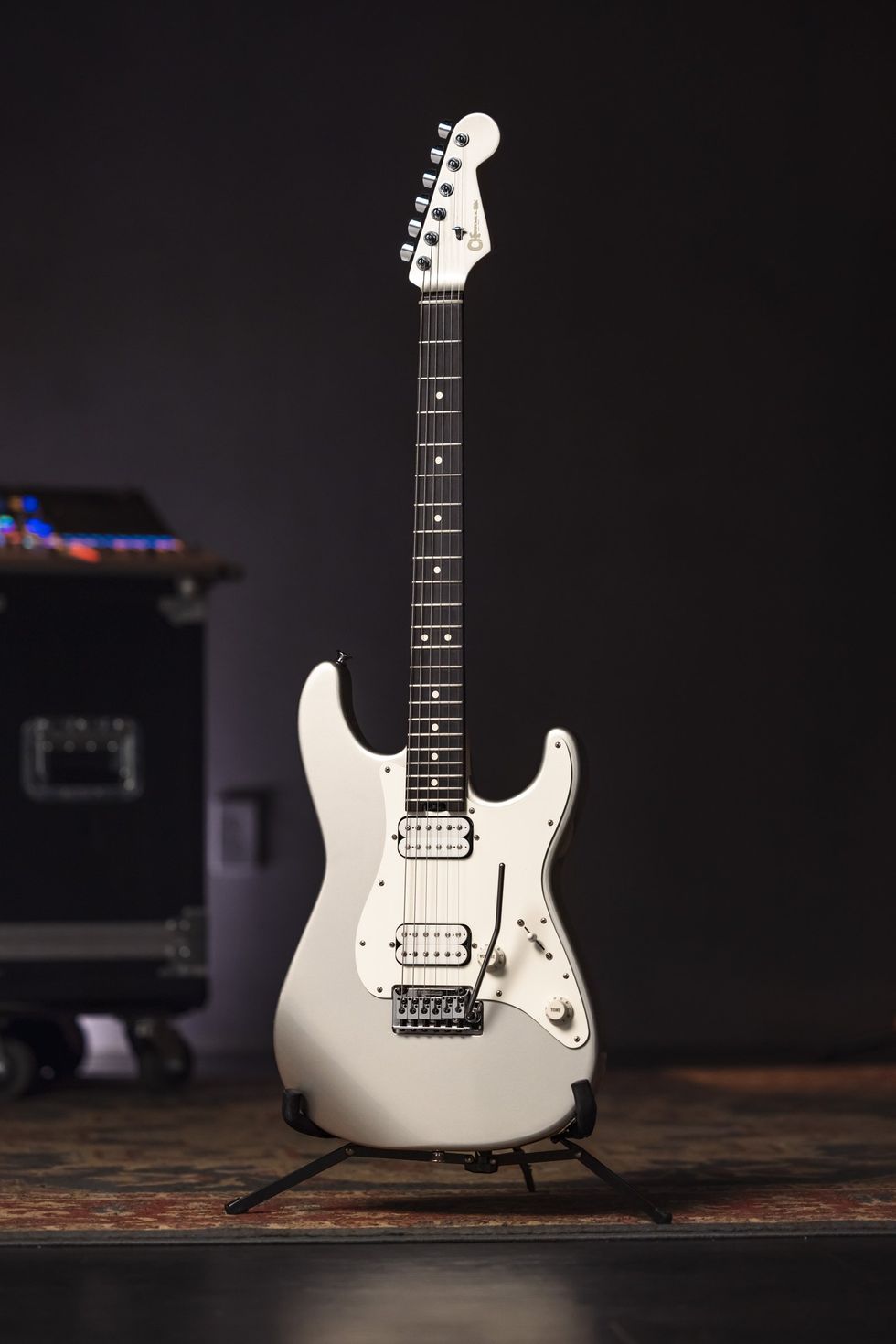 Aswani first gravitated towards music after attending a number of classical Indian performances with his father and at age 13, he branched out and bought his first rock n' roll record, AC/DC's "Back in Black." The magnitude of Angus Young's thunderous playing inspired Aswani to get serious about guitar playing and in 1998, Aswani released his first album, Revelation. From that point on, he became famously known for his tight funk inflected rhythms and dizzying phrasing. His playing has reached the corners of just about every genre imaginable, playing alongside everyone from Christina Millian to renowned flutist, Ronu Majumadar. Honoring a player whose legacy includes touring with Justin Timberlake as well as writing and recording four renowned solo albums is a tall order—and Charvel has risen to the occasion.

Prashant Aswani Showcases His Charvel Signature Pro-Mod So-Cal Style 1 PA28
"Prashant's playing is unique in that you can't quite fit his style into any one box," said Jon Romanowski, VP, Category Management - Charvel. "But because of that, he's like a chameleon shifting from one genre to the next. We wanted to encapsulate that limitless approach to playing with this signature model and thanks to features like the dynamic custom humbuckers and comfortable maple neck, this guitar can do it all."
Charvel honors the inimitable guitarist with the all-new Prashant Aswani Signature Pro-Mod So-Cal PA28, designed to deliver next-level performance and an incredibly versatile and ideal studio tonal range.
For more information, please visit charvel.com.