Charvel Pro-Mod San Dimas Style 1 HH FR Review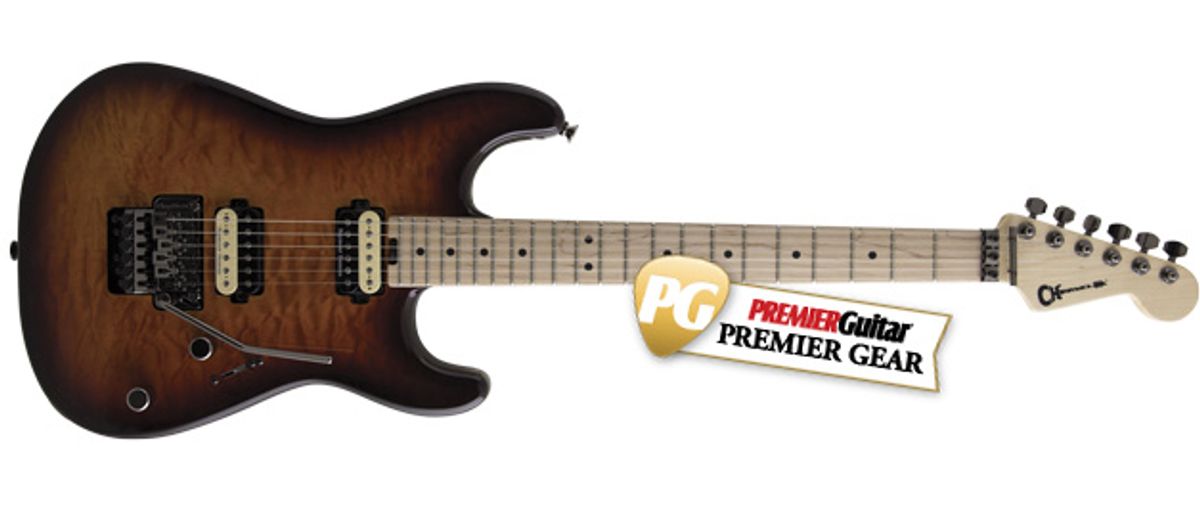 The San Dimas lives again in a more versatile incarnation.
For a lot of aspiring shredders, the image of Warren DeMartini's Charvel San Dimas in Ratt's "Round and Round" video—with its blood and skull graphic—was about as badass as you could get in 1984. That image helped cement the San Dimas' place as one of the must-have axes of the shred era. But it was no flash in the pan. Three decades later, the San Dimas remains in production. This newest permutation is a Mexico-built Pro-Mod San Dimas Style 1 HH FR.
Not Only Built for Speed

With its transparent, tobacco sunburst, quilted maple top on an alder body, zebra humbuckers, and maple neck, the Pro-Mod version looks sharp, and a lot like an '80s shred kid grown up and keeping it classy in middle age. Rather more lurid solid colors like slime green and neon pink are also available for permanent adolescents.
It's apparent that a lot of careful thought went into the guitar's design and construction. The neck is reinforced with dual graphite truss rods for extra stability and features a convenient spoke wheel truss rod adjustment where the neck meets the body. It makes adjustments exceptionally easy.
The test guitar arrived perfectly in tune, and the Floyd Rose double-locking tremolo system helped keep it in tune in spite of the fact that I subjected the instrument to fairly aggressive whammy abuse right out of the case. The vibrato was set up by the factory to go up a major 3rd on the G, D, and A strings. It's a very stable system, too, requiring only microscopic adjustments of the fine tuners—I never had to unlock the locking tuners—during my test period. A hard-tail option is also available.
The tight low end makes Eddie Van Halen-style metal-boogie riffs and percussive djent-type rhythms sound equally tough and clear.

Rolled fretboard edges and a forearm contour on the body add to the axe's already comfortable profile. And thanks to the combination of low action, a great factory setup, and 12–16" compound radius fretboard with 22 jumbo frets, the San Dimas very plainly invites fleet-fingered moves. But while many metal guitars are best suited for playing a lot of fast notes (and, indeed, lightning fast hammer-ons and pull-offs are a piece of cake on this bad boy), the San Dimas seems equally at home for many other styles. Even though the guitar arrived strung with a .009 string set, it never felt too plinky if I dug in for aggressive, bent blues-rock licks.

Six-Pack Attack
For much of my time with the San Dimas, I paired it with a Mesa/Boogie Tremoverb combo (using clean and dirty channels) as well as Pro Co RAT and Paul Cochrane Timmy pedals for different shades of dirt.

A pair of direct-mount Seymour Duncan pickups—a time-honored combo of JB in the bridge and '59 in the neck—offer a boatload of tone options. They are wired to a 3-way selector switch, from which you can select the bridge and neck pickups or the inner coils of each running in parallel. Coil splitting is performed via a push-pull volume control, and gives you the outer bridge coil, both pickups' outer coils in parallel, or the outer coil of the neck pickup, depending on switch position.
Ratings
Pros:
Excellent playability and a wide range of killer sounds. Great build quality.
Cons:
None.
Tones:


Playability:


Build/Design:


Value:




Street:
$869
Charvel Pro-Mod San Dimas Style 1 HH FR
charvel.com
You can get great sounds from just about every configuration. The neck pickup is crisp with a lot of bite, and free of tubbiness. The middle sounded a little glassier than the neck position and inspired whammy-infused, clean melodies (Steve Vai's "Call it Sleep" riff among them). The bridge pickup is muscular, open, and sounds reminiscent of some of Guthrie Govan's brash lead tones. For rhythm playing, the tight low end makes Eddie Van Halen-style metal-boogie riffs and percussive djent-type rhythms sound equally tough and clear.

Coil splitting offers another layer of tone flavors. For clean settings, I particularly enjoyed the split-coil middle position—an out-of-phase sound that was great for funking away on minor-6 chord voicings or country-style, open-string pull-offs. With a little dirt, the split neck pickup offers cool Stratocaster-on-steroids tones that work for sounds from stinging blues to Yngwie-like rapid-fire precision licks. The split bridge pickup also delivered powerful variations on bluesy lead sounds. It's a treat being able to coax so much tone variation just from the guitar.

Tone Isn't Just in the Fingers
Several years ago, I pondered buying a San Dimas, but held off because it didn't have a tone knob. (Many rock guitarists feel that a tone knob robs the tone.) This edition of the San Dimas finally features that missing knob. But in order to please old-school San Dimas users, the tone knob has a very effective and useful no-load option, which removes the capacitor from the circuit entirely at maximum levels. Moving back just a notch from max, you feel a detent setting that lets you know the tone knob is engaged. It takes a minute to get used to the knob's slight resistance when moving from maximum to lower settings, but the payoff in tone-shaping leeway is huge. While no-load controls typically result in a brighter sound, the San Dimas is never shrill. Instead you get clarity that lends a measure of single-coil cut to the humbuckers. In the opposite direction—even with the tone knob at a near minimum—the guitar still feels very alive, opening up the possibility of almost jazz-like tones with a crisp pick responsiveness on top.

The Verdict
The cool thing about the San Dimas is that, while it's clearly targeted at the shredder, it covers miles of musical territory. And the street price—just under 870 bucks—is very reasonable considering the excellent build quality and the sonic versatility within.