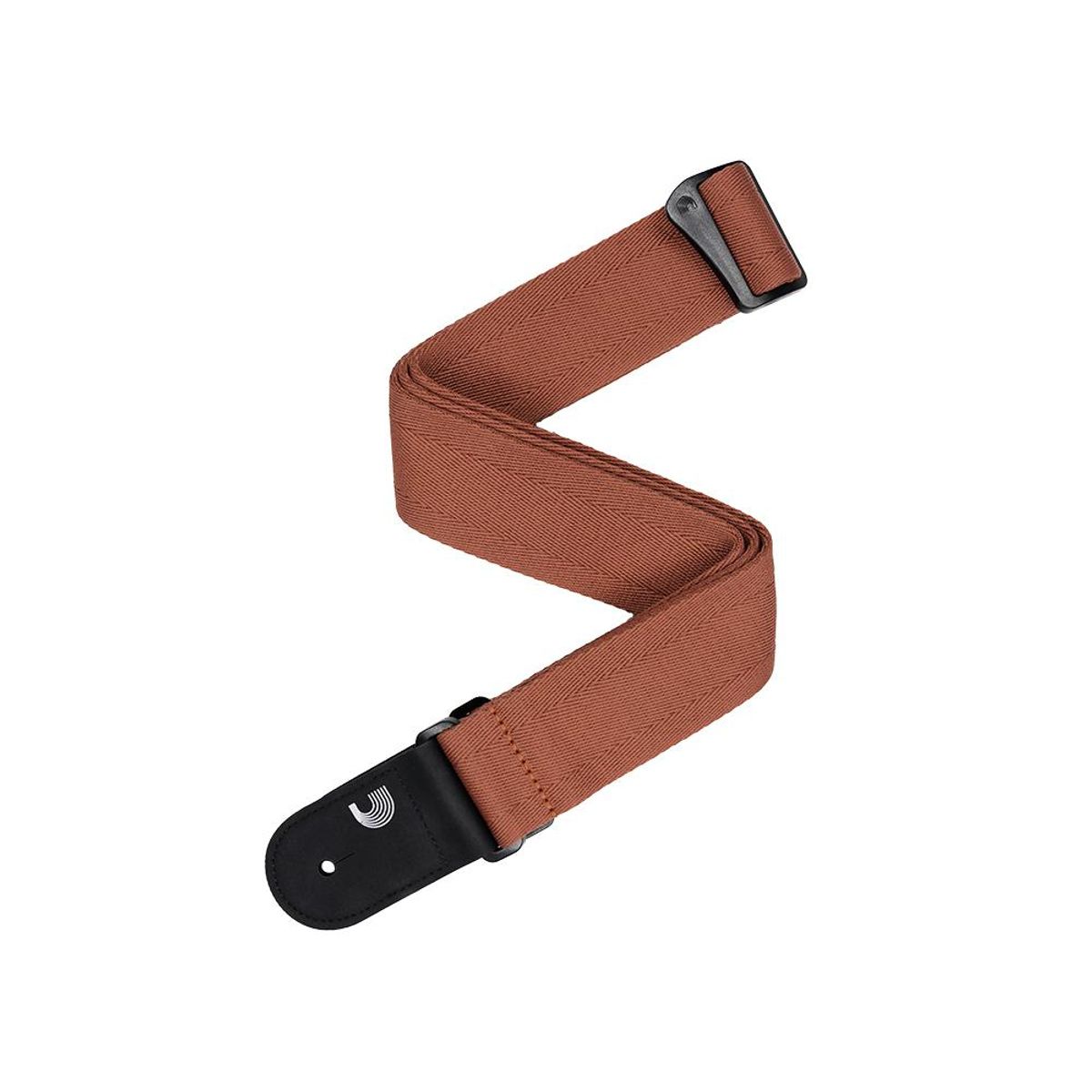 D'Addario is thrilled to announce the launch of Eco-Comfort, a line of recycled guitar straps available now, exclusively on our website. D'Addario is the first major strap company to release a line with roughly 90% of the strap made from recycled materials.
---
All the Eco-Comfort guitar straps are made from the following sustainable materials.
Strap fabric comes from Repreve, providing high-quality, recycled fibers that are certified, traceable, and made with 100% recycled materials, including post-consumer plastic bottles and pre-consumer waste.
Straps are colored using E. Dye, offering an environmentally sustainable process for dyeing fabrics. Using the solution dyed polyester process, e.dye® requires no water to dye synthetics. By adding the color before the polymers are extruded, the color is inside the yarn, resulting in a superior color performance.
Eco- Leather, Repurposed leather is grinded down and bound into newly formed leather sheets for the leather ends of the strap.
The Eco-Comfort Recycled Guitar Strap line are available in ten SKUs featuring three basic color straps (Black, Red, & Grey) and seven unique jacquard designs.
At D'Addario, we are committed to sustainably providing musicians with the most innovative musical accessories in the world. With proprietary materials, machines, and manufacturing processes, we never stop tinkering and dreaming of better ways to exceed musicians' expectations.
For more information:
D'Addario
The VegaTrem VT2 Teletrem was designed to grant the T-style guitar a new sound.
The VegaTrem VT2 Teletrem is a tremolo designed to grant the T-style guitar a new sound, without the need of modifying a single millimeter of Fenders original design. This new tremolo/vibrato with its very own VegaTrem tuning stability, expands the future musical possibilities of this legendary guitar.
The T-Style electric guitars were not originally designed to receive a tremolo/vibrato. But VegaTrem's solution combined with the use of quality materials such as marine grade stainless steel and brass saddles (like the classic design), enhances the tonal qualities of your TL-type guitar, regardless using the vibrato or not. Without a doubt, the possibilities of "pulling up" to up to half a tone, or "dive bombing", as well as the expression, the new sound and musical life a vibrato can give to these legendary guitars.
The Teletrem is available on 2 versions:
VT2 Teletrem classic:

For T-style guitars that use classic dimensions bridge (71mm between the string holes to the top screw of the bridge pickup).
VT2 Teletrem modern:
For T-style guitars that use modern dimensions bridge (69mm between the string holes to the top screw of the bridge pickup).
LEHLE launches two new products, the LEHLE P-ISO TRS XLR and LEHLE P-ISO XLR TRS. XLR sockets found their way in and that's why these products were designed into many environments – without the annoying search for the matching adapter cable.

By means of the LEHLE TRANSFORMER HZ, the focus is on isolating two devices, so that existing ground loops can be effectively suppressed and background noise eliminated. Additionally, there are applications for (un-)balancing signals in live situations or recording environments, e.g. as a reamplification box.

Features
Isolator, Reamplification box and problem solver
Absolutely no signal loss or hum
High-impedance LEHLE TRANSFORMER HZ
Suitable for balanced or unbalanced signals
Passive – no need for a power supply
And just in case you are looking for a power connection: even these tools of the LEHLE P-ISO series perform all their functions without any need for a power supply. And due to their optimized size and low weight, they fit easily below your pedalboard or in any pocket.
For more information, please visit lehle.com.
Designed for the gigging guitarist, the Amulet offers 15 watts, 5 watts or 1 watt of all-tube tone through a UK-made Celestion Creamback 10" speaker.
The Supro Amulet is a vintage-voiced 1x10 combo loaded with all-tube reverb and tremolo along with a new, three-way switchable power attenuator. Designed for the gigging guitarist, the Amulet offers 15 watts, 5 watts, or 1 watt of all-tube tone through a UK-made Celestion Creamback 10" speaker.

​Another legendary offering from Celestion, the G10 Creamback speaker offers vintage, woody tone while still providing major power. Its rich low-end complements the Amulet's singing voice, while crunchy upper-mids and sweet highs aid in undeniably articulate tone.
The preamp found in the Amulet delivers warm, blooming clean sounds up to 'noon' on its volume knob. Past noon, its voice rolls into classic Supro crunch, giving way to a singing, violin-like overdrive at full volume. The Amulet is remarkably high-gain for a vintage-inspired amp but offers a sweet spot that is not overwhelmingly loud.
Amulet Demo with Sara L'Abriola | Supro
The power amp found in the Amulet uses a single 6L6 tube with switchable power soak to achieve bedroom level 1-watt, studio-friendly 5-watt or a more robust 15-watt output for stage use. The overdrive in the Amulet's "single-ended," Class-A output stage is rich in even-order harmonics and soaked in natural tube compression. True to the legacy of original Supro combos, the Amulet's exceptional dynamics, ultra-low noise performance, and three-way power attenuator make it an ideal amplifier for club gigs, studio recording, and bedroom practice.
Available for pre-order at select dealers worldwide. MSRP $1199.
For more information, please visit suprousa.com.
The limited-edition Exploding Head Triple Delay celebrates the 13th anniversary of the album Exploding Head by A Place to Bury Strangers.

"This pedal improves on the sound I used around the time I was writing and recording Exploding Head," says Death By Audio founder Oliver Ackermann. Ackermann is also the vocalist/guitarist/producer of A Place to Bury Strangers.

The Exploding Head remakes itself in the image of the elusive (and unobtainable) Ghost Delay pedal with an improved knob-per-feature layout and the brand-new Infinity Switch. Step on the Infinity Switch for dynamic swells, bursts of noise, or to build massive walls of sound. With a regular TS instrument cable, the Exploding Head's three delays all output in mono. However, using a TRS cable splits the output into stereo. The first two delays (Black and Grey) are tapped to the Ring connection and the third delay (Red) is wired to the Tip connection.

Limited to 500 units worldwide, the EXPLODING HEAD BUNDLE contains:
2xLP Transparent Double Vinyl edition of Exploding Head Limited Edition Reissue by A Place to Bury Strangers
Exclusive Death By Audio EXPLODING HEAD Triple Delay Pedal
"Ego Death" Enamel Pin
"Deadbeat" Iron-on Patch
"Exploding Head' Guitar Pick
18"x24" foldout lyric poster w/artwork
Glow-in-the-dark-sticker