Gibson Custom Shop Unveils the Richie Faulkner Flying V
Photo by Gibson
Richie Faulkner, co-lead guitarist of Judas Priest, collaborates with Gibson on the Richie Faulkner Flying V.
---
"This guitar has become a good friend of mine over the past couple of years and is the latest evolution of my main guitar with Priest for the past 12 years," says Richie Faulkner. "It's something that has evolved as I have both on stage and in the studio, in looks and in sound. Whenever I see that double-pick guard and Pelham blue, I know that that is my guitar. With the Floyd Rose, signature EMG pickups, and striking appearance I know that armed with my faithful Flying V, I will be able to deliver every night. Beautiful yet deadly, elegant yet sonically powerful it is the number one guitar in my Arsenal."
Photo by Gibson
A longtime player of the Gibson FlyingV, the Richie Faulkner Flying V Custom brings Richie's personal touches to the model, including a one-piece mahogany body with a full-face pick guard, multi-ply binding, a mahogany neck with a custom Richie Faulkner profile, and an ebony fretboard with a mother-of-pearl falcon inlay at the 12th fret. It also has a Floyd Rose vibrato and Richie's signature EMG pickup set. The electronics are stripped-down, with just a pickup selector switch and a single volume control, giving you everything you need with nothing to get in your way. Only 100 of these ultra-premium Flying V models will be crafted by the luthiers of the Gibson CustomShop as part of this very limited special limited run. The Gibson Richie Faulkner FlyingV Custom arrives in a Pelham Blue finish complete with a hardshell case, as well as case candy developed in collaboration with Richie.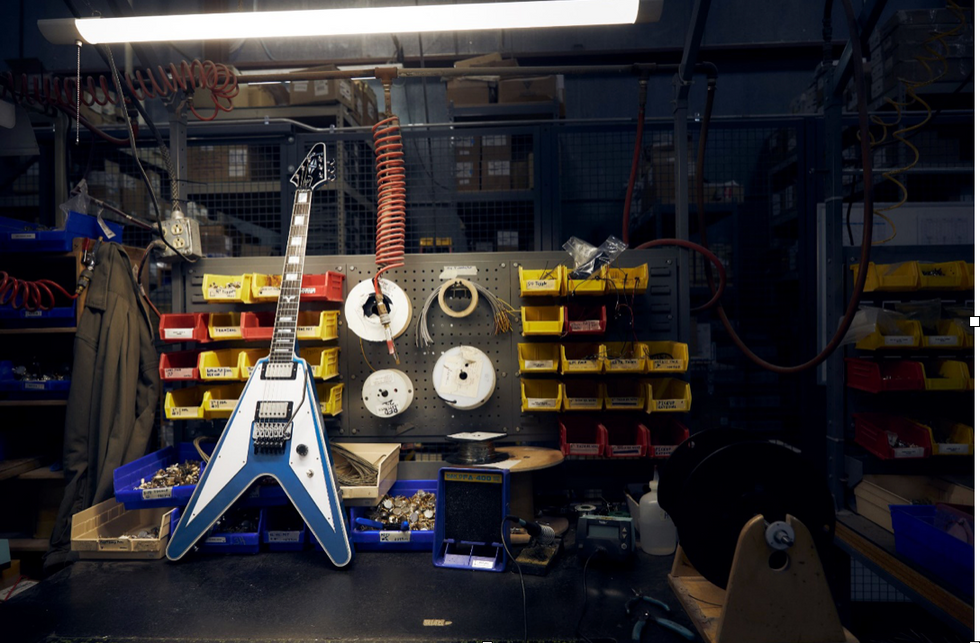 Photo by Gibson
While performing onstage with Judas Priest at the Louder than Life festival (September 26, 2021), Richie suffered a rare aortic aneurysm and complete aortic dissection. Despite having zero history of heart issues, Richie was rushed into open-heart surgery at a nearby hospital, and luckily, he fully recovered and has decided to pay it forward. Richie will be spreading the proceeds from his Flying V Custom to the John Ritter Foundation and the American Heart Association.
For more information, please visit gibson.com.

Richie Faulkner Flying V Custom