Gibson shares their story of the Nashville floods
Nashville, TN
(August 24, 2010) -- Like many Nashville establishments, Gibson's Nashville facilities were hit by flooding. Until now, the company has kept relatively silent about their losses. We recently received a press release from Gibson with photos and the story of their flood experience that we thought was worth sharing. Below is what Gibson has to say about the floods. All photos used courtesy Gibson Guitar.
From Gibson:
It was on May 1st and 2nd, 2010 that two days of torrential rain caused floods that devastated Nashville, as well as surrounding communities in what was declared the most devastating floods to the area in 500 years. The water forced thousands from their homes, submerged some of the city's most prestigious landmarks and destroyed the gear of scores of musicians. Along with countless other businesses encompassed in the tragedy of Music City, Gibson Guitar's Gibson USA plant, the world's premiere musical instrument manufacturer and leader in music technology, found that it too had been severely impacted by the flood. Gibson USA, the production facility responsible for world renowned instruments such as the Gibson Les Paul Standard and the Gibson SG Standard guitars, was consumed by water. Only after the flood waters had receded was the extent of the damage truly realized. However, the road to recovery would prove to be a relatively quick one in light of the passion and spirit of those behind the Gibson brand.

The Gibson USA plant in the aftermath of the flooding that occurred on May 1st and 2nd, 2010, in Nashville, Tennessee and surrounding communities.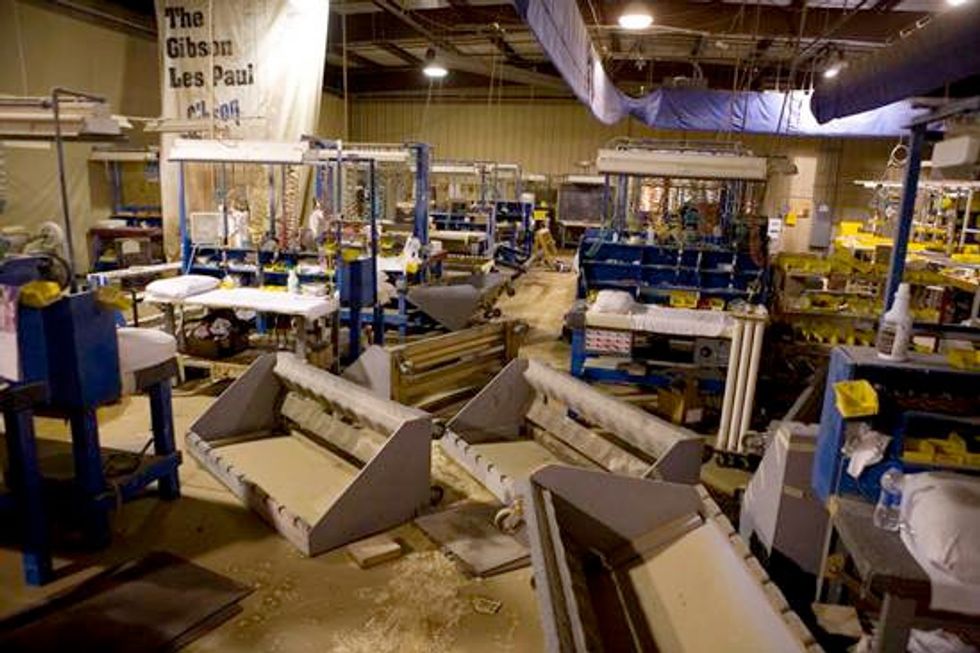 In the days following the Nashville Flood a harsh reality was quickly realized that the road to recovery and resurgence depended on the passion and dedication of the Gibson USA spirited team.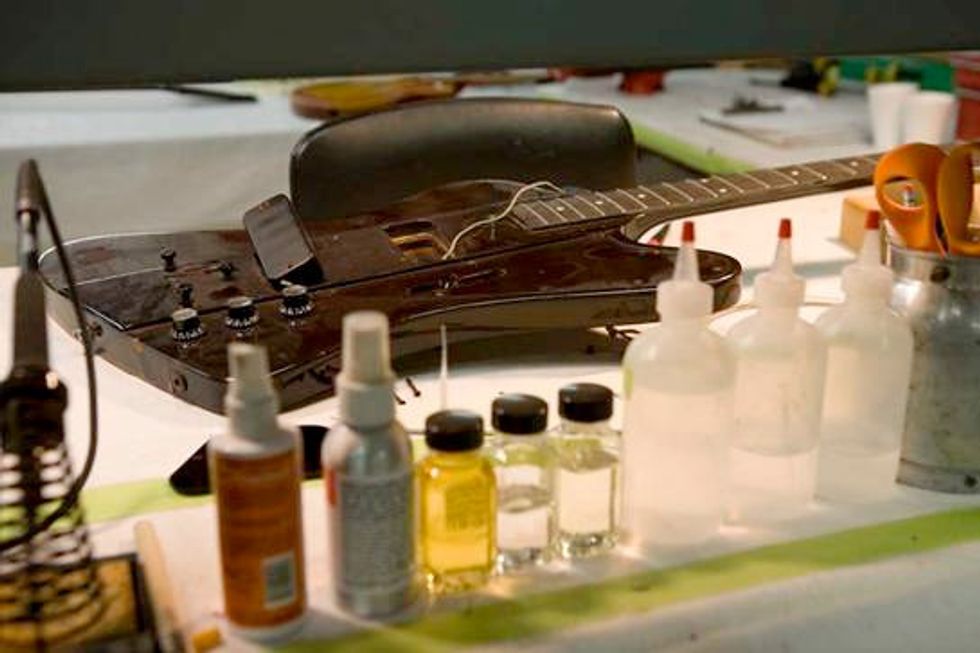 Scores of musicians lost their instruments in the wake of the Nashville flood. The Gibson Guitar Repair and Restoration shop has spent a lot of time attempting to salvage beloved guitars as seen here restoring Keith Urban's bassist and guitar player's guitars.



Some musicians came by other Gibson facilities to personally to inspect the damage. Seen here are Rickey Medlocke (Blackfoot / Lynyrd Skynyrd) and Gary Rossington's (Lynyrd Skynyrd) checking out flood damaged guitars which were later destroyed to make way for new ones to be produced.

(continued on page 2)
Source: Press Release
Photos and text via Gibson:



A heartbreaking reality for many guitarists was to find that many of the beautiful creations from Gibson USA were too damaged to be recovered. However since the flood Gibson USA has stepped in with ramped up production and superior artist relations efforts to insure every Gibson player has what they need to perform in the future.



In order to quickly salvage some of the operations conducted at Gibson USA and to get people back to work, various facets of assembly were relocated. The photo above shows of the pickup assembly line that has been moved to the old Gibson Custom shop building. Gibson USA was proud to keep production underway during the rebuild of the plant.



Only several days after the flood, Gibson USA's Rough Mill, which sits at a higher elevation, was able to get up and running once more.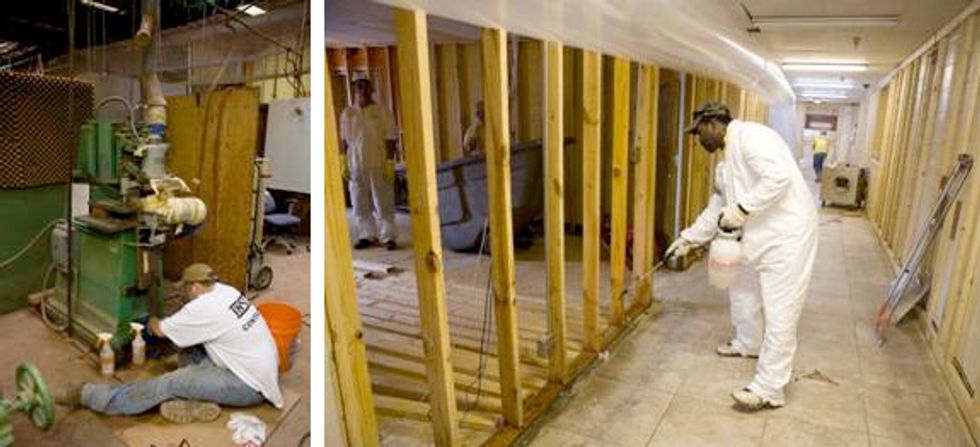 By mid-May many machines in Gibson USA were being inspected, temporary duct work was being run, floors were being cleaned and whole areas are being cleared of contaminated materials. New equipment, production facilities and overall production schedules are quick to put Gibson USA in business with stronger opportunities than ever before and a guarantee that all new product being produced from Gibson USA is the finest in every way.


(continued on page 3)
Source: Press Release
Photos and text via Gibson:

After flood waters had cleared and the floors had been dried, some unique patterns on the floors in the finishing department of Gibson USA were left behind from remnants of paints and stains. An interesting and creative reminder that the spirit of Gibson USA can never be defeated.



By early June the task of vacuuming contaminated dusk out was in full swing. Along with more cleaning, wall studs throughout the plant were also being replaced.



By the beginning of July the main floor of Gibson USA had been cleaned and sanitized, while duct work was being replaced and machinery was being placed, painted and tested.


Though the Nashville flood was a tragedy of staggering proportion, it has been the perseverance, dedication, and spirit of the Nashville people that has allowed the city to step back onto solid ground. These qualities are reflected in the numerous workers and supporters of the Gibson brand who devoted their time and passion to the recovery efforts, launching a new era with unprecedented determination creativity, innovation and leadership for Gibson USA. The company also insured that no guitars that could have possibly been affected by the flood waters and unstable environment during that time which included high humidity and potential contaminants, would go to market and they were, thus, destroyed. All guitars being produced from the Gibson USA plant are new and unrelated to any instrument affected by the flood disaster.
The continued stories of loyalty, dedication and friendship have emerged throughout this poignant part of Gibson USA history - From the security guard who refused to leave his post until the last possible second to the supplier who drove all night from Chicago to bring critical items to the plant. There's the human resources manager who drove to the plant through torrential rains to help move items to dry areas and the channel partners around the world who offered their support and assistance. And then there are the Gibson team members who took to the social media platforms to stay in touch and gather information for the successful recovery.
"It's amazing how connected the employees are with this plant and this company," said Gibson Guitar Chairman and CEO Henry Juszkiewicz. "When workers saw the damage, first came the tears. They wanted to know what happened to 'their' plant. They had been hit personally. But no one was hanging his head. Instantly, the focus turned to how Gibson could come back even better than before. Out of the disaster came an opportunity to be bigger, better and stronger. Gibson USA is producing the world's greatest instruments and will continue to bring our many fans only the finest products."
In addition to the reopening of Gibson USA, many musicians outside of the Gibson corporate offices found support and aid through the Gibson Foundation. The Music Rising program, initially founded in 2005 by U2's the Edge, legendary producer Bob Ezrin and Gibson Guitar Chairman and CEO Henry Juszkiewicz expanded its efforts to help the Nashville music community recovery by donating $250,000 for musician's instrument replacement. Partnering with MusiCares, Music Rising and the Gibson Foundation have already assisted more than 100 musicians in the Nashville area. In addition, to help the Nashville Symphony children's music education program, which lost all of its instruments, Music Rising provided $25,000 for the critically acclaimed Instrument Petting Zoo program For more information go to
gibsonfoundation.org
.
From the disaster rises a bigger and stronger Gibson USA, producing the most innovative and exceptional instruments in the world. Musicians, fans and consumers can all bet on new models and traditional iconic guitars from the Gibson USA plant, based in Nashville, Tennessee….Music City extraordinaire.
Source: Press Release
Looking for more great gear for the guitar player in your life (yourself included!)? Check out this year's Holiday Gear Finds!
Outlaw Effects introduces their next generation of NOMAD rechargeable battery-powered pedal boards.
Available in two sizes, NOMAD ISO is a compact, versatile tool that offers the convenience of a fully powered board plus the additional freedom of not having to plug into an outlet. NOMAD ISO is ideal for stages with limited outlet availability, quick changeovers, busking outdoors, temporary rehearsal locations, and more!
NOMAD ISO builds upon the legacy of the ultra-convenient and reliable NOMAD rechargeable pedalboard line originally launched in 2018. The brand new NOMAD ISO editions feature eight isolated outputs (1 x 9V DC, and 1 switchable 9V/12V DC) for even more versatility and clean, quiet power. With an integrated lithium-ion battery pack boasting 12800mAh capacity, NOMAD ISO can fuel a wide array of pedals, and will last over 10 hours* on a single charge.
Each NOMAD ISO pedal board includes adhesive hook & loop pedal-mounting tape, eight (8) standard DC connector cables, and one (1) reverse polarity DC cable, giving you everything you need to build your ultimate "off-the-grid" rig. A rugged, road-ready padded gig bag with shoulder strap is also included, to safely protect your gear while you're on the move.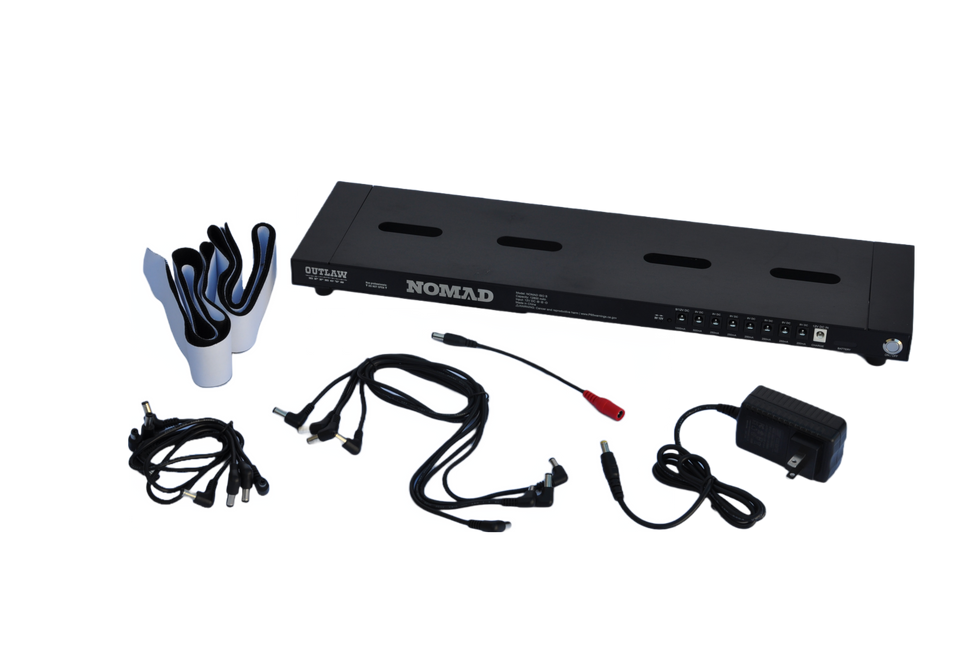 Dunable announce new Minotaur model featuring Grover Rotomatic Keystone tuners.
The Minotaur's DNA is rooted in their classic Moonflower model, which Dunable discontinued in 2017. However, they have long since wanted to create a fresh take on a carved top guitar design, and various attempts to rework the Moonflower led them to a brand new concept with the Minotuar.
Dunable's goal is to give the player a guitar that plays fast and smooth, sounds amazing, and gives maximum physical ergonomic comfort. The Minotaur's soft and meticulous contours, simple and effective control layout, and 25.5" scale length are designed to easily meet this criteria.

Dunable Minotaur!
Features
25.5" scale length
Dual Humbucker
one volume, one tone, push pull for coil splitting
Grover Rotomatic Keystone tuners
Grover Tune O Matic bridge with brass Kluson top-mount tailpiece
jumbo nickel frets
12" fretboard radius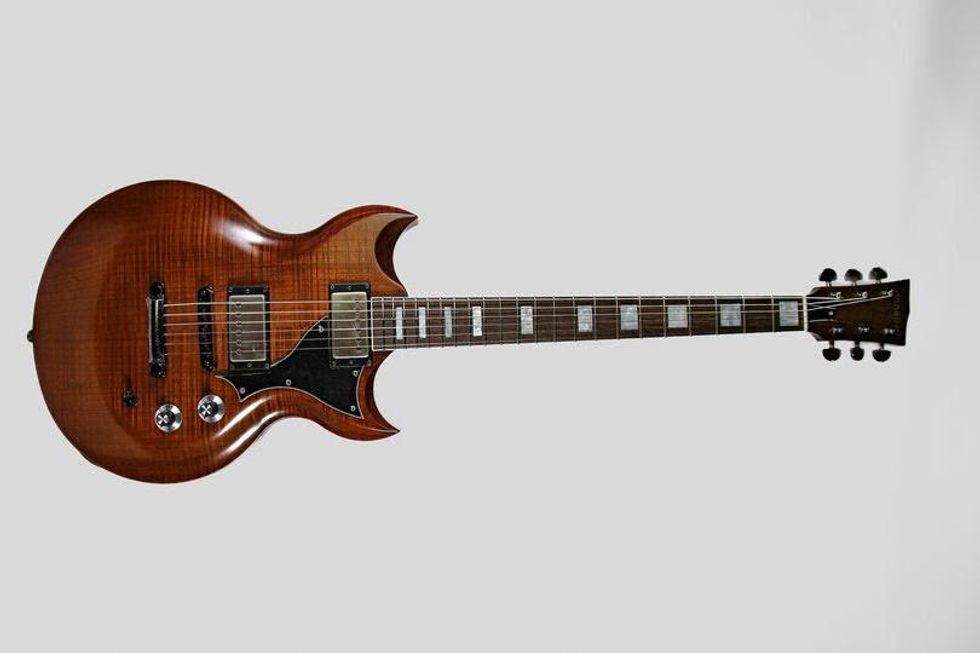 Dunable
This full-amp-stack-in-a-box pedal brings a new flavor to the Guitar Legend Tone Series of pedals, Missing Link Audio's flagship product line.
Adding to the company's line of premium-quality effects pedals, Missing Link Audio has unleashed the new AC/Overdrive pedal. This full-amp-stack-in-a-box pedal – the only Angus & Malcom all-in-one stompbox on the market – brings a new flavor to the Guitar Legend Tone Series of pedals, Missing Link Audio's flagship product line.
The AC/OD layout has three knobs to control Volume, Gain and Tone. That user-friendly format is perfect for quickly getting your ideal tone, and it also offers a ton of versatility. MLA's new AC/OD absolutely nails the Angus tone from the days of "High Voltage" to "Back in Black". You can also easily dial inMalcom with the turn of a knob. The pedal covers a broad range of sonic terrain, from boost to hot overdrive to complete tube-like saturation. The pedal is designed to leave on all the time and is very touch responsive. You can get everything from fat rhythm tones to a perfect lead tone just by using your guitar's volume knob and your right-hand attack.
Features 
Three knobs to control Volume, Gain and Tone
Die-cast aluminum cases for gig-worthy durability
Limited lifetime warranty
True bypass on/off switch
9-volt DC input
Made in the USA
MLA Pedals AC/OD - Music & Demo by A. Barrero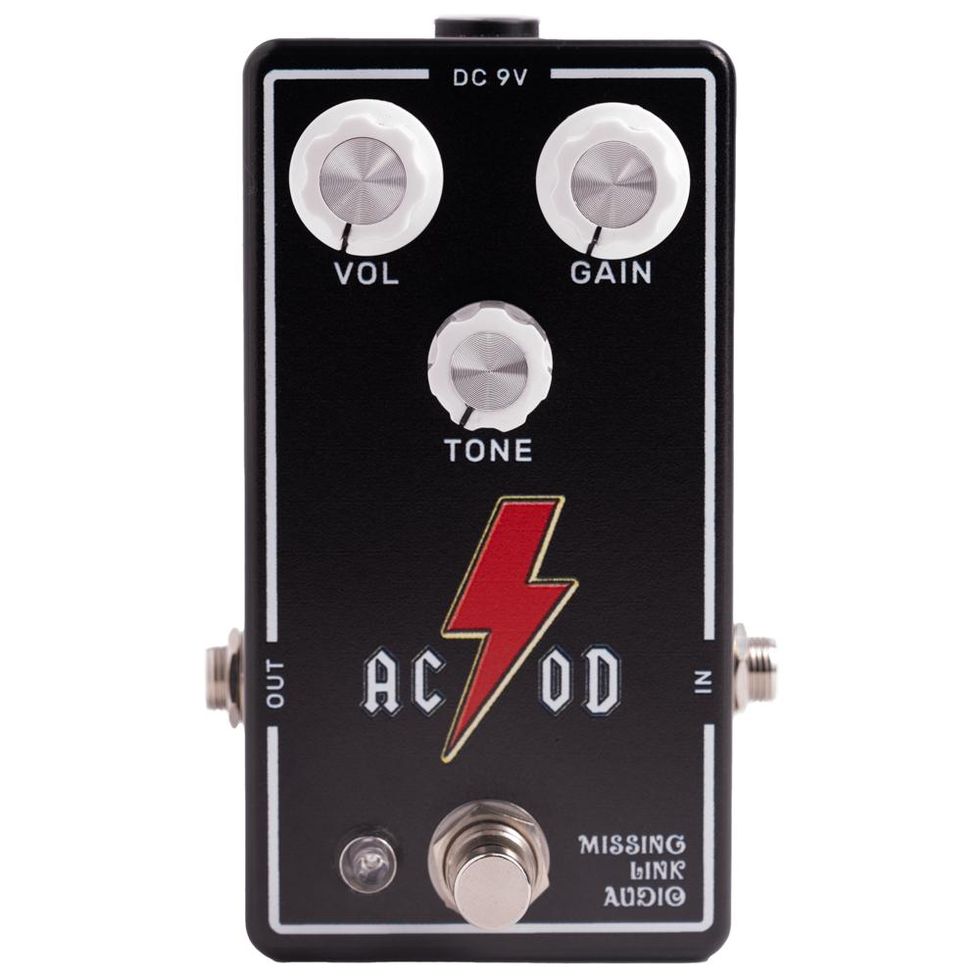 www.mlapedals.com.