Photo by Gibson
Richie Faulkner, co-lead guitarist of Judas Priest, collaborates with Gibson on the Richie Faulkner Flying V.
"This guitar has become a good friend of mine over the past couple of years and is the latest evolution of my main guitar with Priest for the past 12 years," says Richie Faulkner. "It's something that has evolved as I have both on stage and in the studio, in looks and in sound. Whenever I see that double-pick guard and Pelham blue, I know that that is my guitar. With the Floyd Rose, signature EMG pickups, and striking appearance I know that armed with my faithful Flying V, I will be able to deliver every night. Beautiful yet deadly, elegant yet sonically powerful it is the number one guitar in my Arsenal."
Photo by Gibson
A longtime player of the Gibson FlyingV, the Richie Faulkner Flying V Custom brings Richie's personal touches to the model, including a one-piece mahogany body with a full-face pick guard, multi-ply binding, a mahogany neck with a custom Richie Faulkner profile, and an ebony fretboard with a mother-of-pearl falcon inlay at the 12th fret. It also has a Floyd Rose vibrato and Richie's signature EMG pickup set. The electronics are stripped-down, with just a pickup selector switch and a single volume control, giving you everything you need with nothing to get in your way. Only 100 of these ultra-premium Flying V models will be crafted by the luthiers of the Gibson CustomShop as part of this very limited special limited run. The Gibson Richie Faulkner FlyingV Custom arrives in a Pelham Blue finish complete with a hardshell case, as well as case candy developed in collaboration with Richie.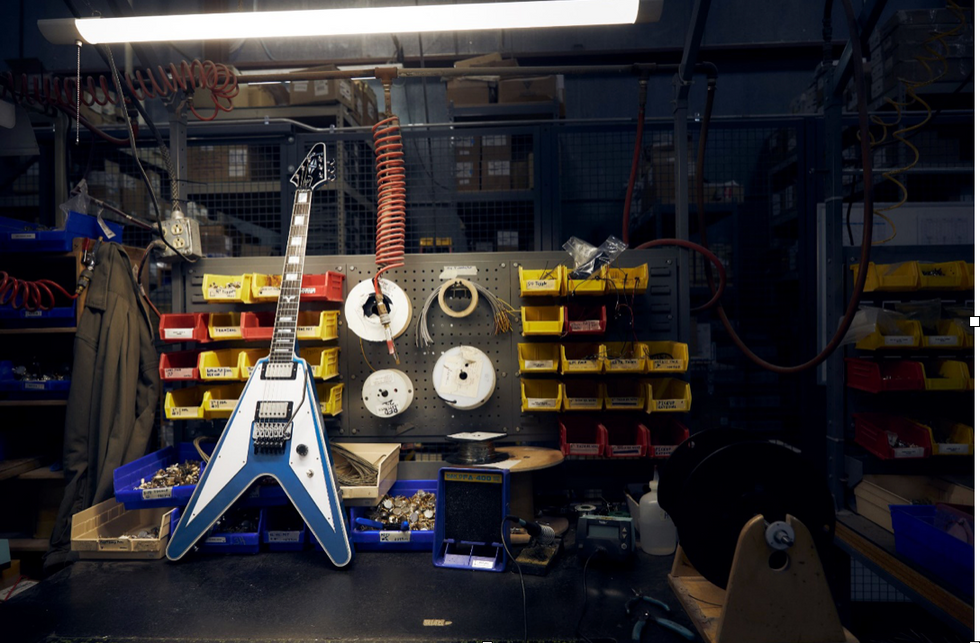 Photo by Gibson
While performing onstage with Judas Priest at the Louder than Life festival (September 26, 2021), Richie suffered a rare aortic aneurysm and complete aortic dissection. Despite having zero history of heart issues, Richie was rushed into open-heart surgery at a nearby hospital, and luckily, he fully recovered and has decided to pay it forward. Richie will be spreading the proceeds from his Flying V Custom to the John Ritter Foundation and the American Heart Association.
For more information, please visit gibson.com.

Richie Faulkner Flying V Custom
A classic shape with a mahogany body and a thin "C" profile neck modeled after Richie's favorite vintage V.
Nashville, TN (November 2, 2017) -- Epiphone proudly presents the new Ltd. Ed. Richie Faulkner Flying-V Custom Outfit, the premier signature guitar from Judas Priest legend Richie Faulkner. Faulkner's Flying-V includes EMG active pickups, a Floyd Rose Tremolo and bridge with R2 Locking Nut, Grover Rotomatic machine heads, a custom Thin-C neck profile, and a custom designed gig bag.
"Right out of the box, the quality of the guitar was mind blowing," said Faulkner. "I used it all over the new Judas Priest record. I'm taking it out on the road next year. It's an honor to be part of the heritage."
When Richie Faulkner joined Judas Priest in 2011, his incredible speed, finesse, and energy rejuvenated the pioneering English metal band and helped to introduce Judas Priest to a new generation of fans. Now, as Judas Priest approaches their 50 th anniversary, Epiphone welcomes Richie Faulkner to Epiphone's distinguished family of signature artists!
The new Ltd. Ed. Richie Faulkner Flying-V Custom Outfit is a classic Flying-V with a Mahogany body in an Ebony gloss finish with a thin-C profile neck modeled after Richie's favorite vintage Flying-V. It's powered by the classic combo of an EMG-66 (active) humbucker in the neck position and an EMG-57 humbucker (active) in the lead position, both with a Smooth Black Nickel finish. Faulkner's Flying V also comes with a Floyd Rose® Tremolo 1000-Series bridge and Floyd Rose "R2" locking nut for incredibly precise tuning and sustain, a hallmark of Faulkner's style.
Visit Epiphone.com to learn more about the new Ltd. Ed. Richie Faulkner Flying-V Custom Outfit and read our exclusive interview! And visit your favorite local Authorized Epiphone Dealer
For more information:
Epiphone
Photo by Ken Settle.
The Brit metal pioneers recruited guitarist Richie Faulkner in 2011, refreshing the creative process for the group's 17th album, Redeemer of Souls.
With a discography that includes iconic albums like British Steel and Screaming for Vengeance, and a penchant for S&M-influenced attire, Judas Priest pioneered the sound and look of heavy metal. After a four-decade reign as one of the greatest metal bands ever, Judas Priest discussed a final farewell tour in late 2010. As speculation grew about the band's possible retirement, guitarist and founding member K.K. Downing unexpectedly quit. But as is often the case in the music biz, the end was not the end. Richie Faulkner, guitarist for Lauren Harris (daughter of Iron Maiden's Steve Harris), was quickly recruited to fill Downing's shoes, sharing guitar duties with longtime band member Glenn Tipton.
Replacing a guitarist with a 40-year legacy is a Herculean task requiring both guitar prowess and balls of titanium. Faulkner made his Judas Priest debut on American Idol, and soon after Priest embarked on a yearlong world tour, which spawned the live Epitaph DVD.
"The worst songs are the ones you have to struggle to write. The best songs are always the ones that just click." —Glenn Tipton

Faulkner quickly proved himself on the road, but as the band prepared to record its next album—its first with Faulkner—questions emerged. How would Faulkner fit in as a collaborator? Would Tipton be able to adapt after decades working with Downing?
Tipton entered the sessions with an open-mind. "That's one of the big lessons," he says. "When somebody comes in and sees it in a different way, let them go with it for a minute. Live with it. You never know whether you're going to like it or not. If you don't, you can always go back to what it was."
Check out the band's new single "March of the Damned"

Tipton's faith proved well founded. Redeemer of Souls, Judas Priest's 17th release, is full of killer riffs, supersonic twin-guitar harmonies, classic metal moves, and epic anthems. Inspiration was in ample supply during the recording session—the deluxe version of the album features five bonus tracks.
Premier Guitar caught up with Tipton and Faulkner in Midtown Manhattan to discuss the writing of Redeemer of Souls, the duo's approach to crafting layered parts, and, of course, gear.
Were you concerned how the new band dynamic would impact the writing process?
Glenn Tipton: We hadn't worked with Richie before on a writing level, so the first couple of things he presented to us were quite crucial. It was amazing, because everything Richie came up with was just so Priest, and it evolved from that point on. For the first time ever, we actually wrote on the road. Richie would go down in the afternoon, set up his recording rig, and kick stuff out. When we had time off, we sat down and started piecing everything together. What we normally do is write our own ideas—including Rob's lyrics and vocals—pool them, and before you know it, it takes shape into songs.
Richie Faulkner's Gear
Guitars
Gibson Les Paul Custom with EMG pickups
Gibson Custom Shop Flying V with EMG pickups
Amps
ENGL Powerball II
ENGL cabs with Celestion Vintage 30 speakers
Effects
Boss CH-1 Super Chorus
MXR Carbon Copy
MXR Uni-Vibe
Boss overdrive
Dunlop Cry Baby
Dunlop Rotovibe
Strings and Picks
Ernie Ball Power Slinky strings (.011-.048)
Dunlop strings (.011-.050)
InTuneGP picks (2 mm)
custom straps (by Ray Brown, who makes the band's stage clothes)
Richie, did you have to adapt your own
writing style to fit the Priest mold?
Richie Faulkner: I never think you should limit yourself in what you do just because it might not sound like you want it to. Put it on the table and see if it floats. Sometimes it doesn't—maybe it's not quite right, or another idea is better. But we
all put forward everything we had. I'd sometimes think, "This doesn't sound like a Priest riff," but then the band would give
it the Judas Priest treatment. It's surprising
how much you can take something you don't necessarily think sounds like Priest, and have
it become that. Growing up, I'd look to bands like Priest when learning how to write a song—that's how these guys taught me back in the day. So when I came into the band, I'd already done a master class in writing Judas Priest songs. They're what I've wanted to write since
I first heard heavy metal.
Did you feel a sense of competition with older Priest material?
Tipton: No. There's a danger in that, because
if you try to write a song like a previous song,
it's already been done. We just wing it, really, and if it works and the room lights up, then we've got a song. If it doesn't, it's best to put it on the shelf, or maybe just use parts of it. The worst songs are the ones you have to struggle to write. The best songs are always the ones that just click.
Many of your songs like "Cold Blooded" and "Down in Flames" have layered intro parts. Do you write those collectively?
Tipton: Priest has always been known for light and shade. You start a song with a nice, simple melodic piece, and then when the heavy riff comes in it sounds more powerful. A lot of the songs start like that. Richie also came up with a lot of those parts. Like I said, it was unbelievable when he entered the band.
Songs like "March of the Damned," "Hell & Back," and "Crossfire" have strong bluesy elements.
Faulkner: I think Judas Priest, as a 40-year tapestry of music, has a lot to take from. There are blues elements, hard rock elements, and heavy metal elements. Priest had been based in the blues—it was a natural thing when we were all growing up—and evolved from there. The blues is where it all came from anyway.

Glenn Tipton is a longtime Hamer user. In this photo from 1990, he plays an angular neck-through GT model. Photo by Ken Settle.
Richie, do you replicate K.K.'s parts live, or do you improvise in those sections?
Faulkner: Part of my attraction to K.K's playing—or Hendrix's—is the improvisational aspect of it. There were certain motifs on the record, but live, they would go elsewhere. That was always a musical turn-on for me. It's why I got into guitar. So that's what I've done live, and that's how I naturally approach solos: taking motifs from the original and adding my own style. It's being respectful to the original, but also being respectful to yourself. You don't want to be a clone. You want to put your own stamp on things.
Glenn, is it strange to hear a different take on songs you've played for decades?
Tipton: The way Richie's blended into the band is still a miracle to me. As he said, he's doing the job he's supposed to do, but he's doing it in his own way.
Faulkner: I was brought up on the band. You get the Flying V and you practice moves in front of the mirror when you're a kid. You've already done your apprenticeship.
"When I came into the band, I'd already done a master class in writing Judas Priest songs. That's what I wanted to write ever since I heard heavy metal." —Richie Faulkner

The album closer, "Beginning of the End," starts out mellow and stays in that zone. I was expecting something more epic to happen.
Faulkner: You do expect that—it's the format for a lot of ballads. The song is epic in its own right, but not in the way you might expect it to be. It stays mellow. It worked that way. The song speaks for itself.
"Never Forget," the final cut of the five bonus tracks, is nostalgic and sentimental. Is it a tribute to someone?
Tipton: It gets a little heavier toward the end when the electric guitar chords come in. It's a "thank you," really, to all the fans for their support throughout the years. There are some great phrases in there.
Glenn Tipton's Gear
Guitars
Hamer GT with EMG 81 pickups and Kahler tremolo
Hamer Phantom with EMG 81 pickups and Kahler tremolo
Gibson Les Paul
Amps
ENGL Invader
ENGL Ironball
ENGL cabs with Celestion Vintage 30 speakers
Effects
Yamaha remote latch switch for Yamaha SPX90II
Yamaha MFC05 MIDI Foot Controller
Mike Hill single-loop controller remote switch
Dunlop Cry Baby rack wah
Dunlop remote wah controller for rack wah
Strings and Picks
Ernie Ball custom set strings (.048, .038, .028 Pure Nickel Wrap and .016, .011, .009 RPS Reinforced Plain Steel)
thin Ernie Ball nylon picks
custom straps (by Ray Brown, who makes the band's stage clothes)
Tell us about your gear. What are your main axes?
Tipton: I use Hamers. I haven't worked with them for years, but the guitars I designed with them suit me, so I still use them. The ones I had made are slightly different: They have small little points—like the SG-type shaved neck—that make it easier for me to play. The GTs have a one-piece neck and body, which is great because if I do any stretches in my playing, I can get the guitar in the right place [mimes a guitar pointing up at a 45-degree angle]. There's very little wiring in some of them. On some of the earlier ones, I just had one treble pickup.
Faulkner: When I'm in the States, I drop the bags off at the hotel and visit local mom-and-pop guitar stores. I'm developing a little bit of an addiction [laughs]. These guitars are hanging on the wall, and it's like, "Where have they been? What stories can they tell? Who's played them? Which wives have tried to sell them?" I hunt them down. I love it. I love the smell of them. I primarily play Les Pauls. I also have some Flying Vs, SGs, and a couple of Strats. It's forever growing. I'm actually going
to make a run to 30th Street [an emerging music row in NYC]. I'm getting excited now [rubs hands together]. I know there's an endless debate about chambering and solidbody
versus light body. That in itself is great fun to be part of.
Is there a tonal difference between the chambered and non-chambered ones?
Faulkner: I don't think you can ever tell. If you're watching someone play a heavy guitar, you've got nothing to compare it to anyway. If you're thinking about that, you're at the wrong show. You should be enjoying the music—it's all about the feel. If it feels right to the player, then you can create the best stuff you can create. I like the feel of a heavy guitar—it's just something that you get used to. If it's a bit lighter, you might be thinking too much about it. That's the way I like to approach it.
Glenn, tell us about your modified EMG pickups.
Tipton: They're just sort of rewound to my specs to give me the sound I want. That's what pickups do: give you great tone and sustain. The same pickup on a different guitar sounds different anyway. I use Hamer Phantoms and GTs onstage, and if you put the same pickups in each guitar, it sounds different. They have different woods. They just have to be reliable and get me through shows.

Richie Faulkner and Glenn Tipton swear by their active EMG pickups. Faulkner loads his Les Paul with an 81/85 set, while Tipton's Hamer Phantom houses a custom-wound pair. Photo by Ken Settle.
What about you, Richie?
Faulkner: I use the 81/85 combination, which was the Zakk Wylde set back in the day. I got them because he used them, and James Hetfield and all those guys were using them as well. Then I started using the 57/66 set—the 57 is in the bridge, and the 66 is in the neck.
That set is relatively new and not as common as the 81/85. What qualities does it bring out in your guitars?
Faulkner: It's based on a PAF-type sound while still retaining the active circuitry for punch and definition. I was looking for something like that, so I emailed the guys, and they sent a couple out. I didn't even try them out first—I just put them in the Flying V and went out on the road with it. It was like a baptism by fire. Onstage, they're either going to sink or swim—and they swam. It's that feel thing. You just know in three seconds, and you don't have to think about it.
How do you guys differ in what you look for in tone?
Tipton: I'm on the side with the bass, so I have to contend with the bass and drums. My sound tends to be a bit more trebly, so I can hear it and it cuts through. But that works because Richie's tone is a little bassier.
Faulkner: Definitely.
Tipton: And the two tones really work together.
Faulkner: Coming in, my sound was like a jazz or rhythm and blues tone. I grew up in a band and played that sort of sound anyway so it was in the ballpark.
YouTube It
To see and hear metal gods Judas Priest in action, check out these clips.
A live version of Judas Priest's classic anthem "Breaking the Law" from a 2012 London concert featuring new guitarist Richie Faulkner.
A full-concert video of vintage Priest rocking the massive US Festival in 1983.
Judas Priest performs "You've Got Another Thing Coming" at the 2011 High Voltage Festival in Victoria Park, London.
What about amps?
Tipton: On the album we used Engl amps and Engl cabs with Celestions. They miked up really well, and that's not always easy to do. You can get a great sound in the studio, then you go and listen to it in the guitar room, and it sounds terrible—it sounds fizzy, or distant, or too close, or you haven't got the spectrum of the sound there. We went for a live-sounding album, something with balls and a bit of true grit, and we achieved it. I use those amps onstage too, and they've worked out really well. And we tried Engl's Ironball, the little one. It's a fun little amp that sounds great.
Faulkner: In the studio we used 15-watt combos, 30-watt combos, heads with big cabs, the Ironball. They all had something unique. I've got the Powerball II, and yours is a modded Invader, isn't it?
Tipton: Yeah.
Touring and playing your hits for so many decades, how do you keep things fresh?
Tipton: People often ask, "Do you get sick of playing 'Breaking the Law?'" But when you hear the roar of the crowd, they sound just as good every single night. It's just as exciting to play.
Faulkner: Before we collaborated on the new record, I was kind of earning my stripes in the live scenario. It was like playing the best songs in the world with the best cover band ever, you know? That feeling. The fans in the front row are there, they have their hands up, they're singing with you and looking you in the eyes, and for them it's an experience. And for us it's an experience as well. When you connect to people like that, it's different every night. It never gets boring, and the passion from the fans is just overwhelming, really. Twenty or thirty thousand people in the room, all with you. That can never get boring! PG