Photo by Alysse Gafkjen
From old-school metal lords to doom gods, blues hotshots, shred heads, and indie bird-flippers—here are 12 of the coolest stomp stations from our last year of Rig Rundowns.
---
Samantha Fish
---
Blues-rocker Samantha Fish's board has changed quite a bit since our 2013 Rig Rundown, but her go-to pedal remains the same: an Analog Man King of Tone. It's seen so much action that the red channel doesn't work anymore, but it's still crucial to her sound. A Dunlop volume pedal is the first stop on her board, though, and Fish often uses it to regulate tone and dynamics. For more aggro distortion, there's a JHS Mini Foot Fuzz (which you can hear on "Love Letters" from her latest album, Kill or Be Kind), while she prefers a Boss PS-5 Super Shifter and an Electro-Harmonix POG when she needs a little weirdness. An MXR Carbon Copy serves delay duty. Her latest acquisitions are a JHS Tidewater Tremolo and a Line 6 DL4 Delay Modeler (left, for reverse delay). The L.R. Baggs Para Acoustic DI is for use with her Taylor flattop.
Check out the full article and her gear.
---

Photo by David Lee
---
Thunderpussy's Whitney Petty
---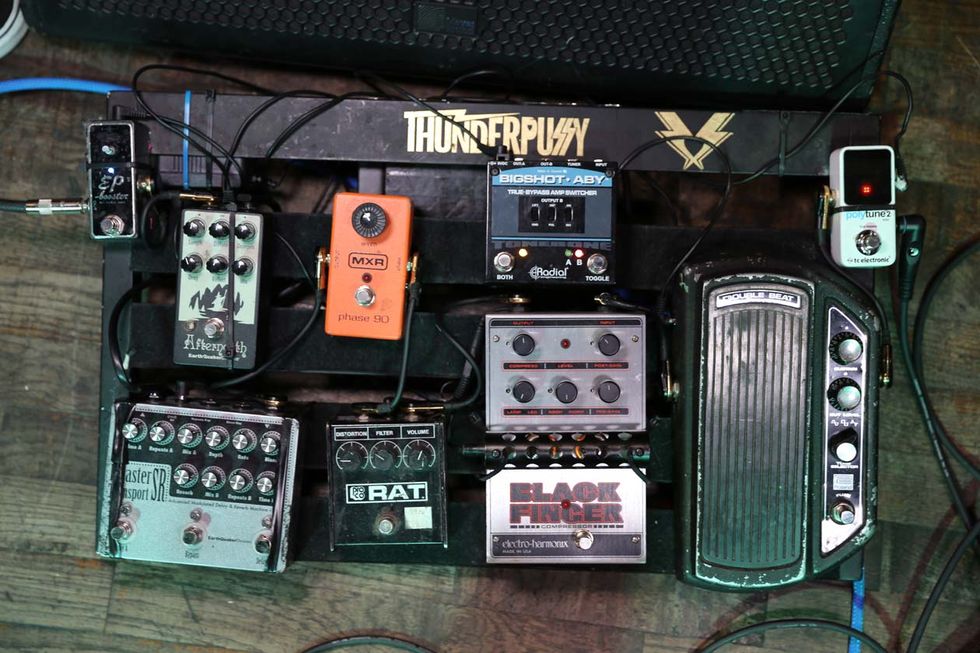 Whitney Petty's board is home to a Roland Double Beat AD-50 Fuzz Wah, an Electro-Harmonix Black Finger, a Pro Co RAT, an MXR Phase 90, an Xotic EP Booster, and a pair of EarthQuaker Devices stomps—an Afterneath and a Disaster Transport SR. Meanwhile, a TC Electronic PolyTune 2 Mini keeps everything in check, and a Radial BigShot ABY facilitates her dual-amp rig (a Marshall Club and Country and a custom Rola Amplification head-and-cab setup).
Check out the full article and her gear.
---

Photo by Meilene Photography
---
Covet's Yvette Young
---
Finger-tapping wizard Yvette Young is a big proponent of spacious reverb, swimming modulated sounds, and lovely weirdness. At the moment, her favorite effects for these tasks are EarthQuaker Devices Warden and Avalanche Run stomps, Walrus Audio Fathom and Julia pedals, three MXRs—a Ten Band EQ, a Carbon Copy Deluxe, and a Bass Octave Deluxe—a Caroline Guitar Company Somersault, an Electronic Audio Experiments Long sword, a Meris Mercury7, a TC Electronic Ditto, and a Ground Control Amaterasu V2. Her preferred tuner is a TC Electronic PolyTune 3.
Check out the full article and her gear.
---

Photo by Samuel Lathrop
---
Nita Strauss
---
When Nita Strauss is on the road with rock legend Alice Cooper, the stage is packed with amps and cabs, but she travels quite light when she takes her own band's shred show out on tour. Whether playing clubs or stadiums, she relies exclusively on a Boss GT-1000 multi-effector for all amp-modeling and effects needs. She uses four core tones: clean, rhythm, lead, and effected-lead, with wah thrown in for extra flavor as needed.
Check out the full article and her gear.
---

Photo by Jen Rosenstein
---
Sleep's Matt Pike
---
Matt Pike's sonic needs onstage with High on Fire vary quite a bit from what he plays with doom-metal gods Sleep. With the latter, he relies heavily on an EarthQuaker Devices Warden compressor—which is always on. Other key stomps include a Revival Electric Metric 3-Band EQ, his signature Black Arts Rabid Mammal, a KHDK Paranormal, a Lone Wolf Audio Twin Snake, a Daredevil Pedals Atomic Cock V2, an MXR Phase 90, an MXR Carbon Copy, a Keeley 30ms, an EarthQuaker Spatial Delivery, an MXR Carbon Copy Deluxe, and a Third Man + Mantic Flex. Pike's tuner of choice is a Peterson Stomp Classic StroboStomp.
Pike's auxiliary board features a pair of Radial Engineering Switchbone V2s for selecting between his mountain of Orange amps, as well as experimental sound generators in the form of an EarthQuaker Devices Data Corruptor and an original Daredevil Atomic Cock.
Check out the full article and his gear.
---

Photo by Paul Hudson
---
Cherry Glazerr's Clementine Creevy
---
Being the lone 6-stringer in Cherry Glazerr, Clementine Creevy has a lot of room to get loud and funky. She does so in varying degrees with the help of a board featuring eight stomps: a Strymon BlueSky Reverberator, a Keeley Bubble Tron, an Empress Compressor, a Loe Sounds Crush the Patriarchy fuzz, a Boss DM-2 delay, a Strymon Ola dBucket Chorus & Vibrato, and two EarthQuaker Devices noisemakers—a Westwood Translucent Drive Manipulator and an Acapulco Gold. Meanwhile, a TC Electronic PolyTune keeps everything harmonically aligned.
Check out the full article and her gear.
---
---
Judas Priest's Ian Hill and Richie Faulkner
---
Even after a half century as the sonic foundation for the legendary metal outfit, Judas Priest bassist Ian Hill still prefers an extraordinarily sparse board: His Shure AD1 wireless routes his signal to a plank featuring a Boss TU-3S tuner, a TC Electronic PolyTune 2 Noir, a Voodoo Lab Pedal Power ISO 5, and a Mike Hill Services 4-way input selector (for switching to instruments with different wireless transmitters), which then feeds a Boss ME-50B multi-effector—but the latter is only used for the band's cover of Fleetwood Mac's "Green Manalishi" (from the '78 Priest album Hell Bent for Leather).
That said, there are a few tunes where Hill has to do a little more tap-dancing than your average 4-stringer to augment the low end with a Moog Taurus 3.
Guitarist Richie Faulkner's pedals are located offstage in a rack drawer. It's stocked with three MXRs—a Reverb, a Micro Chorus, and a Phase 90; a trio of Bosses—an NS-2 Noise Suppressor, a TU-3 tuner, and a DD-7 digital delay; and an Ogre Kronomaster delay. A Voodoo Lab Pedal Power 2 runs it all.
Onstage, Faulkner uses a Voodoo Lab Ground Control Pro switcher, a Dunlop Jerry Cantrell wah, and a Dunlop Rotovibe.
Check out the full article and their gear.
---

Photo by Alysse Gafkjen
---
Brothers Osborne's John and TJ Osborne
---
John Osborne's signal travels to his Pedaltrain Classic Pro board from a Shure ULXD1 wireless unit. Once there, its first stop is a Radial JDI, whereupon it proceeds to a DigiTech Drop, a Sonic research Turbo Tuner, an Electro-Harmonix Switchblade+ (which he uses to switch between this board and a separate one for mandolin), a Chase Bliss Wombtone, an Origin Effects Cali76, an Xotic AC Booster, a Strymon Sunset, a Greer Lightspeed, an Xotic EP Booster, and a Barn3 OX9-controlled Eventide H9, and a Line 6 M9 multi-effector.
TJ Osborne's Pedaltrain Classic 1 also receives a signal from a Shure ULXD1 feeding a Radial JDI. From there, it goes to a Boss TU-3 tuner, a Dunlop Mini Volume X, and an Electro-Harmonix Switchblade+, which enables TJ to switch to an acoustic-optimized pedalboard (not shown). There's also a Greer Lightspeed, a JHS Twin Twelve (which he uses to reduce output when he wants to run his acoustic into his electric amp), a Barber Electronics Gain Changer, an EHX Micro POG, a Klon Centaur, an Xotic EP Booster, and a Line 6 DL4 Delay Modeler. It's all powered by a Truetone CS12 1 Spot Pro.
Check out the full article and their gear.
---