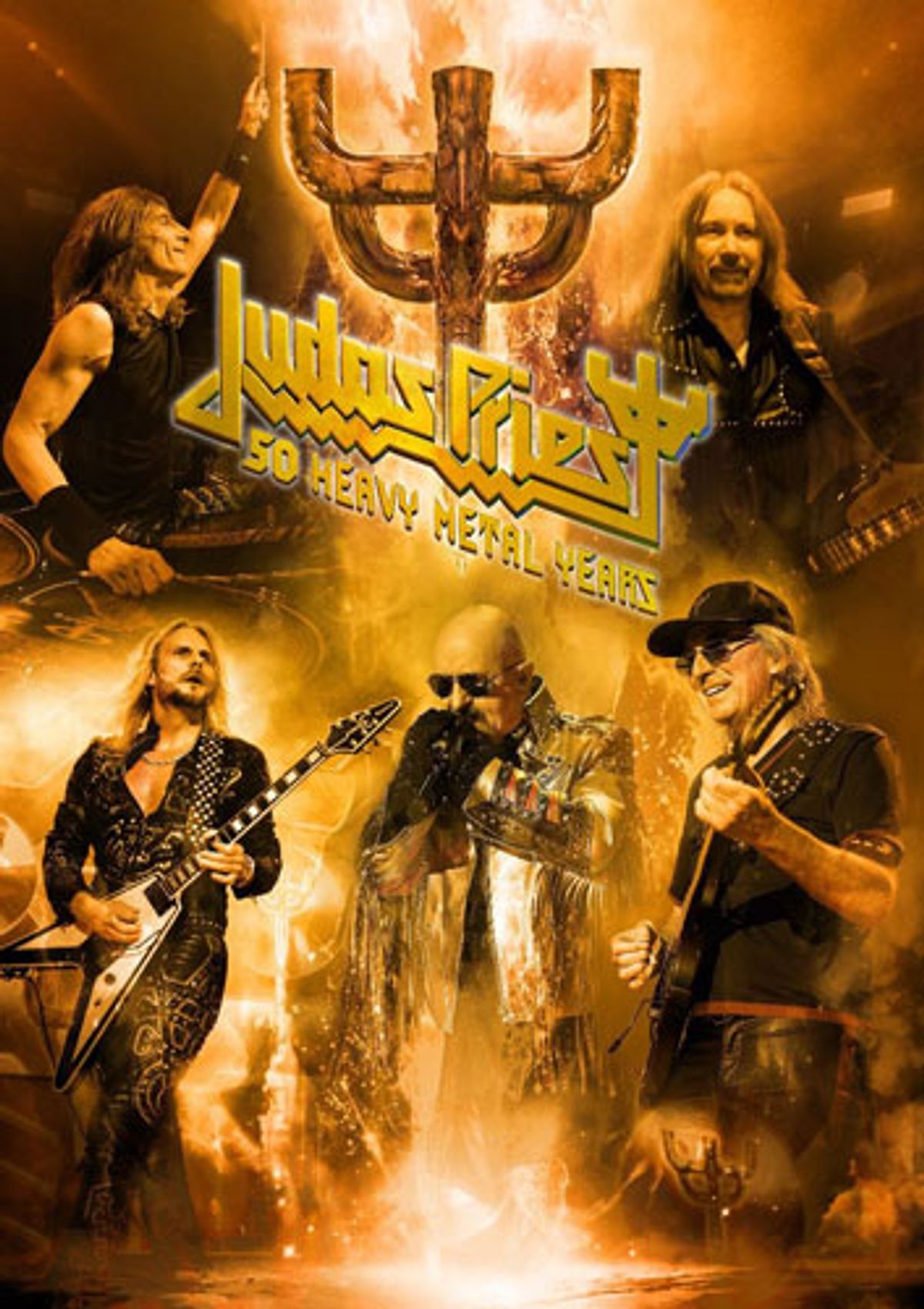 The tour will feature Sabaton as an opener.
(February 24, 2020) -- One of heavy metal's all-time greats, Judas Priest will be celebrating their 50th anniversary this year with a world tour coming to the US in the fall. The 50 Heavy Metal Years Tour will also feature Sabaton as openers and is being fueled by the highest charting album of Priest's career 'Firepower' which peaked at #5 on the Billboard 200.
"Judas Priest are primed and ready to deliver the goods with our 50 Heavy Metal Years anniversary celebration stage show spectacular! Performing a blistering cross section of songs from our lives in metal - we can't wait to raise horns with you again at this once in a metal lifetime event!" - Judas Priest
Judas Priest originally formed in 1970 in Birmingham, England (an area that many feel birthed heavy metal). The original nucleus of musicians - Rob Halford, Glenn Tipton, KK Downing & Ian Hill (along with several different drummers over the years) would go on to change the face of heavy metal. Throughout the 70's Priest were responsible for helping trail blaze metal with such classic offerings as 'Sad Wings of Destiny' (1976) 'Sin After Sin' (1977) and 'Hell Bent for Leather' (1978) as well as one of the genre's top live recordings 'Unleashed in the East' (1979) among others.
But it was during the 80's that Priest conquered the world, becoming a global arena headliner on the strength of such all-time classics as 'British Steel' (1980) and 'Screaming for Vengeance' (1982), as well as being one of the first metal bands to be embraced by the then-burgeoning MTV, plus performing at some of the decades biggest concerts (1980's Monsters of Rock, 1983's US Festival, and 1985's Live Aid) and being the first to exclusively wear leather and studs – a look that began during this era and would eventually be embraced by metal heads throughout the world. Priest's success continued throughout the 90's and beyond with the addition of drummer Scott Travis, as evidenced by such additional stellar offerings as 'Painkiller' (1990) 'Angel of Retribution' (2005) and 'A Touch of Evil: Live' (2009) the latter of which saw Priest win a Grammy Award for a killer rendition of the classic 'Dissident Aggressor.'
In 2011 new guitarist Richie Faulkner came in to replace the previous guitarist who had left in 2010 - the move seemed to have reinvigorated the band, as evidenced by a show-stealing performance on the 'American Idol' TV program that also served as Faulkner's debut performance with the band (also in 2011 was the release of a new compilation 'The Chosen Few' which included Priest classics selected by some of metal's biggest names) and the 'Epitaph' concert DVD in 2013.
Priest's next studio effort would arrive in 2014 'Redeemer of Souls' which was supported by another strong tour.
In 2017 (and again in 2019) Judas Priest received a nomination for the Rock and Roll Hall of Fame and got ready to unleash their latest studio album 'Firepower' (produced by Andy Sneap and Tom Allom) which received global success and critical acclaim.
Few rock or metal acts remain as much of a must-see live attraction as Judas Priest. And the forthcoming 50 Heavy Metal Years Tour will undoubtedly drive this point home.
Tour Dates:
9/9/2020 in Oxon Hill, MD at MGM National Harbor
9/11/2020 in Uniondale, NY at Nassau Coliseum
9/12/2020 in Ledyard, CT at Foxwoods Casino Arena
9/14/2020 in Philadelphia, PA at The Mann Center
9/15/2020 in Newark, NJ at Prudential Center
9/17/2020 in Charlotte, NC at PNC Music Pavilion
9/18/2020 in Orlando, FL at Central Florida Fair - Rebel Rock Fest
9/21/2020 in Grand Rapids, MI at Van Andel Arena
9/23/2020 in Detroit, MI at Fox Theatre
9/24/2020 in Youngstown, OH at Covelli Centre
9/26/2020 in Chicago, IL at Rosemont Theatre
9/27/2020 in Minneapolis, MN at The Armory
9/29/2020 in Milwaukee, WI at Miller High Life Theatre
9/30/2020 in St. Louis, MO at Saint Louis Music Park
10/2/2020 in Oklahoma City, OK at The Zoo Amphitheatre
10/3/2020 in Dallas, TX at Pavilion at Toyota Music Factory
10/5/2020 in Austin, TX at HEB Center
10/6/2020 in San Antonio, TX at Freeman Coliseum
10/8/2020 in Albuquerque, NM at Sandia Resort and Casino
10/9/2020 in Denver, CO at The Mission Ballroom
10/11/2020 in Salt Lake City, UT at Vivint Smart Home Arena
10/13/2020 in Phoenix, AZ at Arizona Federal Theatre
10/15/2020 in Los Angeles, CA at Microsoft Theater
10/17/2020 in Las Vegas, NV at Zappos Theatre at Planet Hollywood
For more information:
Judas Priest
Looking for more great gear for the guitar player in your life (yourself included!)? Check out this year's Holiday Gear Finds!
Created in collaboration with legendary guitarist George Lynch of Dokken and Lynch Mob fame, the Mr.Scary Mod adds an adjustable tube gain stage and an onboard Deep control, which together are designed to enable an amp to have increased sustain while still retaining note definition and dynamics.
LegendaryTones, LLC today announced production availability of its new Mr. Scary Mod, a 100% pure tube module designed to instantly and easily expand the capabilities of many classic amplifiers with additional gain and tone shaping. Created in collaboration with legendary guitarist George Lynch of Dokken and Lynch Mob fame, the Mr.Scary Mod adds an adjustable tube gain stage and an onboard Deep control, which together are designed to enable an amp to have increased sustain while still retaining note definition and dynamics.
Originally released as the Lynch Mod in February 2021, the updated Mr. Scary Mod features the same core circuit as the Lynch Mod but is now equipped with a revised tube mix combo per George's preference as well as a facelift in a newly redesigned electro-galvanized steel enclosure. As with the Lynch Mod, each run will be limited and the first run in Pumpkin Orange with Black hardware is limited to just 150 pieces worldwide.
​The Mr. Scary Mod adds an adjustable tube gain stage on top of the cathode follower position, keeping note definition and articulation while further increasing sustain. Each Mr. Scary mod is meticulously built by hand in the USA, one at a time, and tuned using high-grade components. Equipped with a single ECC81 (12AT7) in the first position and ECC83 (12AX7) in the second, the Mr. Scary Mod can clean up beautifully when rolling down your guitar's volume, and still adds scorching gain when you roll it back up. This is a gain stage that's been tuned and approved by the ears of the maestro George Lynch himself.
"The Mr. Scary Mod excels with dynamics and is incredibly touch-responsive, allowing me to shift from playing clear, lightly compressed cleans to full-out aggressive sustain and distortion –and control it all simply by varying my guitar's volume control and picking," said GeorgeLynch. "In many ways, it's an old-school approach, but it's also so much more natural and expressive in addition to being musically fulfilling when you can play both the guitar and amp dynamically together this way."
The Mr. Scary Mod installs in minutes, is safe and effective to use, and requires no special tools or re-biasing of the amplifier. Simply insert the module into the cathode follower preamp position of compatible amplifiers (includes Marshall 2203/2204/1959/1987 circuits) and

immediately get the benefit of enjoying a hot-rodded amp that delivers all the pure harmonic character that comes with an added pure tube gain stage. The handmade in the USA Mr. Scary Mod is now available to order for $319.
For more information, please visit legendarytones.com.
October Audio has miniaturized their NVMBR Gain pedal to create two mini versions of this beautifully organic-sounding circuit – including an always-on gain device.
The NVMBR Gain is a nonlinear amp that transitions gracefully from clean boost to overdriven tones. Volume increases from just over unity to about 10db before soft-clipping drive appears for another 5db of boost. Its extraordinary ease of use is matched by outstanding versatility: you can use it as a clean boost, push a stubborn amp into overdrive or create a just-breaking-up sound at any amp volume.

October Audio's new family of mini NVMBR Gain pedals includes a switchable version that allows you to bypass the effect: one option features brand logo pedal graphics, while the other sports a fun "Witch Finger" graphic with a Davies knob as the"fingernail".
The second version in the new lineup is an always-on device featuring the Witch Finger graphic and Davies knob, with the same NVMBR Gain circuit that lies at the core of the switchable version.
Features:
Knob controls gain and clipping simultaneously
Stunning silver hammertone finish
Switchable versions are true-bypass, available with classic or witch finger graphics
Authentic Davies knobs, including the "fingernail"
9V center negative power supply required
Dimensions: 3.63 x 1.50 x 1.88 in​
Witch Finger (always on NVMBR Gain) demo
​All October Audio pedals are assembled in Richmond, VA, and available for purchase directly through the online shop. Street price is $109 for NVMBR Gain footswitch versions and $89 for the always-on device.
For more information, please visit octoberaudio.com.