Jackson Guitars and Misha Mansoor Reveal Signature Models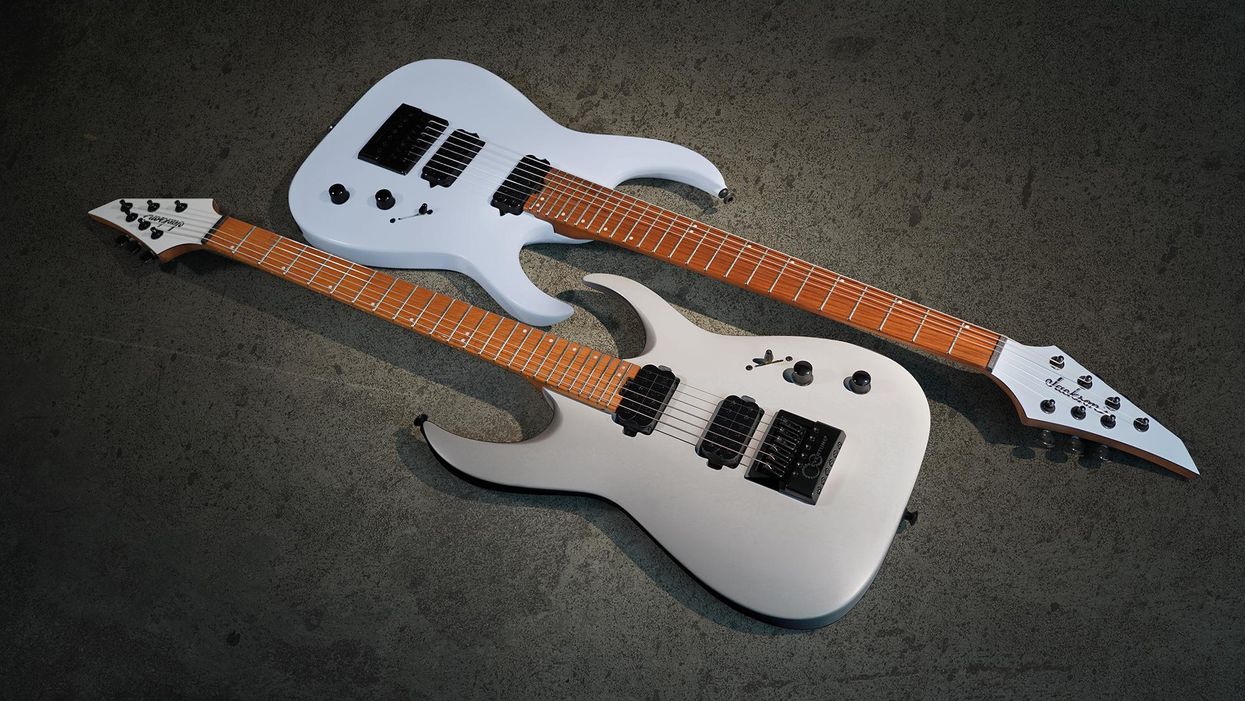 A pair of new djent-friendly guitars loaded with EverTune bridges and Jackson MM1 pickups.
Jackson and acclaimed djent architect Misha Mansoor once again teamed up to expand the Periphery guitarist's signature lineup with the new Pro Series Signature Misha Mansoor Juggernaut ET6 and Pro Series Signature Misha Mansoor Juggernaut ET7 models.
---
Both new models feature a game-changing EverTune bridge. "For those of you who know what an EverTune is, I've been using them in the studio and live and I love them," said Mansoor. "If you don't know what it is, it's a magical bridge that keeps your guitar in tune. It's kind of insane—some super complicated-based tension system, but if you set up the guitar right, you can strike a string as hard as you want and it will never go sharp or flat.
You can even set it up in this 'safe zone' as I call it where you can still bend – you just give it a little more than you usually would. Anyone who records knows how much time is spent in the studio just tuning your guitar. It's a huge time saver when tracking and recording." The 6-string, 25.5"-scale Pro Juggernaut ET6 comes in a Chalk Gray finish with a color matched reverse Jackson 3x3 AT-1 headstock and black hardware, while the 7-string, 26.5"-scale Pro Juggernaut ET7 features a Gulf Blue finish with a color matched Jackson 4x3 AT-1 headstock and black hardware.
Periphery's Misha Mansoor Showcases his New Jackson Pro Juggernaut ET6 and ET7 Models
Both models have a basswood body and a caramelized bolt-on maple neck with graphite reinforcement, wrap-around heel and oiled back finish for greater playing comfort. Built for blazing fast leads, the 20" flat radius caramelized maple fingerboard features rolled edges, 24 jumbo frets and offset dot inlays. Luminous side dots provide fretboard guidance on the darkest of stages, while the heel-mount truss rod adjustment wheel allows for convenient neck relief tweaks.
Mansoor spent considerable time working with Jackson to develop the Jackson MM1 pickups. These super-charged humbuckers produce a balanced sonic landscape with plenty of dynamics, and by leaving the pickups uncovered, there's an added and distinct brightness that remains articulate under heavy picking. A five-way pickup blade switch, single volume control and single tone control with push/pull select feature allows for multiple tonal variations and exploration.
"The MM1 pickups are just super versatile especially with the five-way switch," said Mansoor. "We've got second position doing split inner coils, which is nice for spanky cleans and mid gain tones, and fourth position, which is split outer coils, which gives you that chimey, almost Strat-like sound. Then you've got bridge (first), middle (third) and neck (fifth) with humbuckers."
For more information:
Jackson Guitars