Joe Bonamassa: "People Don't Think I'm Self-Aware"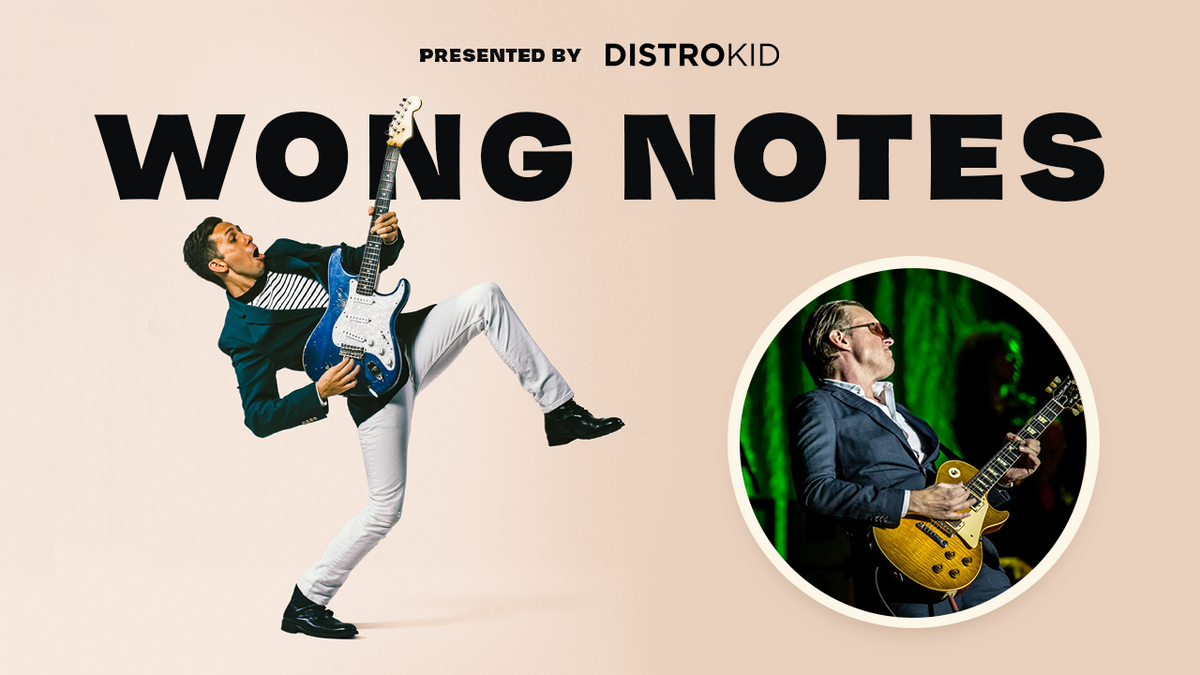 Blues-rock's most fervent gear collector discusses life at home and the future of his massive collection.
How Joe Bonamassa Promotes His Own Shows
Cory Wong: I heard that you're quite the gangster when it comes to your deals and touring. And I am down with this and I gotta get a little info because I've had other people talk about doing this sort of thing and your rolling the most gangster I've heard out of anybody. You don't take the traditional route where you book tours through promoters. I've heard that you rent the venues yourself and you promote the shows yourself. And that way you're taking promoter side and artist side. That's what I'm talking about. Tell me how you started pulling that off.
Joe Bonamassa: It all started in 2005 when I was domestically ... I was starting to draw about 200 to a 1,000 people. It would just, it would be all over the shop. So it's almost incredible. It'd be incredibly hard to scale a tour. Meaning one night you're playing to 180 people. The next night you're in Fort Wayne, Indiana and you got 1200. You know, production is based on the ... Once it starts to, even out, you can actually go, "Okay, we can bring this amount of lights. We can afford to do this and that." And we'd always have this standing house gig in Jacksonville, Florida, and in Fort Wayne, Indiana, which at that point in time where my two biggest markets domestically. And we were firewalled by these promoters. My manager and I, who now have been together for 30 years. And they basically all intensive purposes, you know, told William Morris my agent at the time, which by the way, I don't have an agent anymore, either got rid of them. So if you wanna keep it going, you want ...
Cory Wong: Yeah, it's an extra 10 percent. I like that.
Joe Bonamassa: It's called the vertical integration.
Cory Wong: Keep at it. I'm in this I'm this is what I'm here for.
Joe Bonamassa: Okay. And everybody goes, "How do you get all those fucking guitars, Bonamassa?" It's called a vertical integration. So, the idea is we started to look at these markets and we're going, "They were offering us $3,500 or $2,500. And those were our biggest paydays. And we said, "Well, how much, if we took all the gross receipts from this one club tour we were doing and promoted the Embassy Theater in Fort Wayne?" Which we still play, which holds 2,600 seats. We knew we couldn't sell 2,600 seats, but we were the place that B.B. King played and I'd opened for him there. Same thing in Jacksonville. We went from this place called Freebird Live to where it was kind of a club to the Florida Theater, which was 1,600 seats. We knew we couldn't sell 1,600 seats, but people don't have eyes in the back of their head. And then we could shut the balcony down. We raised the ticket price and we went out and rented some lights and made it like, you know, we were pretend rock stars. Like, we've actually put on a real gig.
By the time it was all said and done $3,500 turned into $25,000 after you've paid all the expenses, ding, ding, ding, ding, ding, ring the bell. Okay. Now, how do you scale it? Well, then every tour from 2000 to 2008 we would cherry pick our best markets. And we would go in and we would four wall and four wall is just a high falutin' Madison Avenue term for we're gonna rent the venue and put the gig on sale. And by the time 2008 ended, we were not only four walling everything in America, we were four walling in Europe as well. And we now don't do a show that has a traditional quote, unquote promoter with it because of those reasons. And we can put on the kind of production and show that we really think the fans deserve. And that's basically the model ... betting on yourself time and time and time again.
Joe Bonamassa On Post-Pandemic Life
Joe Bonamassa: Well to begin with, when we got sent home on March 12th from Minneapolis, we were supposed to play the State Theater, two nights, Friday and Saturday. We had shown up at Green Bay, the previous Tuesday and had a day off. We were supposed to play Wednesday, day off Thursday, and then two nights in Minneapolis and Tuesday, we were good to go and it started to scale and snowball a little bit throughout the week before. You know, we were calling ahead going, "Hey, what do you wanna do? Are we doing this or not?" They set up the gear. The crew goes in. They put the PA in the air, caterers fire up the bacon and eggs, you know? And at about 10:30, I get a call from the tour manager saying, "Hey, what time do you wanna leave from Minneapolis today?" And I go, "Standard time, 10:15 after the gig," he goes, "No the governor just canceled us." That's when I knew we were done. We show up to Minneapolis, put on the whole charade, but then they canceled at the last minute. I said, "Everybody, we're going home. Enough is enough. The weirdest ... The adjustment for me at first was it was, it was a brick wall and it was very difficult to come off the rollercoaster. But to be honest with you, this has been the year that I've needed to take off for 10 years, and would've never done this myself. And I hate to say that, you know, out of this huge negative impact on both society and people's health and their lives, the one positive that I could say that has affected in my world has been the fact that it forced me to take a break that I would've never taken on my own. And I think that it's going to, I think that bodes well for my future and, and my future mental health and stability.

Joe Bonamassa on the Future of his Gear Collection | Wong Notes Podcast
Article last updated on October 12, 2022.