Theo Katzman: The Songwriter Behind the Guitarist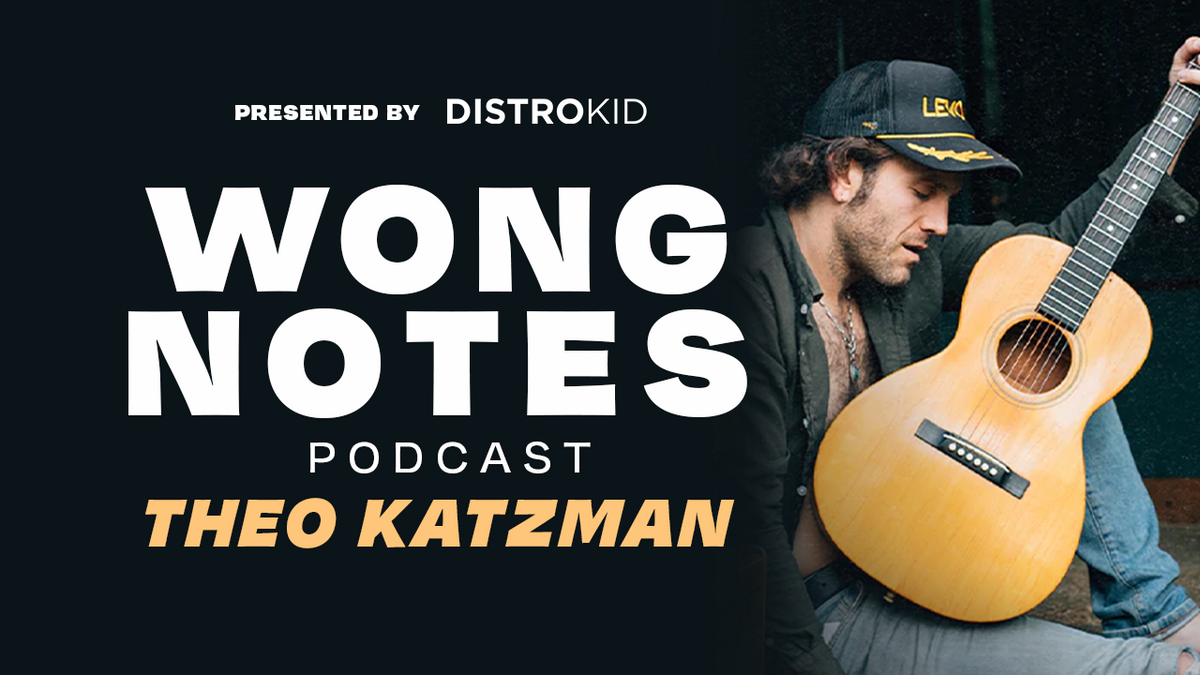 Cory sits down with his bandmate-brother, multi-instrumentalist Theo Katzman, to discuss the virtues of musical self-acceptance, the infectious charisma of Trey Anastasio, and how Theo has made a career out of being a jack of all trades.
---
When Theo Met Trey Anastasio | Wong Notes Podcast
What Theo Learned from Meeting Trey Anastasio
Theo: Once the jam thing started to catch on, and people got me into Phish, and you know I love Phish. I mean, we love ... I mean, Trey. We've actually gotten to have dinner with Trey.
Cory: Dude, that was one of the dopest dinners ever.
Theo: One of the best nights of my life.
Cory: Uncle Trey.
Theo: Trey. Dude, the stories out of that cat! Uncle Trey, man. People have no idea what a big influence- Trey ... What is it like, when Bonnaroo started, they rented Trey's PA? There's no modern festivals without Phish. You know what I mean? They blazed such a trail and what a genuine, generous, beaming light of a human Trey Anastasio is.
Cory: That was so much fun.
Theo: I love Trey. I would do anything for Trey, man. The thing I want to tell quickly about Trey, this is how genuine Trey is. We meet Trey, the Trey Anastasio Band and Vulfpeck are out to dinner. Our friend Merlin threw a dinner for us. He's an amazing chef.
Merlin gets an Airbnb for Vulfpeck and the Trey Anastasio Band to have dinner the night before we play Red Rocks. So we fly in early, we have this incredible meal. We're all getting to know each other, saying, "What's up?" Some of us are friends already. We sit down the table and it didn't occur to me that Trey was going to join. And then all of a sudden, Trey walks in and I'm like, "Oh my God, it's Trey." And I'm like, "Okay, play it cool." Because it's like childhood hero stuff. Yeah, this is, I'm cool, right? Am I cool? We cool?
And he says hey to everyone. He's like, "Hey man, what's your name?" "Theo" he's like, "Oh, I'm Trey." I'm like, "Good to meet you, man." And I think I was the last in line of the intros here or something. So he's like, "So what have you guys been doing, man? Are you on tour? Is this a one-off?" And I go like, "Ah, yeah, playing a couple shows" And I just gave him an out, like quick answer, no big deal. Like here's the exit, Trey, you can just take the exit. Go for it. And he's like, "Oh yeah, where? What's up? What's up with the tour? What's going on?" And I'm like, "West coast." Another out. He's like, "Where?" I'm like, "Portland." He's like, "Where?"
Cory: Crystal Ballroom!
Theo: I'm like, "Ah, Crystal Ballroom." He's like, "Oh man, is that the room of the bouncy floor?"
Cory: Yes, dude! I remember this!
Theo: I'm like, "Yes." He's like, "I love that room." And he starts talking about the room and he is asking questions and it was like, wow, this guy is... I can't get him out of this conversation. And I'm trying because I'm assuming he wants to leave because he's a celebrity. But no, he's so interested. Do you know what I mean?
Cory: He wanted to know where we were in the journey. He wanted to know how we were getting through it.
Theo: Yes.
Cory: He was interested in the details of, what rooms are you at? Are they fun for you? Is it still like this? Because I remember it like this. Remember he was talking about putting all the gear in the back of Fishman's, like gremlin car or something like that? He was talking about how they went from cars to the van, to the bus, to the buses … Dude, you're absolutely right. He was so interested.
Theo: Yes, and I have to say, this is a little "woo woo" perhaps, but the thing that people feel flying off Phish is that. And I haven't met the other guys, but I know they share that thing. And I also know Trey is a beacon of that and when you get on that stage, and when you put out that album, and even when you post on social media, and when you draw a graphic, and when you come up with a t-shirt and when you come up with your signature guitar with an emergency fourth position push-pot, okay?
You have an opportunity to send that genuine enthusiasm into the world via everything you do and call me crazy, but I started to realize of course this is who Trey is. Well, how do we get Phish? How do you explain Phish? This is a phenomenon. What is this about? It's bigger than the music. And then you talk to the guy and it's like, oh, he's interested in the story. He's interested in the journey. He's interested in the love. He's interested in the energy, the connection. You know what I mean? It's like no wonder this is the biggest independent band in the history of the world. I mean, Phish is a massive thing.
Cory: Dude. They're huge.
Theo: So I want people to know this because I think on your way up in the journey, you're like, how do I get to position X? And then you look at people who you're like, "Oh, I got to get a... I got to go to Hollywood and get into some real darkness with the labels" and it's like, well, maybe not. I'm looking, talking to the most successful independent musician in the history of the human race. And it seems like actually being an incredibly interested, genuine human is actually big part of it.