Going further down the rabbit hole of bass-intro gems in rock history.
Last month, I lamented over guitarists having a seemingly endless supply of recognizable, classic intros to choose from. With the simple beginning of a song, they can make an entire house party crack a grin of recognition within the first three seconds of picking up an acoustic. Truly memorable bass intros are in shorter supply, but they're definitely out there, so I shared some of my favorite classic bass intros in my previous column. To keep the theme of song-starting goodness from the world of rock bass going, the following are a few more riffs that sit atop my list of favorites.
"No More Tears" – Ozzy Osbourne
This is an open-D-string riff that starts with a hammer-on from the whole step below the upper octave, and then goes back to the open string. That's it! Mike Inez is credited with "bass inspiration," since he wrote the bass line and is a writer on the song, but the riff is played by Bob Daisley on the album.
You can hear the heavy compression on the bass track, which helps the simple, picked riff feel urgent and aggressive without the use of distortion. Making this riff feel good and heavy on its own, in spite of not being in the lower register of the instrument, is a lot of fun.
"Peace Sells" – Megadeth
Those of you who also grew up on MTV will likely recognize this bass line. During the channel's heyday, this hooky riff was played often with the network's logo to go in and out of commercial breaks. The line is up-tempo and busy, and has a few interesting and noteworthy features.
First of all, it's only two measures long, so it flies by at its tempo. Secondly, it makes for a solid string-skipping exercise for pick players and fingerstyle players alike. On a technical level, it's playable with different fingerings. I've found that using the 10th fret of the 4th string for the second note and then keeping the entire riff in that higher position on the neck makes the riff more fluid, which is notthe way Megadeth bassist Dave Ellefson executes it. Ellefson, however, plays the riff with precision and incredible evenness. Because the tone has lots of musical information in the upper frequencies, the riff sounds punchy and clear, even through tiny cellphone or laptop speakers.
A common trap for heavier bands is to heavily distort the bass when played solo to make it sound "tougher," and then dial the distortion out once the guitars kick in.
Along with his attack, Ellefson's use of a pick and active pickups enables this riff to really cut through. I also like that the tone is clean. A common trap for heavier bands is to heavily distort the bass when played solo to make it sound "tougher," and then dial the distortion out once the guitars kick in for more clarity in the mix.
"Badge" – Cream
While exceptionally simple from a technical standpoint, Jack Bruce's riff in "Badge" has a sexy flair, and the trick to keeping it that way is to not rush the eighth-notes at the beginning of measure two. These four staccato notes are quite the stylistic break in a blues scenario, where a fluid, legato feel is more common. The beginning of the riff is simply an Em triad (E–G–B)—the very foundation of a lot of rock music.
Bruce's intent and execution of this triad, and the use of a distorted tone that sounds like it comes from a miked amp, is what makes the line interesting. However, this simple, classic riff gets the bulk of its attitude from the two slides. Yet another standout is that there is no drumbeat, shaker, or hi-hat to establish time. It's simply muted rhythm chords on guitar to support the bass riff, which is stunningly effective.
"Would" – Alice In Chains
To my ears, this bass line sounds exactly like a snake slithering in the grass. To get more technical, the line manages to effectively sound "mean" withoutbeing in your face. That's truly a great musical statement for a bassist or drummer to be able to make. The magic of the starting whole-step hammer-on from the Ebto F gives the line its greasy feel, initially.
The second measure of the riff starts with a b3—Gb in this case—which is the same note measure one ends on. This makes the measure line feel very fluid, which helps add to the riff's mystique. And the drums accentuate this fluidity by playing a tom pattern rather than a traditional backbeat.
Some of these lines are very simple to the ear, but as bassists our job in many modern genres of music is to analyze the seemingly simple and make it brilliant. And make a riff that "anyone can play" sound like a professional bassist executed it. Happy riffing!
Photo by Scott Kowalchyk
The self-described "utility knife" played drums with John Scofield and Marcus Miller and spent time in the studio with Q-Tip before landing on Stephen Colbert's show as a multi-instrumentalist member of the house band. Now, he's taken over as the show's guitar-wielding bandleader and is making his mark.
It's a classic old-school-show-biz move: Bring out the band, introduce them one by one, and build up the song to its explosive beginning. It's fun, dramatic, audiences love it, and that's how every The Late Show with Stephen Colbert taping starts.
By this time, us audience members have been sitting in Manhattan's chilly Ed Sullivan Theater for about 90 minutes. We've gotten our seats, had a bathroom break after getting settled, and had some fun with warm-up comic Paul Mecurio. The first musician summoned by announcer Jen Spyra is drummer Joe Saylor. Wearing his trademark cowboy hat, he jogs out, gets behind the kit, and kicks off an up-tempo second-line groove. Next comes upright bassist Endea Owens and percussionist Nêgah Santos. The band's trumpeter, Jon Lampley, is introduced, and he's brought along his bandmates in the Huntertones as guests, so saxophonist Dan White and trombonist Chris Ott come out as well.
Louis Cato feat. Stay Human "Look Within"
The multitalented Louis Cato leads the Stay Human band through a special rooftop performance of his song "Look Within," from his album, Starting Now.
The audience is now on its feet, the band's pocket is thick, and the energy is building. When bandleader Louis Cato charges onstage, he reaches his mic on the bandstand and shouts, "I feel good today!" with explosive enthusiasm and a big grin, and the band launches into Jon Batiste's "I'm from Kenner." Cato sings the catchy and gleeful refrain: "I feel good, I feel free, I feel fine just being me / I feel good today." And the audience is feeling the love. Almost everyone is bouncing and clapping along.
A couple minutes in, when it seems like the song has reached its super-positive-vibe, high-energy climax, Cato shouts into his mic, "How do you feel today, Stephen?" And with that, Colbert comes running out from the middle of the set. Cato leaps from the bandstand toward the host as the crowd explodes. The two grab hold of each other and attempt to spin around, but the bandleader, holding his black-sparkle Tuttle T-style, loses his grip and goes sliding across the shiny stage. There's a second where both are comically stunned—Kevin McCallister Home Alone-expressions on both of their faces—but Cato quickly jumps to his feet, both he and his guitar unharmed, and runs back to the bandstand, where he keeps the song moving along with his bandmates, who haven't missed a beat.
All this excitement isn't even for the TV audience! Colbert is coming out for the un-televised pre-show Q&A. In a few minutes, they'll do a new taped intro that looks more like what we see every night. But they've gotten the crowd energized, and we need to keep it up. They need our energy to do their jobs.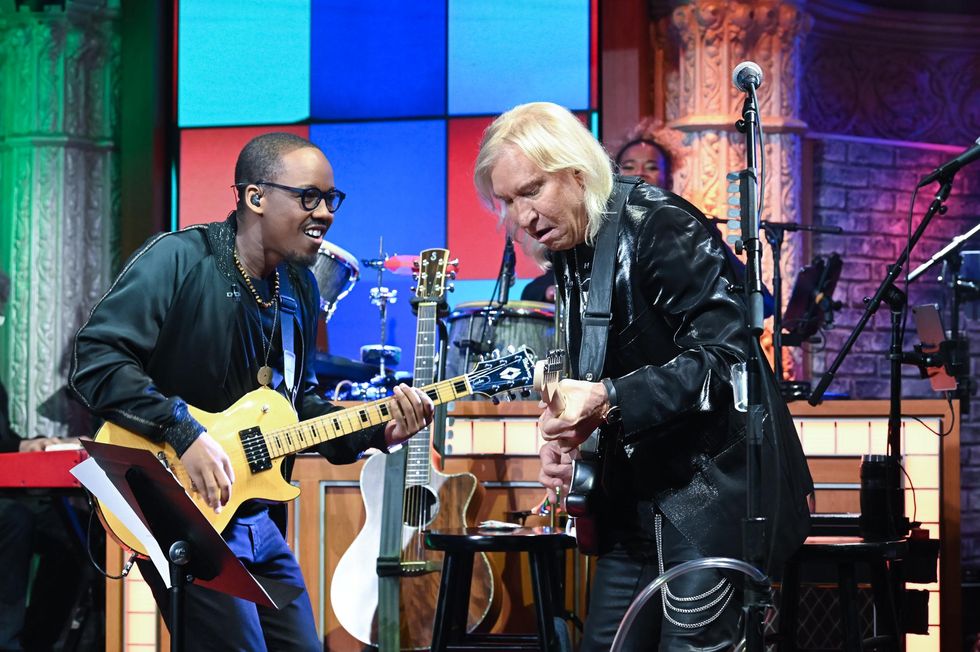 The Late Show Band welcomes a lot of guests up on the bandstand. Here, Cato and Joe Walsh boogie down.
Photo by Scott Kowalchyk
As Cato sees it, that's what his role as bandleader is all about: keeping the audience engaged and amplifying the drama and action of the show. "That translates to the energy that the viewers get at home," he explains. "For all of us here, we're able to feed off that energy and do the best possible show that we all can."
Colbert agrees with that job description and adds that the bandleader himself has the same contagious effect on his players. "Louis is an extraordinarily gifted multi-instrumentalist," he says, "whose spirit of creativity and collaboration not only elevates everything the band does musically but inspires me to be better at my job." He adds, "I'm so happy to call him my friend."
Beyond his infectious energy and charisma, there are a lot of ways Cato keeps the Late Show Band invigorated from night to night. For one, he keeps the music fresh by tackling a new cover song every day. That doesn't mean running down rote note-for-note charts. Cato and the band take a reconstructionist approach that fans of his work—whether from his collaborations with artists such as the Huntertones, Scary Pockets, or Vulfpeck, or from his regular Instagram cover-song posts—will recognize.
"Louis is an extraordinarily gifted multi-instrumentalist whose spirit of creativity and collaboration not only elevates everything the band does musically but inspires me to be better at my job."—Stephen Colbert
On this evening, the band runs through a host of multi-genre reinterpretations during the two-episode taping, including a slow-burning and soulful "Smokestack Lightning," a New Orleans-style "Down by the Riverside," and a fingerpicked, acoustic-led take of Joni Mitchell's "Free Man in Paris" that gets Colbert lip syncing along off camera. On a horn-driven arrangement of Stevie Wonder's "Love's in Need of Love Today," there's a re-worked bridge that creates a generous feature spot for the guest horn players.
Every arrangement brings a new and unique perspective to a classic track, to ensure the band is "not just a wedding band doing a cover of a song on the radio." Cato adds, "We're arranging it and making it our own—because that's the sonic fingerprint of our show."
St. Vincent jams with Louis and crew.
Photo by Scott Kowalchyk
A Lifelong Path
Listening to the story of Cato's musical life, it seems that this job—with its demand for a blend of careful strategizing and on-the-fly creative thinking, as well as effortless instrumental skills and charismatic showmanship—is what he's been training for since the beginning.
On the morning of the taping I attended, I meet Cato in his dressing room. Painted with sky-blue walls and a cloud mural on the ceiling, it's a comfortable place to hang. The bandleader is wearing slim-fit floral pants, a hoodie over a black T-shirt, and a long necklace. He sits across from me on his couch, next to a guitar stand that holds a few instruments—including his Tuttle, a Jesse Stern-built baritone acoustic, and his Univox LP-style—and a '65 Deluxe Reverb reissue with a Universal Audio Dream '65 pedal plugged into it.
"There's not a time in my brain when I was not making music in some way or form," Cato says. His mother, a pianist in the Church of God in Christ, bought her son a Diamond drum kit that he recalls having paper heads when he was just 2 years old, and she started teaching the toddler to accompany her. "I marvel at my mom," he laughs. "Like, who buys their 2-year-old a drum kit?" After playing those drums every day for a year, he started accompanying her at services.
The family moved around a lot. Cato's father was in the Air Force, and Louis was born on a base in Lisbon, Portugal, before moving to Dayton, Ohio. Not long after he started playing in church there, they moved again to Washington, D.C., and when Louis was 5 they settled in Albemarle, North Carolina. A few years later, Louis started playing guitar on a "little burgundy sunburst acoustic. Eventually, I busted a string and busted another string and just kept playing with four strings. I delved more into bass from playing bass lines on the acoustic guitar. So, for my 9th birthday, my dad bought me a 4-string bass."

"I'd show up to Tip's and we'd do a week of writing sessions with John Legend or have André 3000 in the studio for a couple of weeks."
While it was strictly pragmatic reasons that initially drew him to the bass, he says his biggest inspiration was the bass player he knew best: his mother's left hand. Her playing, rooted in the COGIC (Church of God in Christ) style, "involves heavy left-hand bass. I wasn't as psyched to play bass in church since the way my mom plays is very defined. But eventually I kind of had to learn how she plays. It was always just her and me playing. And I had to learn to move with that and follow that. She's a great bass player."
Along the way, Cato picked up more instruments. By the time he headed to Berklee, he was playing drums, guitar, and bass as well as tuba, trombone, and euphonium. "I was going from being a big fish in a small pond to a small fish in a large pond of super-talented people who had heard oodles of music I had never dreamed of," he recalls. So, he decided to focus his studies on the instrument he'd played the longest.
Louis Cato's Gear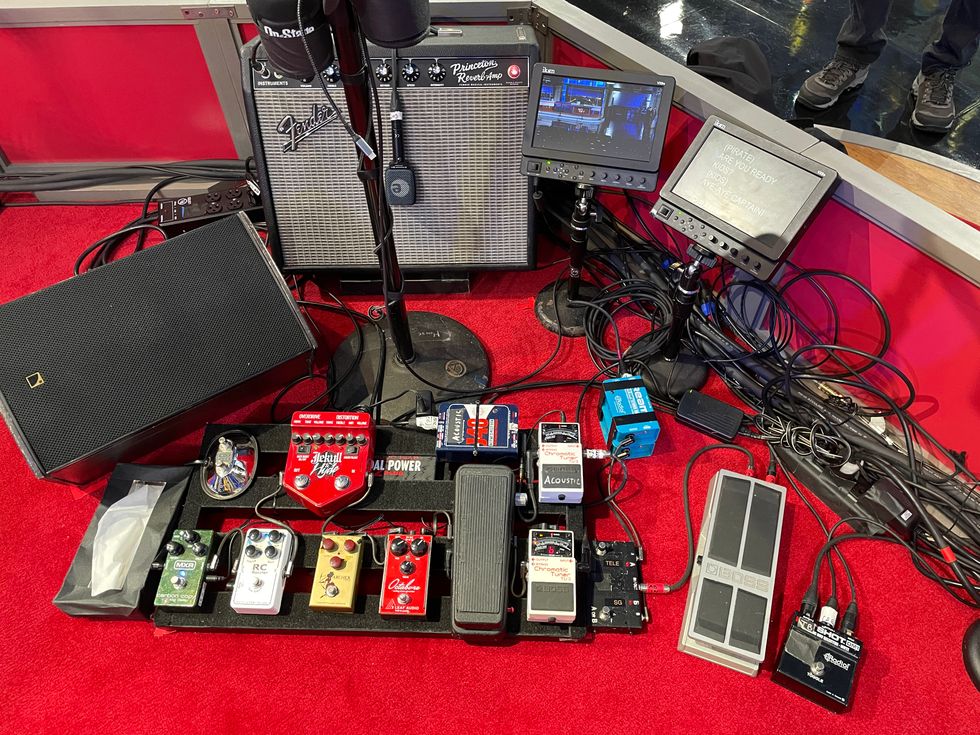 A glimpse at Cato's pedals and amp, which mostly live outside of the camera's eye, behind his stage monitor.
Guitars
Univox LP-style
Tuttle Custom Hollow T
1961 Gibson SG reissue
Martin OM-28
Amps
'65 Fender Princeton Reverb reissue
Effects
Boss FV-500H Volume Pedal
Boss TU-3 Chromatic Tuner
Dunlop Cry Baby
3 Leaf Audio Octabvre
J. Rockett Archer
Truetone Jekyll & Hyde
Xotic RC Booster
MXR Carbon Copy
Strings and Picks

D'Addario EJ16 (.012-.053)
D'Addario EXL110 (.010-.046)
Dunlop Max Grip .88 mm
Cato completed just two semesters—fall '03 and spring '04—before deciding to concentrate on playing the gigs that were paying his bills. "My rationale was, much to my parents' chagrin, here's an opportunity where I can keep learning on the job and be working my way out of the debt I went into in this year."
Gigging with wedding and church bands gave the multi-instrumentalist an opportunity to keep all his instrumental and vocal skills alive. "My oldest daughter was born soon after that," he recalls, "so I felt really, really aware of how lucky I was, how lucky any of us are, to make a living and support a family as a musician." Cato spent five years in Boston, playing various instruments in gigging bands, and he frequented local institution Wally's Cafe Jazz Club, just two blocks down the street from Berklee, "for self-education and inspiration. When that felt like I hit a ceiling, I looked at where I could go to continue my inspiration and working on the kind of projects I wanted to be working on, and that led me here."
By that time, Cato's friend Meghan Stabile, had moved to New York and created the promotion and production company Revive Music, which was dedicated to the kinds of jazz and hip-hop collaborations he wanted to pursue. Cato moved to Bushwick, Brooklyn, with his band Six Figures— "There were six of us; we did not make six figures!"—and would head back to Boston each weekend for the gigs that were paying his bills. Eager to soak up the New York scene, he'd return to New York on Sunday nights and go directly to jam sessions.
All that time back and forth on the Northeast Corridor paid off. A self-described musical "utility knife," Cato's multi-instrumentalism, as well as his talents as a songwriter, arranger, producer, and engineer, made him a major asset as a collaborator, and the New York scene took notice. Soon, he established essential connections that would affect his career, forming "an instantaneous brotherhood that continues to this day" with producer Kamaal Fareed, aka Q-Tip. "Through that, I ended up really delving into a lot of relationships and credits."
The two artists worked on high-level collaborations that not only bolstered Cato's reputation but served as a major piece of his education. "I'd show up to Tip's," he explains, "and we'd do a week of writing sessions with John Legend or have André 3000 in the studio for a couple of weeks. Sometimes things would come from it, and sometimes nothing would come from it. But being in the creative process on that level in a trusted space was invaluable for me. I learned so much."
Outside of Q-Tip's studio, Cato was learning from plenty of masters, mostly from behind the kit. "It's really special when you find yourself learning things you connect to," he says about his work alongside artists such as bassist Marcus Miller, keyboardist George Duke, and guitarist John Scofield. "And I learned so much about myself from connecting to some of these people."
Staying Human
Back in 2015, Cato received a phone call from pianist Jon Batiste. The two had never met, but Batiste rang him up about a mysterious project—a theme song for a TV show that he couldn't disclose. "I had a wisdom tooth appointment back in Boston, and I got a random call," Cato remembers. "I think his exact words were, 'I'd love to have your ears on it.' And I followed my gut, rescheduled my trip, stayed in New York an extra day with an abscessed wisdom tooth."
The two got together to co-write and produce "Humanism," which would become the theme song for the Stephen Colbert-hosted Late Show. Batiste played piano, Cato played the guitar, bass, and drum parts and "put on my editing hat." They brought in Joe Saylor—who would become the show's drummer—to play tambourine, as well as saxophonist Eddie Barbash. "After the session," Cato remembers, "I went back, got my wisdom tooth out, and went back on the road with John Scofield."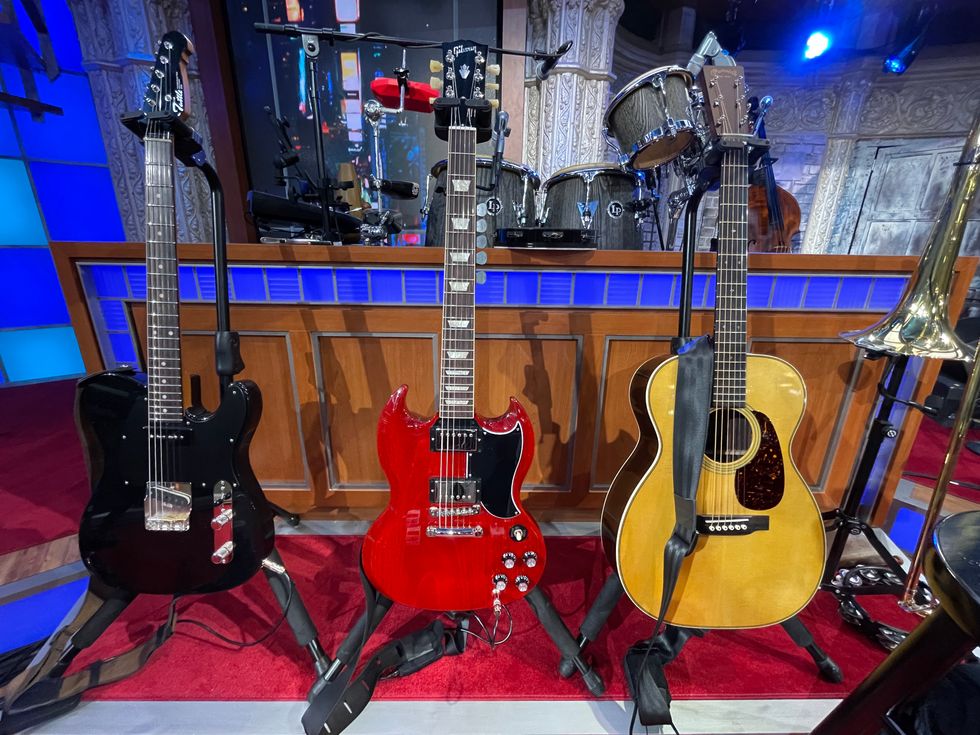 Three of the four go-to guitars Cato uses on The Late Show: a black Tuttle T-style, a cherry-red Gibson SG, and a Martin OM-28.
At first, Cato played the multi-instrumental role of his dreams, attempting to surround himself with every instrument he could play. "That lasted about three days before reality set in," he laughs. "Slowly, one by one, things started disappearing—a floor tom going away here, a Pro Tools setup going offstage there. Eventually, as the band formed out, I moved around to what was needed. I was the utility guy—played a lot of kazoo, a lot of cowbell."
While on the road drumming with Sco', Cato got the invite from Batiste to join the show's band, Stay Human. "It was a huge life shift for me," Cato explains. "I was making really good money on the road with really good musicians, which was really fulfilling. And I took a chance. I loved the idea of being a part of something creatively from its inception."
Eventually, Cato settled into a more consistent electric bass role, until Batiste brought in upright player Endea Owens, and he moved to guitar, where he's mostly stayed. When Batiste left the show last year, Cato took over as bandleader—officially starting this season, back in September—and decided he'd lead from his role as guitarist. "Of all the places I occupied," he says, "guitar was the easiest and most natural to me to lead the band, in the energy. From behind the drums, it's a different thing, and we've done it when Joe was out. But it just was a really natural progression."
Same Show, New Job
In just a few months, Cato's new role as bandleader has had an impact on the show. The renamed Late Show Band's engine seems to be burning on a new kind of fuel. And it feels as though that energy is coming directly from Cato.
When we talk, the guitarist is deeply engaged, in a kind of hyper-focused way that is not intense but more casually un-distractable. He brings that same focus to the show. While Colbert delivers monologues, Cato is zoomed in on the host, listening to every word, often riffing around on his guitar to contribute musical commentary. During interviews, he's taking cues and following the tone of the conversation, looking for ways to adapt.
The bandleader gig requires loads of big-picture improvisation, but also lots of prep. Cato explains that each week he makes a set list, but the band will react and make changes in the moment. "My job ends up being a lot of judgement calls that affect the flow of the show," he says. "We have a group of compositions we wrote for the show that can complement different moments. If there's a major energy shift in an interview that takes a turn or something happens in the day, like a tragedy, we'll call one of the songs we wrote for the show for a moment such as that. Recently, we had a guest on that started improvising a song. So, I have on our in-ear mic and call out the key and start playing, and we all jump in, and now we're doing this instead."
Cato poses with his black-sparkle chambered T-style, made by Tuttle. "When I'm checking off core priorities in sound," he says, "if I'm going for rhythmic things, I go to the Tele."
Photo by Scott Kowalchyk
Watching the Late Show Band in person, I see this play out as Treasury Secretary Janet Yellen explains the steps the U.S. can take to avoid a recession. It's a heavy and heady conversation, and, frankly, it's anything but fun. Cato knows he'll need to pick the audience back up. As he watches from the bandstand, he gives tempo cues to the band, who nod along, so they can effectively shift the energy and get the audience re-focused for the next guest, actor/director Sarah Polley.
As a guitar player, Cato says he sticks to playing things that feel most natural to him so he can concentrate on his bandleading duties. He adds that he considers himself more a rhythm guitarist than a lead guitarist. (It's worth noting that his delineation is more conceptual than musical: Cato is an inspired and dynamic melodic lead player, but his deeply rooted phrasing and feel is at the forefront of everything he plays, so the rhythm-first thing applies to it all.) "This is not a space as a guitar player where I'm jumping out of the box trying any and everything and exploring," he explains. "You get to some of those places. But for me, it always has to start from something I can do while leading the band and reading the energy and making judgement calls."
"We're arranging it and making it our own—because that's the sonic fingerprint of our show."
That rooted, pragmatic ethos applies to the gear he chooses as well. "I never was a big gear person," he admits. Luckily, he has Late Show Band tech and informed gearhead Matt Mead to help him keep his pedalboard well-stocked. "There's so many things I'm learning about the job and trying to keep straight in my head that this ends up getting the short end of the stick, and it wouldn't work if there was not a Matt Mead to make up the rest of that stick and make it sound good."
"The show throws a lot of curveballs," Mead points out. "He steers the boat as far as the tones he's looking for and if there's a particular sound he's looking for. Sometimes, I'll recommend stuff and say, 'Hey I notice you're doing this, maybe we should try this.'"
Cato's collaboratively curated pedalboard is pretty simple at its core: It starts with a Boss FV-500H volume pedal, a Boss TU-3, a Dunlop Cry Baby, and 3 Leaf Audio Octabvre. Cato shows me how he uses the latter for more traditional, Hendrix-style playing, but he points out that the band plays a lot of montunoes, and he tends to use the octave pedal for those. For drive, he uses a J. Rockett Archer and a Truetone Jekyll & Hyde, which are followed by an Xotic RC Booster and an MXR Carbon Copy, all into a Fender '65 Princeton Reverb reissue, and powered by a Voodoo Labs Pedal Power Plus.
In live performances outside of The Late Show, Cato uses various guitars, but says that the studio's cold temperature doesn't do many favors for instruments such as his Gibson Luther Dickinson ES-335 or some of his acoustics, so he's careful when selecting which guitars come on stage at the Ed Sullivan Theater. The three guitars that most commonly appear on the show are his black Tuttle Custom Hollow T, a cherry red Gibson SG 1961 Reissue, and a Martin OM-28.
Another guitar that sometimes appears on the Late Show is his LP-style Univox, which I ask Cato about in his dressing room. "If I need to be altogether comfortable," he explains, "I pull out the Univox, because it's my earliest guitar. I've had this since high school."
Cory Wong "Lunchtime" - The Late Show's Commercial Breakdown
When musical guests visit The Late Show, they get the full-band treatment from Cato and company. Here, Cory Wong sits in for a rhythm guitar showdown of the highest level.
Back when he first got the guitar, Cato remembers, it was in rough shape, desperately in need of wiring and pickup repairs and a new set of tuners. It stayed that way until he was in Boston. When he picked up a wedding band gig playing trombone and guitar, he was lucky enough to have a roommate who could get the Univox performance-ready by replacing the original tuners with locking units, cleaning out the electronics, and swapping the pickups for a pair of Seymour Duncans.
"I didn't even know there was a such thing as a professional musician."
But Cato says that even before those repairs, he's always "loved it because it's all I had. I remember I was playing a little Vox amp, and this guitar had a feeling out of that amp. This guitar just became home base and felt super natural to my fingers. If I need to just not be thinking at all, this is home."
Did he ever dream he'd be on television every night, holding this Univox and chumming with a late-night host? "Never! Not once!" he says. "It was just a product of my nurture growing up in a small town. I didn't even know there was such a thing as a professional musician." And yet, Cato pursued music as fully and single-mindedly as he could. "I just knew that I liked it and felt connected to it."
Photo by Neil A. Lim Sang
Bassists don't often handle song intros, but there have been some very memorable ones in rock history.
Rock guitar players have it good. They can walk into any party and turn heads by playing the first few notes of a song—from what seems to be a million-song catalog with recognizable guitar intros. Just the first two or three seconds of an opening riff can transport a listener into a world of memories, while at the same time give the player instant gratification for being the instigator of boundless joy.
When it comes to bass, there is a wealth of great, iconic intros in the R&B realm. In the rock world, however, we stand in the shadow of our guitar-playing brethren for intro glory.
This slinky and fun bass riff is one I often break out at soundchecks to test my gear, and it usually turns a head or makes someone crack a grin.
It seems to me that many of the best-known bass intros in rock history start off songs that are not necessarily the loudest, most high-energy numbers, but rather more mysterious or laid-back affairs.
The following list includes what I think are some of the great bass intros in rock history. And most can be easily played by a beginner or intermediate player, which makes them even better! There are some obvious ones like "Another One Bites the Dust" or "Livin' on a Prayer" that were excluded, only because I feel they've already received their time in the sun.
"Dancing in the Moonlight" – Thin Lizzy
The poetry and effortless sexy cool of lead singer/songwriter/bass legend Phil Lynott goes way beyond the singing and classic rock-star swagger of his powerful stage performances. Lynott's bass playing is filled with authority and creative ways to approach tried-and-true rock 'n' roll concepts. The bass intro for "Dancing in the Moonlight" is a simple, mostly pentatonic hook in the key of G that takes us from Em to C to G.
The shuffle/swing feel of the song makes it one of those finger-snappable moments that always sound tremendous in a smoky bar. A flanger effect is used to give the riff even more personality, and it absolutely helps make this one stand out amongst rock 'n' roll bass intros.
"New Year's Day" – U2
From the band known for some of the most iconic, arena-filling, delay-soaked guitar intros in rock history comes a song with a very somber bass intro. The chord outline of the riff is Abm, B, and Ebm. And Adam Clayton is simply outlining the chords by playing the first four eighth notes of each measure using the following pattern on all the chords: root, root, 3, root.
As we all sit in our studios and bedrooms trying to come up with the next great opening bass line worthy of an arena, it's a humbling lesson to hear how haunting and blindingly effective the harmonic and rhythmic simplicity of this line is. The dull sound of the not-so-bright strings played with a pick—through what sounds like a miked Ampeg—is full of soul.
"Naughty Naughty" – Danger Danger
Unless you were a fan of commercial, melodic hard rock in the late '80s, this 1989 gem from Danger Danger may have slipped past you. The opening track on the band's debut album starts with a great bass hook that's not even accompanied by drums—just a clean-sounding Spector played with a pick and without much processing.
The band's leader, principal songwriter and bassist, Bruno Ravel, separated Danger Danger's musicality from a lot of their contemporaries with this great opening statement. The riff is basically a Gm idea that moves through Bb to land on C, where Bruno uses a major third to almost give the line a mischievous, playful feel. As the song goes on, the bass line is doubled by rhythm guitar in order to reinforce the commercial appeal of the riff. This slinky and fun bass riff is one I often break out at soundchecks to test my gear, and it usually turns a head or makes someone crack a grin.
"Keep the Faith" – Bon Jovi
This song always lives in the shadow of "Livin' on a Prayer," one of the best-known bass-intro riffs in rock history from the same band, but this riff absolutely deserves to be heard and learned on its own merits. Like many of bassist Hugh McDonald's lines, it is rooted in a bouncy, Motown-style of playing.
The line is in Gm and has a similar movement to "Naughty Naughty" by moving to Bb and C while repeating the top notes of the pattern between every chord change. This riff makes for a great dexterity and string-skipping exercise as well.
Stay tuned for more iconic bass intro riffs next month, and please be sure to comment with your own favorites!
Photo by Jennifer Troche-Walsh
Do yourself a favor and reconnect with the reason you started playing bass in the first place.
With so many genres, variations, uses, and definitions contained in just five letters, the word "music" is one of the most all-encompassing in the English language While wandering the halls of the NAMM show this year, the entire spectrum of the word was on display. Even though the convention is mostly about commerce, the thing that really hit me is that people who play music seem to get fulfillment, satisfaction, and excitement from doing things very differently from each other.
This diversity of expression is especially on display while walking through the bass section of NAMM. Bass gets heard in convention halls in ways you would rarely experience the instrument out in the wild, so to speak. But despite the convention having strict decibel limits and hundreds of musicians making noise in your immediate vicinity, you can experience how differently we bassists truly are in just a few minutes.
I believe everybody who plays bass does so for slightly different reasons. Everyone has his or her own why. I also believe those same reasons are sometimes very obvious in somebody's playing, similar to the way influences can be obvious in playing. I'm currently taking my first year off from being a full-time touring bassist in 22 years, so I've been giving plenty of thought to my own "why" lately. Why do I want to go back to playing, and are the reasons the same ones I had when I was a kid?
What was your bass why? When everyone else in the band was fighting over who got to be the lead singer or lead guitarist, you had something that made you chose bass instead. I'm well aware that some people started playing bass because the band had too many guitar players, or because they received a hand-me-down bass from an uncle, and it was the cheapest way to go. But many of us were drawn to the bass for some other reason. Was it the mystique of the low notes you can feel and sometimes not hear? Was it the fact that the bass looks mightier than its 6-string little brother? Whatever the reason was for you, it's good to reconnect with it as often as possible.
Some people's why is from a creative spark. My why was to create the ultimate fan experience.
Many bassists I know fell in love with the bass as a solo voice. When they are not playing in some kind of ensemble, they take any chance they get to make bass-solo arrangements. On the other end of the spectrum, I have friends who are accomplished multi-instrumentalists and producers who perform their own bass tracks unless the music is too technically involved. Their why may be strictly for the sake of convenience—to avoid having to call a bassist or because they want to be able to record an idea the very moment they have it.
My own initial love affair with the instrument was largely due to the synth-pop wave of the mid '80s. As a preteen, I was listening to artists like Depeche Mode, Howard Jones, and Alphaville. The simple but very singable synth-bass lines had my ear, and I formed a trio with two friends in which we all played cheap Casio keyboards. We took turns playing the synth-bass lines in that little trio, but when the decision was made to buy "real" instruments after a year of only playing keyboards, I chose the bass. I wanted to continue playing those simple yet amazing sub hooks. That's how I picked the bass at the age of 12. There is, however, one more integral part of my why for playing bass.
I grew up with a father who was a home-stereo fanatic (aka audiophile). I was practically trained how to sit in front of a stereo and actively listen to the music, rather than just having music on as a distraction in the background. Closing my eyes and disappearing into the music was a high for me like no other, and I think it kept me out of a lot of trouble. My whyis that high I only get from being in the middle of the music. I started playing bass so I could be right in the middle of the speakers, figuratively speaking, but on a more intense level than being a music fan in the middle of the stereo sound field wearing a great set of headphones. Some people's why is from a creative spark. My why was to create the ultimate fan experience.
The way I see it, we bassists get the opportunity to truly feel that middle in a fantastic way when playing live in a band. We get to be part of the rhythmical aspect of music with the drummer, and simultaneously connect to the melodic aspect of the music with the other instruments.
Whether a person is playing polkas on a trumpet or programming keyboard parts through drawing notes in their DAW instead of actually playing them, they both have reasons for doing exactly what they are doing. And at the end of the day, all that truly matters is whatever musical expression puts a smile on your face.
Once in a while, you have to ask a bandmate to back down, turn down, or something else they probably don't want to do.
Being a musician requires an interesting balance of being on top of your game, while at the same time making sure you're in an environment where you are in a little over your head. The perfect performance environment—where you are inspired and surrounded by all the elements that facilitate greatness—can be a rare occurrence, but it's our responsibility to seek out such an environment as often as possible. When we surround ourselves with musicians we consider to be better players than us, we're in an environment where growth, unbelievable musical moments, and memories can happen.
As bassists, our end of the bargain is making sure our fellow musicians have a great experience playing music with us, which is determined by a multitude of factors, such as being prepared, playing the right equipment, and EQing our tone to fit the sonic makeup of the band. There's also looking around and interacting with our fellow musicians and the audience, dressing the part, and making sure no distractions enter our mind during the show. We truly need to be fully present.
Staying humble and realizing you're always learning is necessary to be a successful musician in any accompanying role. That said, we are sometimes surrounded by players who are not maintaining the standard of preparation and execution we are used to, which can land us bassists in situations where diplomacy and patience come into play in a major way.
Unless the gig is heavy metal or classic rock, I'm always concerned when I see the guitarist bringing in a 4x12 cabinet, or even a 2x12 closed-back cabinet.
There are a few things less-experienced players do that can severely impair my good time playing bass. I initially didn't know how to handle such situations, but after receiving some tough love over the years from older, more-seasoned players, I now have a feeling of responsibility to help less-experienced players, which simultaneously helps me have a better time playing.
The pet peeves following are somewhat bassist-centric, but as bassists, we hear and experience them closer than other musicians. Thankfully, simple adjustments can be made to ensure a big difference in the sound of a band in a short period of time.
The keyboardist's left hand. The joys of having a keyboard player in the band are many, so being aware of common problems can be a great asset to you as a bassist. If you are playing songs your keyboardist has played solo or in a duo a few hundred times, you may have to ask him or her to lay off the left hand completely to break the muscle memory of playing bass. In most cases, not using the left hand is better than an overplayed or poorly performed left-hand part.
When soundchecking over a large PA system, I always hit a few low notes between songs to feel if the stage is vibrating, and then ask the keyboard player to hit a few low notes as well. If the keyboard shakes the stage at the same level (or more) than the electric bass, then I know for sure the front-of-house mix is a muddy mess. Asking the FOH engineer for some EQing or to use high-pass filters on the keyboards is a good and easy solution.
The guitar amp. Guitarists are sometimes guilty of bringing too much firepower to a gig (just as bassists are). At least low-enders can justify it somewhat, since we need more size and wattage to move the same amount of air. Unless the gig is heavy metal or classic rock, I'm always concerned when I see the guitarist bringing in a 4x12 cabinet, or even a 2x12 closed-back cabinet. A guitarist using too much gain or distortion for a song also makes the low-end territory of the mix quite tricky to navigate, because the amount of low end that has to be EQ'd out of the guitar amp can be severe. I often remind guitarists who claim the late Malcolm Young had their favorite guitar tone that Young cut all the low end on his Marshall amps and used very little distortion. Not all guitarists realize that cutting low end and using less gain can make them sound punchier and be more aggressive in the mix.
The kick drum. Unless you are playing jazz, where the kick drum is often used as an accent tool, the kick drum is usually the anchor holding the musical ship together when paired with a simple bass-guitar pattern. A less-experienced or overly excited drummer will sometimes use his or her feet to improvise during straight-ahead pop or rock songs. This is a real groove killer. Whenever I notice this happening, I'll ask the drummer what patterns he or she has written down for different sections, and to double-check they are the same as what I have notated. I'll then say, "Cool, let's stick to that," while hoping no egos have been hurt. In my opinion, the solidity of a groove can be ruined by a drummer with a "wandering foot" quicker than almost anything else.
Bassists are used to providing a foundation for everyone else to sound great. However, there is no shame in asking our fellow musicians to make adjustments in their performances and tones to help us sound great, too.