Reader Guitar of the Month: The Mountaineer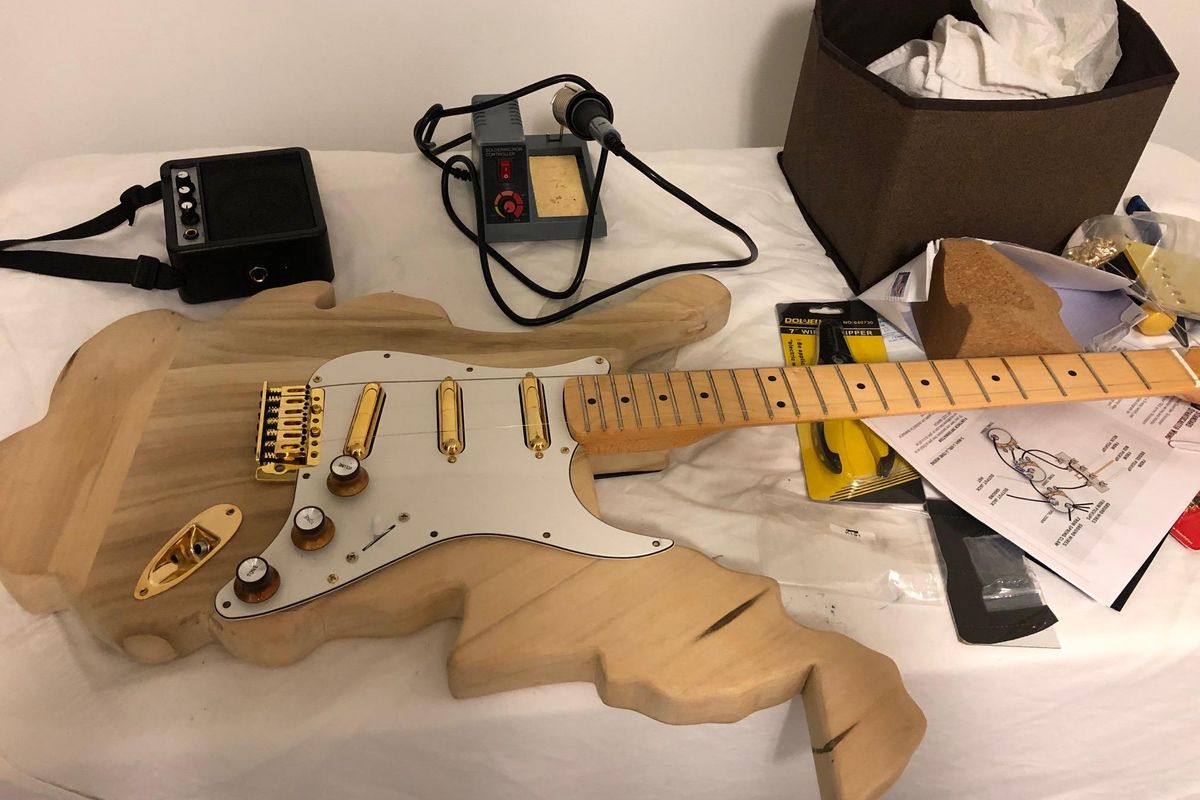 With a little help from his friends, a West Virginia musician builds a blue-and-gold 6-string replica of his home state.
Name: Don Staats
Hometown: Parkersburg, West Virginia
Guitar: The Mountaineer
I manage a group of radio stations and have been in broadcasting for 49 years. I've been a weekend musician since I was 16, performing in a trio called Henrie Lane, and an oldies band called Insured Sound that has been a continuous band for 45 years. I read Premier Guitar cover to cover every month and have for
years—I don't miss an issue.
---
Reader Don Staats and his West Virginia-inspired axe. Yes, it required a custom case.
Naturally, if you're a musician and guitar collector for this long, eventually you'll get around to building your own. Having built a few guitars from kits, I decided to go all in at building one based on the state shape of West Virginia. Those of us in this state are very proud of our heritage and all things that are "Mountaineer." If you live in Kansas, or Nebraska, or some of the other Midwestern states, building a state-shaped guitar might not be too difficult. But, if you live in West Virginia, that can be a challenge!
I started the project with a basic Strat-style body shape and then enlisted the services of a friend of mine named Charlie Eaton, who is much more skilled in woodworking, to fill out the unique contours of the state of West Virginia. Once the body shape was completed to my satisfaction and it was properly sanded and sealed, I contracted a local body shop and had it sprayed in mountaineer blue. With the state colors being blue and gold, it was imperative that I added all gold hardware to the mix: pickups, bridge, tuners, output jack, and even the back plate. The pickups are as close to the old Danelectro lipstick pickups that I could find. I then finished it off with a gold "Mountaineer" custom-made decal on the headstock.
After the usual guitar setup and adjustments, the guitar plays and sounds great, and it's not any heavier than a typical Les Paul-style guitar, since we used lighter wood and made careful attention to keep it balanced. With that, I present to you, "The Mountaineer!"
One other thing…. With the unique body shape of the Mountaineer, a case could not be found that could house it. So, another friend of mine, John Kelly, who also happens to be a delegate in the West Virginia Legislature, custom-built a case for me that fits it perfectly. The Mountaineer was truly a statewide effort!
Send your guitar story tosubmissions@premierguitar.com.