Discover how a critical difference between a self-contained guitar amp and a component rack system affects dynamic response and feel.
Playing guitar is an exercise in discovery. The more you do it, presumably, the better you get, and the more you learn about the instrument's possibilities coupled with your own potential to advance. People often travel repeatedly to the same places. Not out of lack of imagination, but as an extension of the discovery process. Once you've seen the Eiffel Tower or Grand Canyon, you can go back and discover a nice bistro on a side street you'd never noticed, or a trail that may have been hidden previously. With that in mind, here's a question that deserves repeated exploration: How do preamps and power amps—and rack systems in general—differ in dynamic behavior from self-contained guitar amps? And why? This was a hot topic during the heyday of rack systems. Technology has come a long way since then, so it's worth revisiting the subject.
We've discussed the dynamic loop created by pick attack and playing volume, and how current demand from the power amp stage affects the preamp stage ["The Big Bang" and "The Sonic Legacy of Tube Amplification"]. To recap, a self-contained amplifier, consisting of a preamp stage and a power amp stage, gets its operating current from a common power supply (Fig. 1). When you play clean and at low volume, both the preamp and power amp benefit from a healthy reserve of available current. Once the volume goes up and pick attack intensifies, the power amp's demand on the power supply increases exponentially, leaving whatever crumbs are left to the preamp. Now, to be fair, an amplifier's power supply is normally designed to deliver sufficient juice to the preamp even under demanding conditions. But the truth is, a lot of what differentiates amplifier personality can be directly traced to the designer's ideas about how much preamp voltage variability is acceptable or even desirable. This gives rise to terms ranging from "spongy" and "forgiving" to "dry" and "stiff," and—sin of all sins—"unforgiving."
A lot of what differentiates amplifier personality can be directly traced to the designer's ideas about how much preamp voltage variability is acceptable or even desirable.
So, let's look at the rackmount preamp and power amp. In a system made up of separate components, the defining feature is that they each have their own dedicated power supply (Fig. 2). Right off the bat, this precludes that beast of a power amp from hogging all the juice to the preamp. The first thing we discover in playing this rig is that the dynamic feel is noticeably stiffer and absent some familiar gooeyness and bloom. In early rack systems, getting a group of components to feel like playing a normal amp usually took a back seat to the benefits of extensive signal switching and processing. My personal feeling was, and still is, that a well-executed rack system demands a power amp with a good range of control over frequency response and dynamic feel. Most of the time power output is less important than the kind of tube character you like, especially in a stereo power amp. I bring up stereo because this is a feature of rack power amps that always gets overlooked.
In a stereo power amp, the power supply is usually common to both channels, and therefore has to be sufficient to provide full output for them. It rarely occurs to players that if you only use one 50-watt channel of a stereo 100-watt power amp, you still have a 100-watt energy reservoir on tap. Naturally, that's going to feel extra stiff compared to a single power-amp stage of a 50-watt head. If you expect to arrive at reliable conclusions about different power amps in A/B comparison tests, it's important to run both channels to really understand what you're hearing.

Fig. 2
Some stereo power amps use a single 12AX7 for the input stage of both channels, while others have a separate tube for each channel. The reason this is important is not immediately obvious, but it certainly bears scrutiny. Crosstalk, or signal bleeding from channel A into channel B, often occurs in a power amp with non-isolated triodes, as opposed to isolated triodes. If you use a stereo FX processor to A/B test each design type with both channels operating, the amp with non-isolated triodes will sound practically mono due to signal bleed at the first preamp stage, while the amp with isolated triodes will deliver a markedly superior stereo image. If you compare these two design styles side by side, one channel at a time, you'd totally miss the significance of isolated triodes on the input stages.
Those two simple subjects—power supply capacity and crosstalk—play a major role in the difference between rack gear and self-contained amps. Here, a seemingly benign question offers an opportunity to understand nuances of amplifier design that are rarely discussed.
Photo by Scott Kowalchyk
The self-described "utility knife" played drums with John Scofield and Marcus Miller and spent time in the studio with Q-Tip before landing on Stephen Colbert's show as a multi-instrumentalist member of the house band. Now, he's taken over as the show's guitar-wielding bandleader and is making his mark.
It's a classic old-school-show-biz move: Bring out the band, introduce them one by one, and build up the song to its explosive beginning. It's fun, dramatic, audiences love it, and that's how every The Late Show with Stephen Colbert taping starts.
By this time, us audience members have been sitting in Manhattan's chilly Ed Sullivan Theater for about 90 minutes. We've gotten our seats, had a bathroom break after getting settled, and had some fun with warm-up comic Paul Mecurio. The first musician summoned by announcer Jen Spyra is drummer Joe Saylor. Wearing his trademark cowboy hat, he jogs out, gets behind the kit, and kicks off an up-tempo second-line groove. Next comes upright bassist Endea Owens and percussionist Nêgah Santos. The band's trumpeter, Jon Lampley, is introduced, and he's brought along his bandmates in the Huntertones as guests, so saxophonist Dan White and trombonist Chris Ott come out as well.
Louis Cato feat. Stay Human "Look Within"
The multitalented Louis Cato leads the Stay Human band through a special rooftop performance of his song "Look Within," from his album, Starting Now.
The audience is now on its feet, the band's pocket is thick, and the energy is building. When bandleader Louis Cato charges onstage, he reaches his mic on the bandstand and shouts, "I feel good today!" with explosive enthusiasm and a big grin, and the band launches into Jon Batiste's "I'm from Kenner." Cato sings the catchy and gleeful refrain: "I feel good, I feel free, I feel fine just being me / I feel good today." And the audience is feeling the love. Almost everyone is bouncing and clapping along.
A couple minutes in, when it seems like the song has reached its super-positive-vibe, high-energy climax, Cato shouts into his mic, "How do you feel today, Stephen?" And with that, Colbert comes running out from the middle of the set. Cato leaps from the bandstand toward the host as the crowd explodes. The two grab hold of each other and attempt to spin around, but the bandleader, holding his black-sparkle Tuttle T-style, loses his grip and goes sliding across the shiny stage. There's a second where both are comically stunned—Kevin McCallister Home Alone-expressions on both of their faces—but Cato quickly jumps to his feet, both he and his guitar unharmed, and runs back to the bandstand, where he keeps the song moving along with his bandmates, who haven't missed a beat.
All this excitement isn't even for the TV audience! Colbert is coming out for the un-televised pre-show Q&A. In a few minutes, they'll do a new taped intro that looks more like what we see every night. But they've gotten the crowd energized, and we need to keep it up. They need our energy to do their jobs.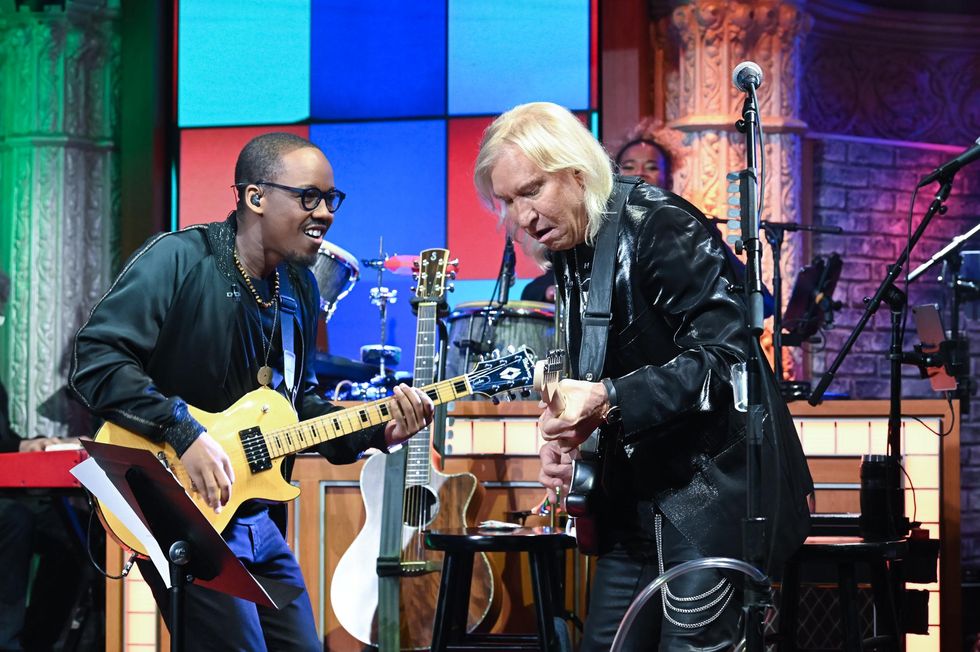 The Late Show Band welcomes a lot of guests up on the bandstand. Here, Cato and Joe Walsh boogie down.
Photo by Scott Kowalchyk
As Cato sees it, that's what his role as bandleader is all about: keeping the audience engaged and amplifying the drama and action of the show. "That translates to the energy that the viewers get at home," he explains. "For all of us here, we're able to feed off that energy and do the best possible show that we all can."
Colbert agrees with that job description and adds that the bandleader himself has the same contagious effect on his players. "Louis is an extraordinarily gifted multi-instrumentalist," he says, "whose spirit of creativity and collaboration not only elevates everything the band does musically but inspires me to be better at my job." He adds, "I'm so happy to call him my friend."
Beyond his infectious energy and charisma, there are a lot of ways Cato keeps the Late Show Band invigorated from night to night. For one, he keeps the music fresh by tackling a new cover song every day. That doesn't mean running down rote note-for-note charts. Cato and the band take a reconstructionist approach that fans of his work—whether from his collaborations with artists such as the Huntertones, Scary Pockets, or Vulfpeck, or from his regular Instagram cover-song posts—will recognize.
"Louis is an extraordinarily gifted multi-instrumentalist whose spirit of creativity and collaboration not only elevates everything the band does musically but inspires me to be better at my job."—Stephen Colbert
On this evening, the band runs through a host of multi-genre reinterpretations during the two-episode taping, including a slow-burning and soulful "Smokestack Lightning," a New Orleans-style "Down by the Riverside," and a fingerpicked, acoustic-led take of Joni Mitchell's "Free Man in Paris" that gets Colbert lip syncing along off camera. On a horn-driven arrangement of Stevie Wonder's "Love's in Need of Love Today," there's a re-worked bridge that creates a generous feature spot for the guest horn players.
Every arrangement brings a new and unique perspective to a classic track, to ensure the band is "not just a wedding band doing a cover of a song on the radio." Cato adds, "We're arranging it and making it our own—because that's the sonic fingerprint of our show."
St. Vincent jams with Louis and crew.
Photo by Scott Kowalchyk
A Lifelong Path
Listening to the story of Cato's musical life, it seems that this job—with its demand for a blend of careful strategizing and on-the-fly creative thinking, as well as effortless instrumental skills and charismatic showmanship—is what he's been training for since the beginning.
On the morning of the taping I attended, I meet Cato in his dressing room. Painted with sky-blue walls and a cloud mural on the ceiling, it's a comfortable place to hang. The bandleader is wearing slim-fit floral pants, a hoodie over a black T-shirt, and a long necklace. He sits across from me on his couch, next to a guitar stand that holds a few instruments—including his Tuttle, a Jesse Stern-built baritone acoustic, and his Univox LP-style—and a '65 Deluxe Reverb reissue with a Universal Audio Dream '65 pedal plugged into it.
"There's not a time in my brain when I was not making music in some way or form," Cato says. His mother, a pianist in the Church of God in Christ, bought her son a Diamond drum kit that he recalls having paper heads when he was just 2 years old, and she started teaching the toddler to accompany her. "I marvel at my mom," he laughs. "Like, who buys their 2-year-old a drum kit?" After playing those drums every day for a year, he started accompanying her at services.
The family moved around a lot. Cato's father was in the Air Force, and Louis was born on a base in Lisbon, Portugal, before moving to Dayton, Ohio. Not long after he started playing in church there, they moved again to Washington, D.C., and when Louis was 5 they settled in Albemarle, North Carolina. A few years later, Louis started playing guitar on a "little burgundy sunburst acoustic. Eventually, I busted a string and busted another string and just kept playing with four strings. I delved more into bass from playing bass lines on the acoustic guitar. So, for my 9th birthday, my dad bought me a 4-string bass."

"I'd show up to Tip's and we'd do a week of writing sessions with John Legend or have André 3000 in the studio for a couple of weeks."
While it was strictly pragmatic reasons that initially drew him to the bass, he says his biggest inspiration was the bass player he knew best: his mother's left hand. Her playing, rooted in the COGIC (Church of God in Christ) style, "involves heavy left-hand bass. I wasn't as psyched to play bass in church since the way my mom plays is very defined. But eventually I kind of had to learn how she plays. It was always just her and me playing. And I had to learn to move with that and follow that. She's a great bass player."
Along the way, Cato picked up more instruments. By the time he headed to Berklee, he was playing drums, guitar, and bass as well as tuba, trombone, and euphonium. "I was going from being a big fish in a small pond to a small fish in a large pond of super-talented people who had heard oodles of music I had never dreamed of," he recalls. So, he decided to focus his studies on the instrument he'd played the longest.
Louis Cato's Gear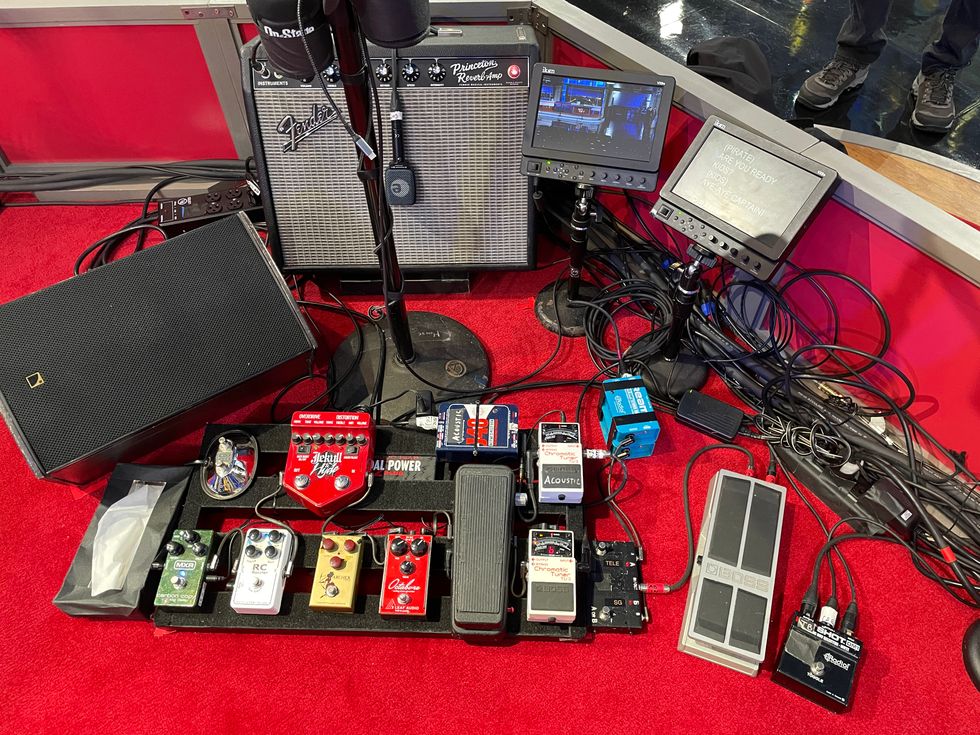 A glimpse at Cato's pedals and amp, which mostly live outside of the camera's eye, behind his stage monitor.
Guitars
Univox LP-style
Tuttle Custom Hollow T
1961 Gibson SG reissue
Martin OM-28
Amps
'65 Fender Princeton Reverb reissue
Effects
Boss FV-500H Volume Pedal
Boss TU-3 Chromatic Tuner
Dunlop Cry Baby
3 Leaf Audio Octabvre
J. Rockett Archer
Truetone Jekyll & Hyde
Xotic RC Booster
MXR Carbon Copy
Strings and Picks

D'Addario EJ16 (.012-.053)
D'Addario EXL110 (.010-.046)
Dunlop Max Grip .88 mm
Cato completed just two semesters—fall '03 and spring '04—before deciding to concentrate on playing the gigs that were paying his bills. "My rationale was, much to my parents' chagrin, here's an opportunity where I can keep learning on the job and be working my way out of the debt I went into in this year."
Gigging with wedding and church bands gave the multi-instrumentalist an opportunity to keep all his instrumental and vocal skills alive. "My oldest daughter was born soon after that," he recalls, "so I felt really, really aware of how lucky I was, how lucky any of us are, to make a living and support a family as a musician." Cato spent five years in Boston, playing various instruments in gigging bands, and he frequented local institution Wally's Cafe Jazz Club, just two blocks down the street from Berklee, "for self-education and inspiration. When that felt like I hit a ceiling, I looked at where I could go to continue my inspiration and working on the kind of projects I wanted to be working on, and that led me here."
By that time, Cato's friend Meghan Stabile, had moved to New York and created the promotion and production company Revive Music, which was dedicated to the kinds of jazz and hip-hop collaborations he wanted to pursue. Cato moved to Bushwick, Brooklyn, with his band Six Figures— "There were six of us; we did not make six figures!"—and would head back to Boston each weekend for the gigs that were paying his bills. Eager to soak up the New York scene, he'd return to New York on Sunday nights and go directly to jam sessions.
All that time back and forth on the Northeast Corridor paid off. A self-described musical "utility knife," Cato's multi-instrumentalism, as well as his talents as a songwriter, arranger, producer, and engineer, made him a major asset as a collaborator, and the New York scene took notice. Soon, he established essential connections that would affect his career, forming "an instantaneous brotherhood that continues to this day" with producer Kamaal Fareed, aka Q-Tip. "Through that, I ended up really delving into a lot of relationships and credits."
The two artists worked on high-level collaborations that not only bolstered Cato's reputation but served as a major piece of his education. "I'd show up to Tip's," he explains, "and we'd do a week of writing sessions with John Legend or have André 3000 in the studio for a couple of weeks. Sometimes things would come from it, and sometimes nothing would come from it. But being in the creative process on that level in a trusted space was invaluable for me. I learned so much."
Outside of Q-Tip's studio, Cato was learning from plenty of masters, mostly from behind the kit. "It's really special when you find yourself learning things you connect to," he says about his work alongside artists such as bassist Marcus Miller, keyboardist George Duke, and guitarist John Scofield. "And I learned so much about myself from connecting to some of these people."
Staying Human
Back in 2015, Cato received a phone call from pianist Jon Batiste. The two had never met, but Batiste rang him up about a mysterious project—a theme song for a TV show that he couldn't disclose. "I had a wisdom tooth appointment back in Boston, and I got a random call," Cato remembers. "I think his exact words were, 'I'd love to have your ears on it.' And I followed my gut, rescheduled my trip, stayed in New York an extra day with an abscessed wisdom tooth."
The two got together to co-write and produce "Humanism," which would become the theme song for the Stephen Colbert-hosted Late Show. Batiste played piano, Cato played the guitar, bass, and drum parts and "put on my editing hat." They brought in Joe Saylor—who would become the show's drummer—to play tambourine, as well as saxophonist Eddie Barbash. "After the session," Cato remembers, "I went back, got my wisdom tooth out, and went back on the road with John Scofield."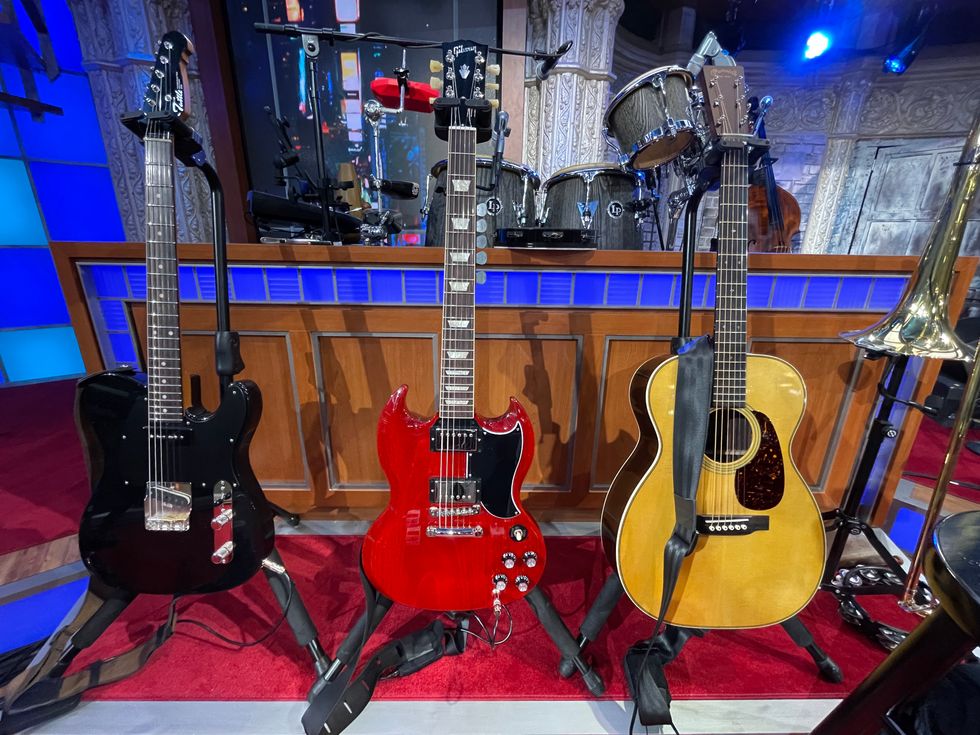 Three of the four go-to guitars Cato uses on The Late Show: a black Tuttle T-style, a cherry-red Gibson SG, and a Martin OM-28.
At first, Cato played the multi-instrumental role of his dreams, attempting to surround himself with every instrument he could play. "That lasted about three days before reality set in," he laughs. "Slowly, one by one, things started disappearing—a floor tom going away here, a Pro Tools setup going offstage there. Eventually, as the band formed out, I moved around to what was needed. I was the utility guy—played a lot of kazoo, a lot of cowbell."
While on the road drumming with Sco', Cato got the invite from Batiste to join the show's band, Stay Human. "It was a huge life shift for me," Cato explains. "I was making really good money on the road with really good musicians, which was really fulfilling. And I took a chance. I loved the idea of being a part of something creatively from its inception."
Eventually, Cato settled into a more consistent electric bass role, until Batiste brought in upright player Endea Owens, and he moved to guitar, where he's mostly stayed. When Batiste left the show last year, Cato took over as bandleader—officially starting this season, back in September—and decided he'd lead from his role as guitarist. "Of all the places I occupied," he says, "guitar was the easiest and most natural to me to lead the band, in the energy. From behind the drums, it's a different thing, and we've done it when Joe was out. But it just was a really natural progression."
Same Show, New Job
In just a few months, Cato's new role as bandleader has had an impact on the show. The renamed Late Show Band's engine seems to be burning on a new kind of fuel. And it feels as though that energy is coming directly from Cato.
When we talk, the guitarist is deeply engaged, in a kind of hyper-focused way that is not intense but more casually un-distractable. He brings that same focus to the show. While Colbert delivers monologues, Cato is zoomed in on the host, listening to every word, often riffing around on his guitar to contribute musical commentary. During interviews, he's taking cues and following the tone of the conversation, looking for ways to adapt.
The bandleader gig requires loads of big-picture improvisation, but also lots of prep. Cato explains that each week he makes a set list, but the band will react and make changes in the moment. "My job ends up being a lot of judgement calls that affect the flow of the show," he says. "We have a group of compositions we wrote for the show that can complement different moments. If there's a major energy shift in an interview that takes a turn or something happens in the day, like a tragedy, we'll call one of the songs we wrote for the show for a moment such as that. Recently, we had a guest on that started improvising a song. So, I have on our in-ear mic and call out the key and start playing, and we all jump in, and now we're doing this instead."
Cato poses with his black-sparkle chambered T-style, made by Tuttle. "When I'm checking off core priorities in sound," he says, "if I'm going for rhythmic things, I go to the Tele."
Photo by Scott Kowalchyk
Watching the Late Show Band in person, I see this play out as Treasury Secretary Janet Yellen explains the steps the U.S. can take to avoid a recession. It's a heavy and heady conversation, and, frankly, it's anything but fun. Cato knows he'll need to pick the audience back up. As he watches from the bandstand, he gives tempo cues to the band, who nod along, so they can effectively shift the energy and get the audience re-focused for the next guest, actor/director Sarah Polley.
As a guitar player, Cato says he sticks to playing things that feel most natural to him so he can concentrate on his bandleading duties. He adds that he considers himself more a rhythm guitarist than a lead guitarist. (It's worth noting that his delineation is more conceptual than musical: Cato is an inspired and dynamic melodic lead player, but his deeply rooted phrasing and feel is at the forefront of everything he plays, so the rhythm-first thing applies to it all.) "This is not a space as a guitar player where I'm jumping out of the box trying any and everything and exploring," he explains. "You get to some of those places. But for me, it always has to start from something I can do while leading the band and reading the energy and making judgement calls."
"We're arranging it and making it our own—because that's the sonic fingerprint of our show."
That rooted, pragmatic ethos applies to the gear he chooses as well. "I never was a big gear person," he admits. Luckily, he has Late Show Band tech and informed gearhead Matt Mead to help him keep his pedalboard well-stocked. "There's so many things I'm learning about the job and trying to keep straight in my head that this ends up getting the short end of the stick, and it wouldn't work if there was not a Matt Mead to make up the rest of that stick and make it sound good."
"The show throws a lot of curveballs," Mead points out. "He steers the boat as far as the tones he's looking for and if there's a particular sound he's looking for. Sometimes, I'll recommend stuff and say, 'Hey I notice you're doing this, maybe we should try this.'"
Cato's collaboratively curated pedalboard is pretty simple at its core: It starts with a Boss FV-500H volume pedal, a Boss TU-3, a Dunlop Cry Baby, and 3 Leaf Audio Octabvre. Cato shows me how he uses the latter for more traditional, Hendrix-style playing, but he points out that the band plays a lot of montunoes, and he tends to use the octave pedal for those. For drive, he uses a J. Rockett Archer and a Truetone Jekyll & Hyde, which are followed by an Xotic RC Booster and an MXR Carbon Copy, all into a Fender '65 Princeton Reverb reissue, and powered by a Voodoo Labs Pedal Power Plus.
In live performances outside of The Late Show, Cato uses various guitars, but says that the studio's cold temperature doesn't do many favors for instruments such as his Gibson Luther Dickinson ES-335 or some of his acoustics, so he's careful when selecting which guitars come on stage at the Ed Sullivan Theater. The three guitars that most commonly appear on the show are his black Tuttle Custom Hollow T, a cherry red Gibson SG 1961 Reissue, and a Martin OM-28.
Another guitar that sometimes appears on the Late Show is his LP-style Univox, which I ask Cato about in his dressing room. "If I need to be altogether comfortable," he explains, "I pull out the Univox, because it's my earliest guitar. I've had this since high school."
Cory Wong "Lunchtime" - The Late Show's Commercial Breakdown
When musical guests visit The Late Show, they get the full-band treatment from Cato and company. Here, Cory Wong sits in for a rhythm guitar showdown of the highest level.
Back when he first got the guitar, Cato remembers, it was in rough shape, desperately in need of wiring and pickup repairs and a new set of tuners. It stayed that way until he was in Boston. When he picked up a wedding band gig playing trombone and guitar, he was lucky enough to have a roommate who could get the Univox performance-ready by replacing the original tuners with locking units, cleaning out the electronics, and swapping the pickups for a pair of Seymour Duncans.
"I didn't even know there was a such thing as a professional musician."
But Cato says that even before those repairs, he's always "loved it because it's all I had. I remember I was playing a little Vox amp, and this guitar had a feeling out of that amp. This guitar just became home base and felt super natural to my fingers. If I need to just not be thinking at all, this is home."
Did he ever dream he'd be on television every night, holding this Univox and chumming with a late-night host? "Never! Not once!" he says. "It was just a product of my nurture growing up in a small town. I didn't even know there was such a thing as a professional musician." And yet, Cato pursued music as fully and single-mindedly as he could. "I just knew that I liked it and felt connected to it."
Photo courtesy David Torn
Had electric guitar music emerged from transistors, would we even recognize it today?
We've seen how string vibration is converted into the signal that's sent to the guitar amplifier, and how that signal determines the response of a tube amp ["The Big Bang"]. Let's now consider non-tube amplifiers, or what I refer to as "replacement technologies."
When weighing the pros and cons of tube, solid-state, and modeling amps, it's helpful to remember that tube amps came first. This means that pretty much the entire electric guitar vocabulary we build on today is informed by what the pioneers of electric guitar discovered about the behavior of tube amplifiers.
Now, imagine that solid-state amplifiers came first. It may seem like a preposterous exercise since the advent of the transistor sprang primarily from the need for improved efficiency, reliability, and conservation of space—all the things tube amplifiers weren't good at. Yet, as a thought experiment, it's safe to say that electric guitar music would certainly have evolved much differently had solid-state amps appeared first, and arguably not the way we recognize it today.
To sound palatable to guitarists, solid-state designs require some behavior management to minimize or eliminate the unpleasant and decidedly non-musical distortion solid-state amps can produce. In a modeling amp, most of the desirable characteristics of tube amplifiers are captured digitally, yet the modelers processing circuitry must not introduce any undesirable distortion, latency, or non-musical tonal artifacts. As important as they are to ongoing development, these methods of amplification are often trying just as hard to avoid what we don't want as they are trying to produce what we do want. While the arrival of tube amplifiers represented a true paradigm shift from the acoustic to the amplified realm—thus opening new doors of expression for evolving players—solid-state and modeling amps simply prioritize functional evolution over inspirational involvement with the instrument.
An iconic tube amp, by its very nature, is expected to be exactly what it is, and every yard-sale find potentially offers a new path to discovery. A tube amp becomes an indispensable extension of the instrument by virtue of its unique and sometimes irascible personality. No wonder players ultimately find their way back to tube gear.
A tube amp becomes an indispensable extension of the instrument by virtue of its unique and sometimes irascible personality.
What happens in the front end (the preamp) of the amplifier is reproduced by the back end (the power amp) without necessarily influencing the latter's performance. Preamp tube distortion as a general category includes light clipping, asymmetrical wave shape, and frequency modification, such as low-end and high-end roll-off. Power-amp distortion is highly dependent on circuit design: the amount of power this stage puts out, the type of tubes used, the construction of the power and output transformers, and, finally, how much its sound is influenced by the speaker it's driving. Because this stage devours 90 percent of the current made available by the power supply, the power amp exerts great influence on the front end, which reacts to the ebb and flow of power-supply voltage at various playing volumes. This creates a feedback loop of sorts that causes a tug-of-war between the preamp and power amp, and is responsible for the sense of compression and touch sensitivity we experience. Only tube amps react this way in real time.
Speaking of feedback, many amps use what is known as local feedback to refine the sound of the power amp. A small amount of the output signal is fed back into the power amp input stage, which then controls whether the power amp will react more or less accurately to the input it receives. Because this feedback loop originates from the speaker output circuit, the amplifier also reacts to the speaker that it's driving. Because different speakers have different electrical and mechanical characteristics, it's no wonder that changing the speaker in a given amp not only changes the sound you hear from the amp, it also changes how the amp reacts to pick attack,which brings us back to square one—the Big Bang.
Picking a string sets off a chain reaction of both expected and unpredictable events that inspire the next pick attack. As a habitual string slammer who uses the blunt side of heavy Herco picks, I've developed a callous on the nail side of my index finger from scraping it against the strings. An evolving understanding of picking dynamics is driving me to modulate my former heavy-handed approach. Inspired by advanced pick-free explorers like David Torn and Jeff Beck, I'm slowly learning to back off and lighten my touch in an effort to develop a more nuanced, ethereal string timbre. I find the lighter my attack, the more harmonic control I have over amplifier distortion and dynamic range, and this yields an even greater appreciation for the multifaceted sonic bliss that is unique to tube amplifiers.
Whether you love shimmering clean or brutally overdriven electric-guitar textures, it all starts with pick attack.
What happens from the moment you pick a guitar string to that instant you're engulfed in amplified sound? It's all about energy transfer: When you pick a string, the energy from the velocity of a pickstroke becomes energy in the form of string vibration. How hard you pick determines how much energy the string will absorb and then transmit to the pickup, which it does by cutting through the pickup's magnetic lines of force. How much voltage is generated by the pickup is proportional to how much skin or fingernail you're willing to sacrifice for the glory of an astounding power chord. Even though there's a practical limit to the voltage generated by the pickup, as determined by the magnet size, wire diameter, and number of turns, there's still a respectable amount of potential to work with, and this gives a typical guitar pickup an insanely wide range of sensitivity. You can move from pounding the strings to delicately brushing them to producing barely measurable voltage output by literally blowing on them.
Once you connect your guitar cord to the amplifier, the electrical impulses from the pickup become transformed. Normally, the amplifier's gain will be more than sufficient to accommodate a wide range of signal levels, and this allows us to explore a full spectrum of dynamic interplay. But it takes a special kind of amp to respond musically to such a vast range of signal input levels at any given control setting.
How hard you pick determines how much energy the string will absorb and then transmit to the pickup, which it does by cutting through the pickup's magnetic lines of force.
Guitar amplifier gain stages are capable of high sensitivity to very small signals. When an amplifier's preamp stages are set to reproduce small signals, a very large transient attack will readily transition into distortion and overdrive territory. And the same goes for the power amplifier stage. The beauty of this phenomenon is that we can set the amp to respond to subtleties in string attack with the guitar volume set low, and then instantly conjure up a whirlwind of sonic fury on demand.
With a tube amplifier, we usually perceive distortion as pleasant, musical, and inspiring—even essential—and we're often barely aware that we've crossed the threshold from clean to distorted sound. In most tube amps, amplifier distortion is so seamlessly associated with the amp's signature sound that it's not really considered distortion until you're in over-the-top territory. This is because our brain identifies certain flavors or "orders" of distortion harmonics as part of the musical structure, whereas it treats others as alien and filters them out to the extent it can. In extreme cases, this filtering process is inadequate and thus leaves unwelcome harmonics exposed. When this happens, we consider the sound to be harsh, intrusive, and unrelated to the musical content.

In Photo 2, the bottom trace shows the same chord, but slammed. This generates a very large difference in level between initial string attack (big hump in the middle of the wave) and string decay (smaller humps to the left and right). Here, the top trace shows how the amp with the same control settings as the clean example reacts to the dynamic attack: It flattens the waveform at maximum pickup level and remains in saturation mode, even though pickup output has decreased significantly.
There's an elemental difference between a tube guitar amp and other amplifier topologies: In a tube amp, most of the ways it departs from accurate reproduction of the guitar signal are perceived to be additive—they contribute color and complexity to the sonic tapestry. In simple terms, most vintage amps stay cleaner in the preamp, which makes power-amp saturation responsible for the amp's dominant overdriven voice. Modern amps can produce an avalanche of preamp overdrive. We tend to want to amplify this overdrive with clarity in the power-amp stage, and this results in an amp capable of infinite sustain with a high level of detail and articulation. Of course, a myriad of amp designs stake out territory in the infinite space between these two extremes.
And while tube amplifiers are distinguished from one another in large part by how each stage of amplification distorts or colors the sound relative to every other stage, it's too simplistic to say that's all there is to it. Next time, we'll dive deeper into what differentiates tube amps from other topologies, what gives an amplifier it's signature personality, and what gives certain guitar-and-amp combinations their timeless appeal.
Amps with printed circuit boards often get a bad rap, yet that's not always justified.
As long as I've been involved in tube amplifier design and engineering, there's been a debate about whether amplifiers with printed circuit boards (PCB) are superior, equal to, or inherently inferior to handwired amps. Buzzwords like "point-to-point" are somehow easier for many guitarists to spout than putting actual thought into the subject. No matter how expertly executed, PCB designs always seem held in less esteem than handwired amps—even terribly executed ones. Most reasonable players probably don't care how an amplifier is made, as long as it is reliable and sounds good. Or so I thought.
Recently, we posted before-and-after photos on Instagram of one of our amps that some field repair shop had butchered—the original wiring was horribly chopped and spliced back together. The post was intended to show a factory restore in progress, yet a follower complimented us on our cool handwiring, saying it "looks amazing." In my mind, this attitude reflects a narrative that the mere presence of wires somehow imparts special effort.
Many elements go into amplifier development, including rigorously vetted sonic research and testing. Let's say you want to compare the sonic properties of two different coupling capacitors. If you play an amp with capacitor A installed, and then switch to capacitor B and listen again, your results are going to be skewed by the time that passed during the swap. Perhaps there's been a change in line voltage, or the amp isn't positioned identically in the room. Also, if you know what part type you're switching to, you're going to be mentally predisposed to hear a different result. You might think that making two identical amps with these different capacitors installed would be a better solution, and you would be wrong. There are going to be more than enough tolerance differences between the two amps to make such a comparison impossible—especially if it's a handwired amp.
Some of the best-built amps in the industry have PCB-mounted pots and tube sockets. So do the least expensive ones, but for very different reasons.
R&D on PCB amps is time-consuming and expensive. And for every PCB design, there is, or should be, a reason for that design and its execution to exist. If the engineer fails to observe essential design practice, odds are the product will be inadequate or it will fail. Copper traces that crack—a frequent criticism of PCB amps—are the result of poor mechanical design and cost cutting. When a poor design fails, PCB amps in general get a bad rap—not just the badly designed ones.
PCB layout and material selection in audio design are as much an art form as the circuit design. A well-engineered layout is informed by experience, trial and error, and an understanding of physics. The beauty of PCB design is that once it's completed, it's permanently locked in place. This makes for extremely consistent performance from unit to unit. However, that doesn't guarantee reliability. The only way to lock in reliability is through careful component selection and rigorous testing. The fine print here is that consistency and reliability do not automatically guarantee a great-sounding amp. That is a function of design intent: the vision that caused the design to exist in the first place. Some of the best-built amps in the industry have PCB-mounted pots and tube sockets. So do the least expensive ones, but for very different reasons. In most cases, the price of the product will indicate what to expect in the way of build quality, consistency, and long-term performance.
The idea that point-to-point equals sonic magic derives from components, pots, and tube sockets being individually wired, which inspires trust. The truth is, solder lugs and eyelet boards require greater amounts of solder and wire than on a PCB amp. Solder, a relatively poor conductor, is meant to help secure an already valid electrical connection. Solder lugs enable unreliable solder connections, and long lead lengths open up the potential for signal loss, noise, and parasitic oscillation. PCB design minimizes or eliminates these problems by keeping signal paths short, with minimum solder. Quality board material using healthy copper width and thickness sounds as good as, or better, than copper wire and will last every bit as long as point-to-point amps. PCB design is full of potential, is infinitely variable, and allows blending tried-and-true components with the latest in new component technology. But the biggest benefit is that we don't have to reinvent the wheel every time we make an amp.