Radial Releases Bones Vienna Dual-Mode Analog Chorus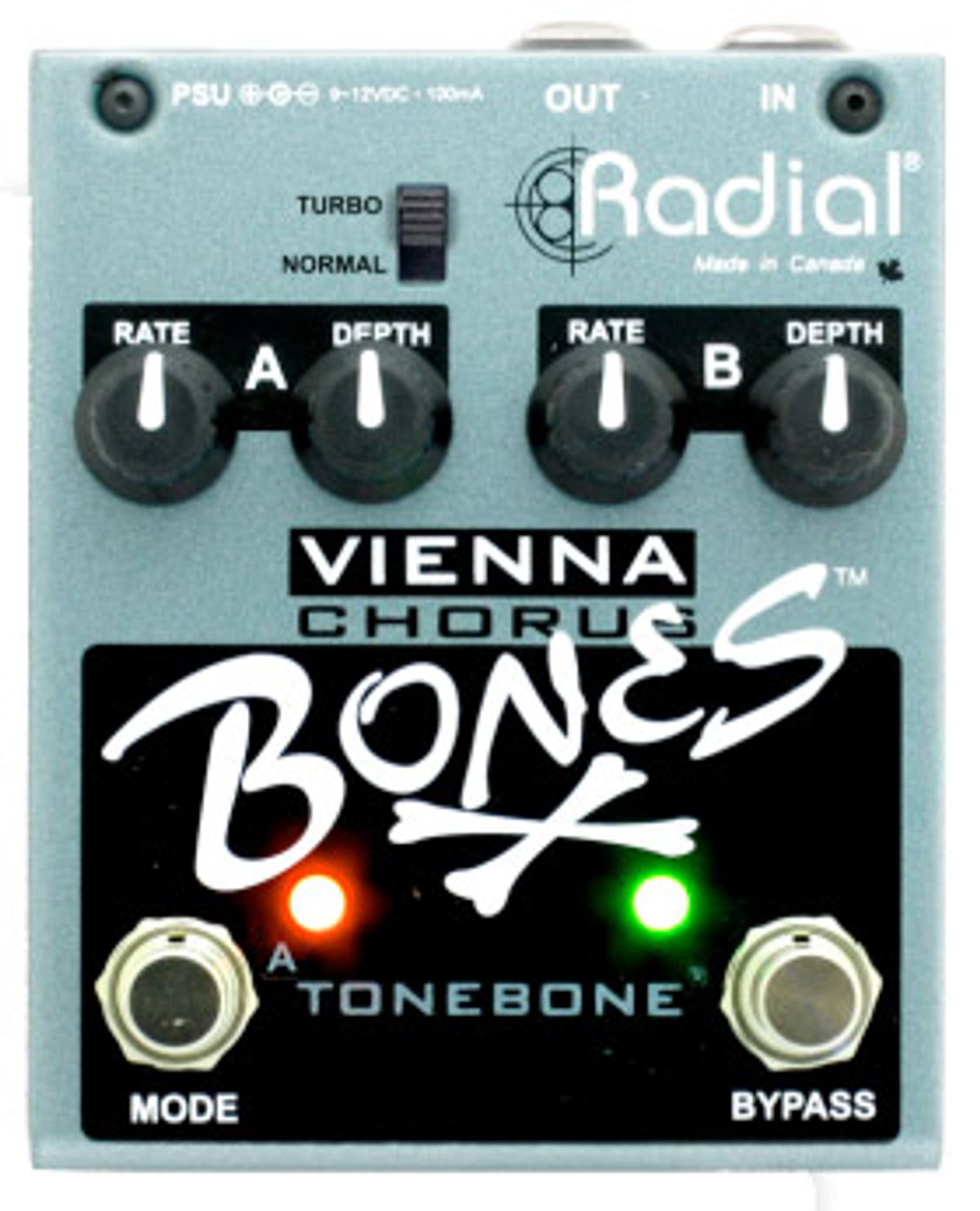 The Bones line is expanded to include a vintage-flavored chorus
Anaheim, CA
(January 12, 2010) -- Radial Engineering Ltd. is pleased to announce the Bones Vienna Chorus, an analog chorus pedal that features dual mode functionality to allow the guitarist to transition between a subtle choral effect for rhythm and quickly toggle to an exaggerated effect for soloing or special effects.
According to Radial President Peter Janis: "For years, musicians have been asking us when we would come out with effect devices other than overdrives, distortion pedals and switchers... so as you can imagine, this has been on the back of our minds for a while. We felt that if we could bring something new and exciting to market, it would be of interest to the more demanding players. We considered digital options but felt that this segment was well serviced. Upon further investigation, it also became evident that top end players prefer the 'tone and feel' of vintage analog chorus pedals even though they tend to have more noise. I think it is somewhat like comparing solid-state guitar amplifiers to tube based on... they just do not react to the guitar in the same fashion."
"This however presented us with a problem... the heart of an analog chorus is the bucket brigade chip. Alas, low noise versions of these such as the highly regarded Panasonic MN3007 have not been made for years. So we started scrounging the market to find these discontinued chips until we could put together a stash that was sufficiently large to go into production. We have thousands in stock and have built the Vienna in such a way that the MN3007 chip is socket-mounted for easy replacement. This is particularly important for our European customers as we must be prepared to buy these back in effort to conform to the no-lead initiatives for dumpsites. The Vienna Chorus had to be different and we achieved this by creating a dual-mode chorus pedal whereby the guitarist can toggle between a slight choral effect to an exaggerated tone for soloing. This really opens the door for sonic possibilities which will surely spur on the creative process."
The Vienna Chorus follows the release of four other pedals in the Bones series. It features a compact footprint and employs standard 9 volt powering for easy interface on any pedalboard. Two independent channels with individual speed and intensity controls are provided for each to create two very different sonic textures. With two footswitches, the Vienna can be bypassed, activated and toggled between channels quickly for on-the-fly effects. For even more fun, the Vienna is equipped with Turbo Mode to produce extreme chorusing effects. Requires standard 9V power supply.
The Vienna Chorus will ship this month with a street price of $159.99.
For more information:
Radial