Robbie Shakespeare: 1953–2021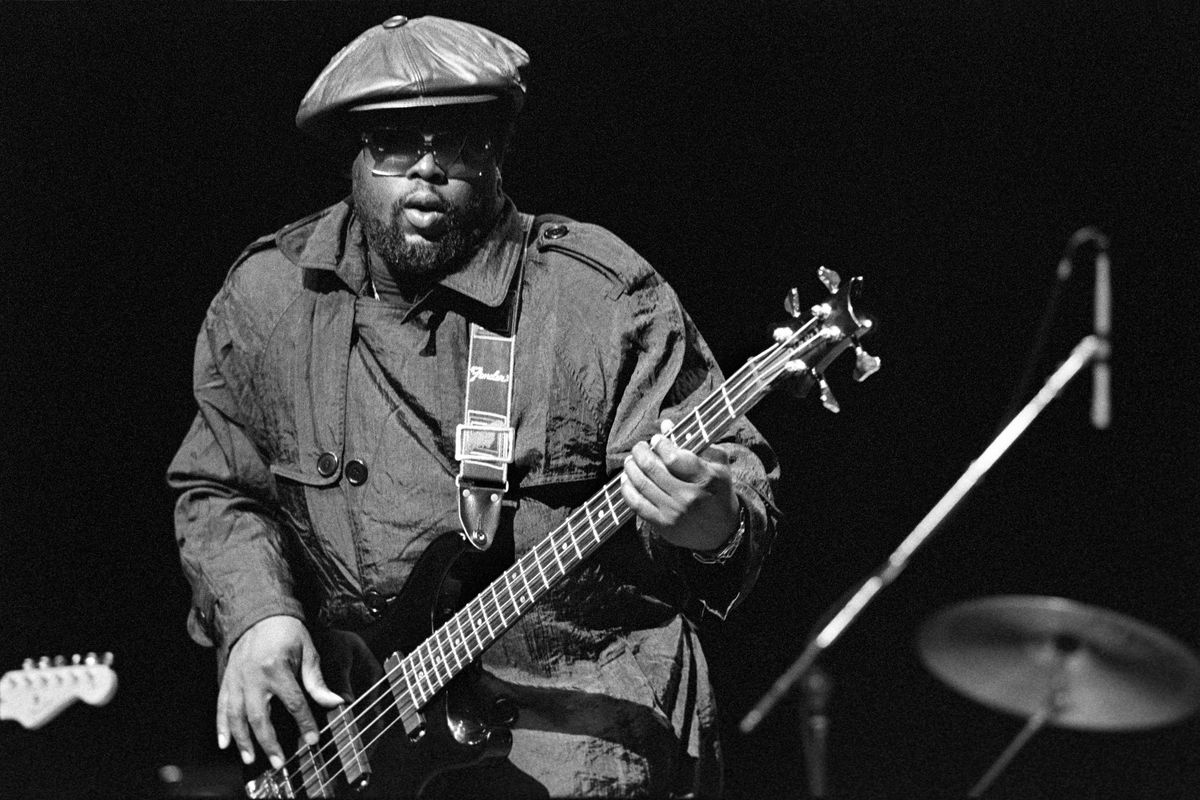 Photo by Ebet Roberts
Remembering the bass-playing genius whose work with Sly and Robbie pioneered dub and dancehall, and whose inimitable "riddim" graced crossover hits by a who's-who of music legends.
On December 8, 2021, we lost iconic bass player and producer Robbie Shakespeare, and it's a loss that will be felt far beyond the reggae community where he got his start. The unexpected death occurred following surgery undertaken to remedy issues related to kidney function.
---
As a kid growing up in a small town in Sweden, I shared a bedroom wall with my older brother in the next room over. The wall blocked out most of the music, but the bass lines came through loud and clear. He listened to quite a bit of reggae, so naturally I was exposed to the music of Peter Tosh and Black Uhuru. Their music made me feel something deeper, more aggressive, and very, very heavy in intention compared to what I felt from other music vibrating through that wall. Hearing and feeling those sub hooks was a transformative, visceral experience. What I didn't know then was that I was feeling the inimitable bass playing of Robbie Shakespeare, who had a musical fingerprint like no other.
It is virtually impossible for anyone exposed to popular culture over the last 40 years to have escaped the impact of Shakespeare's playing, production, and songwriting. And the legacy he leaves behind is in large part a result of him finding his musical soul mate, drummer Sly Dunbar, at an early stage of his career. Their chemistry is so infectious that artists in many genres have tapped into the magical river of groove—the "riddim"—that the duo created together. For his part, Shakespeare broke the mold for what reggae bass could be many times over, using a more aggressive attack, a sometimes-brighter sound, and an overall unconventional sonic approach. He was a true musical renaissance man, someone who never took the safe route to creating, and who trusted in the magical powers of simplicity, endless repetition, and space. In doing so, he was instrumental in creating the now-prolific reggae subgenres dub and dancehall.
Robert Warren Dale Shakespeare was born September 27, 1953, in Kingston, Jamaica, into a family where living-room jam sessions were commonplace. Naturally, he couldn't help but be influenced by the sounds of Kingston all around him, but Shakespeare also simultaneously subsisted on a steady diet of great American music from the Motown and Stax record labels, as well as Philadelphia soul and country. He started playing acoustic guitar and drums early on, but everything changed when he heard local bass legend Aston "Family Man" Barrett—who played with both Lee "Scratch" Perry and the Hippy Boys, and was bandleader for Bob Marley's band, the Wailers, from 1970 until the reggae icon died in 1981. Shakespeare immediately knew he wanted to learn how to play bass, and implored Barrett to be his teacher. Barrett agreed, and one of the most diverse and productive bass and production careers in music got its start. When Barrett later left for a Wailers tour, Shakespeare took his place in the Hippy Boys.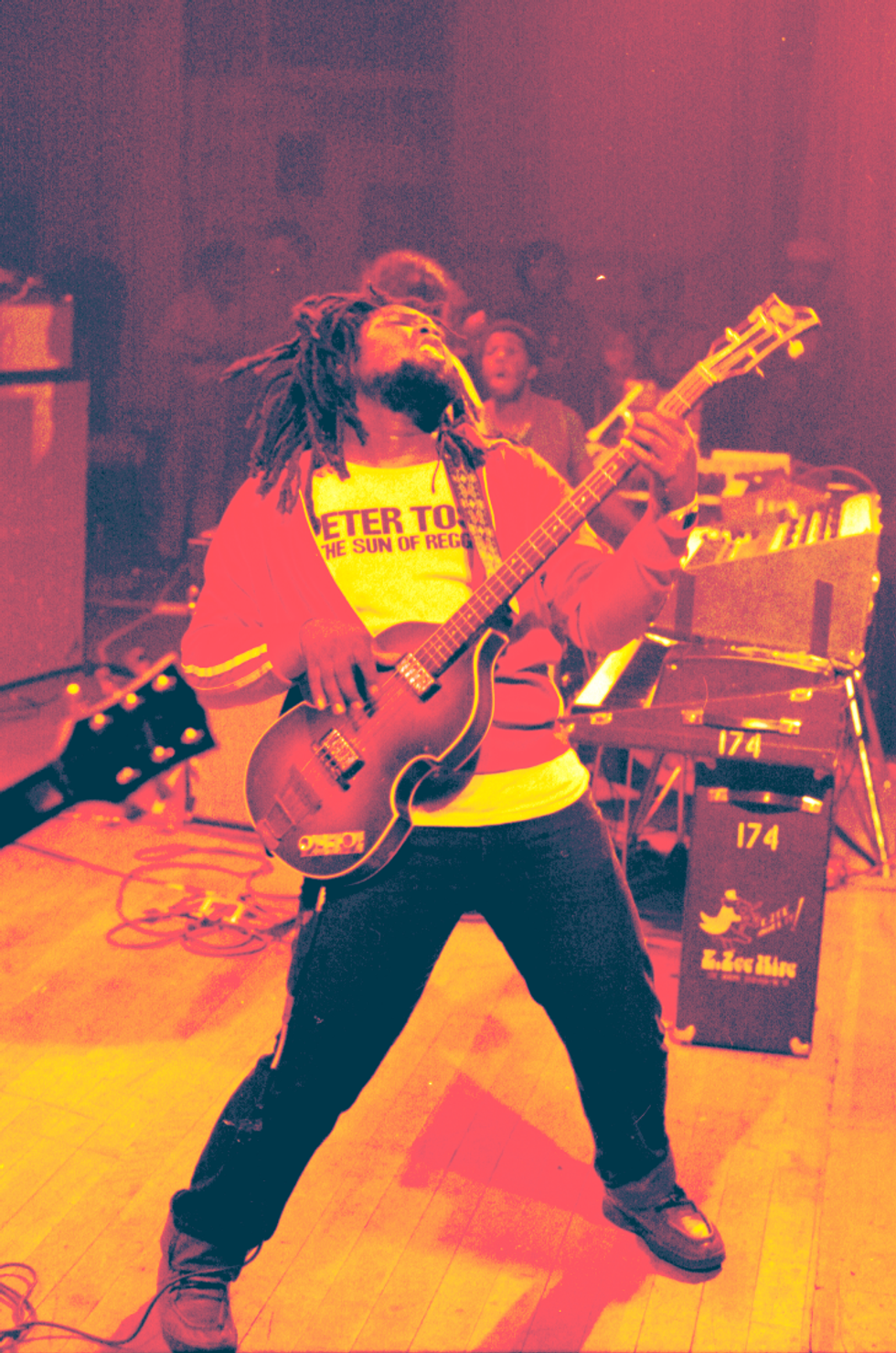 Robbie Shakespeare onstage with reggae legend Peter Tosh in 1978.
Photo by Tim Duncan
The tremendous legacy and sheer number of head-bobbing tracks Shakespeare leaves behind is largely due to his long stints in legendary studio house bands. Dunbar and Shakespeare were hired to play in the Revolutionaries house band at Channel One Studios in Kingston a short time after they discovered their magical connection. During this period, the duo spawned the heavily syncopated so-called rockers reggae feel, which continued the evolution of the earlier one drop rhythm. The next genre-bending house band that Sly and Robbie (as the legendary rhythm section started calling themselves) were part of was the Compass Point All Stars in Nassau, Bahamas. The idea to utilize Dunbar and Shakespeare in this capacity came from Island Records owner Chris Blackwell, who was exposed to Shakespeare's bass playing during Robbie's high-profile association with reggae legends Black Uhuru in the late '70s. Blackwell envisioned marrying the feel of the most prolific, groundbreaking rhythm sections from Jamaica with major artists from the United States and Europe. The first project to feature this revolutionary new sound was Grace Jones' 1981 LP, Nightclubbing. Shakespeare's contributions to other seminal pop and rock recordings include lines on tracks by Bob Dylan, Madonna, Sinead O'Connor, Mick Jagger, Jackson Browne, Carly Simon, Joe Cocker, Marianne Faithful, and many others.
But Shakespeare and his ever-present musical partner, Sly Dunbar, soon took more creative control of their genre-bending deep grooves as a production team. The duo was known for their creative use of effects, as well as for adapting drum machines at an early stage. Their work on Black Uhuru's Anthem album earned them a Grammy award in 1985, and their second came in 2001 for their own Sly and Robbie solo album Friends. In addition, Sly and Robbie's production work spawned a long string of radio staples where their wide-ranging influences are on full display. A great example is the No Doubt album Rock Steady, which features dance-floor mainstays "Hey Baby," "Hella Good," and the smash ballad "Underneath It All."
Perhaps Shakespeare's true legacy is one of a deep musical kinship. He's been heard to say that, even on the first day of a family vacation, he thought about being in the studio, making music with his best friend. Shakespeare estimated that the longest he and Sly were physically apart during their decades of seemingly limitless output was three weeks. And their passion for creation was fruitful right up to the late, great bassist's passing. Robbie Shakespeare was a man made of music, made of "riddim," and that will endure. In 2008, he told Red Bull Music Academy, "Anyone who wants to stay together a long time, just respect each other's views, try this, try that, some go through, some don't. But we never get in the way of each other's personal life, never. Music will always live forever before us, after us."