Sonic Secrets from the Clubhouse
At Clubhouse recording studio in Rhinebeck, New York, owner and engineer Paul Antonell has a collection of more than 50 new and vintage amps, and guitarists from around the world seek out his studio and personal expertise to deliver memorable tones.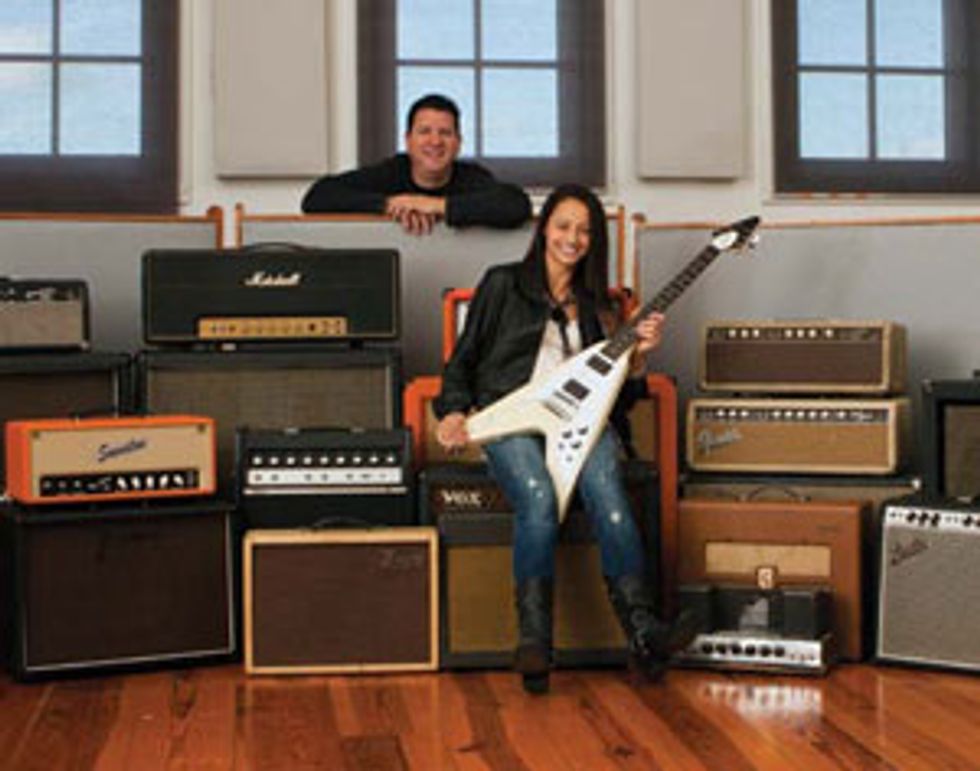 Engineer Paul Antonell and Kristen Capolino—who's drawing lots of attention for her fiery playing—surrounded by a sweet collection of vintage and boutique amps at the Clubhouse recording studio. Photo by Todd Gay
There's nothing like recording through a great amp with classic mics in a first-class room. But at the Clubhouse recording studio in Rhinebeck, New York, owner and engineer Paul Antonell takes it a step further. He has a collection of more than 50 new and vintage amps, and guitarists from around the world seek out his studio and personal expertise to deliver memorable tones. Telemaster Jim Weider, Earl Slick, Al Di Meola, John Platania, and Reeves Gabrels are among the notable guitarists who've tracked at the Clubhouse.
"My basic approach to recording electric guitar is to first listen to the player and their amp and/or cabinet," says Antonell. "Once we agree it sounds good, and they're hearing what they like, then I'll put up some mics. Through experience I've found that starting with three mics gives me the most tonal options. I listen to all three individually and in combination, check the phase of each, see what works together and what doesn't, and quickly move on."
"Certain guitar players are also quite particular about how we capture their tone," continues Antonell. "For example, Earl Slick prefers a Shure SM57 right on his cabinet, aimed at the center of the speaker cone. Historically, that's his tone. So when working with him, I start there and add another mic adjacent to the 57, such as a Sennheiser MD 421 for some extra bottom."
For recording acoustic guitars, Antonell typically uses a vintage Neumann KM 64 and a Schoeps CMC 5, each about a foot out from the guitar, aimed at the 12th fret. "I don't like mic'ing too close to the guitar because the sound can get harsh," he says. "After capturing a good performance, I'll often ask the guitarist to lay down a second pass."
Tracking a second pass immediately—before the performer shifts his position or the mics get moved—gives you the best chance of matching the sound of the first track with the second. This comes in handy if you want to do any digital editing or comp a track from sections of each take.
Antonell's acoustic guitar recording chain is usually the Schoeps into a Telefunken V76 preamp with no EQ, and sometimes he'll use a Universal Audio LA-3A for compression. He runs the KM 64 into a Neve 31102 module (from his Neve console), which goes directly to Pro Tools or tape with no compression.
Since Antonell has a large live room, he tends to use it for ensemble purposes only. "Sometimes though, if it's a solo or lead acoustic track, I'll put up a pair of Coles 3038 ribbon mics in the big room and print them," he notes. "On the last Spyro Gyra record, I recorded Julio Fernandez' acoustic in the live room with stereo Schoeps, as well as stereo Coles placed about 10 feet back. The room mics add air to the overall acoustic sound."
Kristen Capolino's upcoming second release, Enlightenment, was recorded at the Clubhouse with numerous guests, including Doug Pinnick of King's X and Earl Slick. Capolino connected with Paul immediately. "We got killer sounds right away and he really captured the essence of my tone," she says. "It felt great, like I was doing a live show. The vibe was different from my last record, which was done brick by brick. I was able to play and sing live with the rhythm section, and the excitement of playing together in the room really worked."
To get Capolino's sound, Antonell used a combination of a SM57, MD 421, and an AEA A440 ribbon on her Orange PPC 412 cabinet, which was driven by a THD Flexi-50 head. The recording chain included Neve 31102 mic preamps with all three mics bussed to a hardware LA-3A and then into a single recording channel. "Once I get the sound of all three mics, I commit to tape," says Antonell. "When you raise the fader, the blend is already there. What the artists hear in their headphones is always constant, and it won't change."
Jim Weider also does a lot of tracking at the Clubhouse. "Paul knows exactly how to get my sound," Weider says. "He knows I like a 57 somewhere in the chain, but he also adds what he wants beyond that. By putting the amps on the hardwood floor in the big live room, I get more tone and sustain. It doesn't even matter what size amp I use, it just sounds better."
Weider has been using an old blackface Fender Deluxe Reverb, a tweed Super Reverb, and his Showman that was modified by Two Rock's Bill Krinard. "He did the 'David Lindley '70s Dumble Overdrive mod' and the thing screams," Weider says. "I'll usually play my old '52 Tele with a Big-T rhythm pickup handwound by Lindy Fralin. For pedals, I use my Analog Man King of Tone overdrive and a T-Rex Replica echo. This combination just sounds right every time here."
"Sometimes when guitarists like Weider work here," says Antonell, "we put the head in the control room and run the speaker cable out to the cabinet in the tracking room. I've found that by doing it that way there's no degradation in the signal chain. I always want the cleanest, purest tone possible." In addition to keeping the signal pure, running a length of speaker cable from the control room has another benefit: If the guitarist is overdubbing in the control room, it's easy to adjust the amp. There's no need to run back and forth to tweak the knobs.
---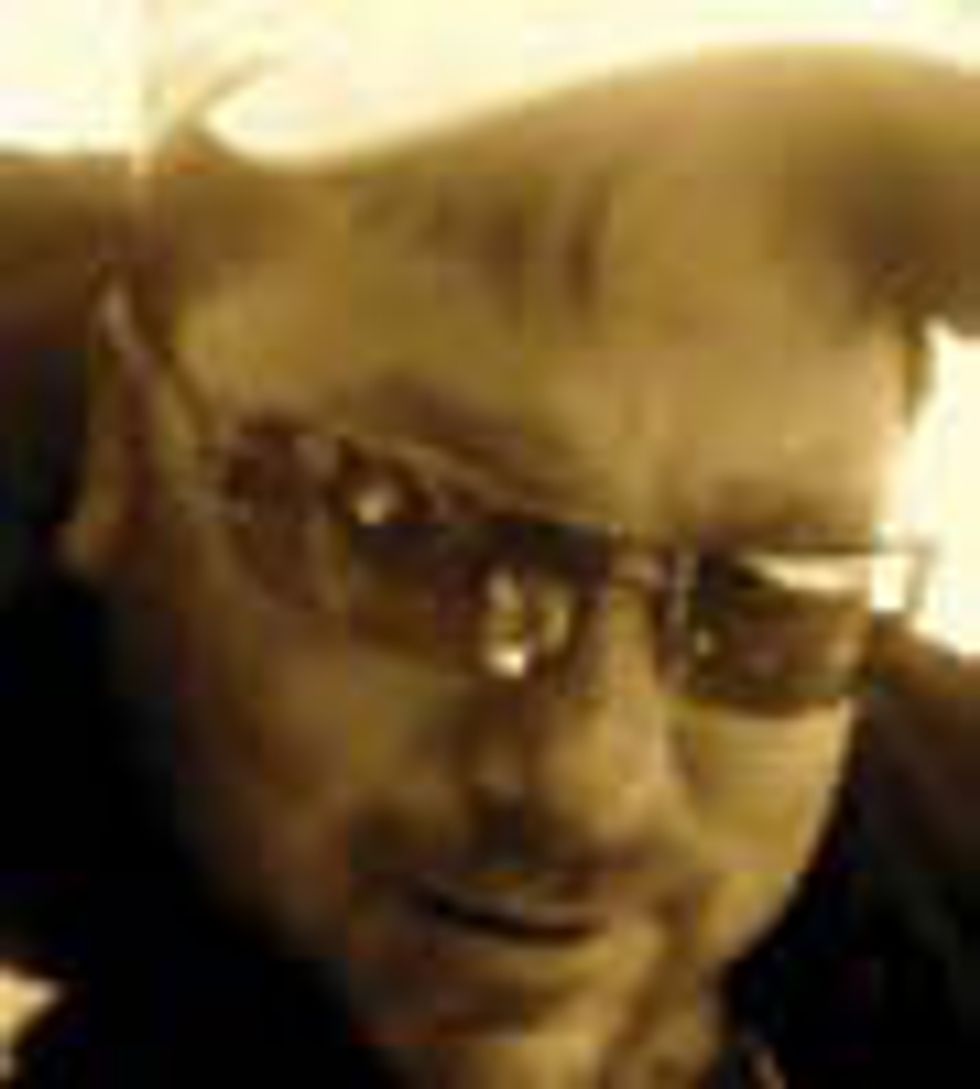 Rich Tozzoli
is a Grammy-nominated engineer and mixer who has worked with artists ranging from Al Di Meola to David Bowie. A life-long guitarist, he's also the author of
Pro Tools Surround Sound Mixing
and composes for the likes of Fox NFL, Discovery Channel, Nickelodeon, and HBO.