State of the Nation of Bassdom, Pt. 2 - The Market Review
Kevin continues from last month and further explains the current status of today''s bass market.
About this time last year, I stated my thoughts on the vintage bass market for the upcoming year. Now, I've just returned home from the Philadelphia Guitar Show, where the insight gained at that venue cemented thoughts from prior shows and solidified my pending actions going forward. Basically, the market is in a slight state of flux. Let's visit the market segments.

The Top Side ($25,000+)
The basses in this category are made of unobtainium. In the upper echelon of the market, pricing has stayed roughly the same as 2007 expectations. There may be slighly fewer buyers, but a good, honest, rare piece will always have a suitor – crazy color basses, custom color stackers and rare Gibson and Rickenbacker items fit this genre. Like my friend, Craig Brody, at Guitar Broker just told me, "Good premium pieces, appropriately priced, still sell."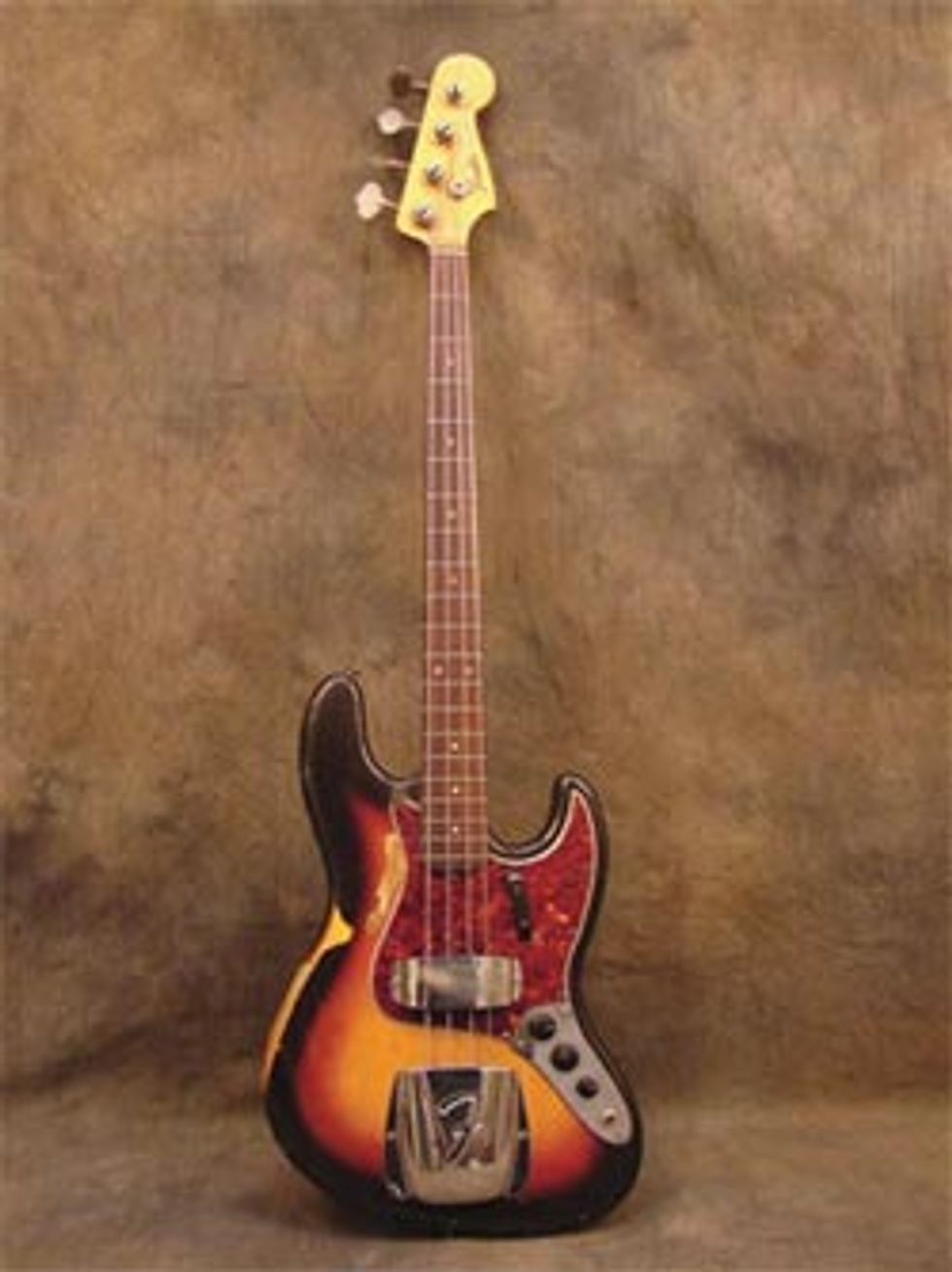 This 100 percent original 1964 Fender Jazz Bass falls into the High-End category
The High-End ($6000-$25,000)
Basses in this category are mainly fifties and sixties Fender, Gibson and Rickenbacker products. Contrary to what my peers might say, prices and "moveability" have slightly declined in this segment. Just like the top side, there also seem to be fewer buyers here. Gibson basses have held static on pricing from a year ago; Thunderbirds saw a spike in pricing, but have since leveled out, albeit on a higher plateau. EB series basses have also seen a small renaissance, in terms of usage and tradability. Vintage Ricky basses? As we Jersey guys say, fuggedaboudit! Every one sells and they sell quickly, however the prices have remained dead even with last year.
The big surprise was the slight slide in prices on vintage Fender basses. Common color basses, especially Candy Apple Red, dropped about 15 percent, and sunbursts came down between 6 and 10 percent. Any bass in this segment better be 100 percent original or priced competitively to move in a reasonable time frame. I've never seen Fender basses dip in value until now. Cool custom colors did remain static with the realistic pricing numbers seen in 2007.
Player's Vintage ($2000-$6000)
This is the
hottest
market segment right now. Great playing, honest basses have increased in value and trading is brisk. Fender, Gibson and Rickenbacker basses from the late sixties through the early eighties and early Music Man basses make up this segment of the market. These basses are being steadily retailed by dealers and players. Why? Mainly because the prices are in reach. Also, the basses have been holding their value, they're more gig-friendly than the pricey fifties and sixties basses and there always seems to be a buyer in this price range.
The high climber in this segment is no doubt a non-horseshoe, checkerboard Rickenbacker 4001. You can't find them, and if you do, you are going to pay for it. If you don't buy it, the guy behind you will. An honorable mention in the high climber group goes to early StingRays; if you find a good color (sunburst, silver or white) that is clean with a good neck and preamp, you're going to pay for it. Other StingRays have also increased and I predict these are the next big thing once again. Fender Precision and Jazz Basses from this period have been steady and a fairly new addition to the dance; the Telecaster bass has been on the rise. If you have a bass in this segment, you have a solid asset that can be easily swapped.
Entry Level Vintage ($700-$2000)
This is where the majority of the player gear resides. You will find late-seventies to early-eighties Fender items, including early reissued items. It seems that all the good Jazz Basses have migrated to the player's vintage group, so Precisions remain the best bet. Some Gibson EB series and general seventies basses are found in this group, along with the Ripper series and Les Paul Recording basses. Early G&L basses have earned a presence and are a steal – trust me, these will heat up. Rickenbacker late issue 4001 and early 4003 basses are present in this range and seem to have cooled just a touch. There are a ton of bargains still to be had in this segment, including lots of great refin stuff. If you're going to gig, this is probably the main grouping of basses for your needs. You will likely get your money back at sale time while not decimating your credit card.
The Lowdown
In the years past, it was a safe bet that if you had a good vintage guitar it would be worth more the following year. Now this may or may not be the case. We're in a recession. Previously, folks hit the home equity line to buy a dream bass because the bass could sell in a year and the loan could be paid back. Now, the question has to be asked, "Do I need to pay my mortgage or do I need a '64 Jazz Bass?"
Once consumer confidence returns, people will start selling their existing basses and buying different basses, and the merrygo- round will start back up at full speed. Until next time, drop the gig bag and bring the cannolis!
Photo courtesy of Rock n' Roll Vintage, Chicago Illinois
---
Kevin Borden
Kevin Borden has been a bass player since 1975, and is currently President of
Goodguysguitars.com
.
Feel free to call him KeBo.
He can be reached at
Kebobass@yahoo.com