Steve Vai's Ibanez Signature Distortion/Overdrive
Steve Vai''s new Jemini combines a distortion pedal with TS9 overdrive sounds.
Bensalem, PA
(March 26, 2008) -- Ibanez is releasing Steve Vai''s first signature distortion pedal, the Jemini -- a unique, multi-colored stompbox that combines overdrive and distortion in one rigid zinc die-cast case. The dual pedal gives you much of what you would expect from Vai''s signature JEM guitar -- minus the monkey grip, of course.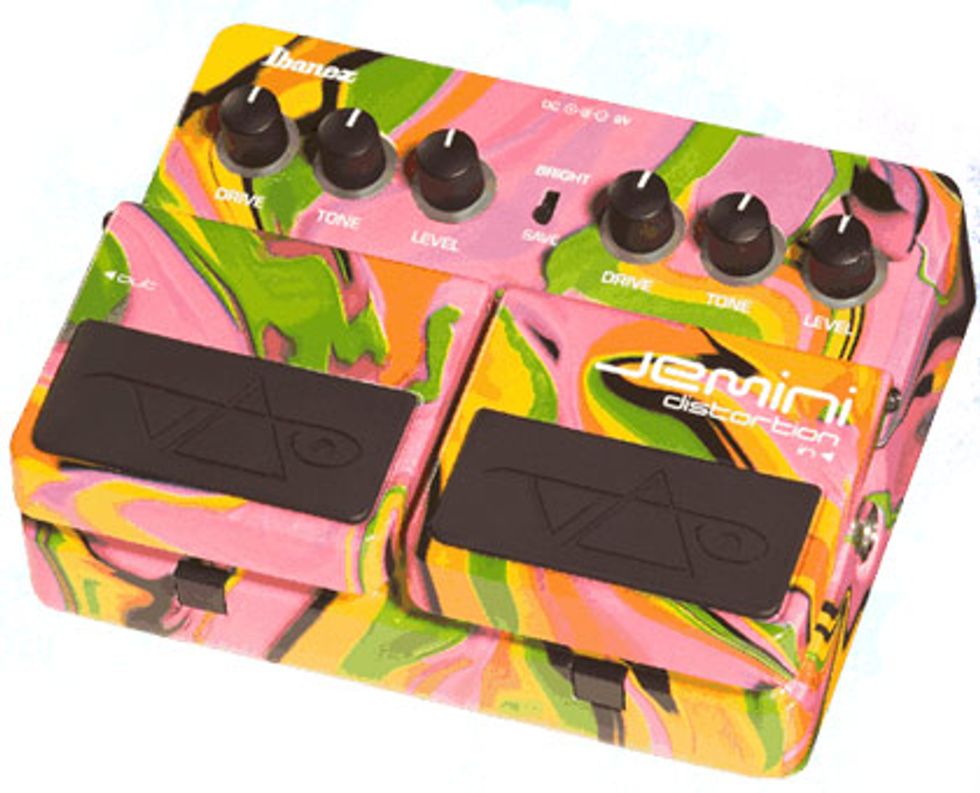 The pedal''s knobs are lit with individual LEDs and the overdrive side is a souped-up version of an Ibanez classic, which is sure to help clear some space on many a pedalboard.
"Some players may need less pedals in their rigs if they have a Jemini," said Lucian Tu of Ibanez. "The Jemini is beyond versatile, with both TS9 Tubescreamer overdrive as well as the classic distortion tones long associated with Steve Vai. So you can achieve anything from just a subtle bit of overdrive boost to completely full-blown, all-out distorted tones. Both the distortion section and TS9 overdrive are all carefully Steve Vai-tweaked and modified, the result of information gleaned from extensive touring with prototypes and constant consultation between Steve and our designers during that time."
For more information:
Ibanez Steve Vai Jemini