Summer NAMM 2010 New Gear - Editors' Picks Day 2
PG Editors pick their favorite gear from Day 2 of Summer NAMM
Day two is in the books, and there was more great gear to behold. Remember, you can follow it live on Facebook and Twitter. Tomorrow is the first ever Summer NAMM public day, and we'll be continuing the product coverage, along with some coverage of the events, including the Reunion Blues Vintage Guitars Road Show. Miss yesterday's picks? Click here to read them. And check out our video demo of all of Electro-Harmonix's new pedals, featuring the legendary Mike Matthews.

Joe Coffey - Editorial Director


Voyage-Air TelAir
We weren't so sure about fold-up travel guitars until we reviewed Voyage-Air's version of a fold-up acoustic some time ago.  That sucker played great and stayed in tune after being folded and unfolded. The company started making solidbodies recently and unveiled their TelAir today. The TelAir is a foldable Fender Tele-style guitar with a
Les Paul
scale length, stacked Tone/Volume controls, and yarn-wrapped Tonerider alnico pickups. It has an alder body, a Canadian maple neck, and a rosewood fretboard.  Pictured (top left to right): the TelAir in its case, the hinge clasp mechanism disabled and locked, (bottom) Voyage Air's Adrian Bagale with the TelAir ready to play. Street price: $699.
voyageairguitar.com
US-Made D'Angelico Guitars
Classic D'Angelicos are being made in the US again, along with some new models. Quality control continues to get better with the Korean line, but the new US-made guitars enter the market with the kind of craftsmanship that long-time fans of the brand demand. This is being facilitated via the craftsmanship of luthier Bill Comins and assembly assistance of the builders at Heritage guitars. Pictured (left to right): a New Yorker Teardrop semi-solid (small scale version) with a carved maple top and chambered mahogany body; a 16" New Yorker with a carved spruce top and figured maple back and sides; a New Yorker completely hand-built by Comins; and a new Apache Teardrop semi-solid with reconstituted stone and mother-of-pearl inlays.
They also had a solidbody, non-teardrop version of the Apache.
dangelicoguitars.com
Planet Waves NS Capo Tuner
This one is self-explanatory. The NS stands for Ned Steinberger, who has been collaborating with Planet Waves on some products. Street $65
planetwaves.com
Santa Cruz 34D Mahogany Model
Richard Hoover's new mahogany version of his 34D is the result of a great find. He found an amazing stash of heirloom mahogany that was cut back in the '40s. Hoover believes he'll be able to make about 10 guitars with it. Hoover is on the right, showing the back of the guitar. Santa Cruz's Rick Fagan is on the left, showing the guitar's Adirondack spruce top.
santacruzguitar.com
Yamaha APX 1200
Yamaha's new S.R.T. pickup system is in this acoustic-electric with a spruce top and rosewood back and sides. How 'bout that translucent black "mocha burst" finish? The S.R.T. pickup system includes a blendable piezo and internal mic, 3 mic models, a 3-band EQ, Resonance Control, a Focus/Wide switch and a tuner.
yamaha.com/guitars/home
---

Shawn Hammond - Editor in Chief
Benavente SC "Dinosaur"
Fretboard and pickup covers made of snakewood, a bocote top, a Honduran mahogany body with a walnut center strip, and knobs, switches, tuner and strap buttons, and an amazing fretboard inlay made of mastodon ivory.
benaventeguitars.com
The George Gruhn Semi-Hollowbody
Gruhn wasn't displaying at the show, but his legendary shop full of amazing vintage acoustics, electrics, banjos, and other stringed instruments is about a block away from the NAMM convention center so we took a few minutes to stroll over and say hello. Among the many amazing specimens in the four-story building are his own new Gruhn semi-hollowbody guitars. Designed by Gruhn and built in a workshop a couple of blocks away from his store, they feature a carved, solid spruce top, routed walnut back, ebony tailpiece and pickguard, ebony fretboard, and TV Jones pickups.
gruhn.com
Elixir Cables
Elixir ultra-low capacitance instrument cable uses proprietary materials developed by Elixir's parent corporation, W. L. Gore & Associates, to drastically reduce high-end signal loss. A/B tests against a similarly priced popular cable were highly impressive.
elixirstrings.com
---
Andy Ellis - Senior Editor
Wechter Pathmaker SB Maple
The Pathmaker SB Maple is a new solidbody from Abe Wechter, a luthier known for his forward-thinking acoustic designs. Equipped with dual Seymour Duncan humbuckers and Graph Tech's Ghost Acoustiphonic saddle-pickup system, this versatile guitar can move from scorching leads to shimmering, quasi-acoustic timbres with a flick of switch. Particularly exciting: It's the first production guitar to offer Seymour Duncan's Triple Shot pickup mounting rings, which have two mini switches that allow you to turn each coil on or off. As a result, you can quickly put the 'buckers in series, parallel, or a tapped single-coil configuration.
wechterguitars.com
D'Angelico Rockabilly Prototype
For decades, jazzbos have held D'Angelico archtops in high esteem. Soon, rockabilly guitarists will be able jump, jive, and wail with their own thin-line D'Angelico model. We played a rockin' seafoam-green prototype with Kent Armstrong Kentron humbuckers, a Bigsby (of course), a pearloid pickguard, and art deco wood knobs. This yet-unnamed D'Angelico will also come in coral, ivory, and sunburst finishes.
dangelicoguitars.com
---
Jordan Wagner - Associate Gear Editor
T-Rex Mudhoney II
T-Rex has updated their popular Mudhoney pedal with a second channel, effectively making it a dual high-gain fuzz powerhouse. One of the most impressive features of the pedal is the massive amount of range the dual controls offer.
t-rex-effects.com
Above Ground FX Tap Tremolo
Another really cool pedal from the guys at Above Ground FX, this time offering a high quality tremolo tone with a tap tempo option. The sound can get extremely choppy, but keeps a slight high end roll off that tames the sometimes harsh nature of fast tremolo.
abovegroundfx.com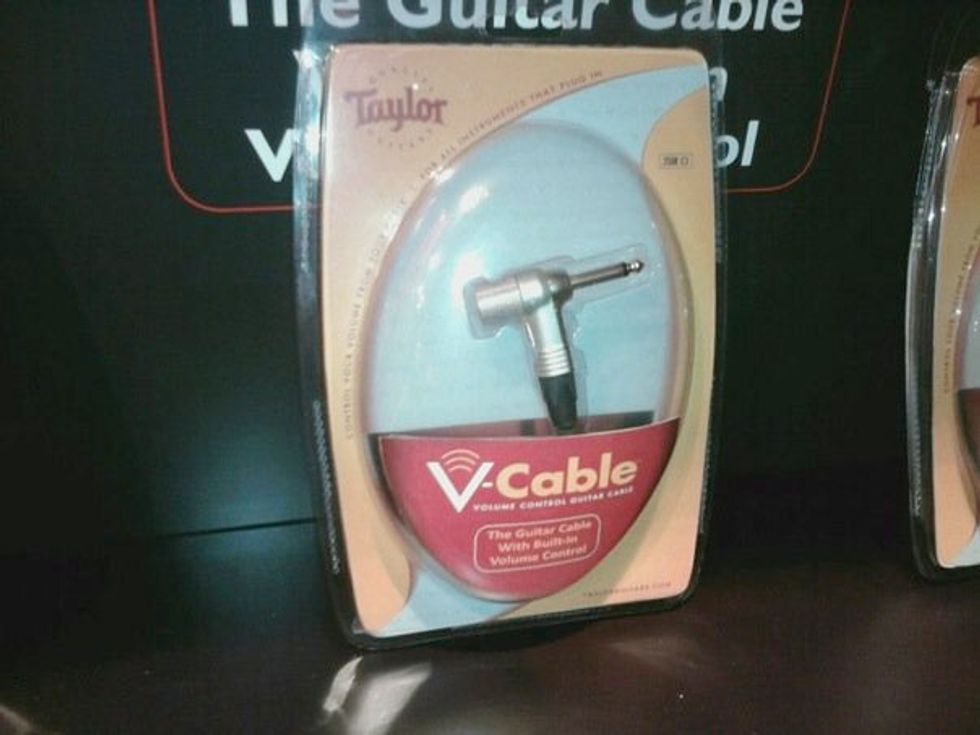 Taylor V-Cable
Taylor offers a simple solution to a common problem with their new V-Cable. The cable's plug has a volume knob (with built-in off switch) that allows the player to completely mute the sound while changing instruments.
taylorguitars.com/
---
Chris Kies - Associate Editor
TV Jones TV Savalas Bridge Plate
The TV Jones TV Savalas Bridge Plate allows you to put a TV Classic, Power'Tron, Super'Tron or Magna'Tron dual-coil pickup into your Fender American Standard Telecaster or of the vintage footprint. The only drawback of this for some die-hard originalists is that a small amount of routing of your guitar is mandatory to fit the larger Filter'Tron-style pickup to replace the stock single-coil. It may take a little off its value, but what the Tele will make up for tone will be worth it.
tvjones.com

Ibanez RG321EBK
Yesterday I went high-end, but after strolling through the Ibanez village I fell for the new Ibanez RG321EBK electric guitar. With its double cutaway mahagony body, three piece maple neck with a bound rosewood fingerboard, and a Gibraltar Standard bridge. To top it off, it's loaded with EMGs--an H4a in in the neck and a H4 in a bridge. The best part, this sexy shredder machine has a MSRP of $466.65.
ibanez.com
Electro Harmonix Headphone Amp
When it comes to gear there are two things that generally make happy almost every time--Electro Harmonix and small, travel-friendly gear. Everyone was geeking over the new effects they released this week, but I was all over their Headphone Amp. It's not much bigger than an iPod Nano and it delivers everything you need to practice... anywhere! I live for gadgets, but particularly ones that have practicability and functionality. It has a lone Volume control and welcomes input from a pedalboard offering a full practice session.
ehx.com
Diamond Positron
While I love the 100 watt, high gain, bite-your-face-off tones from Diamond's Nitrox heads, I truly enjoy the lighter side of Diamond. At the show they unleashed the Diamond Positron. This little Class A rocker is loaded with 2-EL84s and clocks in at 22 watts. It isn't as big or gnarly as its big brother Diamonds, but this is a no-joke tone machine with only two controls--Tone and Volume. It has crystal cleans, but it begs to be dimed so it can create some Mike Campbell-esque rock 'n' roll. Street $1499.
diamondamplification.com
---
Rebecca Dirks - Web Content Editor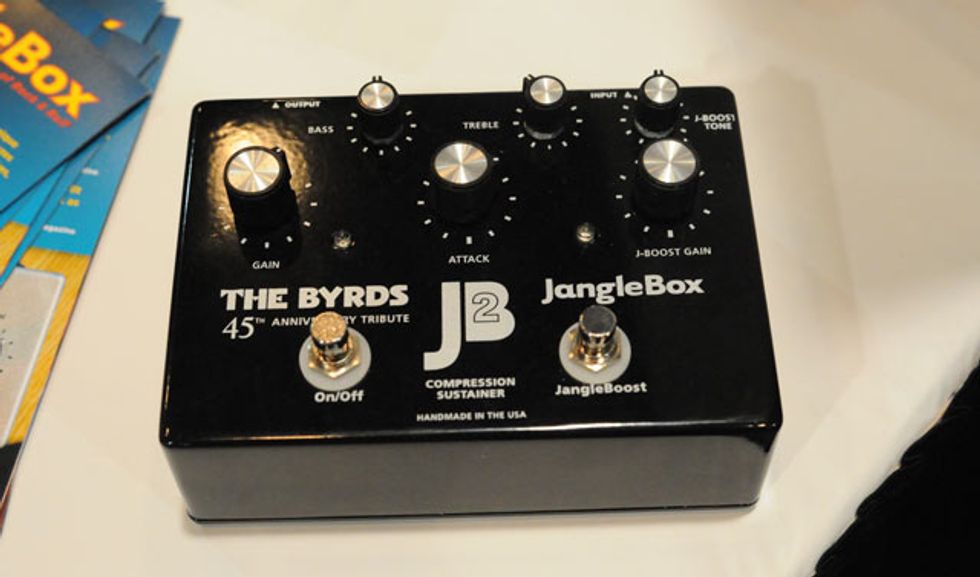 Janglebox The Byrds 45th Anniversary Tribute
A variation on the Janglebox 2, the Tribute model adds a Tone control so the JangleBoost has separate Tone and Gain knobs, opening up a wider range of tones that are still grounded in the chimey, bright, jangly sounds of the original. The very first prototype was finished just prior to the show, so the company expects late summer or early fall availability.
janglebox.com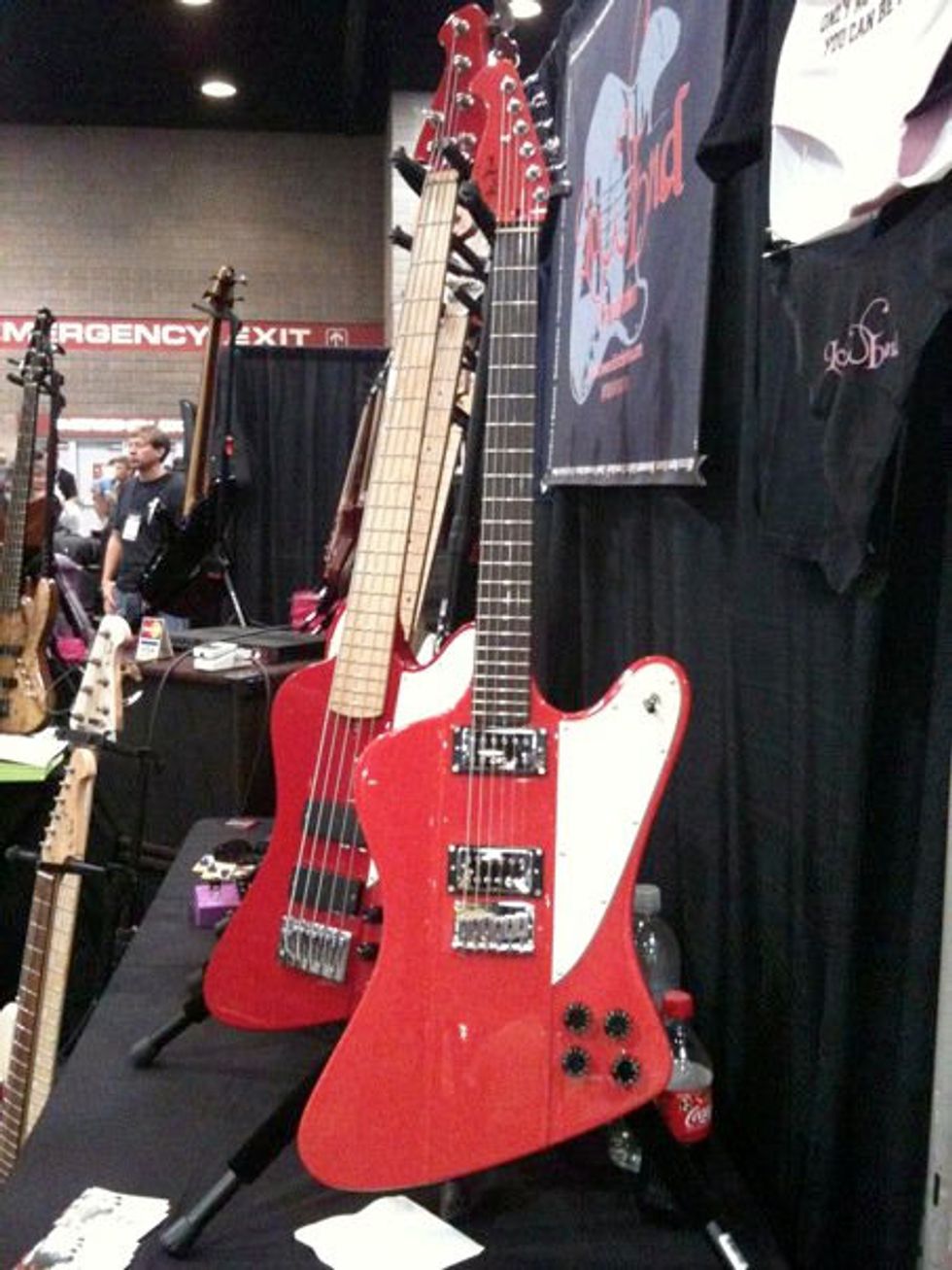 Low End Fbird
Murfreesboro, Tennessee-based Low End specializes in bass clones, but showcased their new Fbird guitar. The US-made Fbird—in Fiesta Red—features custom Kent Armstrong pickups and retails for $2899.
lowendbasses.com
Trev Wilkinson ATD Auto-Tuning Bridge
Trev Wilkinson, the brains behind the UK-based Fret King and Vintage brands, debuted a brand-new auto-tuning bridge that can store five user-programmable tuning presets, in addition to the pre-loaded standard E, open G, DADGAD, and open D. It's very easy to use, and tunes very quickly and accurately. The bridge comes installed on the Fret King Super-Matic, but will also be available for all manufacturers to install in their models.
fret-king.com
Ernie Ball Music Man Reflex Bass
The new Reflex basses are a progression from the 25th Anniversary bass. Pictured is the
humbucker
and two single-coil configuration, but it's also available in dual or single humbucker configurations. The bass incorporates the detailed electronics system found in the 25th Anniversary bass that allows you to go from active to passive, and more. The three-pickup version has three pickup selector buttons, and an active/passive selector button.
music-man.com