Adam dissects the Swell G-TOD and finds craftsmanship is king.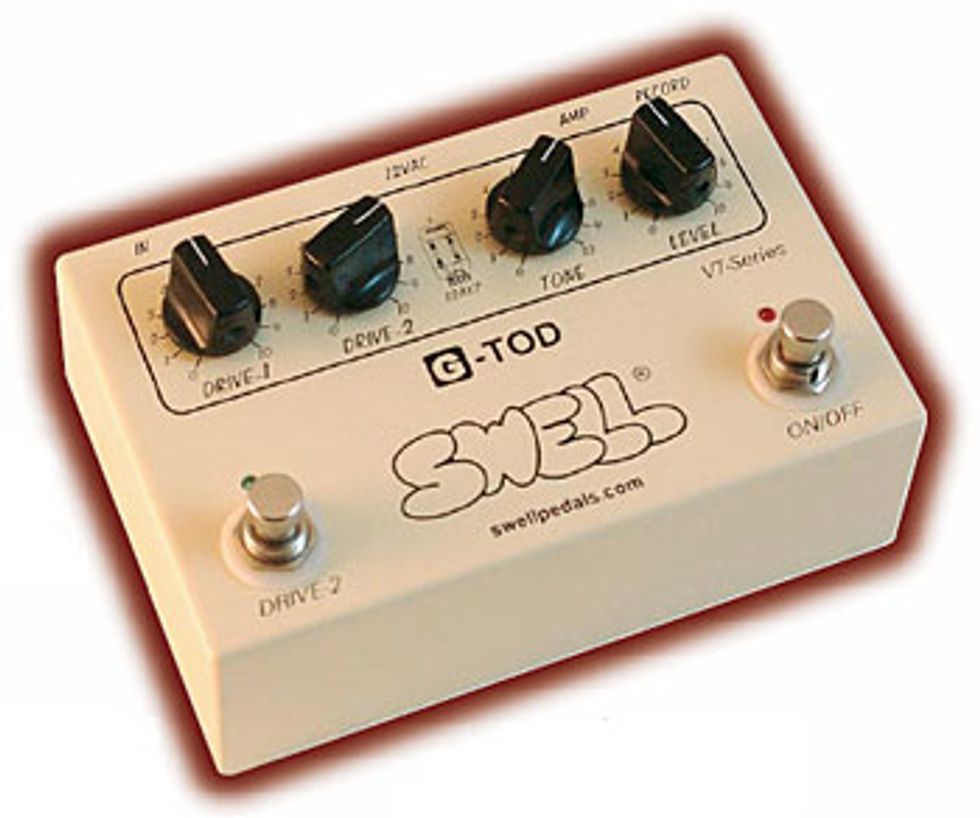 These days, as the demand for unique and boutique overdrive pedals continues to flourish, there are lots of options for musicians looking to get a bit of grit. While designs can vary widely, tube overdrives have long been a point of interest for guitarists – the reasoning being that when tubes heat up, magic happens. This month we had a chance to test the magic inside the SWELL G-TOD – standing for, what else, Guitar-Tube OverDrive.
The G-TOD holds a 12AX7 inside its casing – a tube typically found in preamp circuits, and providing this pedal with that good old fashioned tube compression all guitarists love. The G-TOD keeps it completely analog, forgoing the transformers and clipping diodes you might find in other boutique designs. If you're a believer in the completely analog signal path, you'll definitely be excited about this design.
Plugging in a Classic Player Strat and kicking on the first drive, with the drive knob set at about 3, resulted in a wooly tone with some grit around the edges – perfect when you just need to add a little bit of heft to your sound. Moving the level knob further to the right yielded enough gain to get your tubes cooking, but the clarity and primary tone of our guitar stayed intact. Even at the deepest level settings, the G-TOD's first drive channel cleaned up nicely with the volume knob and never got too crazy. Kicking on the second drive channel gave us even more of that creamy attack – adjusting the level quickly moved us from ballsy overdrive into deep fuzz territory, but the gain always remained confidently within our grasp. Another tangible bonus of the G-TOD is its dead quiet operation, even when all of your levels are maxed out.
If there's a complaint that could be leveled against this pedal, it would be that the tone is too nice. There's a real transparency surrounding this pedal, and no matter how soft or hard we pushed it, the G-TOD never really took on a character of its own. Of course, that's not necessarily a negative – this pedal is perfect for players who have already found their rig's sweet spot and just need a bit of a boost without altering their tone. The G-TOD definitely brings a contemporary sound to the overdrive, and if you're already in love with your rig, you'll like this pedal.
SWELL has put together a solid pedal here – the casing is sturdy, built out of diecast aluminum, and feels like you could use it to deflect objects thrown by an angry crowd and still finish your set. Compared to other tube overdrives, the G-TOD resides in a fairly compact casing, the switches are obviously built for a lifetime of stomping, and the pots have an exceptionally smooth travel. Top-mounted jacks keep your pedalboard clean and tidy, while those tiny details (a ceramic tube socket, phenolic knobs) show off the craftsmanship that SWELL is known for. Add in true bypass switching, a record out jack with speaker simulation (which is respectable in its own right), an included power supply, and you've got a pedal that manages to merge boutique function with utilitarian form – the result being a dependable choice for the gigging musician.
Rating...
Tone...
 
Craftsmanship...
 
Features...
 
Value...
 
Overall...
 
---
SWELL Pedals
MSRP $269.99
swellpedals.com
Our expert has stated his case, now we want to hear yours. Log on to premierguitar. com, click on "Forum" and share your comments and ratings.