Deep twang is the thang in this accessibly priced, smooth playing, and well-built baritone.
Excellent playability. Lower register tones and lipstick pickups are a great match. Well built. Beautiful and stylish.
Tone might benefit from lower output pickups.
4.5
4.5
4.5
5
Long-scale, 6-string Danelectros are among the great unheralded instruments in popular music. Consider Glen Campbell's "Wichita Lineman." It's pretty close to a perfect song—a Jimmy Webb melody for the ages, a string arrangement that tugs at the heart almost from the start. But what really stands out for a lot of listeners is the loping, economical guitar solo that is a strange personification of the humble, devoted narrator of the song. The solo, played by Glen Campbell himself, derived its unique tonality from a Danelectro 6-string bass—one borrowed from Carol Kaye no less. And in a tune brimming with highlights, that solo is one of the most memorable.
Danelectro's new Longhorn Baritone, which comes from the factory tuned B to B, is not a 6-string bass, which is tuned E to E. But it's almost impossible to not think of those low-down Glen Campbell tones when you play the Longhorn, which mates the clear, bell-like signal from a Danelectro lipstick pickup with the rubbery bottom end from a 29.75" scale. It's a combination that's very much in vogue these days, thanks to Phoebe Bridgers' adoption of the similar Danelectro '56 Baritone. And in this very stylish incarnation, it is still an instrument uniquely capable of evoking haunted, dusty, and mysterious musical moods with a single low and twangy note.
Stylishly, Sneakily Huge
Like their long-scale Danelectro forebears, Danelectro baritones have a way of sneaking up on unsuspecting artists in search of something different. Bridgers happened upon the instrument during a session, bought one of her own for $500, and made it a sonic centerpiece of her first LP. And I've watched incredulous rockers receive a humble Dano' baritone from an engineer with a sarcastic smirk, plug it into a Big Muff and a Sunn Model T, and then burst into a lunatic grin as they summon the sound of doom.
One of the coolest things about Danelectro is that, since the company's resurrection, they've consistently made baritones a fixture of the line. But while Danelectro maintains the company's legendary, lyre-like Longhorn shape in a 4-string bass configuration—and occasionally in the shape of the awesome, mutant Guitarlin—this is the first Longhorn Baritone we've seen in a while. Its return, purely from an aesthetic standpoint, is welcome. The elongated neck, capped by Dano's signature Coke-bottle headstock, gracefully accents the fluid lines of the body. Baritones often look like gawky, ungainly versions of shorter scale guitars—almost like afterthoughts. The Longhorn, however, makes the inherent length of the instrument a design asset, and part of a harmonious whole.
Ergonomically speaking, there are advantages, too. The deep cutaways enable access to every fret, and the combination of light weight, a slender profile, and the long horns, which sit naturally on the thigh and against the ribs, make it comfortable to play over extended periods while seated. Surprisingly, given the long neck and super-light, semi-hollow, wood-composite body, the Longhorn isn't too prone to neck dive, though I'd be sure to use your least slippery strap.
The Longhorn Baritone is built in Danelectro's Korean manufacturing facility. Most of the recent guitars we've seen from that shop are very well made, and that goes for the Longhorn, too. Obvious construction flaws are non-existent. And the fretwork, in particular, is very nice for an instrument in this price range.
Early guitars from the new Danelectro company were often vintage-correct to a fault. Few players I know love the wood bridge that appeared on original Danos and '90s incarnations. But the Longhorn, like other current Danelectros, makes smart concessions to modernity. The adjustable bridge is stable and easy to intonate. The Kluson-style tuners are reliably solid. And unlike long-scale Danelectros of old, this one features a truss rod you can access from the headstock—an especially handy feature on a baritone, which has a fair bit of neck-straining string pull.
The tone and volume knobs, too, are a slight deviation from vintage spec (originals had no tone control). But the teardrop tone controls here are a pleasure to use, and the concentric volume/tone knobs are a bit of minor design genius. The copperburst finish is not quite as copper as some finishes you see on vintage Danos—it has just a touch of ruby or pink in places. But it is lovely nonetheless, particularly on this body style, and it's flawlessly applied. The aluminum nut, by the way, is a very cool vintage-inspired touch that contributes to the instrument's sense of solidity.
Down Low Done Right
The sense of quality and wholeness that you perceive when giving the Longhorn Baritone a once-over translates to an exceptional playing experience, too. When you tune up and give the guitar a strum, you feel it in your ribs. The semi-hollow body is extremely resonant and the sustain is superb. And when you plug the guitar in (it really pays to have a nice 12" speaker or bigger on the receiving end of the signal), that resonance and sustain is rendered large in a lovely way. Not every player will approach a baritone in the same way, but I was moved to, as Donovan would say, dig the slowness. Taking a languid approach to fingerpicking chords allowed notes to bloom hypnotically. And the guitar's smooth playability invites that type of approach. The Longhorn also highlights the inherently pianistic nature of baritone guitars, and the guitar's clarity and organic resonance make playing a high-chord arpeggio against a deep open-string thumb bass accompaniment feel like you're stretching the boundaries of conventional guitar and entering expressive regions associated with an 88-key keyboard.
The Verdict
Because baritone guitars are just as much the domain of doom metal practitioners as pop arrangers and next-wave indie guitarists, the Longhorn Baritone won't please every possible customer. The Longhorn's pickups, which are hotter than the alnico 6 units in Danelectro's more vintage-oriented 6-strings, are perhaps a compromise made for the heavy music set (and they sound truly huge with fuzz), but I'd prefer a little less output and a little more contoured sweetness. Still, for less than 600 bucks, the Longhorn Baritone is a high-quality, super-playable, and relatively inexpensive instrument that can transform the way you compose and play. It's hard to put a cost on creative potential like that.
Danelectro Longhorn Baritone Demo | First Look
Danelectro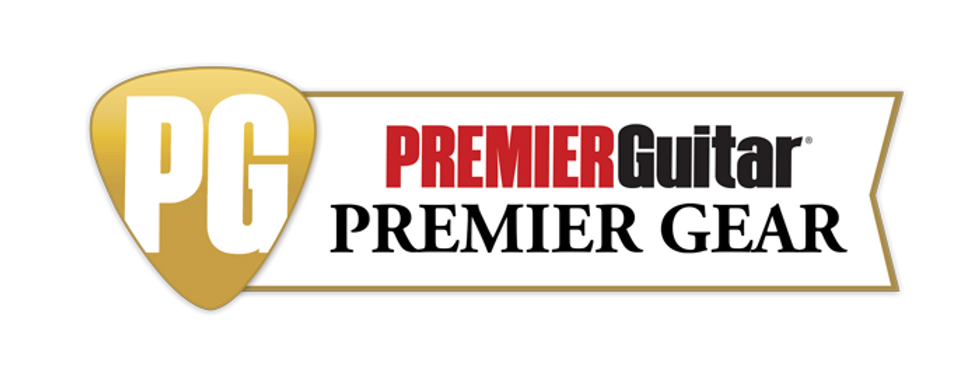 The seven basses in the series includes 4-, 5-, and 6-string variations with several different wood options.
Germany (May 5, 2015) -- As of this summer Warwick now offers the all new German Pro Series which consists of excellent "Teambuilt & Made in Germany" instruments, at an affordable price. The complete know-how, which the Warwick Custom Shop has built up over 30 years in Markneukirchen embodies this exciting new series of electric basses. All of these instruments are produced in Germany from the finest materials and with the best possible production methods. Only the very best machines in the world are used to carve these extraordinaire bass guitars.
The development of the Warwick German Pro Series goes back to the year 2009, at that time the decision was made to produce only the Masterbuilt Custom Shop basses at the Markneukirchen production facility, But now - due to popular demand, after almost two years of planning and development, a regional partner has been found to realize in cooperation with Warwick the new German Pro Series. The result is the highest quality Pro Seres basses to date, and at a price which offers players the possibility to own a 100% genuine German built Warwick bass for far less than the Masterbuilt Custom Shop instruments.
The tone woods for the German Pro Series are naturally air dried, hand selected, and glued at Warwick in Markneukirchen, also the necks, and the complete fret work is manufactured there too. Then all instruments are finished and assembled by partner nearby in the region. After completion, all Warwick German Pro Series instruments are carefully inspected, flawlessly set up and shipped out from the Markneukirchen production facility.
The new Warwick German Pro Series consists of the following models:
Corvette Standard, 4-,5- and 6-string with US swamp ash or bubinga body, ovangkol neck and wenge fretboard
Corvette $$, 4- and 5-string with US swamp ash body, ovangkol neck and wenge fretboard
Streamer LX, 4-,5- and 6-string with US cherry body, ovangkol neck and wenge fretboard
Thumb Bolt On, 4-,5- and 6-string with ovangkol body, ovangkol neck and wenge fretboard
Streamer CV, 4- and 5-string with US swamp-ash body, maple neck and rosewood fretboard
Streamer stage I, 4- and 5-string with US cherry body, maple neck and wenge fretboard
StarBass 4- and 5-string with maple body, maple neck and wenge fretboard
Warwick German Pro Series specifications
High-quality and seasoned wood from the German Warwick Manufactory at Markneukirchen
Warwick Invisible Fret Technology
Warwick Bronze Frets
Fluorescent Fretboard Side Dots
Just a Nut III Tedur
Warwick easy access Trussrod-Cover
MEC pickups and electronics
Warwick hardware
Warwick electronic compartment
Warwick Black Label bass strings
Available in various finishes and colors (depending on model)
Lefthand model available at no additional charge
Teambuilt & Made in Germany
All Warwick German Pro Series models are shipped from June 2015 including a high-quality Rockbass Starline bag.
For more information:
Warwick
Other new models include a fanned-fret model in 5- and 6-string versions.
Bensalem, PA (February 23, 2015) -- Ibanez released several new basses at the Winter NAMM show.
Black Eagle 2609B Reissue
It's a rare instance when the bass builders at Ibanez re-visit the company's history. But even for the very forward-thinking Ibanez design team, the 40th anniversary of the legendary Black Eagle bass was too important a milestone to ignore. Here's a limited edition re-issue that opens the door to an alternate universe circa 1975.
The first head-turner is mahogany body with its sharp inward-turned cutaways, along with its gracefully shaped F-hole headstock, which sets the stage for this Black Eagle re-issue to brim with 70s-era cool. Its Maple fretboard boasts an intricate custom inlay, but the decorative pièce de résistance is most certainly the white-on-black Abolone eagle that lives near the lower horn.
LIST: $599.99
BTB33NTF
The mission of the Ibanez Bass Workshop is to pioneer new frontiers in bass development by pushing the boundaries of conventional designs. The impetus behind each one of these unique instruments comes from the desire of the Ibanez bass development group to satisfy the specific needs of a very particular player and to hopefully inspire new vistas of creativity.
Designed for players looking to explore the upper region of the fretboard, the BTB33NTF is a 5-string bass is factory tuned from E to C. Excellent for playing chords and soloing up into baritone territory, this 5-piece Maple/Bubinga neck helps to create the proper tension and tonal quality for the C string without compromising the deep tone of the E string. It also facilitates faster playing and easier chording.
Another innovative feature of the BTB33NTF is the inclusion of a height adjustable Rosewood Finger Ramp. The ramp prevents players from digging in too hard when plucking finger-style and encourages a lighter playing technique, which helps promote a broader dynamic range and better tone. It also acts as a thumb rest that provides access to a wider plucking area, allowing players to explore more tonal options by varying the distance of their hand from the bridge.
The BTB33NTF includes a Mahogany with an Ash top, the neck sports a Rosewood fingerboard with Abalone inlays and a Mono-Rail V bridge provides optimum adjustment for superior intonation. Electronics feature the excellent tone of Bartolini BH1-5 pickups through an Ibanez 3-band EQ with a mid frequency selector switch for advanced tone control.
List: $1377.76
SR1406TEVNF
The new Ibanez SR1406TEVNF is a stylish 6-string bass that boasts "neck-through" construction for the optimum in tone, sustain and stability. As part of the Ibanez Premium line, it delivers "Performance Beyond Expectation" at pricing friendly to the working musician.
The SR1406TEVNF begins with a beautiful figured Maple top/Mahogany body combination that produces a robust, full-balanced tone. The Vintage Natural Flat finish allows the body to resonate more freely and creates an understated look of elegance. The 5-piece Wenge/Bubinga Atlas-6 neck features "neck-through" construction, which runs from the top of the headstock down to the lower strap pin. This design increases sustain, improves tuning stability and allows unfettered access to the even highest frets. Thanks to the Premium Fret Edge Treatment, super-smooth, hand-crimped medium frets on a Rosewood fretboard with oval Abalone inlay, this handsome bass is as enjoyable to play, as it is to look at. String vibration and sustain are also optimized by the innovative Mono-Rail IV bridge for the most precise intonation.
For electronics, the SR1406TEVNF comes loaded with two Nordstrand "Big Single" passive pickups. Additional sound shaping is provided by an Ibanez 3-band Active EQ with EQ bypass switch and mid-frequency switch.
List: $2,066.65
SRFF805BKS and SRFF806BKS Ibanez is proud to introduce the first-ever production model fanned-fret basses: the five-string SRFF805BKS and the six-string SRFF806BKS. Introduced in 1989, the fanned fret system is a revolutionary concept designed to create a better sounding, better playing bass. Previously, fanned fret instruments were available only to those who could afford the high-priced boutique instruments from private luthiers. Now, as part of their Premium Instrument line, Ibanez makes this unique, high-quality instrument available to the working musician.
Built at the Ibanez Premium Production Facility, the SRFF805 and 806 each consists of an Ash body attached to a 5pc Jatoba/Bubinga SR neck with a Rosewood fretboard, Medium frets and Acrylic custom fanned inlays. The innovative Mono-Rail V Bridge system was decided as the perfect match for a fan-fret instrument, allowing for independent positioning of each string's bridge piece to provide excellent intonation and superior vibration transference. Electronics include Bartolini BH1 pickups, for a thick, punchy, full-range of tone, and a 3-band EQ w/ Bypass switch and Mid-Frequency switch for complete sonic control.
The goal of the fanned-fret system is to even the tension of each string. Equalized tension helps to create a more "alive," open tone. On the SRFF805/806, the scale length is 34" on the highest pitch string side, expanding to 35.5 at the low B. The slant of the fanned-frets ergonomically coordinate with the way a players hand angles as it moves up and down the neck, facilitating quick, comfortable playing action. The result is better tone, expanded harmonic complexity and improved playability across all five strings.
SRFF805BKS List: $1,333.32
SRFF806BKS List: $1,399.99
Reflecting a classic Ibanez body style, the Talman Bass Series sports a cool retro look with a sound that will inspire players of all ages.
The TMB300 delivers a one-two punch by combining a passive P/J pickup configuration with a retro Ibanez body design. Features include a Mahogany body, Maple neck, Standard bridge, bound Rosewood fretboard with Block inlays and a tortoise shell pickguard for a stylish, finished look. Electronics consist of a Custom 2-band Active EQ with an Ibanez DXP neck pickup and a DJ2 double J bridge pickup for extra punch. A Split Coil Switch provides a single coil option in the bridge position for heightened definition.
The TMB100 also combines a passive P/J pickup configuration with the Ibanez-retro Talman body style. Features include a Mahogany body, a Maple neck, Rosewood fretboard with dot inlay, a Standard bridge and a tortoise shell pickguard. Electronics consist of an Ibanez DXP neck pickup and a DXJ bridge pickup and a Custom 2-band active EQ for increased tonal options.
TMB300 List: $428.56
TMB100 List: $258.70
For more information:
Ibanez