Huss & Dalton's Mark Dalton shares five points to consider when deciding how to amplify your acoustic.
Acoustic guitar pickups have been written about extensively in Premier Guitar by knowledgeable folks like Larry Fishman, but this month I'd like to touch on the subject through the lens of a guitar builder. I'll avoid comparison between different pickup models and instead concentrate on the different types of pickups, along with considerations for choosing the right system for you and your guitar.
So, where do you play that requires you to plug in? It's the very first question I'll ask anyone who asks me what pickup they should install. It's a simple question, but it's critical to getting the best system for you. Over the years, I have identified roughly five different levels of performance/background noise that necessitate the use of particular systems.
Level 1.
If you play at home on your own—or maybe with one other acoustic player—and you want to do some recording, I would question the need for a pickup at all. I believe that a good external condenser mic would be the better choice. A mic will usually give you the best tone for recording, and you can easily try out a number of different models and different mic positions to get the tone you hear in your head. Given the relatively low-volume (gain) level that you will need in this scenario, any guitar builder will likely tell you to go with a mic.
Level 2.
Let's say you want to venture out into a quiet coffeehouse or church setting, either solo or along with another player. This is where you might want to invest in a pickup so you can concentrate on your playing and not have to overplay in order to be heard. For this level, you might consider an internally mounted microphone. These will give you good tone and still allow you to have some control over the mic and placement when you're outside of your home studio.
In the best rooms, a contact pickup will likely work well on its own. But when it's loud, having the under-saddle transducer is the only way your guitar will be heard at all.

Level 3. What if that coffeehouse is not so quiet, and you'd also like to throw in the occasional acoustic-duo bar gig? In this situation, I'd suggest going with at least a combo pickup that incorporates an internal mic with another source, such as a bridge-plate contact pickup. This way, you can mix the mic signal in higher when the room is quieter, for better tone, but you can dial it back and use more of the secondary source when the room you're playing in is noisier.

Level 4. Okay, now add several other players and a bit more noise. At this point, forget the mic—either internal or external. I would use a bridge-plate contact pickup for tone and also consider adding an under-saddle transducer, and then mix the two signals. In the best rooms, the contact pickup will likely work well on its own. But when it's loud, having the under-saddle transducer is the only way your guitar will be heard at all.

Level 5. This is a full-blown band with drums and electric bass. At this point, you need to concentrate on simply being heard and worry less about tone. While it pains me to say that, it's the reality of these situations. Considering the high gain needed and the tremendous feedback opportunities involved, I'd recommend finding a good under-saddle transducer. Remember: If nobody hears that great break that you just played, it doesn't matter how great it was. I'm reminded of a friend (who is a terrific flatpicker) and the time he told me about a night where the sound was particularly bad at the venue they were playing. After the show, a friend of his came up and said, "Man, those were some great-looking breaks you were playing tonight."

While no acoustic-guitar builder will necessarily tell you that using a pickup is ideal, it's certainly necessary sometimes in order to be heard. I hope these quick guidelines will help you in achieving the absolute best tone—which is always my focus—at a listenable level of volume.
I enjoy using this style when accompanying a singer or horn player in a duo setting. It's a nice change of pace from the usual roles of walking bass lines and comping à la Joe Pass, or playing a chord on every beat to mimic Freddie Green's big-band rhythm sound.
When I first got into studying the jazz tradition, as a guitarist I was immediately drawn to Charlie Christian, John Scofield, Wes Montgomery, and Bill Frisell. As I expanded my listening scope, I'd go back further into history to the early jazz of Louis Armstrong and Jelly Roll Morton, who employed the remarkable and under-appreciated guitarists Bernard Addison and Lawrence Lucie.
This inevitably led to the Delta blues of Robert Johnson and Son House, and the great ragtime guitarists Blind Blake and Rev. Gary Davis, who played in the "Piedmont" style. The more I listened, the more I saw a connection between those men and the stride piano tradition of Willie "The Lion" Smith, Fats Waller, and James P. Johnson. Using Piedmont-style guitar as a jumping off point, I tried to stretch that sound and style into something that more closely approximated the techniques of a stride pianist. In the course of doing so, obviously, it becomes something in and of itself. But that's part of what makes music so much fun. Trying to do things that are unconventional ultimately leads to something new and different. That doesn't always mean it sounds good, but it's important to try, right?
I enjoy using this style when accompanying a singer or horn player in a duo setting. It's a nice change of pace from the usual roles of walking bass lines and comping à la Joe Pass, or playing a chord on every beat to mimic Freddie Green's big-band rhythm sound.
As with any new style, it's vitally important to listen to the music you're trying to emulate. The original concept of stride piano was to emulate the bands of New Orleans in the early 20th century. Stride pianists covered the tuba and banjo parts with the left hand while playing melodies with the right hand. Combining all of this on a standard 6-string guitar is a bit tricky, but I learned a lot from listening to Tuck Andress and Charlie Hunter. It's what you imply in your playing that makes what you actually
do
play stand out so much. The basic idea is to establish the root or 5th of each chord on the lowest two strings, while hitting other chord tones on the upper strings.
While it may be possible to play some of these exercises using a pick or hybrid pickand- fingers technique, I prefer using a pure fingerstyle method in order to better imitate the sound of stride piano. One of the main benefits is that you can hit the strings in different places to get distinctive timbres out of the bass notes and chords. For instance, if you hit the bass notes closer to the fretboard, they will be boomier and more resonant. If you pluck the chords closer to the bridge, they will be sharper and punchier. I learned how to do this by trying to cop Duke Ellington and Thelonious Monk's use of the pedal positions on the piano. They could get a wide array of colors out of the piano, and I wanted to find a way to incorporate that into my guitar playing. Check out Duke's
Piano Reflections
and Monk's
Solo Monk
for the best examples of this concept.
To begin, let's look at some standard rhythm changes in the key of Bb as shown in
Fig. 1
. When learning any new technique, it's essential to play along with a metronome clicking on beats 2 and 4, but be sure to start slowly. Developing this technique requires your brain to do some serious multitasking, and you always have to be thinking a few beats ahead to know where you are going. Working slowly allows the muscles in your hand (and skull) to learn what they need to do properly so that later on, when you bump up that tempo, they are well accustomed to all the moves.
Download Example Audio...
In
Fig. 2
, things get a little trickier by adding the 3rd tone of the chord on beats 1 and 3. By raising the 3rd up an octave, you create the interval of a tenth, which pianists have been abusing for years in all styles of music. The previous two examples require some big leaps across the fretboard, so let's look at a way to do less leaping and more stretching.
Fig. 3
is a real finger- and mind-bender, but sounds pretty impressive when you get it down. Using some chromatically descending standard chord changes, we can really get a lot going on at once. This one is in the key of Eb. I'm purposely avoiding traditional "guitar" keys, so that you can work without the benefit of open strings. But you can apply these techniques to other key signatures and give your hands more freedom by playing in the keys of E, A, or D.
Download Example Audio...

Download Example Audio...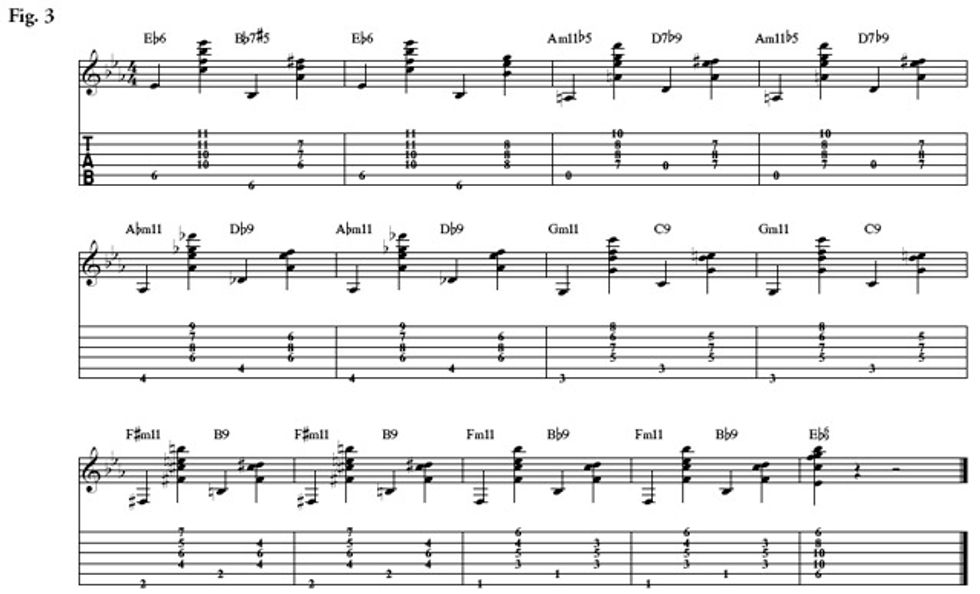 Taking those changes as a guideline, we can get a little bit fancier in between the basic bass/chord pattern. Check out
Fig. 4
. By jumping between full chord shapes, we can add some fills to flesh out the sound a bit. In measures 3, 5, and 7, make sure to keep the high note ringing as long as possible. This adds to the illusion of having two parts occurring simultaneously.
Download Example Audio...
One of the most exciting things in stride happens when the pianist inserts a swinging, propulsive solo break into the bass/chord pattern. So let's look at the Bb blues changes in
Fig. 5
and put all these things together. There is a lot to absorb in this example, so let's look at a few areas to watch out for. Try to play all the quarter-notes throughout the example as staccato as possible. Remember, the sound of stride piano has a real swinging, old-time feel. Keep everything relaxed and locked in with the metronome.
Download Example Audio...
In the 6th measure, we use some diminished 7th chords as a series of passing chords in order to head back to the I chord in measure 7. Since the shape of these chords is identical, they are pretty easy to move up and down the neck. In measure 11, we are combining some augmented triads to create a rolling lick that leads into the chromatically descending chords in the turnaround.
Finding new ways to approach playing your instrument is always a good thing. Breaking out of the well-worn guitar clichés can inject some fresh perspectives into your playing. It will also give you musical depth. Whether you are performing solo or as an accompanist, playing stride guitar will set you apart and turn some heads at the gig once you get it down. I encourage you to listen to all the players I mentioned above and find a way to get more of their sounds into the music you already know. Every instrument has a rich history and tradition, but they are all open to be folded into what we do as guitar players. The more you know, the better you sound!
Doug Wamble
Since moving to New York City, Doug Wamble has performed and recorded with Wynton Marsalis, Cassandra Wilson, Branford Marsalis, Bill Frisell, and Charlie Hunter. He has composed and performed original works for the Lincoln Center Jazz Orchestra and Chamber Music America, and created film soundtracks for acclaimed documentarian Ken Burns. His new album is due later this year. For more information, visit
dougwamble.com
.
A medley of three Celtic tunes: "Drowsy Maggie," "The Morning Dew," and "The Cup of Tea."
Celtic music is often misunderstood among guitarists. Many think if they can tune their guitar to DADGAD and play some triplets, they've got it. In fact, I hear more guitar players playing "at" Celtic music than those who actually give it its due. And believe me, it is due a lot. These tunes have been around for hundreds of years and for good reason: Like any great folk style, this music touches people's souls. It defines a people and brings up images of their lands, whether it is the fog at the seashore or a cloudy day over a green field filled with sheep, or their thatched-roof homes and their dances. If a musical genre touches me and brings up such vivid pictures in my mind, then that is good music for me.
So let's talk about how to play this great music and make it sound authentic. What I'm presenting here is a medley of three traditional Celtic tunes I arranged for fingerstyle guitar. "Drowsy Maggie," "The Morning Dew," and "The Cup of Tea" all share a "morning" theme and were suggested to me by Dave Firestine, a great player from Arizona. We will look at a few excerpts in this lesson, but for the full arrangement, look at the end of this lesson.
The thing I love about this medley is that I get to use so many open strings. Folks are always curious about the tuning I use for this medley. They'll ask, "Is that DADGAD?" Jaws drop when I tell them it's good old standard tuning. You'll need to take your time working through these tunes because the picking-hand fingerings are a bit tough at first, thanks to all the cross-string playing. Just work through a couple of bars at a time and you'll get it. I've added fingerings for both hands wherever I thought you'd benefit from them, and you'll notice there are
lots
of them.
If you're familiar with the medley's first tune, "Drowsy Maggie," you'll notice I changed one note—the high E—that occurs at the end of measures 1, 3, 5, and 7, and is normally played down an octave. I chose to raise it an octave to give the line some momentum and separate the phrases. Notice how the high E sustains and the lower notes continue underneath. It's very important to plant your 4th finger solidly on that high E to make this happen.
In measure 2, notice how the F# is played on a lower string (the 5th) than the D (the open 4th), even though it's pitched higher. This kind of refingering can be tricky, but if you'll play this phrase over and over, you'll get it. Such cross-string fingerings come up many times in this medley, so it's best to get used to the concept quickly. Make sure you slide from the C# to the D in measure 4. This slide gets you in position for the last three notes of the measure.
One of the longer, cascading runs is shown in
Fig. 1
. The slide from C# to D and the hammer-on from G to A are crucial to making this phrase smooth, and the fingerings are very important for the cascading thirds in the example's fourth measure.
The second tune in the set is "Morning Dew." This one has four 8-measure phrases, so it's a bit of a longer form. The first thing to notice here is the passage shown in
Fig. 2
. Once again, higher notes (F# and E) are played on lower strings than the D. In the example's fourth measure, there's a slide from C# to D that's immediately followed by the pull-off from B to A. This mix of slides, pull-offs, and open strings is essential to emulating the harp-like flow found in many Celtic tunes.
"The Cup of Tea" is a three-part tune with three 8-measure sections. Here's where those pesky triplets come into play: In the first section shown in
Fig. 3
, the triplets appear in the example's first, third, and fifth measures. I can't stress enough how important it is to understand the triplet in Celtic music. They simply
have
to be played cleanly and evenly. To my way of thinking, if you don't play parts like this cleanly, then why play at all? If a guitarist doesn't care enough about the notes to make them all be heard, I just lose interest.
The passage shown in
Fig. 4
is probably the most difficult to play in the entire medley. So many of the elements we've used up to now occur here. The picking-hand thumb plays all the way down on the 2nd string—this is important for the strength of the melody. We have ascending and descending slides in the example's first two measures, a triplet in the second measure, and a pull-off in the sixth measure.
The last section of this tune—measures 57-64 in the arrangement—provides a nice way to wind down for both you and your listeners. It emphasizes chords, so the extended flurry of single-note playing finally resolves.
In Celtic music, so much is communicated in the ways that players approach a given set of notes. A fiddler will include slides, hammers, and pulls, and an Irish whistle player (whose instrument is also known as a penny whistle or tin whistle) will bend notes or finger a repeated pitch differently to create tonal variety. As guitar players, we should learn from them and do the same. We have so many options: We can bend up to a note, or pre-bend a note, strike it, and then release the bend. We can slide up or down. We can add hammer-ons and pull-offs. Keep all these things in mind as you play not just Celtic music, but
all
music. I think you'll be amazed at what you can come up with.
Download Arrangement PDF...
Download Arrangement Audio...
Pete Huttlinger
has become widely known as one of the most awe-inspiring acoustic guitar players in the world. His unique arrangements and spellbinding musicality and precision have entertained audiences from Los Angeles to Milan. As a recording artist, Huttlinger has released numerous albums and performed at all three of the Crossroads Festivals. For more information about his latest release, Finger Picking Wonder-The Music of Stevie Wonder, visit
petehuttlinger.com
. Photo by Paul Schatzkin.