Photo by Pepe Gomes
The intrepid guitarist celebrates his long collaboration with master percussionist Zakir Hussain and reflects on the groundbreaking cross-cultural fusion group, his longest running ensemble, and their new studio record, This Moment.
A few years ago, John McLaughlin's career hung in the balance. Stricken with painful arthritis in his right hand, the famously dexterous and ambitious guitarist couldn't maintain his playing. So, he announced his retirement from live performing, offering a final tour in 2017. In Billboard, the guitarist glumly mused: "You know, musicians never die. They just decompose. So, I'm on my way." Though he went on to mention planned recording projects, he now says, "I thought, 'Time's up,' the guitar goes under the bed, and that's it. I'm out."
"It was not to be," he now says from his home in Monaco. McLaughlin found his remedy in the teachings of Dr. Joe Dispenza, an American chiropractor, teacher, and best-selling author. The guitarist tuned into Dispenza's YouTube videos and found "a wonderful technique that incorporates meditation" in lieu of medication. "Since I've been meditating since the 1960s," he explains, "I incorporated this technique every morning."
Within six to eight months, the pain of McLaughlin's arthritis was gone. "It's amazing," he says. "I still do it, except I do it not just to my hands, I do it to my whole body." By 2019, McLaughlin was back on the road, and the records kept coming, too. In 2020, he released Is That So?—co-led with vocalist Shankar Mahadevan and percussionist Zakir Hussain—and his pandemic effort, Liberation Time, came out in 2021.
"I could not believe what I was seeing, hearing. It was like on Star Trek where you'd be instantly teleported to another planet. Another universe. Molecules taken apart and put back together." —Bill Frisell on Shakti
McLaughlin has now turned his renewed abilities to his longest running ensemble, Shakti, whose fusion of North and South Indian classical styles together with his intrepid guitar playing broke new ground in the '70s, helping to create a template for cross-cultural collaborations. The band continue to stand in a class of their own. "About 18, 20 months ago," McLaughlin said this summer, "I wrote to everyone and said, 'Let's record something before it's too late.'"
Shakti looks much different than when he first assembled the ensemble as a vehicle to work with master percussionist Hussain. Together, they are the two remaining original members, and they are now joined by Mahadevan as well as violinist Ganesh Rajagopalan and percussionist Selvaganesh Vinayakram, who is the son of Vikku Vinayakram, the group's percussionist during the '70s.
Shakti has naturally evolved throughout their span, but the inventive, collaborative spirit of the ensemble remains. With the release of This Moment earlier this year, the guitarist is reflecting on the evolution of the ensemble.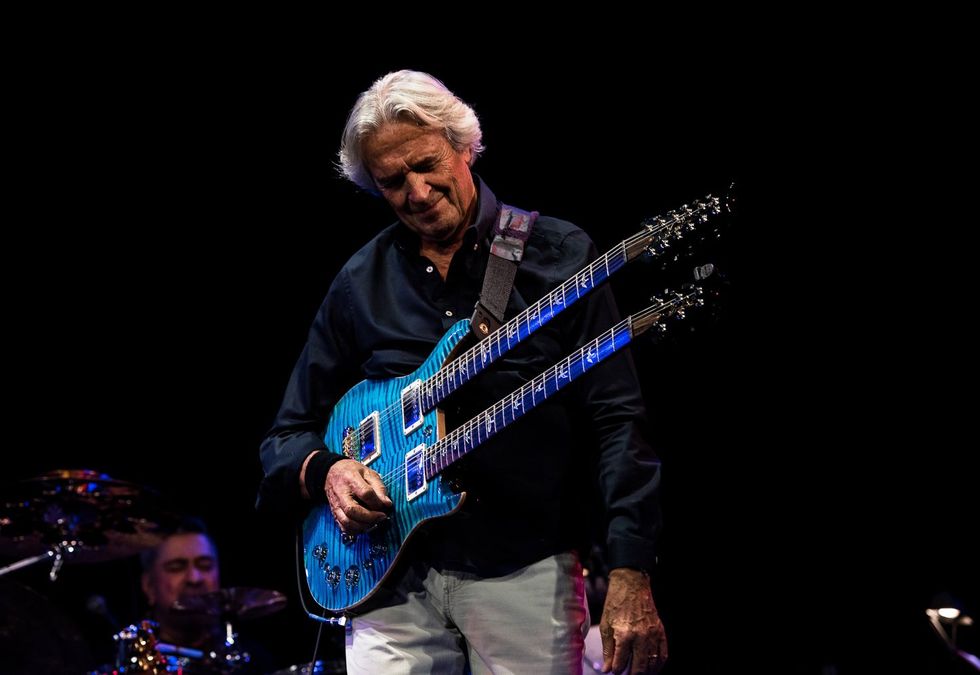 John McLaughlin with his doubleneck PRS on the 2017 tour that would not, in fact, be his last.
Photo by Alessio Belloni
 John McLaughlin's Gear
Guitars
PRS McCarty Violin model
Abraham Wechter nylon-string acoustic
Effects
Hermida Audio Zendrive 2
Sony DPS-M7
Seymour Duncan SFX-03 Twin Tube Classic

Strings & Picks
D'Addario strings
Jim Dunlop Jazz III Picks
First Run
McLaughlin says he became "enchanted" with Indian classical music in 1969. During this period, he was living in New York and playing with Miles Davis, and he began studying North Indian flute. "I don't play flute," he explains, "but it was really to learn some of the theory, some of the ragas, and to try to understand the rhythmic concepts that they used." That same year, he met Zakir Hussain, and the two musicians became friends.
It wasn't until 1972, though, that McLaughlin and Hussain would play together. During a visit with master sarod player Ali Akbar Khan at his school in Northern California where Hussain was teaching, the two had an auspicious impromptu musical meeting. "Being young and reckless," the guitarist recalls, "I just happened to have an acoustic guitar and Zakir had a tabla. After dinner, we decided to sit in front of the great Ali Akbar Khan and play something."
He continues, "Zakir Hussain is one of those rare musicians who are just instantly inspiring and are just masterly players. Within the first 10 seconds, I'm saying, 'I have to work with this guy somehow.'" When they were done, McLaughlin recalls that Hussain shared the feeling.
"I could not believe what I was seeing, hearing. It was like on Star Trek where you'd be instantly teleported to another planet. Another universe. Molecules taken apart and put back together." —Bill Frisell on Shakti
At this time, Mahavishnu Orchestra was on a creative hot streak—their conflagrant debut, TheInner Mounting Flame, was released in 1971, with the similarly scorching Birds of Fire to follow in 1973. Meanwhile, McLaughlin was studying the guitar-like South Indian veena at Wesleyan University, continuing to develop the vocabulary to converse with traditional musicians on his guitar. ("I'm not an Indian classical musician," he points out, "and I don't want to be an Indian classical musician. I'm a Western musician.") He was inspired to bring together South Indian violinist L. Shankar and a South Indian percussionist—initially Ramnad Raghavan—with both Hussain and himself, and the formula for Shakti was born. "This was the first time, in my experience," he explains, "that we had North Indian percussion and South Indian percussion together. The result was so marvelous."
Guitarist
Bill Frisell
, who was invited to open for Shakti on their 50th-anniversary tour this year, remembers the first time he heard the group while backstage before a gig in Denver, around 1975. A small black-and-white television was playing a PBS broadcast of a Shakti performance from Wesleyan. "Their first album hadn't come out yet," Frisell recalls. What he witnessed had no precedent.
Shakti in New York's Central Park in 2001, left to right: Zakir Hussain, U. Shrinivas, John McLaughlin, and Selvaganesh Vinayakram.
Photo by Ebet Roberts
Frisell remembers his reaction: "What was this?! I could not believe what I was seeing, hearing. It was like on Star Trek where you'd be instantly teleported to another planet. Another universe. Molecules taken apart and put back together. You find yourself in another world. A whole new world. John McLaughlin had already done this to me a few times before with Tony Williams, Miles, and the Mahavishnu Orchestra. Now this! Everything changes."
Over time, Frisell points out, the band's effect on him was profound, helping to inspire him to discover his own maverick voice. "A couple years later, I heard Shakti live for the first time at a concert in Boston. It was so overwhelming. There was a moment then where I thought I should stop playing. This was too much. Impossible. There's no way. This is too big."
Instead, he found a bigger message in the music. "I thought, 'I love music so much. Music is beautiful,'" he says. "Whatever I can do with whatever it is I've got, I'm going to try as best I can to make something out of it. Maybe I can't do what they are doing, but I'm going to find a way to do something. Music is big enough for everyone. Infinite. We all find our own way. Our own voice."
"That dang McLaughlin would certainly and regularly put all of us in our place." —Béla Fleck
John McLaughlin & Shakti "Joy" (Live Montreux 1976)
In 1976, the group released their debut, Shakti with John McLaughlin—now with South Indian percussionist Vikku Vinayakram—which to this day will test the limits of what an uninitiated listener might consider possible on an acoustic guitar. On the album, Shakti offers a dazzling display of rhythmic and melodic technicality that set them apart from their electric peers in the fusion scene.
"I can still remember hearing that first Shakti record and instantly feeling the connection to the music that I was getting involved into," reminisces Béla Fleck. The innovative banjo player and fellow Zakir Hussain collaborator was also tapped to join Shakti on their 50th-anniversary tour. "It was just such a shocking revelation that it could go in that direction. Everything about it had amazing personality, life, joy, and intensity."
Fleck, who has carved his own niche as a figurehead of acoustic fusion, recalls that Shakti's debut "seemed like an alternate world, but one somehow related to our burgeoning progressive bluegrass scene. I know it provided inspiration to many of my peers and heroes. But that dang McLaughlin would certainly and regularly put all of us in our place. No one could aspire to that level of ability and thought in our acoustic world!"
At the time of their debut, McLaughlin was using a large-bodied guitar built by legendary luthier Mark Whitebook, who also built instruments for artists such as James Taylor and Linda Ronstadt. By this point, he'd discontinued his veena study— "I don't have enough talent to master two instruments in one life," McLaughlin admits. "So, I went to my guru one day and I said I have to quit the veena [and focus on guitar] because that's how I eat, that's how I pay my rent, and I'm not able to handle both at once. And he was very understanding of that."
The veena, McLaughlin explains, "has giant frets with space underneath. The bending is marvelous." He sought to recreate that technique on an acoustic guitar with scalloped frets. After conferring with Ali Akbar Khan about adding drone strings to his instrument, McLaughlin and luthier Abraham Wechter, working for Gibson at the time, brought those ideas to life, creating a customized J-200 with scalloped frets and a set of seven drone strings underneath the main strings, which the guitarist played with a fingerpick he wore on his pinky.
While they've released a wealth of live recordings in the meantime, This Moment is Shakti's first studio recording since the late '70s.
That guitar can be heard on Shakti's subsequent pair of ambitious studio recordings, A Handful of Beauty and Natural Elements. If it seemed as though the group was just getting started, it sadly wasn't to last. "Around 1978, Vikku had to return to India to run the Academy of Percussion his father had founded," McLaughlin explains. "We finished our concert obligations with another South Indian percussionist, but we missed Vikku very much, and Shakti went to the back burner for a while."
Remember Shakti
While McLaughlin and Hussain continued to collaborate, it wasn't until the late '90s, when the percussionist received an invitation for the group to do a series of concerts, that Shakti returned. At some point, though, the guitarist had lent out his Whitebook and Wechter steel-strings. "When I called the people I'd loaned the Shakti guitars to," he regretfully recalls, "they both came back broken. So, here we have a tour coming up and the guitars were unplayable." (He adds, "I've given them away to people to hang on the wall. They're just decoration now. It's really a shame.")
Without either of his acoustic guitars from the earlier incarnation of the group, McLaughlin decided he would go electric. For this reinvigorated version of the group—which would be dubbed "Remember Shakti" on a series of live recordings, starting with 1999's self-titled release, though McLaughlin considers it all to be Shakti—he first called upon a Gibson ES-345 with a scalloped fretboard, though he used other guitars as well in this period.
Going electric helped usher in a new sound for the band. "What I wanted and what I got from the electric guitar was the sustain—to be able to play a chord and to hold," McLaughlin explains. He adds, "I'm the harmony department in the band, and I'm bending the rules because, basically, in Indian music, there's no harmony."
"I'm the harmony department in the band, and I'm bending the rules because basically, in Indian music, there's no harmony." —John McLaughlin
Remember Shakti - Live at Jazz a Vienne
In 1998, McLaughlin and Hussain invited electric mandolin virtuoso U. Shrinivas (often spelled Srinivas) to join Shakti. "I'd seen him when he was only 14 and he was already a killer," McLaughlin recalls. (By the time he joined the band, Shrinivas was in his late 20s.) He continues, "The electric guitar and electric mandolin work beautifully together. I was really happy about that. We had a sound together that really worked." Indeed, the two had a musical hookup so sympathetic that it can be easy to mistake one for the other on these recordings. Listen to the masterfully navigated high-paced musical twists and turns of "Maya," Shrinivas' composition from The Believer, to hear just how connected the ensemble had become.
In 2014, Shrinivas passed, and McLaughlin and his bandmates were distraught. Losing a member of the ensemble once again closed a chapter for the group. "We lost it for a while," he says.
Shakti 2023 (left to right): Zakir Hussain, Ganesh Rajagopalan, Shankar Mahadevan, John McLaughlin, and Selvaganesh Vinayakram.
Photo by Pepe Gomes
The Return
Now about a half century on, Shakti is back. McLaughlin explains that the band has always been geographically challenged—for the current lineup, Hussain is based in Northern California, vocalist Shankar Mahadevan in Northern India, violinist Ganesh Rajagopalan in Seattle, and percussionist Selvaganesh Vinayakram lives in South India. Getting everyone together simply became too difficult, which is why, he says, they haven't recorded a studio album since the '70s. But technology has caught up to their predicament, and the group was able to do a hybrid of live and remote sessions in order to create This Moment.
While the Shakti recordings of the 1970s were energetic, blazing sessions, the musical breathing room has continued to grow since the Remember Shakti period. That has much to do with the compositions, arrangements, and performances, but it's also easy, when comparing This Moment to the original recordings especially, to attribute that space in part to McLaughlin's long shift away from the plucky, percussive acoustic playing toward developing a softer electric tone.
McLaughlin has gone through many instruments over the course of his career—counting among them, in addition to his Shakti guitars, his iconic Gibson double-neck, a Gibson Johnny Smith, and a Wechter nylon-string. Most recently, he's been using a PRS. "I got my first PRS maybe 20 years ago from Paul. What a beautiful instrument," he remarks. McLaughlin owns several of Smith's guitars, but it's his black-gold McCarty Violin model he turns to most frequently. And it's that instrument that is primarily heard on
This Moment
.
PRS' new Private Stock John McLaughlin Limited Edition Signature Model features a maple top, mahogany back, hormigo neck, and African blackwood fretboard, plus some special electronic additions.
The builder is now paying tribute to McLaughlin with the Private Stock John McLaughlin Limited Edition Signature Model. Limited to just 200 instruments, it's an exquisite, detailed high-end solidbody. Featuring a maple top, mahogany back, hormigo neck, and African blackwood fretboard, the body has a high-gloss nitro finish, while the neck has only a clear grain filler. For electronics, Smith chose TCI pickups with volume and tone controls and a 3-way, plus two mini-toggles that act as high-pass filters.
"John McLaughlin is one of the geniuses of our business," says Smith. "He was at the forefront of inventing an entire genre of music called jazz rock. He's an extraordinary musician, guitarist, and songwriter. It's an honor to be involved with such a person."
As on much of his work in recent years, McLaughlin favors a soft, dark, and spacious, clean tone from his PRS for This Moment. On many of the songs—the driving multi-meter pulse of opener "Shrini's Dream," the waltz-like mid-tempo "Mohanam," and the bouncy "Las Palmas"—his simple diatonic chords create the center of gravity around which the ensemble work their magic. Don't dismay, we're still treated to plenty of high-speed McLaughlin picking throughout. But those moments give way to more sensitive ensemble interaction, which is at the forefront.
If the original trio of Shakti recordings at times feels as though the players were pushing each other to their breathtaking limits, then This Moment finds McLaughlin and Hussain warmly holding the door for each other and their collaborators. Tellingly, on "Bending the Rules," which finds McLaughlin taking a knotty solo, his most notable playing comes as he joins Mahadevan's expressive vocal melody, capturing the nuances in riveting unison.
"There's something profoundly joyful about Shakti and the spontaneity of it," McLaughlin shares as he considers the ensemble's long history. "This experience I had with Zakir in 1972 is still as valid today as it was 50 years ago. Which is, I think, the simple reason why Shakti is still together, although we've evolved and we're the only two original members."
When he talks about Shakti, McLaughlin repeatedly calls the members family and talks about their personal bond that extends as deeply as their musical one. Reflecting, he says, "Love, really, is what makes things work in the end, isn't it?" he says. "If the love is not there, especially in music, you might as well be a lawyer or an accountant."
YouTube It
Shakti performs an epic two-plus hour live set in Kolkata in January 2023, at the beginning of their 50th-anniversary celebrations, with a setlist culled from their entire history.
Photo by Monica Frisell
With his inventive touch, the prolific guitarist takes his latest musical exploration, Guitar in the Space Age, back to the future.
It's easy to forget how astonishing Bill Frisell's guitar style seemed when he arrived on the scene nearly four decades ago. Others had combined blues, country, or rock with jazz, but no one had yet synthesized them all—along with free improvisation, noise, and looping—into such a uniquely personal sound. Frisell was arguably the first electric guitarist to completely redefine the instrument since Jimi Hendrix.
After having recorded more than 50 albums, either as a leader or with others, it's understandable that an artist might want to look back, and Guitar in the Space Age is something of a musical memoir. Along with bassist Tony Scherr, drummer Kenny Wollesen, and Greg Leisz on guitar and pedal steel, the Denver-raised guitarist reworks some of the tunes that formed his musical DNA, and pays tribute to others that comprise the genetic makeup of any picker.
Eschewing obscurities for classics, Frisell and company place their stamp on such instrumental chestnuts as Duane Eddy's "Rebel Rouser," Link Wray's "Rumble," The Chantays' "Pipeline," and "Telstar" by the Tornados. They also assay "Bryant's Boogie" by Tele-master Jimmy Bryant and pedal steel virtuoso Speedy West. In fact, Frisell and Leisz could be considered a post-modern version of that dynamic duo. With the help of his unmistakable musical voice and a few pedals, Frisell brings the sound of Guitar in the Space Age into the digital era.
"I didn't want to just copy the originals … I just wanted to play the tunes with the language this band has developed from making music together so long."

What prompted you to record these classic guitar instrumentals?
It wasn't nostalgia. I was looking at tunes I thought I knew, back when I was getting super fired up about playing guitar. Viewed through 50 years of trying to figure out how to play, they look so different. I was playing a gig doing the John Lennon stuff [from 2011's All We Are Saying] with this band, when we fell into one of the tunes that wound up on Guitar in the Space Age. It made me think I should do a whole record of these tunes.
Another inspiration for this record was when Chuck Helm, the director of the Wexner Center in Columbus, Ohio, suggested we do the music of Speedy West and Jimmy Bryant. I said, "I can't play that fast." So he came up with the name "Not So Fast" and we played a show of that music—but slowed down.
Had you played any of the tunes when you were young?
I heard some of them before I ever had a guitar. My friend across the street had an Astronauts record and a little Stella, and I would go over there and pick at it. The first record I ever bought was a Beach Boys single with "Little Deuce Coupe" on one side and "Surfer Girl" on the other, and my brother had a Surfing with the Ventures album. By the time I got an electric guitar, it was past the surf music era. I sort of played "Pipeline." I never played "Telstar" because it was way too hard, but I heard it a lot.
Did you approach the tracking more like a jazz session or a pop record?
It was just playing the songs. Greg played a lot of guitar on this record, so there are a couple of places we overdubbed the steel, but we were mostly playing together in the room. I didn't really reharmonize anything or do much rearranging, but I didn't want to simply copy the originals either. I just wanted to play the tunes with the language this band has developed from making music together so long.

Bill Frisell has been using one guitar for the majority of his projects lately: a J.W. Black T-style with a Mastery Bridge and Callahan pickups. "Luckily he doesn't live in Seattle or I would be living over at his place," says Frisell of Black.
You kept the solos shorter than they might be on a typical jazz record.
I was trying to stay true to the song. For me, it's more and more about the many different ways you can play the melody—you can find so much in where you place things rhythmically, the way you hear it on a particular day, or how you phrase it.
Lately you've been playing on some pop records, including ones by Shawn Colvin and Lucinda Williams, as well as Stefano Bollani's jazz release on ECM. How do you adjust your approach when moving between genres?
When people are really listening and playing together, it feels the same—it doesn't involve switching gears. What's going on inside my brain and body is the same. I just try to get as deep into the music as I can.
Bill Frisell's Gear
Guitars/Amps
J.W. Black T-Style
Gibson Explorer GA-18
Effects
Electro-Harmonix Freeze
Ibanez Tube Screamer
Electro-Harmonix Nano Pocket Metal Muff
Line 6 DL4
TC Electronic Hall of Fame Reverb
Strymon Flint
Dunlop Cry Baby Wah
Strings and Picks
D'Addario .011 or .010 set
Dunlop medium
George L's cables
With Lucinda, I don't have to hold back anything. I am supporting her, I guess, but it feels like we are in the same world. She really responds to whatever note I play—I feel her emotional reaction. It's not like she's out front singing and I'm supposed to back her up. It's the same as when I'm playing with Stefano Bollani. Stefano's music was challenging, there are more chords, and we had never played together before, but hopefully you can get past that and just play.
Sometimes you play with people who just do what they do, and you don't feel what you're doing alters what they are doing. That's not as enjoyable, but it's not just with singers, it could be with any kind of music. Some avant-garde or bebop guy might always do the same thing, no matter what else is going on.
You seem to have a special connection with Greg Leisz.
It is super personal—it almost feels like the album is both of ours. The connection with Greg is so strong because we're the same age and grew up with those tunes. On "Rebel Rouser" I was really happy with the conversational thing we had, where the melody floats around and you can't tell who is who.
On "Cannonball Rag," were you fingerpicking or flatpicking?
I use the pick, but I have a weird way of grabbing at other stuff with my fingers. When I see a video of myself, I still don't know what I'm doing.
Is that an Electro-Harmonix Freeze at the beginning of "Pipeline?"
Yes—I was so excited when that thing came out! I'd been waiting for a box like that for a long time. On that tune I was using it like an organ player doing a drone.

Here's Frisell's pedalboard from a recent gig. Photo by Jackie Roman
What is the advantage of that over doing a loop with your Line 6 DL4?
It's having that instantaneous sustain. The Freeze instantly holds a sustained chord and I can play on top of it. I'd been wishing I could physically play one triad, and then another triad against it—with the Freeze I can do that.
Where do you put it in the effects chain?
I use an Ibanez Tube Screamer and then an Electro-Harmonix Nano Pocket Metal Muff, which is a really extreme fuzz. The Freeze comes after that, then a Line 6 DL4, and that goes into either a TC Electronic Hall of Fame Reverb or the Strymon Flint reverb/tremolo.
There's some wah in there as well.
I did use wah quite a bit on this record. It was an old Cry Baby. I think I got it in the early '80s. I'm pretty sure it was right after the distortion stuff, before the delay and reverb.
YouTube It
Watch Bill Frisell and his fellow space explorers as they tackle several songs from Guitar in the Space Age.
What amp did you use?
I used a little 1961 or '62 Gibson Explorer GA-18 with one 10" speaker for the whole record. I think I was using the tremolo on that.
Which guitars are featured?
I also used one guitar on the whole record. It's a Telecaster built by J.W. Black, with the Tele-style Mastery Bridge and Callahan pickups—I love the way those pickups sound. Jay opened up the back of the bridge so he could add a Bigsby. I've been playing that guitar for pretty much 90 percent of what I've been doing.
I first met Jay in the mid '80s when he worked for Roger Sadowsky. He went on to work at Fender, then he moved to Eugene, Oregon. Luckily he doesn't live in Seattle or I would be living over at his place.
How would you say this record differs from Have a Little Faith, where you also played music that influenced you?
In a way, that's a precursor to Guitar in the Space Age. On both, my connection to each tune is different. Some connections are deeply personal, like "Surfer Girl" or "Pipeline"—songs that have been around my whole life. Other songs are more of a tribute to someone, like Merle Travis. I wasn't trying to play "Cannonball Rag" as a kid—it's something I discovered much later and realized how important it was to the history of guitar. On Have a Little Faith, "Just Like a Woman" was something I'd been hearing since I was in high school, but I also recorded a Madonna song I had just heard recently because I thought it sounded good.
It is partially selfish: I want to play these songs. But I also want to show where I am coming from musically—this is me. We weren't trying to beat the originals, I just wanted it to feel true or real. We tried to do "The Wind Cries Mary" but it was somehow too heavy to attempt. Then I realized Hendrix was on the whole record: We wouldn't have played the songs the way we played them if he hadn't come along.
Since Guitar in the Space Age came out, we've done a whole bunch of gigs and the music is starting to take off. These records somehow feel like a starting point. The music doesn't stay the same.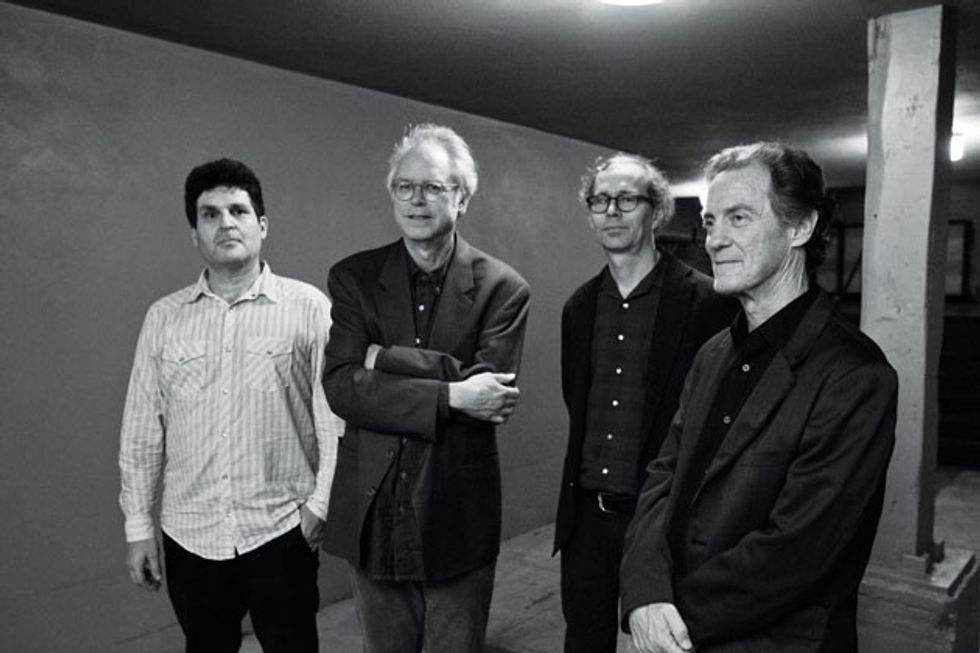 Bill Frisell's band for Guitar in the Space Age consists of Greg Leisz on guitar and pedal steel, drummer Kenny Wollesen, and bassist Tony Scherr.
Room for Two
Greg Leisz has been recording and touring with Bill Frisell, on and off, for almost two decades. Other artists Leisz has played with include Joni Mitchell, Sheryl Crow, Dave Alvin, k.d. lang, and Wilco—and that merely scratches the surface. The Los Angeles session ace discussed his unique relationship with Frisell before flying off to alternating tours with both the modern guitar legend and Jackson Browne.
Describe your musical connection with Bill Frisell.
The thing that appeals to me is the child-like spirit of adventure he brings to a song every time he plays it—that speaks to the similar child in me. Not knowing what's going to happen when you start playing, and not talking about it beforehand, excites me. It's a non-judgmental approach to playing music where anything goes.
Bill approaches music like a singer and I've spent years backing up singers, so we're complementary. Plus, he has his own way of playing with singers, where he can be weaving in and out of what they're doing, but still leave space for me.
What gear did you use on the Guitar in the Space Age sessions?
The guitar I played on almost everything was a refinished 1964 Jazzmaster I've had for almost 20 years. It has the Mastery Bridge, and, since the record, I've put the Mastery Offset Vibrato on it. The Jazzmaster is the premier guitar for certain aspects of surf music. For "Turn, Turn, Turn," I overdubbed my 1966 Rickenbacker 360. My pedal steel is a Williams—a single-neck 12-string with an extended E9 tuning.
I used the amps that were in the studio where we recorded. The steel ran through a silverface Fender Deluxe Reverb. The guitar went into a Fender Super Reverb and a Gibson amp, like Bill's GA-18. I used Strymon pedals: the El Capistan for delay, the Lex Rotary pedal, and the Flint reverb/tremolo. For the steel, I used an active, light-beam Telonics volume pedal. I also borrowed a Mu-Tron Bi-Phase.
I played mostly guitar on the basics and we overdubbed the steel to give it some of that "space age" feel.
Frisell divulges the inner workings of this album, clues us in as to how he manages to juggle so many intense projects simultaneously, and tells us about the 16-second delay that got away.
For many of us, 6:50 a.m. on a Monday morning would probably be the last choice of times to schedule an interview. But for Grammy-winning guitarist and composer Bill Frisell, this criminally early time was his only opening in the midst of a whirlwind tour, so we jumped at the opportunity to chat while he was waiting to board a plane at Los Angeles International Airport.
As one of the most sought-after guitarists in a wide variety of styles, demand spreads him so thin he literally doesn't have a second to spare. To give an idea, in a five-week span around the time of our interview, he debuted and conducted a score based on Allen Ginsberg's Kaddish (commissioned by and performed at the Park Avenue Armory in New York City), then flew out to Oregon the next day to lead three group projects—a quartet performing the music of Jimmy Bryant and Speedy West, a quintet performing the music of John Lennon, and his 858 Quartet, which is most often set up as a string quartet, but with guitar replacing one of the two violins. He performed a solo concert over a twoevening run at the Portland Jazz Festival, and then a few days later headed to Japan to do concerts with Vinicius Cantuária. He returned to the States to tour the West Coast with his Beautiful Dreamers group (headlining a night at the L.A. Philharmonic), and then jumped over to the East Coast with folk singer Sam Amidon, while hitting points in between as a guest with the Dale Bruning Trio and performing music he'd cowritten for the 2012 film The Great Flood. In just over a month's span, he'd taken on enough musical personalities to make Sybil the poster child for normalcy.
While Frisell is most often classified as a jazz guitarist, there's no question that he's infinitely more forward thinking than the many jazzers who focus on improvising over standards armed solely with a Gibson ES-175 and a Polytone amp. Sure, Frisell can fulfill his jazzbo duties by navigating the hardest of chord changes with the best of them, as he's done on "Moment's Notice" with none other than McCoy Tyner, and when tearing through John Coltrane's "26-2" with his 858 Quartet. But he unapologetically incorporates disparate influences like Americana, country, avant-garde, and contemporary classical into his music, and has no inhibitions about whipping out a looper, distortion pedal, or a sound freezer. In addition to working with a "who's who" of musicians across virtually all styles— Bonnie Raitt, Elvis Costello, John Zorn, Elvin Jones, and Ron Carter, among many others—he's scored films, including Finding Forrester and American Hollow, and had his music featured on several TV shows.
Frisell started out on the clarinet but picked up the guitar after being inspired by the pop music he'd heard on the radio. He attended Berklee College of Music during the '70s, which was a particularly fertile time in the school's history. During this decade, Mike Stern (who met his wife Leni through Frisell) and John Scofield were also students at Berklee, and Pat Metheny was on the faculty. By the '80s, all four guitarists were becoming jazz icons by ushering in the era of modern jazz guitar—reshaping the sound of jazz by breaking certain taboos that crippled the genre's continued viability in the changing musical landscape. They took a page from the Miles Davis playbook and incorporated influences like pop and rock, among other styles, and made it okay to use effects.
What notably differentiates Frisell from his jazz peers is that he's been exalted to royalty not based on virtuosic ability but, rather, on his pioneering sonic vision. Frisell's ethereal sound is instantly recognizable, and though you'll hear tons of musicians who are obviously influenced by him, you'll rarely hear them parroting his licks. Frisell's style is more about individuality, conception, and politely giving the middle finger to the stylistic rulebook.
One of Frisell's recent convention-defying ventures is Floratone, a collaborative ensemble project that takes a recorded improvisation and—with time and a lot of studio-generated revisions—morphs it into something unusual and unexpected. The sessions start with Frisell and drummer Matt Chamberlain just letting tape roll as they freely improvise. These master tapes are then put in the hands of producers Lee Townsend and Tucker Martine, who rummage through the files to dissect choice parts for compositional repurposing.
This studio reconstruction is somewhat reminiscent of Teo Macero's work on Miles Davis' In a Silent Way and Bitches Brew, two albums that had a profound impact on the budding guitarist. "Those records are gigantic inspirations," says Frisell. "For me, it was sort of like The Beatles, as far as being huge and basically changing my life." Floratone's self-titled debut was released several years ago and received critical acclaim. The collaborative recently released the follow-up, Floratone II, which also features appearances by industry legends Jon Brion and Mike Elizondo.
In this interview, Frisell divulges the inner workings of this album, clues us in as to how he manages to juggle so many intense projects simultaneously, and tells us about the 16-second delay that got away.
Floratone really blurs the line between improvisation and composition. Can you explain the band's unique writing process?
Of all the things I've done, Floratone is definitely the most studio-involved. Most of my own music is more of a documentation of a band or some composition that I write, and it sort of captures whatever happens in a particular couple of days. The germ or the seed of Floratone comes from this wide-open improvising with Matt Chamberlain and myself—it's a completely spontaneous thing. We'd go in the studio for a day or two, and put hours of stuff on tape, and then just leave Tucker Martine and Lee Townsend with this big mess of stuff. We give them the tapes and let them go wherever they want to, and it's wild to hear what comes back.
Did you edit the tapes before presenting the music to them?
They just take the whole thing. So much of the responsibility is up to Lee and Tucker to figure out a way to get it all into a manageable one hour of music. It's kind of a luxury. If it were my own record, then I would be sweating over every little second of it and worrying about this and that. Floratone II happened over an even longer period than Floratone.
This approach must involve an extremely high level of trust from all parties involved.
All of these people are super close-and-trusted friends I've worked with a lot. Lee, I've done about 30 albums with. I haven't done that many with Tucker, but we've known each other for around 25 years. Floratone is like a band, but for those guys, their instrument is the studio. This is a way to let them go full tilt into what they do. At the same time, I'm going full tilt into what Matt and I do.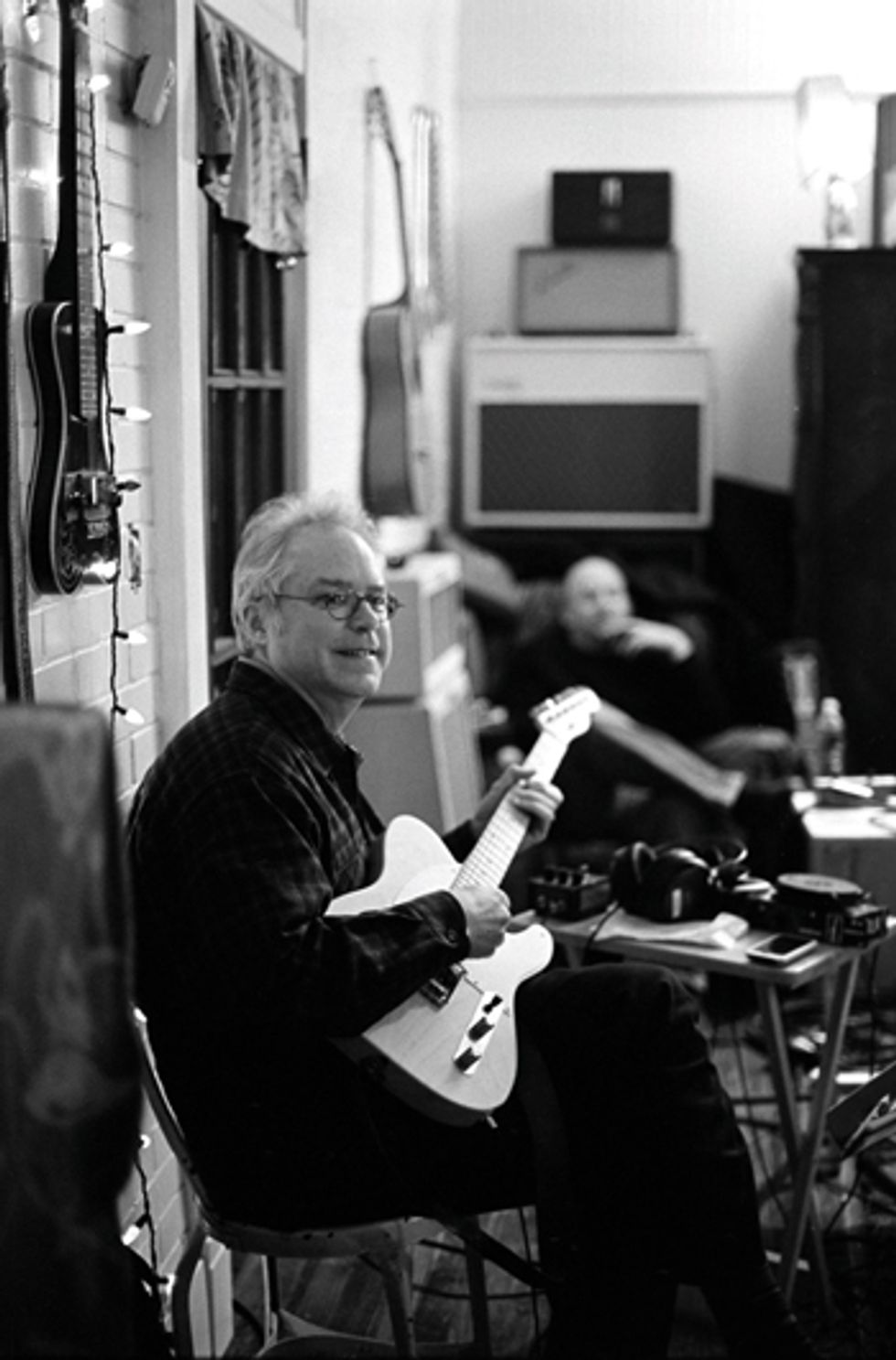 Did you try to steer the Floratone II sessions into a different direction than Floratone?
I didn't. Lee and Tucker were the ones that made those decisions about what was going to be on it, so much of the direction is really pointed by what they chose. I'm not sure; I guess I'd have to ask them if they actually consciously thought about trying to make it different.
Did you or Matt present any guidelines like tempo, key, or feel to each other before starting a jam?
There was no discussion at all, which was great. It was like, bam, and we just start playing. There was no stress or anything and it was really fun. Matt is like an idea machine—every second something amazing would come out of him.
You're also involved in the process again later, right? You compose string and horn parts to be layered, and you and Matt also add more guitars and drums.
It happens in all these layers. It starts with just improvising, then editing, and then we go back and start adding more guitars and drums. I wrote those string and horn parts and then they went to L.A. I wasn't there for that either. That was weird, too, because I think the last thing I did was write those melodies. After we recorded that, Matt put on some more drums and they did some more editing. They went to L.A. and Jon Brion put some stuff on and Mike Elizondo put bass on. And then they mixed the whole thing and I didn't hear it until it was completely finished. It was kind of far out.
It must be a trip to hear the final product.
I won't even remember what we played and then a couple months later we'll get together and they'll have this thing whittled down to an hour's worth of music. I think at one point, even a year went by without me hearing anything. It was like, "Wow, where did all that come from? I don't even remember playing it."
When you heard the final outcome, at any point, did you think to yourself, "That's not what I had in mind at all?"
No. I didn't have any preconceptions about what I wanted it to be. I just hoped that it would be cool. It was really fun and surprising when I would hear it after all that time.
So when you were improvising, you didn't have any specific harmonic frameworks in mind that you expected them to later work with?
No, not really. There are certain things that happen maybe a little bit later in the writing process where there are harmonies that were more intentional. But absolutely nothing was figured out beforehand. I didn't think, "Oh, I'm going to play this chord progression or that." There was really no thought.
Considering your jazz background, where mastery of harmony is a requisite, and the fact that you're still currently playing difficult, chord-changeintensive Coltrane tunes like "26-2" and "Moment's Notice," you probably can't un-know what you know. How are you able to let go of your harmonic awareness and just play freely?
I think that having played those kinds of tunes definitely has a huge impact on what my instincts are about—I'm not thinking that way but I know it. It's not a conscious thing. No matter how abstract I get or whether I'm thinking about chords or not, having had the experience of playing that kind of harmony definitely had an effect on me. That's why I keep playing that song "26-2," to get it to the point where it's so deeply ingrained that it feels the same as if I'm just completely spontaneously making stuff up.
This brings to mind Mike Stern. I played "Giant Steps" thousands and thousands and thousands of times, over and over again with him—just the two of us. We would practice that tune or "Moment's Notice." He definitely took it to an incredibly deep level of understanding. I did a lot of that stuff with him and it was an amazing time.
The multiple layers on the tracks are like a jigsaw puzzle and it's fun trying to figure out which part came first. For example, in "Parade," there's a short guitar solo. It starts off with the same two notes the ensemble plays earlier in a repeating two-note descending minor-third figure, just in a slower rhythm.
I'm not positive. I'm trying to remember. I played some guitar when we recorded the horns. But it also could have easily been something that was there in the track that I was reacting to when I wrote the horn part.
A Frisell fan might hear a track like "Do You Have It?," which on the surface just sounds like a layered groove, and not "get it" until he understands the compositional process behind it. I hope this doesn't come off the wrong way, but is an awareness of the compositional process integral to having an appreciation of some of the tracks on Floratone II? How would "Do You Have It?" hold up as a piece on its own compared to your other works, if you removed the compositional process from the equation?
Wow … only time will tell. I have no idea. I guess the hope is that in the end, it's just going to be music. It's more about the whole overall sound of the thing than solos. Hopefully you don't have to understand where it comes from. Hopefully it's going to be good to listen to.
You typically juggle a mind-boggling number of high-intensity projects simultaneously. How do you keep it all straight in your head?
The music itself is never a problem. It's all kind of swimming around in my head all the time almost simultaneously. So when I'm right there with the people I'm with, it's never a problem. If I'm really playing it's all coming from the same place. As soon as I'm in the music, the music takes over and everything is cool. Where I really get stressed out is just preparing for when I go out on these trips and I'm gonna have five different things that I know I have to deal with when I get to wherever I'm going. It's more about just remembering all I have to bring with me.
Jazz musicians tend to be pretty conservative and true innovation is often met with resistance. How did you find the courage to pursue your own voice in what could sometimes be a hostile climate?
I've been real stubborn about trying to do my own thing, but at the same time I realize it's kind of a fragile thing. We're all trying to find our own way. Every once in a while I guess I'd come up against some resistance or something, but I think I've been super lucky. Right at a crucial moment there's always someone there who encourages me rather than discourages me. I've been discouraged a few times, but more often somebody will say, "Yeah man, you sound great." Playing with somebody like Paul Motian was a huge thing for me as far as the confidence in doing my own thing. Really, it started with my parents, who were cool about me wanting to play music, or thinking back to when I was playing with Mike Stern all the time. If these people hadn't come along right at a particular moment, the story could be completely different.
Stern, Pat Metheny, and John Scofield also attended Berklee College of Music, and all four of you later became instrumental in moving jazz guitar forward. Were you all there at the same time?
Mike Stern wasn't even really in school anymore, but he was around town when he wasn't out with Blood, Sweat and Tears. Pat was no longer teaching at Berklee when I got there in the spring of '75, but he was still living in Cambridge and playing with Gary Burton along with Mick Goodrick. He did gigs at little places like Zircon and Poo's Pub with Bob Moses and Jaco Pastorius. Scofield had already left town just before I got there. I actually didn't meet him until I moved to New York in '79 or '80 but everybody was talking about him. There's a quartet record with him and Terumasa Hino, Tony Williams, and Ron Carter that's just incredible.
Another way that you've carved your own path is with your equipment. While the hollowbody is still the de facto jazz guitar, you've used an SG and even headless guitars at one point. Speaking of which, are you still using the Klein guitar?
No, I haven't used that for a long time. I sent it back to get repaired years ago and it went away from me for quite a long time, so during that time I started getting back to mostly Fender stuff. I've been playing Telecasters a lot—different versions of it—and most recently I've also been playing Stratocasters.
Mexican- or American-made Fenders?
A bunch of them. I had a Mexican-made Thinline Tele. I changed all the parts on it and everything.
What swaps did you make?
Oh man, I've definitely gone off the deep end. Getting into Telecasters you start thinking, "What does this pickup sound like and what does that pickup sound like?" I have Lollar, Don Mare, Lindy Fralin, and Seymour Duncan pickups—the Antiquity model. I also use a Tom [TV] Jones Filter'Tron pickup in the neck position of a Nash Tele-style guitar. What's kind of seductive is that it's all still this basic Telecaster and I can get comfortable with the scale, size, and shape of the guitar to where it feels at home, but from one to another—putting certain pickups in certain guitars—there are amazing differences.
Any other guitars?
I also have a few Tele-style guitars that are put together or modified by J.W. Black. He also recently made me a Strat-style guitar that is very similar to my original '63 Strat, which I played a lot, along with a Yanuziello guitar, on All We Are Saying. I also have a Rick Kelly Tele-style made out of pine from a piece of wood taken from Jim Jarmusch's old loft on the Bowery. It's got Lollar Charlie Christian pickups, and I used that one on a lot of things—Sign of Life, The Windmills of Your Mind. I Just got a Collings I35-LC, which is an incredible guitar.
Your use of effects also opened the floodgates for many jazz-based guitarists. First off, let's talk dirt pedals. Are you still using the Pro Co Rat?
Sometimes I'll use the Rat. Mostly though, it's an Ibanez Tube Screamer, and I also use a Fuzz-Stang pedal, which is made in Portland.
Bill Frisell's Gear
Guitars
Fender Telecasters, Fender Stratocasters, Fender Jaguar, Fender Jazzmaster, J.W. Black T-style and S-style guitars, Yanuziello, Rick Kelly T-style guitar, Collings I35-LC, Nash Tstyle, Gibson ES-125, Collings D1, Gibson LG-2, Andersen Concert Model flattop, Andersen Custom 17 archtop, Andersen Little Archie
Amps
Fender blackface Princeton, Gibson Explorer 1x10, Carr Sportsman, Jack Anderson
Effects
Line 6 DL4, TC Electronic Hall of Fame, Ibanez Tube Screamer, Pro Co Rat, Electro- Harmonix Freeze, WrightSounds Fuzz-Stang, Voodoo Lab Pedal Power 2
Strings, Picks, and Accessories
D'Addario .011s (sometimes .010s), Dunlop medium (green), George L's cables
What are you using now for that characteristic shimmery sound?
I use the Line 6 DL4 a lot. I also have a TC Electronic Hall of Fame reverb.
Does the Hall of Fame replace your Lexicon MPX 100 rackmount?
Yeah, it started making noise and stuff. This little thing is kind of amazing. I'm just carrying all my stuff around—I don't have roadies—so it's good if it's small.
Do you still have that Electro-Harmonix 16-second delay?
I wish. That's one of the most amazing pedals. I actually have two of them, but they don't work.
Have you tried the reissue that came out a few years ago?
It's totally not the same thing. A couple of months ago I was in a store in New York City and they had an original one in perfect condition. I started messing with it again— I hadn't used one for a long time—and it brought back memories like, "Oh man."
Did you buy it?
No, I just got scared. It was $1,300. So, I actually have to board the plane now.
Youtube It

A glimpse of Bill Frisell's 858 Quartet playing a wicked rendition of John Coltrane's brain-busting "26-2."

Frisell accompanies Elvis Costello on "If I Only had a Brain," a song popularized by The Wizard of Oz.

Frisell and jazz giant Jim Hall play a duo version of Frisell's hauntingly beautiful ballad "Throughout" at the 1995 Umbria Jazz Festival.