Guitar Madness at the 2019 Big Ears Festival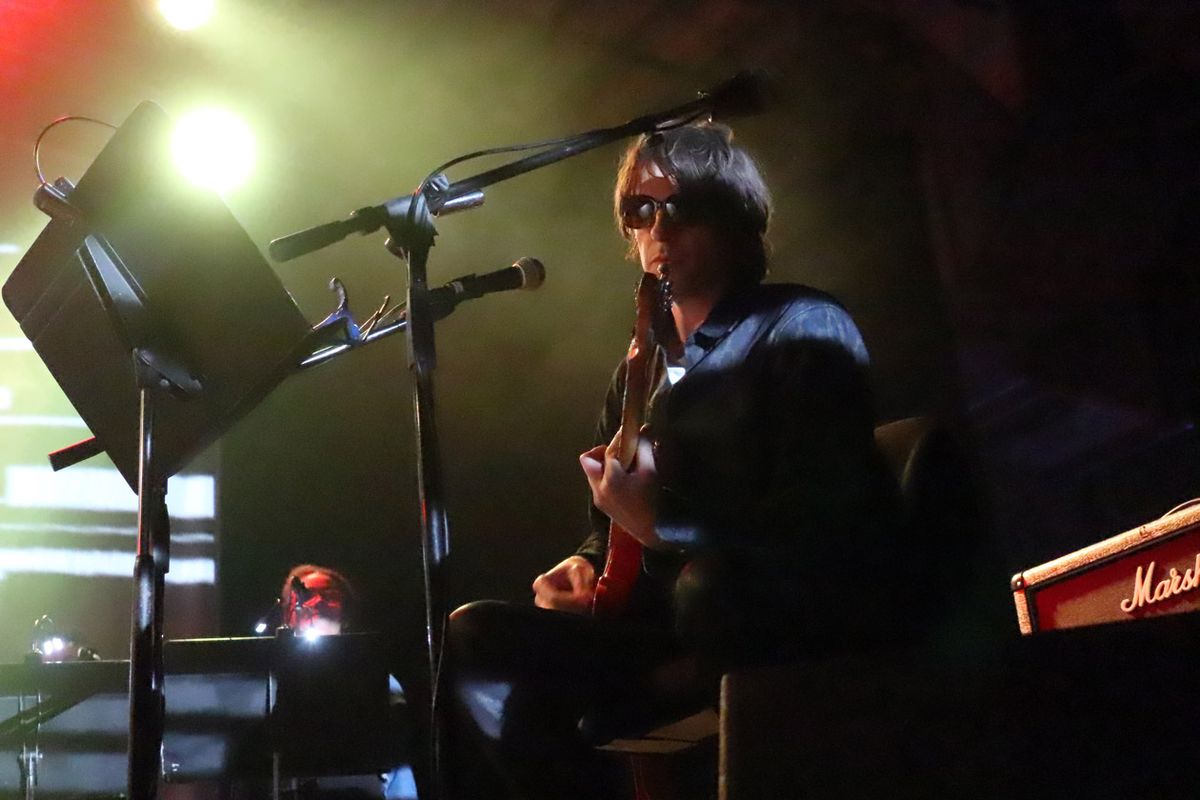 Photo by Laurie Hoffma
Bill Frisell, Richard Thompson, David Torn, Mary Halvorson, Anthony Pirog of the Messthetics, and Spiritualized were among the 6-string explorers at America's edgiest music gathering.
Knoxville, Tennessee — Imagine a Comic-Con celebrating the superheroes and wizards of improvised and composed music that's staunchly, stubbornly, and superbly outside the box. That's the Big Ears Festival, a four-day foray into the sonically outré that's staged in a cluster of theaters, clubs, event spaces, churches, storefront galleries, and museums—all within a comfortable walking range—in the heart of this city that was once Tennessee's capitol.
The 10th anniversary edition of the festival, compressed into more than 100 events from March 21 through 24, reflected its name in a wide embrace of styles including jazz, rock, folk, textural music, bluegrass, improv, classical, electronic, world, and out-of-this-world. There was the 12-hour drone, which blended elements from almost all of those genres as 24 artists and bands from the festival passed the baton to create a shifting soundscape over visuals from midnight Saturday to noon on Sunday. And a Big Ears subtheme was a celebration of 50 years of the ECM label, so a wide range of ECM artists were present, from the historic Art Ensemble of Chicago to guitarists Bill Frisell, Ralph Towner, and David Torn to avant-garde pioneer Meredith Monk to the piano duo of Vijay Iyer and Craig Taborn. Plus, for the truly hard-core, there were panel discussions that explored—among other topics—"Sound and Spatiality," creating from cultural history, and the importance of the Art Ensemble of Chicago, which is celebrating its own half-century of exposing and expanding African-American music.
For fans of guitar music, it's a guarantee of multiple opportunities to stand at the chasm of the great musical unknown, and jump in.
I love all that stuff, but—truth be told—I went for the guitars. The deadline for the May issue of PG prevented my arrival at Big Ears until Friday evening, the 22nd, so I missed the lyrical and creative New York City-based composer and guitarist Rafiq Bhatia, as well as Ralph Towner, who pioneered a fusion of classical and jazz guitar with the Paul Winter Consort and the group he cofounded, Oregon. But I arrived in time to see an improvising matchup of Frisell, Torn, saxist Tim Berne, and vocalist/multi-instrumentalist Aurora Nealand … or so I thought. By the time I'd picked up credentials and gotten to the line, it stretched down a very long block and the handy Big Ears app on my phone said the show was at capacity even before the first note.
Luckily, this is a festival with plenty of alternatives—even for the guitar-centric, so I trundled to a concrete, steel, and brick venue called the Mill & Mine for Spiritualized—J. Spaceman's psychedelic pop franchise now in operation for 29 years. Against a backdrop of trippy digitized lighting, the band's droning, throbbing songs had a suitably transportive character. Not surprisingly, Spaceman, aka Jason Pierce, sat with his side turned to the audience under his Beatle cut and behind black sunglasses, playing directly, instead, to fellow guitarists John Coxon and Tony Foster. The latter took a biting solo on his Les Paul Custom at the apex of "I'm Your Man," from Spiritualized's 2018 album And Nothing Hurt, and Foster and Coxon primarily laid down slow-moving melodies that twitched and unfurled in waves of tremolo and delay. But it was Spaceman who created the essential sonic framework for this nine-piece version of Spiritualized, with a pair of thinline Telecasters and another essential tool: his wah pedal. Spaceman's peripatetic foot worked it almost constantly, putting a prominent lysergic shiver into the music's core.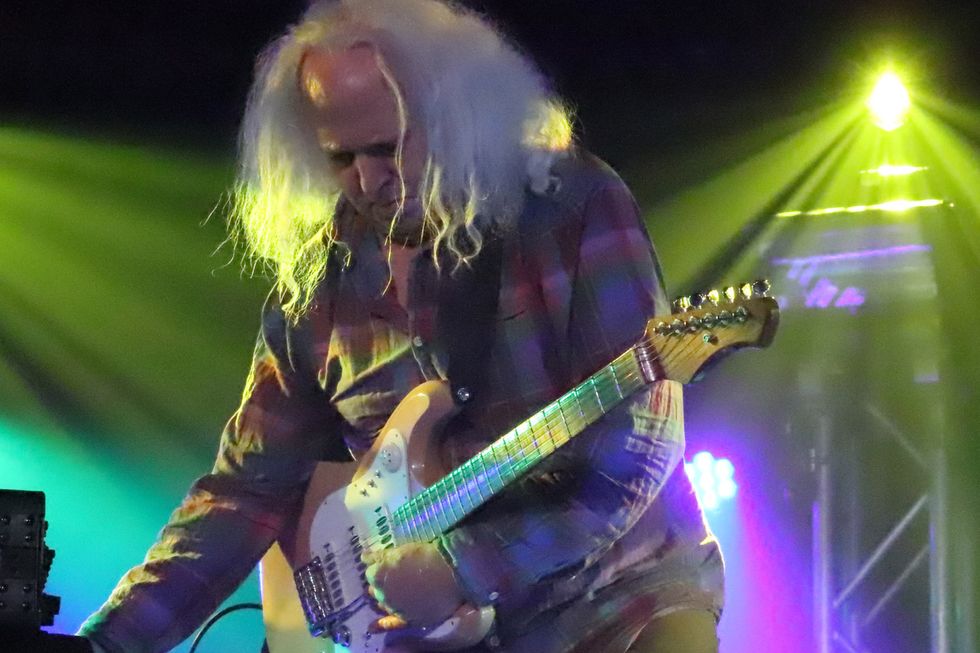 Key artists like David Torn, captured here as he brought his solo set at the Standard to a close, made multiple appearances at Big Ears. Torn also played with his band Sun of Goldfinger and in an improv quartet that included Bill Frisell.
Photo by Laurie Hoffma
From there it was a quick jaunt across a bridge spanning the freight yard that splits the downtown center from Knoxville's Old Town section, to catch a solo performance by David Torn. As I walked into the Mill & Mine's sister venue, the Standard, the pioneering 6-string looper and virtuosic master of effects was within the center of his own sonic cyclone, laying down patterns with his Ronin Mirari guitar and stretching them like silly putty via a pair of Lexicon rackmount delays and a coterie of stomps. These days, Torn really does look like a wizard, with an explosion of long grey hair, so his sonic conjuring seemed entirely fitting. The set concluded with a loop that he made tweet and caw as it worked its way to silence, and then he was off, presumably to recharge before his next aural adventure.
And that's one of Big Ears' charms. Although it was possible to get shut out of events due to the crowds, with planning it was also possible to catch popular artists from Harold Budd to Rhiannon Giddens to Torn, because they made several appearances in different contexts. Torn, for example, performed again later in the program with his band Sun of Goldfinger.
Bill Frisell also made numerous appearances: a duo with bassist Thomas Morgan, the quartet mentioned earlier, a show with banjoist Abigail Washburn, his roots and standards band Harmony with vocalist Petra Haden, and his trio the Mesmerists with bassist Tony Scherr and drummer Kenny Wolleson. I caught him with the trio at the Bijou Theater, a restored early 1900s vaudeville house, and was glad for it, as Frisell played a relentless succession of melodies throughout his scores for silent films restored and visually processed by director Bill Morrison.

Bill Frisell's popularity among adventurous listeners was underscored by a series of at-capacity shows, including a trio set of his scores for the reclaimed silent film edits of director Bill Morrison at the 700-capacity Bijou Theatre.
Photo by Laurie Hoffma
Mostly, it was the kind of melodic post-bop blowing that established him early in his career, which he doesn't play often these days. When his scores for the films called for his distinctive chordal passages, they were sometimes made haunting with a bit of extra delay or reverb. That was perfect for the dark stunner called The Mesmerist, a film with Boris Karloff and Lionel Barrymore that gave the trio its name. There were also flashes of Hendrix in Frisell's playing, when he'd stomp on an overdrive and let rip, kicking up the performance's already high and constant energy level. Since most of Frisell's concerts reached capacity quickly, he's clearly a star within this realm of outsider music.
That was late Saturday night. Earlier Saturday, back-to-back performances at the Standard featured two of today's finest emerging guitarists: Mary Halvorson and Anthony Pirog. With the trio Thumbscrew, Halvorson, bassist Michael Formanek, and drummer Tomas Fujiwara played knotty and intense composed jazz, all performed from sheet music. The trio dug in hard. Halvorson's tone was clear but also heavy, with round plummy notes cascading from her custom Flip Scipio guitar with a vintage D'Armond pickup. Sometimes those notes came at extreme velocity. Although it was a satisfying performance, it left me wanting to hear her improvise more.
My wish was fulfilled during the finale of the Messthetics' set, which came next, when Halvorson and Pirog, who is the lead instrumental voice of that band, teamed up for a ferocious exchange. Pirog played an arrangement from memory while Halvorson sight-read at extraordinary speed as they spit out unison lines that seemed to strain the sound barrier. And at one point, they stepped away from script to trade scalding improvised lines with incendiary effortlessness.
That dueling finale was the capper on one of the festival's most exciting performances, by the Messthetics. The trio managed to be hypnotic and transportive—a word that tempts use in describing many Big Ears sets—even while rooted by the absolutely commanding bedrock of bassist Joe Lally and drummer Brendan Canty, the rhythm section for Fugazi.

In one of the festival's peak performances, the Messthetics—with Anthony Pirog on guitar alongside drummer Brendan Canty and bassist Joe Lally—tore a hole in the sonic fabric, blending elegance and ferocity. Photo by Ted Drozdowski
Although the tone of the Messthetics' music was different—with more rock and raw brute force for ballast—they updated the magic of the early Mahavishnu Orchestra, or Larks Tongues in Aspic- and Red-era King Crimson. It was instrumental yet spoke volumes, with Pirog shifting between melodies that elevated with pastoral beauty or rained hellfire from song to song, sustaining a rich and varied emotional landscape. Although I chose the band's debut album, called The Messthetics, as one of my top three for 2018, I was unprepared for their soaring majesty and power in concert. It was a conversion experience, and I walked away an absolute fan of both the band and Pirog, whose technique, tone, breadth of stylistic command, and control of effects makes him a full-on modernist guitar hero.
And speaking of guitar heroes, Richard Thompson was also on the must-see list, in an unconventional—a Big Ears specialty—context. Supported by the Knoxville Symphony's string section, Thompson sang the piece "K.I.A.," short for "Killed in Action." It's a bloody recounting of the horrors of World War I, which introduced the world to weapons of mass destruction—specifically gas. Using the words of survivors from the trenches, the 17 short movements of the piece shifted from bright and joyful (the War's beginning) to dour and horrific, with angular passages coloring in the details of death and mutilation, and the skittering strings of violins, violas, and cellos portraying the scampering waves of rats that hunted the trenches at night and fed on the wounded.
Thompson made occasional musical cameos on his signature Lowden acoustic at the Bijou concert, but mostly his voice brought the voices of the long dead to life. He joked at the end of "K.I.A." that it was an especially dark tale, even by the standards of his own often bleak pen. And while he promised a more cheerful second set plucked from his own catalog, he offered more songs about murder, thwarted desire, and lost love—and did it all in good fun.
Good fun is one way to describe this festival, which is unique for its urban setting and musical scope among American festivals. It's also the invention of Ashley Capps, who founded Bonnaroo and must harbor deep love for the eccentric and adventurous. Mind-blowing is another description heard often in the crowd. For fans of guitar music, it's a guarantee of multiple opportunities to stand at the chasm of the great musical unknown, and jump in.
---