Photo by Norman Wong
Hard-hitting, dance-punk duo Death From Above 1979 takes production into its own hands and delivers an onslaught of noisy dance mayhem on Is 4 Lovers.
For brash Canadian rock 'n' roll duo Death From Above 1979, the road to maximum impact has always been paved with as few elements as possible: drums, vocals, a bit of synth, and some wildly athletic and fuzzed-out bass guitar.
Bassist Jesse Keeler and drummer/vocalist Sebastien Grainger came out of the gate swinging in 2004 with their debut LP, You're a Woman, I'm a Machine, a record that proved the band's mix of unexpectedly sparse instrumentation, danceable rhythms, highwire vocals, and grimy, hardcore punk sonics to be a tremendously compelling sound. The duo imploded shortly after that album's release, but the waves created on that record would ripple long after the split as DFA 1979's legend grew.
Death From Above 1979 - One + One (Official Music Video)
When Keeler and Grainger regrouped in 2011 and set about recording their sophomore effort, The Physical World, there was tremendous pressure to nurture and preserve the sound of that first album in order to avoid alienating the fanbase they'd harnessed in their time away. Keeler explains, "When we started playing again in 2011, this idea of Death From Above was an external thing that had lived without us, so we came back to it not wanting to screw that up. We were working in service to this thing that had lived without us. That's exactly how the producers felt, so we had those producers to keep us being that band."
The Physical World, produced by Dave Sardy, made good on the band's intentions to hone the brutal dance-punk sound that made the band's debut such a smash, and the group's 2017 Eric Valentine–produced effort, Outrage! Is Now, opted to stick to a similar program. Rather than tread water for a fourth release, DFA 1979 has returned with a decidedly playful new record entitled Is 4 Lovers, which brings a new, defiant flavor to the band's discography.
"I have riff diarrhea. I have riff IBS and I just can't shut it off!" —Jesse Keeler
Is 4 Lovers takes listeners on a turbulent trip straight to the center of Keeler and Grainger's musical psyche. The record feels not unlike a sweaty, blistering live set as their dancy churn and gritty sonics remain intact, especially on tracks such as "Totally Wiped Out," and the two-part "N.Y.C. Power Elite." Elsewhere, songs like "Glass Homes" and "No War" show a new level of maturity in the band's sound as the combative edge that lined their past efforts has been replaced by a heavier dose of melody and a more thoughtful use of effects and synths.
This time around, Keeler and Grainger decided it was time to take production duties into their own hands. As a result, Is 4 Lovers may be the purest expression of what DFA 1979 is about since their debut.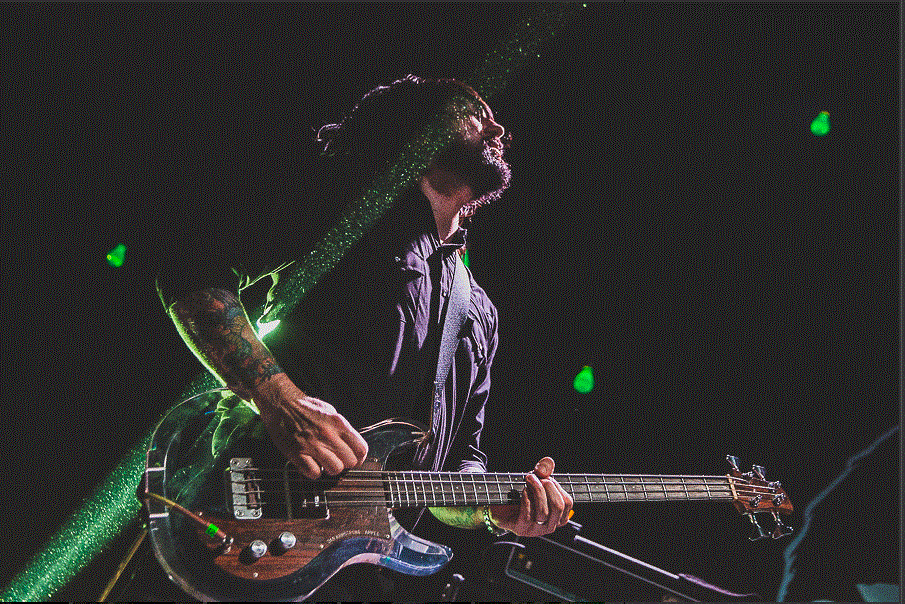 Jesse Keeler's Dan Armstrong Lucite basses are all outfitted with custom pickups made by Kent Armstrong, son of Dan Armstrong. Keeler also swaps out the original fixed rosewood bridges for custom brass units milled by Canadian luthier Les Godfrey.
Photo by Debi Del Grande
Frustrated with how other producers changed their sound in the past, Keeler explains their decision: "We wanted to make it really apparent on this album that you're listening to the band—just the two of us. Part of being in a two-piece 20 years ago was dealing with people in the music business who thought it was a bad idea. They liked the music, but they thought it would need help. Producers always wanted to pad up the sound. It's not a knock to anyone we've worked with in the past, but if you're someone that's mixed all these records where the guitar is a really important thing and we ask them to do the same thing with our sound but without the tools they're used to working with, it can be tough. Doing it all ourselves, we don't have those hang-ups and we never come at it thinking there's this hole we have to fill in our sound."
The duo still makes a hell of a lot of noise on Is 4 Lovers, even without a producer pushing them to pad their sound with additional instrumentation. As longtime fans will expect, Keeler's bass tones kick the listener in the jaw with plenty of the square-wave filth he's reveled in since DFA 1979's inception. However, his rig has changed dramatically for the first time in the band's history. Rather than plugging into his trusted backline of a vintage Peavey Super Festival F-800B and an Acoustic 450 head—a pair of amps which Keeler has always described as defining elements of the band's sound—the bassist tracked his parts with a pair of Orange Bax Bangeetar preamp/EQ pedals that he modified himself.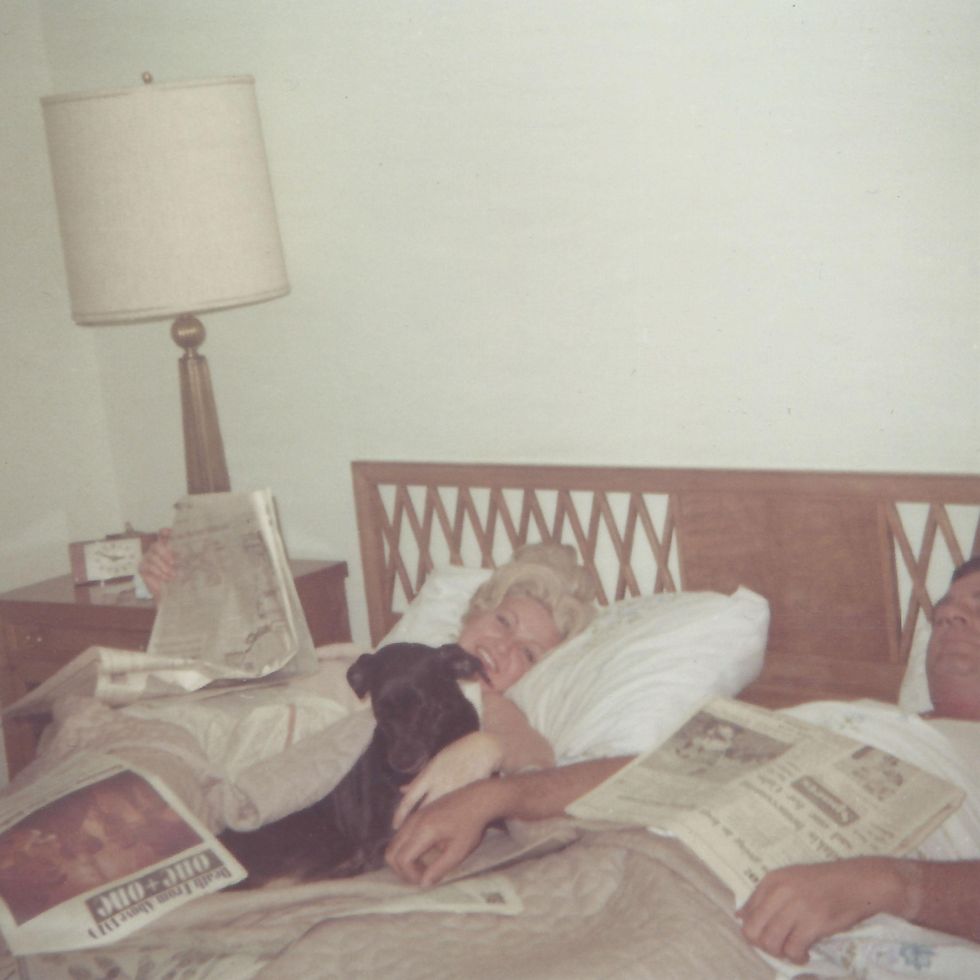 TIDBIT: Death From Above 1979's fourth studio album, Is 4 Lovers, was entirely written and produced by band members Jesse Keeler and Sebastien Grainger and recorded all in one room.
Why the change after so many years? Part of it was the need to sidestep the isolation headaches of miking loud amps while the duo tracked Is 4 Lovers live, together in one room. But Keeler also found the modded Bax Bangeetars remedied some things he always disliked about his tone."The old rig sounded good through the monitors," he says, "but it had the same issues I've always had with it. I love how all the 300-500 Hz stuff sounds through the amps but recorded it can come out as mud and there's always some loss of clarity, especially when I'm competing with tones in the drums."
The Bax Bangeetars provided an ideal surrogate for the old amps, but not without a bit of tinkering from the tech-savvy bassist, who explains his handiwork: "Those pedals are a very simple circuit, but they have this power pump that takes the 9 volts in and charges up the cap, which slowly releases it at 24 volts. I found at high gain, even with the highest milliamp 9V power supply I could find, it couldn't keep the cap filled up fast enough. I had these science-grade variable power supplies and, if you wire around the pedal's stock power supply so that you can feed that cap directly, then you don't get that headroom loss at all and it sounds really good."
Jesse Keeler's Gear
Basses
Ampeg Dan Armstrong Lucite basses (modified with custom Kent Armstrong pickups and brass bridges made by luthier Les Godfrey)
Amps
Orange Bax Bangeetar Guitar Preamp & EQ (modified by Keeler)
Strings and Picks
Ernie Ball Regular Slinky Nickel Wound Electric Bass Strings (.050–.105)
Dunlop .73 mm Tortex Triangle
Effects
Death By Audio Echo Dream 2

Death By Audio Fuzz War
EarthQuaker Devices Bit Commander
FoxRox Octron3
Ibanez CS9 Stereo Chorus
MXR Ten Band EQ
Overstayer Modular Channel Stereo 8755D
Keeler says that increased headroom has long been a special ingredient to his tone and adds, "The secret with my Peavey F-800B head and part of the reason why it's so special is that it's running on 36 volts. The schematic for that Peavey amp says 24 volts, so whenever anyone would clone the circuit, they'd do it to run on 24 volts and, when you try to play it like I do with the distortion cranked up to 10, it starts self-compressing and crapping out!"
Despite the major shakeup in Keeler's amp world, the bassist's primary muse remains his small collection of vintage Ampeg Dan Armstrong Lucite basses. Thanks to their skinny neck profile, short scale length, and easy access to all 24 frets, the bassist credits these instruments with unlocking his unconventionally athletic playing style in which he bends strings and frequently combines droning open notes with guitar-lead-like riffs that he plays simultaneously in the upper frets.
While these basses are a great fit for Keeler, he's found some need for modifications. All of his Dan Armstrong basses have been re-fretted with wider fretwire and outfitted with custom pickups made by Kent Armstrong, son of Dan Armstrong. The most important mod that Keeler does to all of his basses is to swap out the original fixed rosewood bridges for custom brass units milled by Canadian luthier Les Godfrey. Godfrey's bridges have fully adjustable saddles, which makes life a lot easier as Keeler used to struggle with the original bridge's intonation issues.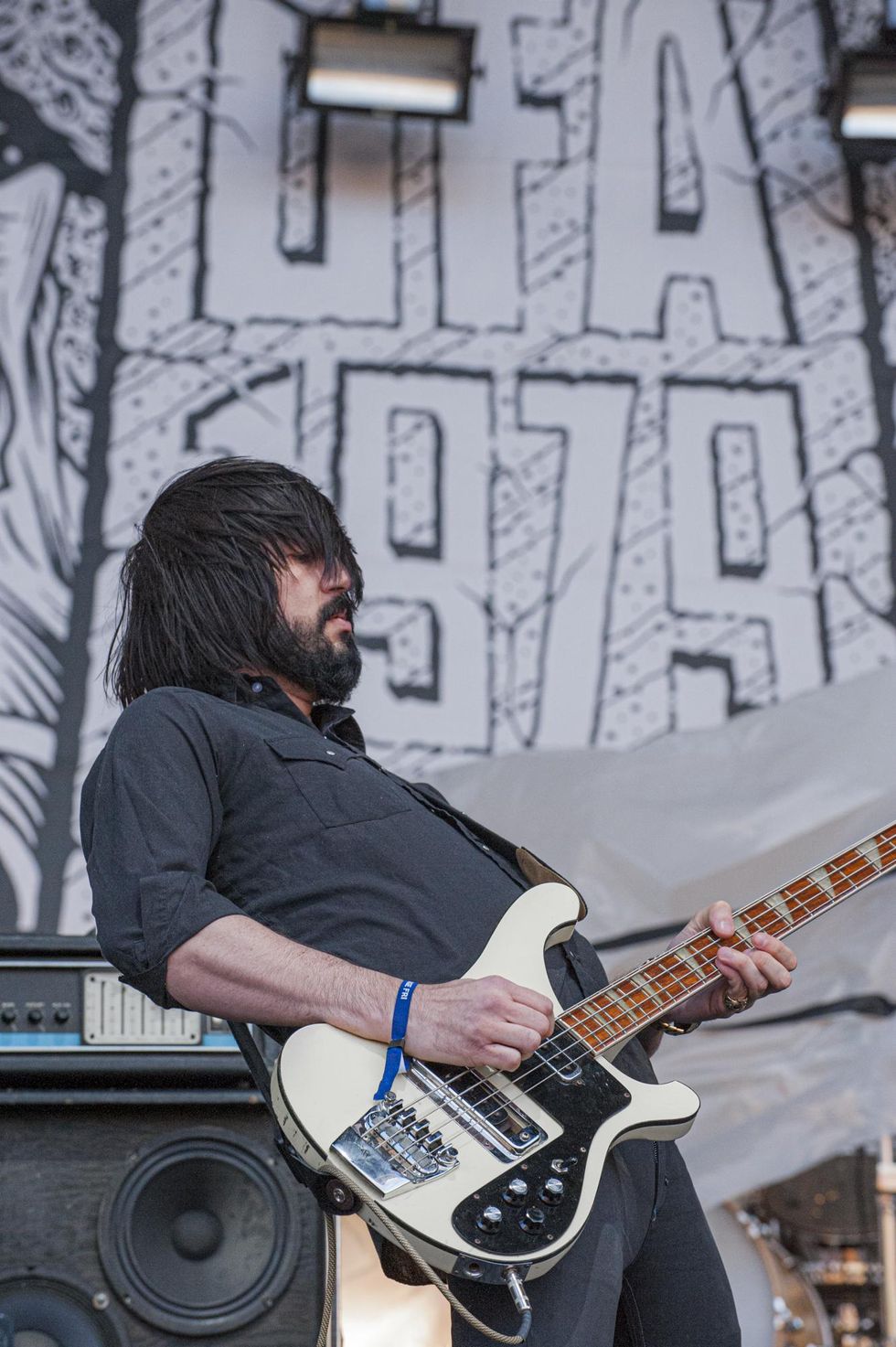 Jesse Keeler mainly sticks to his modded Dan Armstrong basses, but he also has several custom Rickenbacker 4030 models.
Photo by Jim Bennett
The brass bridges also offer an important tonal benefit. "The overall problem with that bass is that it sounds like talking with your hand over your mouth; it's a very muffled, low/mid sound with not enough brilliance, even with brand new strings on it," Keeler says. "I wanted as much bright attack as I could get out of it. When playing notes in quick succession, I want the initial attack of the note to be very present, so brass saddles and brass nuts really help with that." These modifications take a lot of effort, but he adds, "I did all this work to make them right because I love them so much."
For effects, Keeler pulled his usual pedalboard apart and got experimental in the studio. A pair of Foxrox Octron3 octave pedals appear on nearly every track, with each one sent to their own Bax Bangeetar and set to accentuate slightly different frequencies. The bassist also frequently called upon a Death By Audio Fuzz War but claims to have had the fuzz control barely on, using the pedal more for its powerful filter than its heaps of gain. One of the most vicious tones on Is 4 Lovers can be heard on "N.Y.C. Power Elite Part II," which he happened upon by plugging into an EarthQuaker Devices Bit Commander and turning the volume on his bass down to the point where it began to starve the synth box of enough signal to track its multiple octaves properly.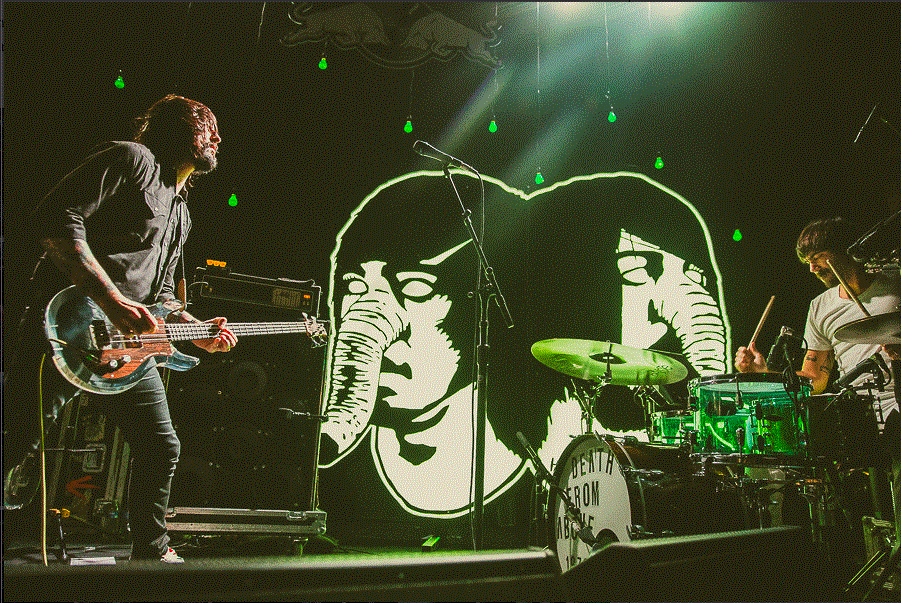 Bassist Jesse Keeler says he and drummer/vocalist Sebastien Grainger no longer have to talk about writing: They simply feel it out and intuitively know when an idea has clicked. Their shared killer instincts are palpable onstage.
Photo by Debi Del Grande
Songwriting is a collaborative process for DFA 1979, and something the duo has fine-tuned over the course of their discography. Keeler admits, "I don't really think of myself as a songwriter, I just vomit out riffs," he says. "I have riff diarrhea. I have riff IBS and I just can't shut it off!" He goes on to explain, "I try to distill my ideas down to make things musical enough that Sebastien can sing over, because he wants a melody. I've given him things in the past that became very hard to find a melody for because I would write things that you could only scream over," he says. "Sebastien is the one that moved me towards making songs and not just trying to create a feeling."
On Is 4 Lovers, the writing process came from shared instinct rather than intellect. Keeler says he and Grainger no longer have to talk about writing, they simply feel it out and intuitively know when an idea has clicked. "We made this record entirely within one room," Keeler says. "We'd hit record the minute we got there and play through the day, so a lot of what you hear on the record is the actual creation of those parts the moment they were made up. I'm really into that immediacy."
This method of writing and recording allowed the band to deliver a tight and focused record that totally aligns with how Keeler and Grainger want DFA 1979 to sound. "I think the results are amazing and I think this is the best sounding record we've made," the bassist says. "Not to take anything away from anyone we've worked with in the past, but this one sounds the most right to me because it's all us."
Death From Above 1979 - Holy Books (Live in Toronto)
Jesse Keeler's bass tone will explode from your speakers in this live version of "Holy Books" from Death From Above 1979's Outrage! Is Now. The bassist's heavily distorted riffs pummel along with Sebastien Grainger's hard-hitting grooves throughout the song's main sections, while he conjures a just-on-the-verge-of-feedback tone for the melodic breakdown starting at 2:23.