The rising blues guitar star demos her No. 1 SG with her expanded pedalboard, and goes deep with her workhorse Jaguars, Stogie Blues cigar box, Delaney 512, Taylor acoustic, and Category 5 amps.
Rising blues guitar star Samantha Fish returned to Nashville for two packed nights at 3rd & Lindsley, on tour behind her excellent new album, Kill or Be Kind. Listening to the 10 albums she's recorded over as many years, her evolution is audible and impressive. Fish's playing reaches a fresh creative peak on her latest, as a songwriter, vocalist, and player. She's consistently inventive and dynamic, and many of her solos boldly leap outside the box, with wild string-bending and ear-catching octave and delay effects, and she possesses a large tonal vocabulary, thanks to a collection of road guitars that include Fender Jaguars, a trusty Delaney semi-hollowbody, a raunchy cigar box, and her No. 1 white Gibson SG. We caught up with Fish on September 19, before the first show of her two-night Music City stand, and she displayed how much her arsenal of gear and sounds has grown since her first Rig Rundown, in January 2013.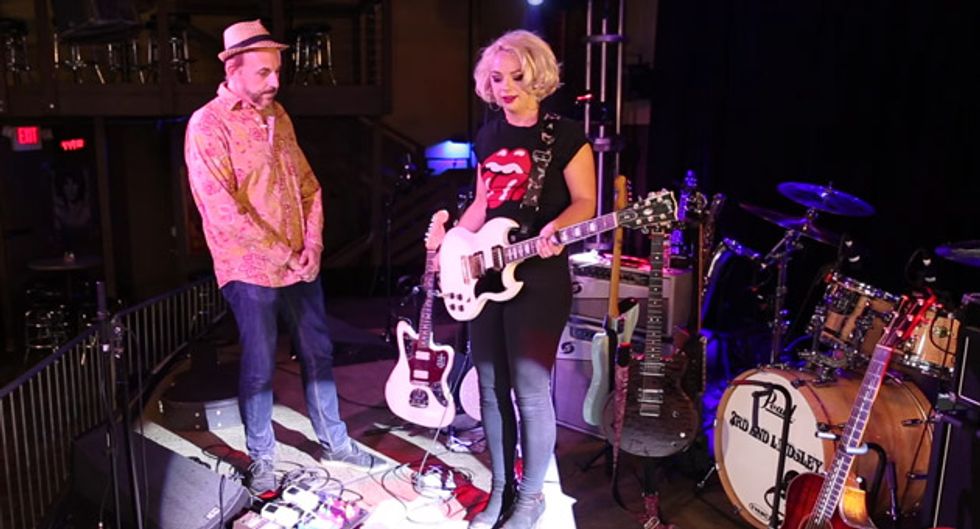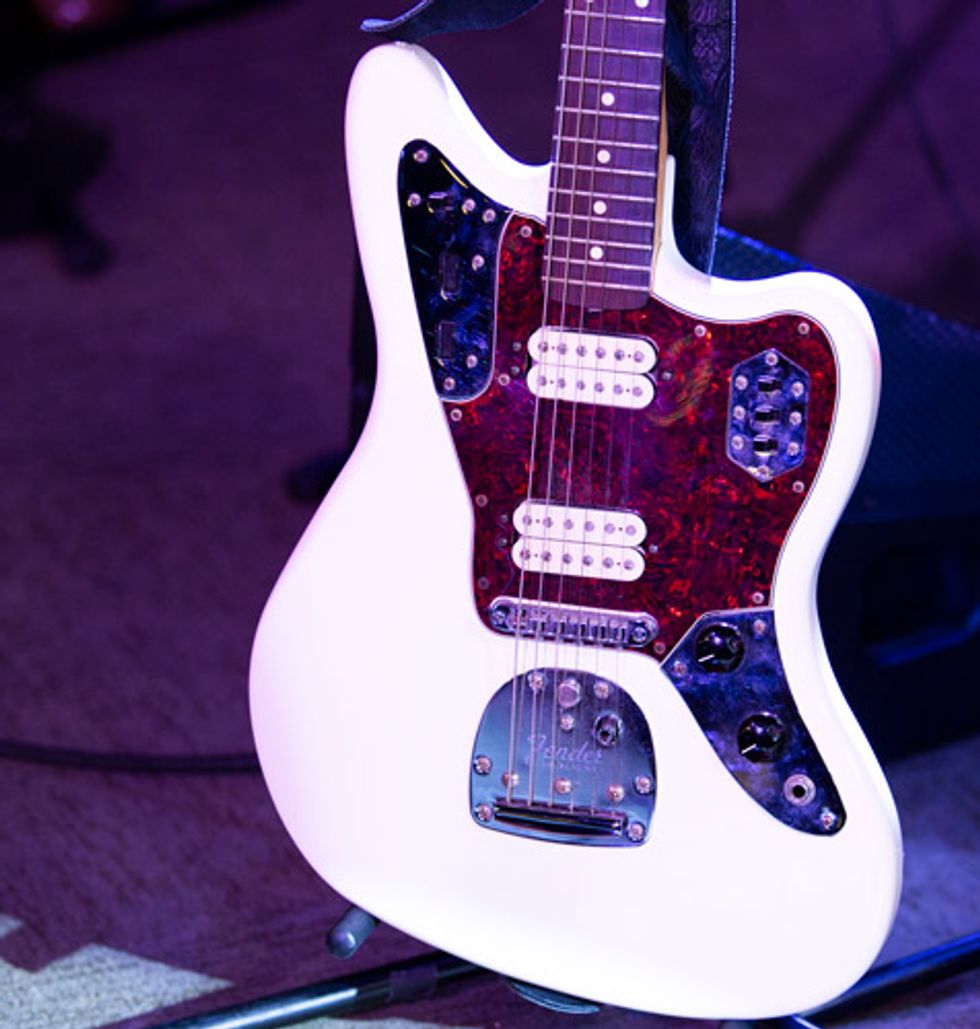 Two Fender Jaguars accompanied the guitarist on this tour. This one's a Classic Player Special with a pau ferro fretboard on a maple neck with a pair of Fender's Special Design Hot Single-Coil pickups. Fish says she bought it thinking it would be her "rock 'n' roll, Kurt Cobain" guitar, but that it's so "light, jangly, and beautiful that it makes it onto all the R&B songs."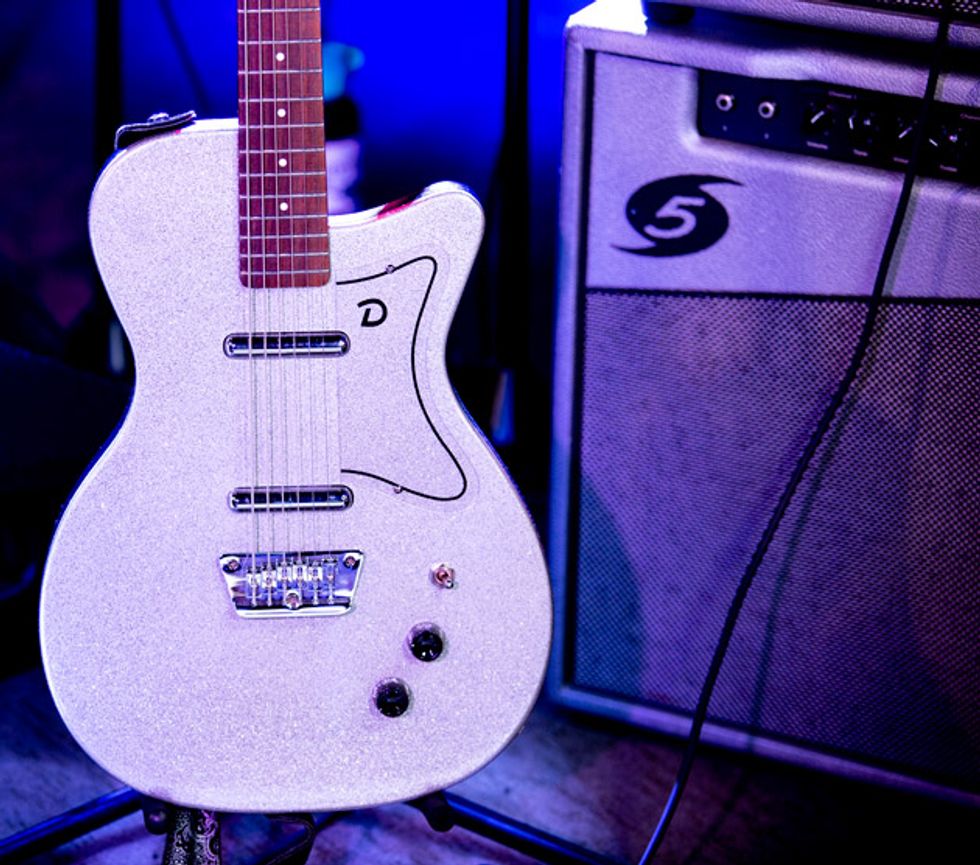 There's more than sparkle to this Danelectro '56 Baritone—although that is a striking finish. Purchased at Chicago Music Exchange, it has a pair of high-impedance and high-output lipstick pickups, a master volume and tone control with a 3-way pickup toggle, and a 29.75" short-scale neck. This show was its onstage debut, and the guitar provides the low twang on Kill or Be Kind.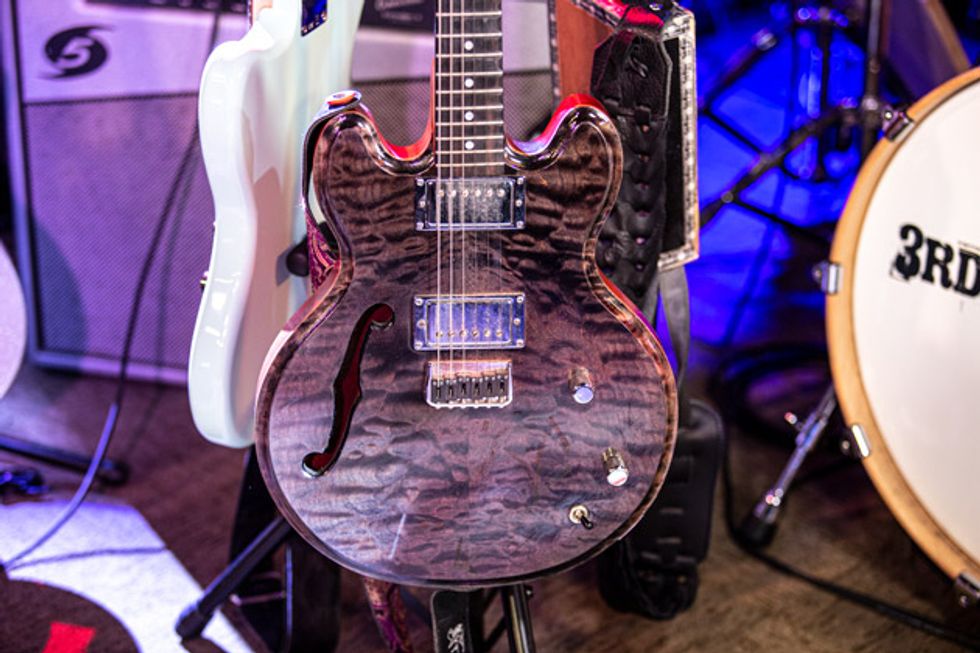 At one point, Fish played Delaney guitars almost exclusively, including her signature Fishocaster. You can see that instrument in our January 2013 Rig Rundown with the Kansas City, Missouri-born artist. This one's a semi-hollow 512 with double humbuckers that she keeps in open D for slide. She uses a variety of open tunings on her songs, but changed the keys of several to D for onstage convenience. She says open tunings give her new perspectives for her songwriting.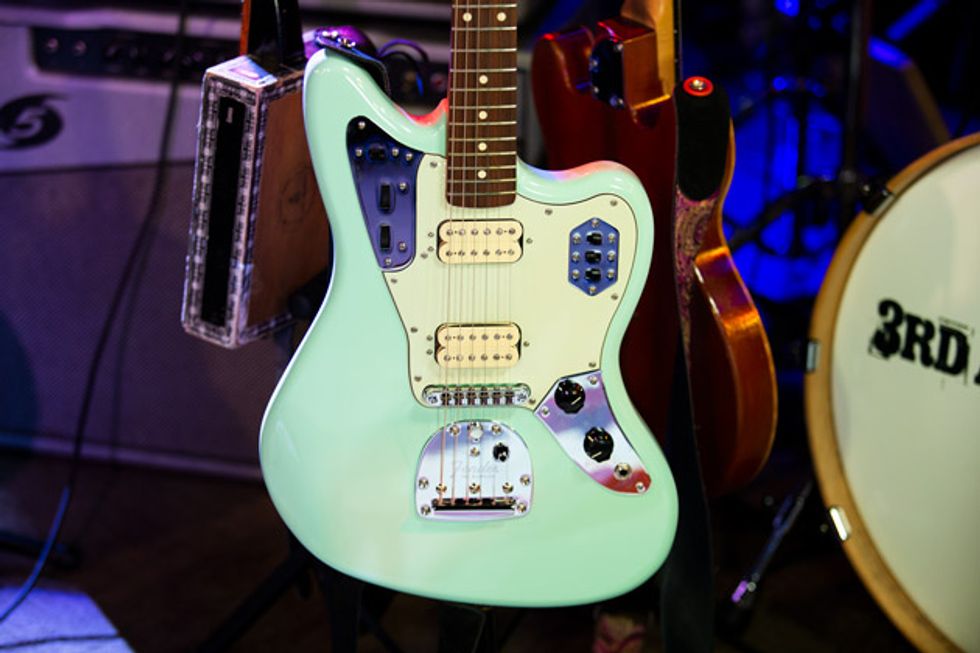 Her other Jaguar is a recent gift from Fender: a Samantha Fish-approved seafoam green '60s Vintera series model that's currently being sold, with Fish's autograph, via samanthafish.com. As you can see, she leaves the vibrato arm off her Jags. Oh, and P.S., Fender: She'd like a silver sparkle Jaguar, too.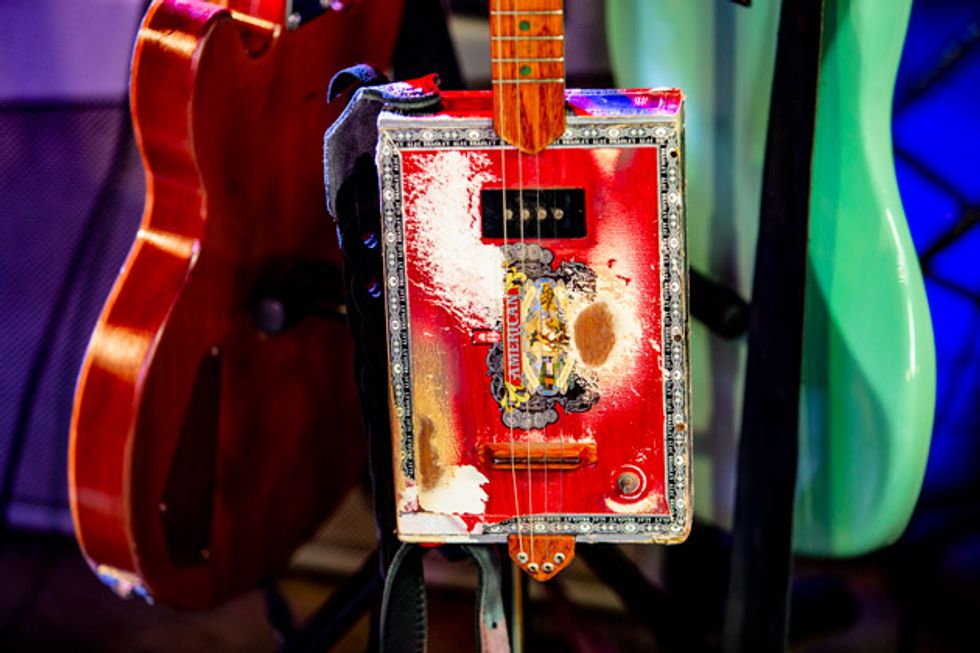 This Stogie Blues cigar box guitar is a fan favorite. It has a P bass pickup and a floating bridge, and has seen a lot of road wear, but still roars like a gargling grizzly bear. "Nothing else sounds like it," she says, "so when it breaks, so will my heart." It appears on "Bulletproof," Kill or be Kind's opening number.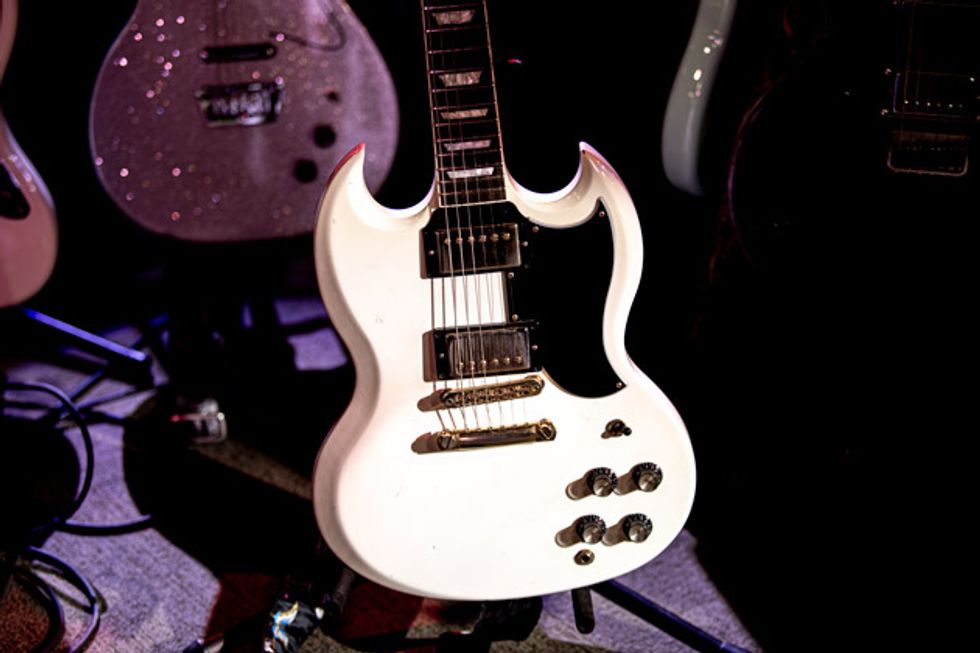 Fish's No. 1 is a double-humbucker Gibson SG, which you can hear plenty of on her new album. She ordered it online in 2015 and has kept it stock. And it's obvious onstage that she shares a bond with this bold-toned instrument.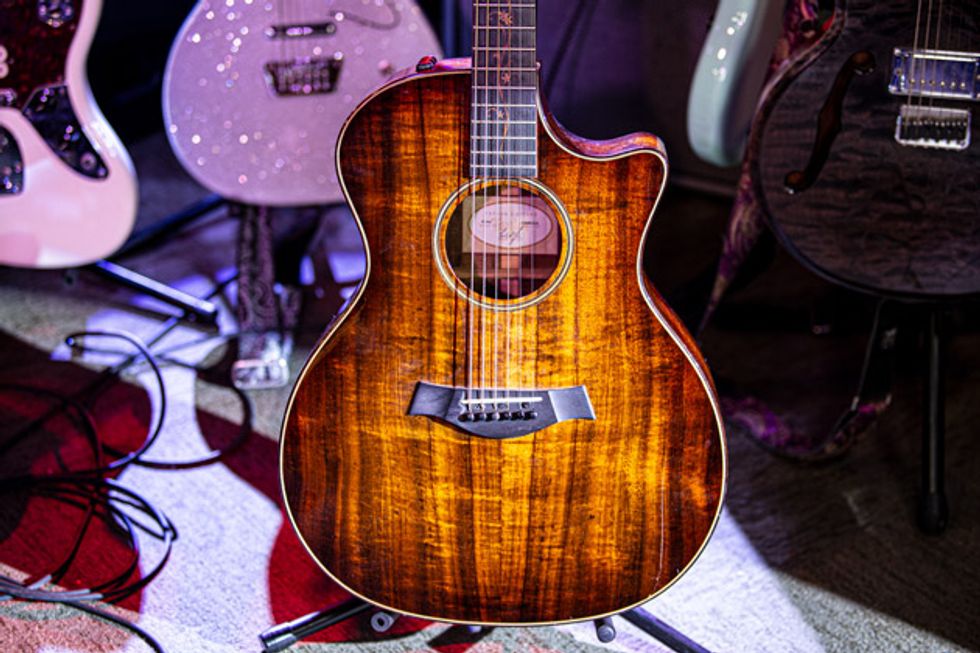 Outnumbered but not outclassed, the sole acoustic on Fish's stage is her Taylor K24ce—one of the first Taylors with V-class bracing. It has a koa top, an Expression System 2 pickup, a graphite nut and saddle, Gotoh tuners, and a 16" body width and 4 5/8" depth. It is a highly articulate instrument.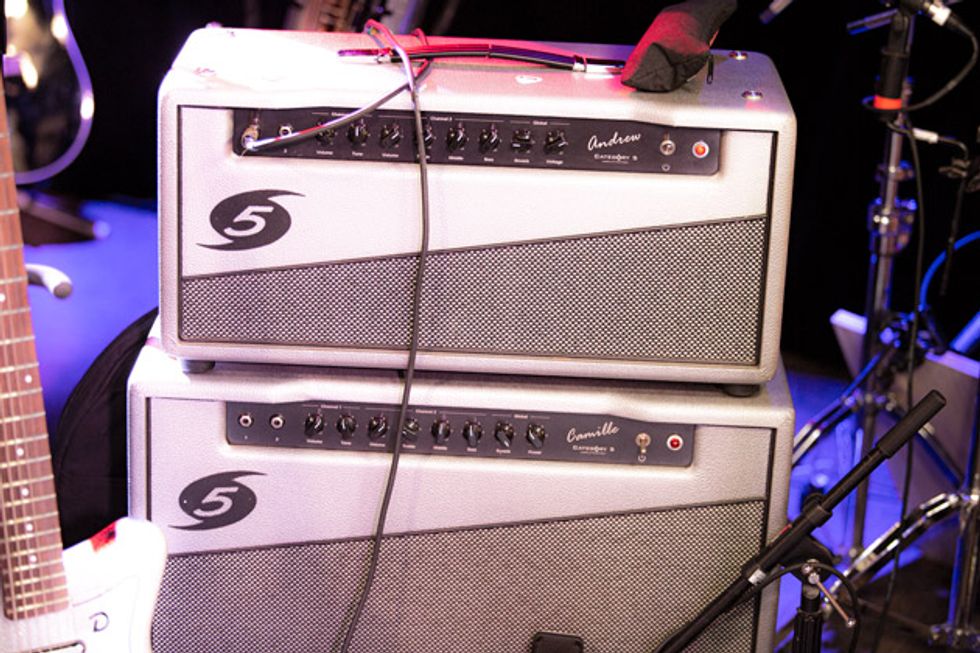 Category 5 is Fish's amp brand of choice, and it's usually a Camille head on a 4x12 cab, but for these shows, she played through one of the company's 50-watt Andrew models and a 2x12 cab, with a Camille combo along for backup, as well as cab service.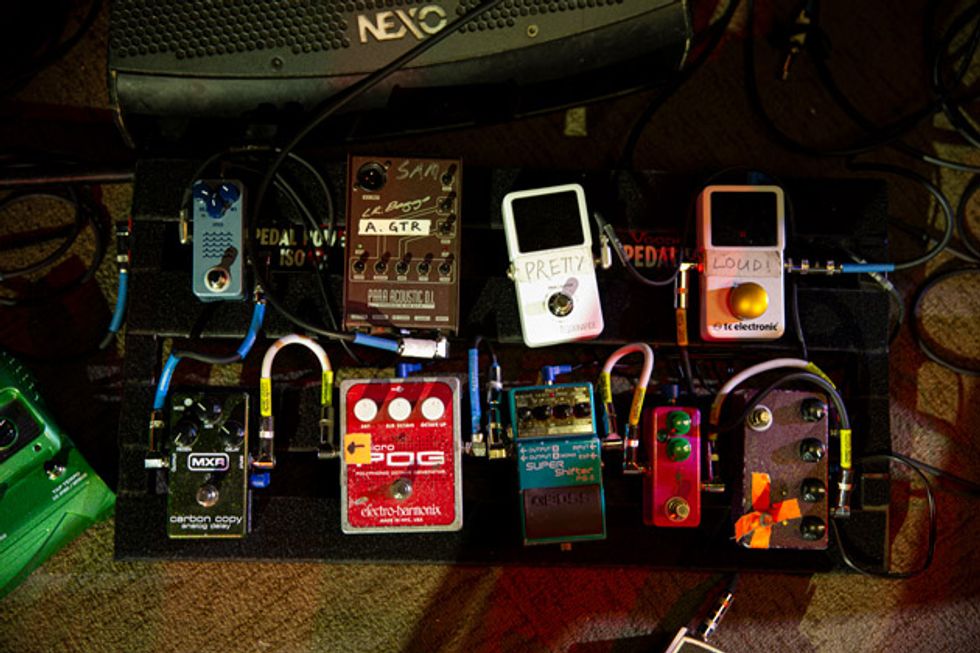 Fish's pedalboard has expanded since her previous Rig Rundown, but her go-to pedal remains the same: an Analog Man King of Tone. It's road-worn, and the red channel doesn't work anymore, but it's well-loved, so it stays. A Dunlop Volume Pedal is her first stop, though, and she often uses it to regulate tone and dynamics during her shows. For a more aggro distortion, there's a JHS Mini Foot Fuzz, with its full-throated and classic silicon sound. You can hear it on the gnarly solo in "Love Letters," off her new album. And there's a Boss PS-5 Super-Shifter and an Electro-Harmonix POG for those times when cool weirdness is called for. Her delay is an MXR Carbon Copy. Her newest stomp acquisitions are a JHS Tidewater Tremolo and a Line 6 DL-4 specifically for some reverse delay. There's an LR Baggs Para Acoustic D.I. for her Taylor. And, by the way, her preference for slides these days is brass.