The desert-rock party animals discuss the gear that gets the crowd to boogie.
Touring lead guitarist Dave Catching, guitarist/frontman Jesse Hughes, and bassist Matt McJunkins were gracious enough to chat about their setups before the band's sold-out show at the High Noon Saloon in Madison, WI, on 9/10/15.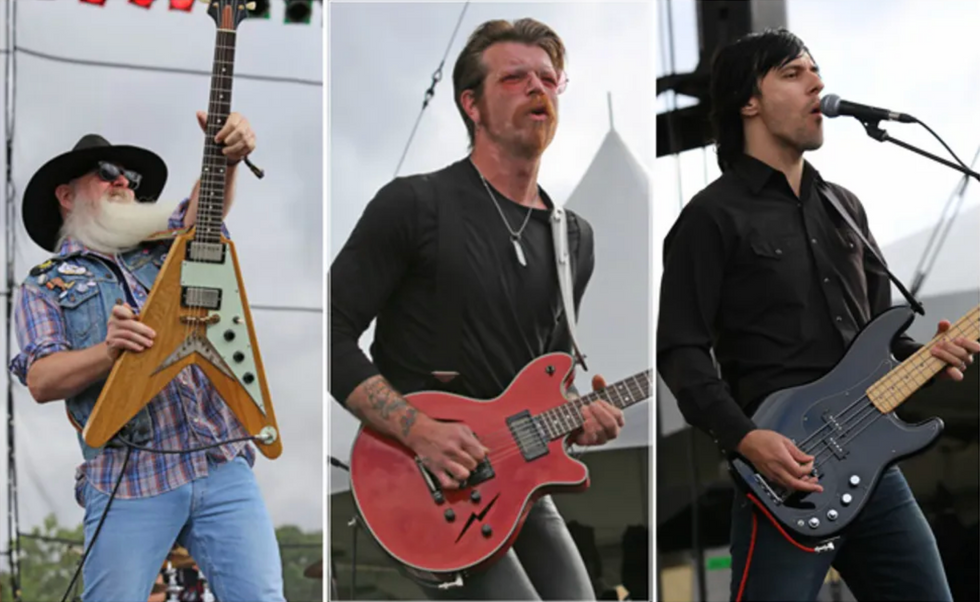 Eagles of Death Metal (left to right): lead guitarist Dave Catching, guitarist/frontman Jesse Hughes, and bassist Matt McJunkins.
1970s Gibson Flying V
Dave Catching has recorded and toured with Eagles of Death Metal since the early days of the band's existence and about a decade of that time was spent with this 1970s Gibson Flying V as his No. 1. He believes the neck pickup is from Cort and the bridge humbucker is a DiMarzio. Now that he's acquired the Echopark Albert V this beauty is a backup.
Echopark Guitars '58 Albert V
Catching quickly became friends with luthier Gabriel Currie who opened his Echopark Guitars shop across from the band's rehearsal studio. Currie, a big fan of the guitarist and his many bands, built a replica of a 1958 Gibson Flying V that Catching uses throughout most EODM sets because "it plays perfect and never goes out of tune." He strings up all his guitars with Ernie Ball Slinkys .010–0.48. Also, he and Hughes play the same open-G tuning (G–G–D–G–B–D) all night.
Normandy Guitars Alumicaster
The lone non-V on the road with Catching is a Normandy Guitars Alumicaster. This aluminum-bodied guitar has a Seymour Duncan SH-5 humbucker in the bridge and a STL-2 Hot Tele single-coil in the neck and is used on songs like "Complexity" and "Now I'm the Fool."
Orange Amps OR50s
Dave brings his favorite Orange amp—the OR50—out on the road with him because it's "simple, straight-forward and rocks." Catching keeps the volume and gain dialed back—right about half—with plenty of bass on the amp because he gets the fuzz and dirt from his stompboxes.
Dave Catching's Pedalboard
The EODM touring lead guitarist picks up the pedal slack since 6-string counterpart Jesse Hughes doesn't use any live and brings out a full board that's stacked with a TC Electronic PolyTune 2 Noir, Jim Dunop Cry Baby Wah—he really loves to leave the pedal cocked open for nasally solos and cutting riffs—a Jim Dunlop Rotovibe, an EarthQuaker Devices Palisades that he uses for solo boosts, Fulltone Ultimate Octave Fuzz, TC Electronic T2 Hall of Fame Reverb, EarthQuaker Devices Dispatch Master, TC Electronic Flashback Triple Delay, Mantic Flex, and a Malekko Scrutator that is a bit crusher that Catching uses at the end of sets while dueling 6-strings with Hughes.
Matt McJunkins 2010 Fender American Deluxe Precision Bass
Bassist Matt McJunkins uses his 2010 Fender American Deluxe Precision Bass for the entire show. His preferred setting with the pickups is to have them blended so he can make tonal adjustments to his amp and pedals knowing that he has a core, distinguished bass tone.
Matt McJunkins Pedalboard
Because McJunkins runs his amps hot, he looks to get extremely overdriven and wonky sounds out of his three pedals—including a germanium Malekko B:Assmaster that "smoothly adds some bass, girth, and fatness" to his core sound, a ZVEX Mastotron that is used on newer songs like "Complexity" because of the pedal's ability to give "stellar synth-like tones," and a Malekko Scrutator that brings on the destruction. Other utility pedals include a Boss TU-3 Tuner, Voodoo Lab Pedal Power 2 Plus power supply, and a Radial J48 Active Direct Box that allows the EODM soundman to get a clean signal before McJunkins colors it with his stomps.
Orange AD200Bass MKIII Heads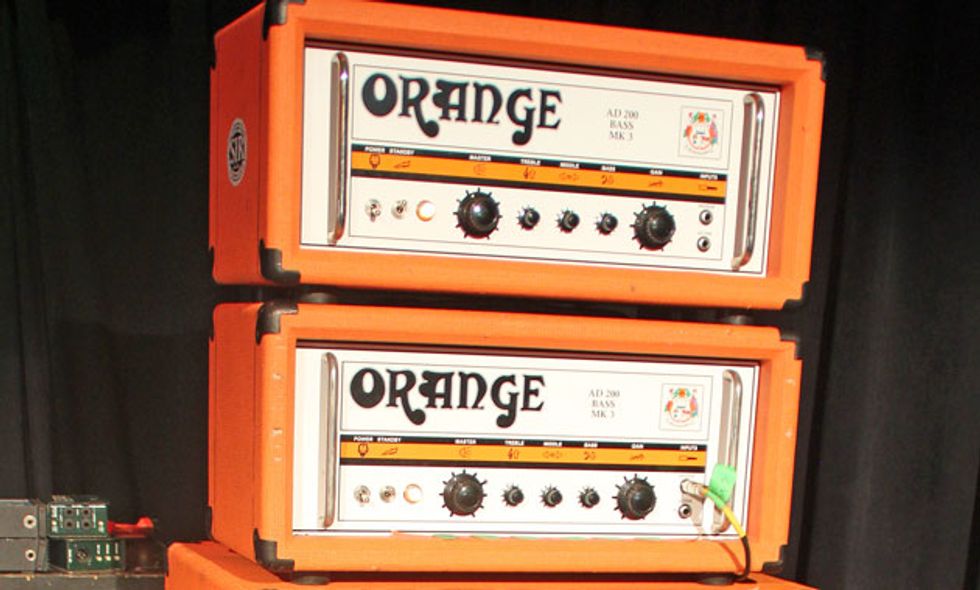 Like the guitarists in the band, McJunkins keeps everything covered in Orange Tolex as he rocks a pair of AD200Bass MKIII heads.
Jesse Hughes' Maton MS500s
Loyal to one brand, boogie-master frontman/guitarist Jesse Hughes plays nothing but Maton 6-strings live. The one on the left is a custom-made MS500 that features lightning bolts instead of f-holes and hotter-wound humbuckers that free Hughes from having any pedals at his feet due to the pickup's ability to get him right to edge where clean and distortion meet.
The silverbust axe on the right is another custom-made creation—this is a baritone version of Maton's MS T-Byrd that the Australian company gifted Hughes when they heard he recorded some baritone tracks on the just-released album Zipper Down. (The MS T-Byrd also features a single lightning bolt and hotter pickups.)
Jesse's Orange Rockverb 50 MKIII
Hughes asserts setting up his two amps on both sides of the drummer helps give the band a true stereo sound onstage. On one side is an Orange Rockerverb 50 MKIII.
Jesse's Orange Dual Dark 50
And on the other side of the drummer rests an Orange Dual Dark 50. While the guitarist records direct with a vintage Mosrite Fuzzrite and an original Orange Roger Mayer Axis Fuzz, Hughes feels the combination of the custom-made Matons and Orange tube powerhouses give him all the rock 'n' roll tone he needs live.
[Updated 7/4/21]
Guitarists Mike Ness and Jonny Wickersham show off their tried-and-true rock 'n' roll machines.
Frontman Mike Ness' longtime #1 is a 1976 Gibson Les Paul Deluxe that was modded with custom-wound Seymour Duncan Antiquity P-90s. Ness got the idea of swapping in P-90s when he opened for Neil Young and was blown away by his raw, powerful tone throughout the RaggedGlory tour. He prefers '70s Deluxes because they're more affordable than older, holy grail Les Pauls and he gravitates towards mid-decade models—'75–'76— because they shifted from all mahogany models to a mahogany-body-maple-cap-and-neck construction. He feels the added maple brightens up the overall tone of the guitar, which meshes well with his heavy use of a capo on the second fret. All of his guitars use custom-wound Seymour Duncan Antiquity P-90s, Ernie Ball 2215 Skinny Top/Heavy Bottom strings, and he prefers .88 mm Dunlop Nylon picks.