A recreation of George Harrison's '61 Sonic Blue Strat, hand-painted in psychedelic Day-Glo colors and affectionately named "Rocky."
The George Harrison Rocky Stratocaster features an alder body hand-painted with a replica of Harrison's famous psychedelic brushstrokes. Every detail is captured, from the artwork on the pickguard and plastic parts to a replica decal on the back of headstock from Grimstone's - the original music store where the guitar was purchased.
Known for pushing musical boundaries and sonic experimentation, George's inventive hooks and groundbreaking tones helped propel the Beatles into legendary status. Fender previously released a limited number of meticulous "Rocky" recreations via the Fender Custom Shop in 2020, but now this release gives fans the opportunity to enjoy the sound and history behind this iconic guitar.
Exploring The George Harrison Rocky Stratocaster | Artist Signature Series | Fender
The 1968 360/12 pictured here has the features most often associated with classic Deluxe Rickenbacker models of the '60s.
This stunning fireglo 1968 Rickenbacker 360/12 features a semi-hollow maple body with a single slash soundhole and a pair of "toaster" single-coils.
In the 1920s, Adolph Rickenbacker began a successful tool-and-die business in Los Angeles, and eventually his outfit began providing metal parts for various guitar companies, including National. Together with two former National employees—George Beauchamp and Paul Barth—Rickenbacker designed and marketed the first "Frying Pan" electrified lap-steel guitar.
F.C. Hall, owner of Radio & Television Equipment Co. (Radio-Tel) purchased the Electro String Company from Adolph Rickenbacker in 1953. Hall revamped the business and focused on electric standard guitars, rather than steels. These electric guitars were slow sellers at first, but they continued to increase in popularity as the 1950s progressed. In early 1954, German guitar maker Roger Rossmeisl was hired, and his unique "old world" designs gave Rickenbacker guitars a distinctive look that continues today.
The folk music trend of the early '60s and its reliance on flattop 12-string guitars inspired Rickenbacker to fashion an electric 12-string in 1963. Although other companies (notably Gibson and Danelectro) had made earlier attempts, the Rickenbacker 12-string electric became the most sought-after because of its association with George Harrison. (He received the second one made in early 1964.)
The 1968 360/12 pictured here has the features most often associated with classic Deluxe Rickenbacker models of the '60s. These include a bound maple neck, gloss finished rosewood fretboard with large triangle- shaped inlays, two "toaster" single-coil pickups, a maple body with checkerboard binding on the back, a slash soundhole, and a distinctive "R" tailpiece.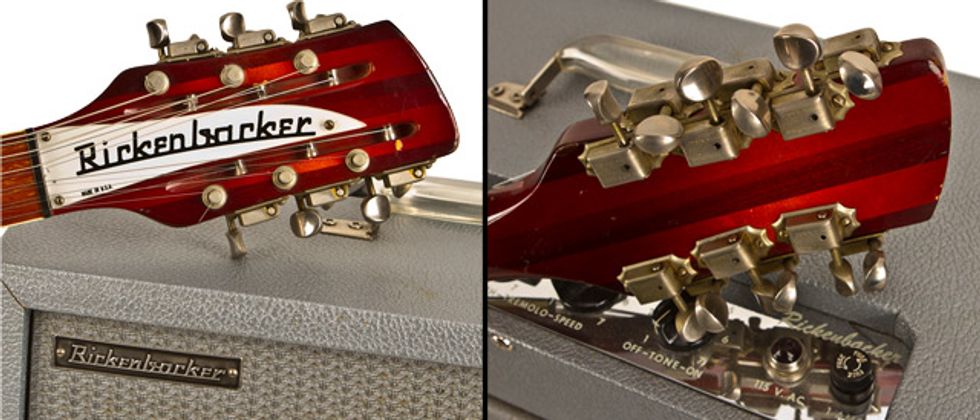 Rickenbacker's innovative tuner arrangement allows for a smaller headstock and also reduces tuning confusion—tuners for the six standard strings are mounted on the side of the headstock, while the tuners for the octave and doubled top strings are mounted on the back. RIGHT: The rear-mounted tuners for the doubled top and octave strings.
This example has a deep, unfaded version of Rickenbacker's most popular color—fireglo. The 1966 list price was $524.50. The current value for one in excellent all-original condition is $5,000.
The exact model name of the amp behind the guitar is unknown to us. It resembles the description in the 1957 Rickenbacker catalog of a Model M-11A. It is equipped with tremolo and a Jensen 12" speaker dating to 1968. The current value for the amp is $400.

LEFT: Rickenbacker's distinctive tailpiece. RIGHT: The maple back sports checkerboard binding.
Sources for this article include Rickenbacker Electric 12-String: The Story of the Guitars, the Music, and the Great Players by Tony Bacon, Rickenbacker by Richard R. Smith, and The Rickenbacker Book: A Complete History of Rickenbacker Electric by Tony Bacon and Paul Day. If you're into chimey 12-string sounds, you'll enjoy exploring any of these well-researched, lavishly illustrated books.
Dave's Guitar Shop
Dave Rogers' collection is tended by Laun Braithwaite and Tim Mullally and is on display at:
Dave's Guitar Shop
1227 Third Street South
La Crosse, WI 54601
davesguitar.com
Photos by Mullally and text by Braithwaite.
Made in Japan, the guitar features all the custom appointments that differentiated Harrison's guitar from other Duo Jets of the late '50s and early '60s.
One of the highlights of Winter NAMM this year—for me, at least—was getting to interview Gretsch senior master builder Stephen Stern about the limited-edition Custom Shop G6128T-GH George Harrison Tribute Duo Jet (watch the video at the end of this article). As a huge fan of both the Beatles and Gretsches, I was thrilled to witness his painstaking reproductions of every scratch and anomaly on the black 1957 beauty Harrison used at the rambunctious and legendary Cavern shows and on early hits from "Please Please Me," to "P.S. I Love You," and "Ask Me Why."
Stern's crew made just 60 of those Custom Shop tribute guitars—which went for a princely sum of $20k each. Fortunately for non-trust-fund types, Gretsch elected to make the G6128T-GH George Harrison Signature Duo Jet part of its standard line. Made in Japan, the guitar features all the custom appointments that differentiated Harrison's guitar from other Duo Jets of the late '50s and early '60s, minus more labor-intensive details such as matching distress marks and fretboard inlays that mimic the less-precise methods of yore.
Nods to the Mod's Mods
Like the '57 Duo Jet it's based on, the new G6128T-GH features a chambered mahogany body and a one-piece mahogany neck. Unlike other current Duo Jets, which feature a brown-stained back and neck, the Harrison signature model's mahogany elements are finished in the same black urethane finish that's on the 3-ply laminated maple top. (Although Jet Firebird models of the late-'50s had black backs and necks, Gretsch expert Ed Ball confirms that the back and neck of Harrison's original guitar were refinished sometime after the guitar was purchased by original owner Ivan Hayward—who bought it new in 1957 at Manny's Music in New York City for $210.)
Other departures from the standard Duo Jet setup include nods to other mods made to Harrison's guitar. For instance, before the Beatle acquired the Jet in 1961, Hayward had a Bigsby vibrato installed (Ball believes this was sometime in 1959 or '60, based on the Phillips screws), and in the process the strap button was relocated up a bit from its standard location. (While we're talking strap buttons, can I just ask why no one ever gives Gretsch props for making locking buttons standard equipment on its axes?) The 24.6"-scale signature model's Bigsby arm also has a black, star-head pivot screw rather than the smooth aluminum pin found on most Bigsbys.
Perhaps the most unique hardware feature on Harrison's new axe—at least relative to other current-production Duo Jets—is that the bridge is a "rocking" bar style with a pinned rosewood base, where most modern Duo Jets have ebony bases and either a Synchro-Sonic or a Space Control roller bridge. While some Gretsch fans swap out the latter two bridge types (or the Tune-omatic-style bridge found on other modern Gretsches) for a bar bridge—a big, solid hunk o' metal that adds extra sustain—doing so sacrifices the ability to individually intonate strings. Though the intonation problems with our review guitar weren't egregious, full barre chords further up the neck didn't sound quite as in tune as they would with the aforementioned bridge types. Personally, I would rather have precisely intonated strings than a little extra sustain. Then again, who am I to tell George what to put on his guitar?
While most current Duo Jets have either block or thumbnail position markers, the Harrison signature Jet features a 12"-radius bound rosewood fretboard with "hump-block" position markers. Up at the headstock, it sports Grover Sta-Tite tuners, a period-correct "T-roof" logo, a bone nut, and a truss-rod cover emblazoned with its namesake's autograph.
Like the Custom Shop Harrison Tribute guitar, the signature model is equipped with Seymour Duncan-designed pickups built to the original specs of late-'50s DynaSonic single-coils. As with other DynaSonic-outfitted Duo Jets, it has a 3-way pickup selector on the upper bass-side bout, a Master Volume on the treble-side cutaway, Volume controls for each pickup, and a Master Tone knob.
Overall, the guitar's finishing touches and setup were excellent. The finish is blemish free and beautiful, the medium-thickness, slightly C-profiled neck is comfy, the frets are well dressed, and all the hardware twists, turns, and flicks with a solid, reassuring feel. The only hiccup was that the small, circular cover for the pickup-selector cavity was slightly raised on one side, creating a slight lip above the surface of the guitar's back. This lip wasn't significant enough to feel against your body while playing, but it was surprising considering the guitar's MSRP of $5000.
Pleasing Me
When you think of Beatles tunes from the period when Harrison was using his '57 Duo Jet the most, you inevitably think of open-position chords, simple-but-catchy riffs, and jangly Vox tones. And when you plug Harrison's new signature Jet into an EL84-powered amp, those tones are there in spades—it's almost comical how easy it is to get early Brit Invasion sounds with just two ingredients. Anyone contemplating starting a Fab Four cover band would be hard pressed to find an instrument that fits the aural and visual bill better. But the G6128TGH has a lot more utility than that.
With a tube amp's power section working up a sweat to pour out gritty overdrive—I plugged it into a Vox AC30 and a Goodsell Valpreaux 21—the Duo Jet served up slashing bridge-pickup tones that sounded great for both crisp, in-your-face classic rock (think early Beatles or Neil Young), rockabilly twang, or even brash punk. With gentler chicken-pickin', I got nice quasi country sounds, although they sounded slightly fuzzier and less distinct than you'd get from, say, an old-school Telecaster bridge pickup. But I think that's due to a combination of the DynaSonic pickups' hollow-ish tonal character and the bar bridge's tendency to sacrifice a little articulation for extra sustain.
As for the pickups' resonant character, it certainly stems from their unique wiring, individually adjustable pole pieces, and alnico 5 magnet. But one must also remember they are modeled after pickups that predate the concept of high-output single-coils. That's not to say they're wimpy sounding— there's just a little less bite than a typical Strat's bridge unit or my Tele's alnico 5 bridge pickup. But with all the sameness in guitar design these days, pickups are one of the few ways to really distinguish your sound, and I don't think I've ever played a pickup that has the resonant-but-semi-twangy quality of these DynaSonic repros.
My favorite pickup setting was the middle position—with both pickups on, the neck-pickup's Volume knob eased back a couple of hairs, and the Tone knob all the way up. While the soloed neck pickup felt a little too fat and bass-heavy unless I dialed in a pristine clean sound to play mellow B.B. King-style blues, the neck-bridge combination through the Valpreaux (with Gain a smidge below 3 o'clock, Tone cranked, and Volume right at 3 o'clock) sounded absolutely glorious. With a perfect blend of girth and bristling harmonic richness, the G6128T-GH had me falling into riffs and rhythms inspired by the other gods of classic rock:
Exile on Main Street
- and
Aftermath
-like progressions oozed an addictive vibe that sent me back in time and gave me a taste of what I imagine Keith, Brian, and Mick felt all those years ago. When I eased off the attack, Travis-picked patterns sounded downright lovely.
The Verdict
There's something inexplicably cool about playing a guitar that looks exactly like what one of your heroes played—and that goes double for the George Harrison Signature Duo Jet. While there's no shortage of Les Pauls and Strats out there to help you summon Page or Clapton, instruments with this unusual-yet-still-classic look and sound are pretty rare. Although the price tag seems a bit high—especially considering how good many affordable guitars are these days—it's pretty much par for the course with signature models, especially ones associated with such an iconic and influential player. And the quality of craftsmanship is close to flawless, even if I would prefer a bridge that intonates and articulates a little better. If you're after the most authentic early Beatles electric tones money can buy, I doubt you'll find a better option. But even if you're just looking for a vintage-styled guitar with unique pickup voicings, the G6128T-GH is worth a go.
Watch the video review:
Buy if...
you seek early-Beatles tones and looks, or a uniquely satisfying carved-top single-cutaway.
Skip if...
you prefer leaner neck-pickup tones and more accessible pricing.
Rating...