Photo by Galen Higgins
Maroon 5's James Valentine interviews the modern rhythm guitar master and PG podcast host about his creative chase and trademark sound, and how they fuel his inventive new album, The Lucky One.
Was it on Facebook? Instagram? Wherever it was, it came at me from a dozen of my friends—both musicians and non-musicians. It was "Dean Town" by Vulfpeck, and I couldn't believe what I was seeing. It was as if the deliberately grainy footage had been created in a lab to directly appeal to my particular musical interests. I wanted to know all about Cory Wong, that fresh-faced guitarist with the blue Strat in the leather jacket. He effortlessly jumped from the fusion-inspired lines of Weather Report's "Teen Town" straight into Jimmy Nolen-style chord stabs. This was an introduction to a new Marvel-style musical universe, as each member of the band branched off into stylistically diverse and inspiring directions. Not to mention just how much music, entertainment, and unbridled joy was coming from Cory himself.
Cory, who also hosts Premier Guitar's popular Wong Notespodcast, grew up in Minneapolis and came of age surrounded by many musicians in the Prince ecosphere. Even though funk guitar captured his attention, he was always searching for supreme energy. Bands like Blink-182 and the Red Hot Chili Peppers inspired him to pick up the bass before switching to guitar, and soon after he was digging through tab books for One Hot Minute and Dave Matthews Band's Under the Table and Dreaming.
"A lot of my fingerprint was based on the driving energy of punk and ska, mixed with the harmonic movement and chord voicings of R&B and jazz that I studied and played," says Cory. Later, he attended the McNally Smith School of Music in St. Paul, where he would first connect with drummer Petar Janjic and keyboardist Kevin Gastonguay, who play in his current band.
On his new album, The Lucky One, Cory flexed his production muscles by using unorthodox recording techniques that are more in line with modern pop than old-school funk. Plus, not a single tube amp was used. All the guitar sounds are via his signature plugin from Neural DSP.
Photo by Galen Higgins
It was at a weekly jazz gig in St. Paul that Cory really paid his dues. "The gig lasted for seven years and I didn't make any money doing it, but my friends and I just wanted an outlet to explore and learn each other's original music," remembers Cory. To get by, Cory taught guitar, and played in function bands and occasionally on other people's albums. Eventually that grew into helping local artists produce their recordings. Word started to spread and he took his self-taught recording, mixing, and producing skills to Nashville. As he made a name for himself, he started booking tours as a sideman. But that would all change after a chance meeting with the members of Vulfpeck at a Minneapolis jam session.
"I remember first seeing Cory at the Bunkers jam [in Minneapolis' warehouse district] during a night off on tour," Jack Stratton, Vulfpeck mastermind, remembers. "I had never seen someone attack a Strat like that. It was awesome. And I knew when he played with [Vulfpeck bassist Joe] Dart it would be magic." Magic it was, and the videos they would upload to YouTube would soon be everywhere. After their online success, Vulfpeck decided to take it on the road, and since then Cory has been focused on Vulfpeck, their side project Fearless Flyers and, of course, his solo albums.
The "Cory Wong sound" is now used as shorthand amongst musicians around the world. The elements are simple, yet specific: a highly caffeinated sense of 16th-note rhythms, a clean compressed tone, and a Strat locked into fourth position. Cory has revealed himself as not only a new breed of guitar hero, but a true entertainer. He's become an internet sensation through his masterful and hilarious variety show Cory and the Wongnotes, fiery live albums, and wildly popular podcast. Plus, he has signature gear by Fender, Neural DSP, Jackson Audio, and Wampler. By design, Cory is everywhere.
Cory's latest studio album, The Lucky One, finds him at the height of his powers. While Cory's past records have been more of a document of a live band killing it, this record features much more intentional manipulation of guitar textures and explores new contemporary production techniques. "Look At Me" opens the album with vocalist Allen Stone's guttural soul wrenching against disco strings, like a lost Bobby Caldwell track, while "Hiding On The Moon," with Marc Roberge from O.A.R., crosses Dave Matthews Band with the Beatles.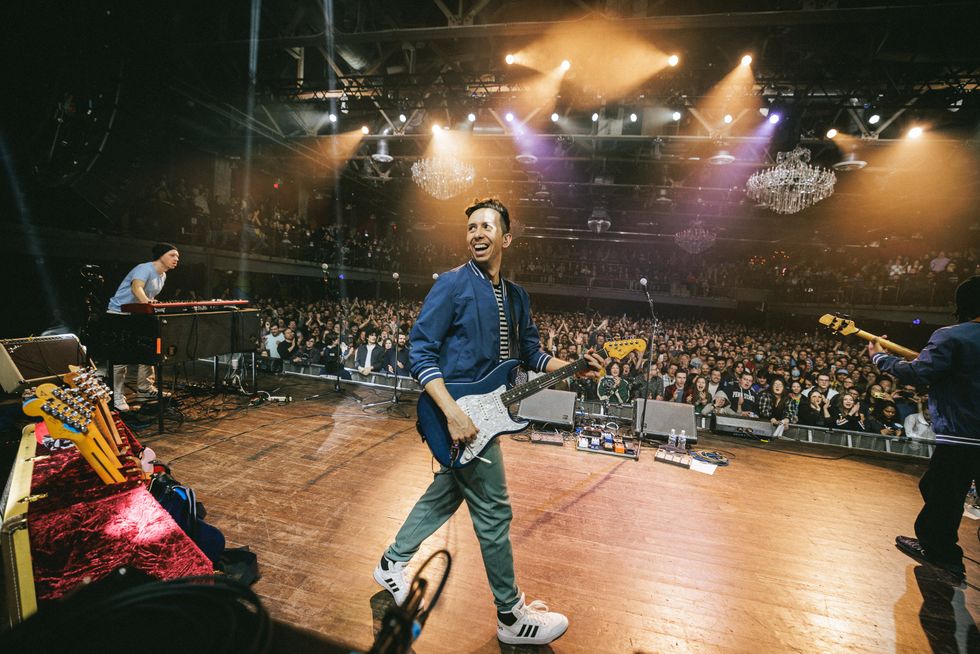 The amount of sheer joy in Cory's live show is palpable. Here he is at the Fillmore in Philadelphia, after catching an earful of his skin-tight horn section led by trombonist Michael Nelson.
Photo by Eliot Hubert
But there's still some of Cory's signature instrumental explorations. "The Grid Generation" features the one-of-a-kind Louis Cole on drums and will surely be a staple of live shows. There's also the contemplative "Acceptance," which echoes his work with Jon Batiste on the Grammy-nominated Meditations. My favorite moment of the record is the completely improvised solo on "Seperado." Cory calls it a "fastball down the middle," but the solo stretches into some beautiful, wide-open vistas.
When asked by PG if I could interview Cory about his new album, I immediately said yes. You see, I'm primarily an accompanist, too. The parts I play form an architecture with the rhythm section that highlights and supports the melody. Cory has taken this style of guitar playing out of the shadows and to the front of the stage. It's the side dish being promoted to entree. It's a character actor getting the lead role. Cory's unique charisma makes that happen. And I couldn't wait to ask him about it.
If I described something as the "Cory Wong sound," guitarists would know exactly what I'm talking about, which is just an amazing accomplishment. What led you towards that style in the first place?
Well, part of the reason is when I first started playing guitar I was playing a lot of punk rock and ska, and so much of it was rhythm based. It was all about the driving force of the guitar and that sort of momentum. Every time I pick up the guitar it's still the starting block for me. And then, of course, I had guitar heroes that I started to get into. Being in Minneapolis, there's so much funk lineage and there's so much R&B music, it was just part of the thing. So, if you were in the scene, you just ended up playing with people that played a lot of funk.
As you started to hone in on your sound, who were the main touchstones that you wanted to emulate? In the first era of my guitar playing, it was bands like Green Day, Blink-182, and Less Than Jake. And then later it was [John Mayer's] Room for Squares, [Maroon 5's] Songs About Jane, [Dave Matthews Bands'] Crash and [Jamiroquai's] A Funk Odyssey. Those albums showed me that you can have guitar parts with more riffs, more leads, and more interesting chord voicings. And then I had a whole jazz era where it was all Scofield, Metheny, and Pat Martino. Then it was the Prince catalog, the Earth, Wind & Fire catalog, the Chic catalog. If I were to really nail down the main influences as far as where I drew my sound from, the obvious ones would be Nile Rodgers, Rob Harris [of Jamiroquai], and John Mayer. But there's one that's maybe a little less obvious, and it's David Williams, who played on a lot of stuff that Quincy Jones produced. He took those rhythm parts and put them at the forefront. He made really hooky rhythm lines and made rhythm guitar a lead thing.
Looking at the instrumentals on this record, I'm curious about the process of coming up with these ideas. Does it start with a riff or are you hearing these more as compositions?
Normally, when I'm making instrumental tunes I like starting with the rhythm section groove and laying down a foundation. Or maybe it's a riff or doubling a baseline that feels like it's very singable, and then I'll end up top-lining myself. I think a lot of people, when they write from grooves or they just write from a rhythm section standpoint, they'll just play a chord progression. But I really try to be intentional from the beginning. I try to think about trying to write something in the rhythm section that is a hook on its own. There's a song that you guys do, "Moves Like Jagger." If you're going to play that song, you have to play the part. If a wedding band were to play my music, I want to create something that they have to do, something that feels iconic to that song.
Cory documents each tour leg with a dedicated live album. His most recent one, The Power Station Tour (East Coast), featured his childhood hero, bassist and Bela Fleck and the Flecktones member Victor Wooten, joining the band. One of the nightly highlights was their version of the Flecktones classic "Stomping Grounds."
Photo by Eliot Hubert
In terms of when you're approaching horn arrangements, who are your influences for that and how do you approach creating those?
Number one is Prince and the way that he used horns in his tunes. The second obvious one is Tower of Power. That's a classic, horns out front, powerful sound. The other one is basically everything that Quincy Jones produced. When I'm writing or making demos, I'll put out ideas for the horns, but at the end of the day the secret weapon of the horn section is Michael Nelson, who was Prince's horn arranger for decades. I can give it to him and he'll figure out which horns go along with it. We'll spar back and forth on what works for the song and then we end up with an arrangement that we're both super-psyched about.
Almost half of the songs on this record feature singers. How does that collaboration work? For example, for "Look at Me," are you sending Allen Stone ideas or are you in the room together?
For that song, my friend Cody Fry sent me the chorus. And then I took it and made a full track out of it. I sent some options to Allen and I said, "Here's this thing. Are you hearing some other stuff on here?" He just took it and ran with it. And then he sent me the final vocal and it was exactly the thing that I wanted.
On that song the guitars have a real plucky, almost synth-like sound. It would be very easy just to put up mics and record the band, but you're in there also experimenting with production.
Most of the albums I've made up until this point have just been the band in the room playing. It's fun, but it doesn't allow for as many layers or for as much guitar production. On this album, I wanted to be more intentional about getting a bunch of sounds with the guitar, exploring different ways to produce guitar in the context of instrumentals and songs that have guest vocalists. On "Look At Me" in particular, and "Ready" and "Call Me Wild," I used a production trick that you taught me last time I was over at your house. You told me it was a Benny Blanco trick. Instead of playing a riff, I just played it one note at a time, chopped it up, and used it as a sample. I did some bubbly Paul Jackson Jr.-sounding guitar part. And then I doubled and tripled the tracks and panned them hard left and right, but it doesn't really sound like guitar. It sounds like a synth. Honestly, I would've never thought about doing it until you showed me that little trick. The way that they attack and cut off would be impossible if you were to just play it all the way through.
Cory Wong's Gear
"If a wedding band were to play my music, I want to create something that they have to do, something that feels iconic to that song," says Wong. What a hip wedding band that would be!
Guitars and Basses
Fender Cory Wong Signature Strat
Fender American Ultra Stratocaster
Ernie Ball Music Man Valentine
Fender Jazz Bass
Fender Jaguar Bass
Ernie Ball Music Man Joe Dart Bass
Amps and Effects
Neural DSP Archetype: Cory Wong
Wampler Wong Compressor
GFI Systems Rossie
Hotone Soul Press II
Valhalla DSP Room plugin
Valhalla DSP VintageVerb plugin
Valhalla DSP Shimmer plugin
Goodhertz Trem Control plugin

Strings and Picks
Strings and Picks
Ernie Ball Paradigm .010 sets
Ernie Ball M-Series .010 sets
Dava Mediums
That begs the question, when it comes to recreating some of this studio trickery live, how are you going to approach that?
I'm going to have to decide what guitar parts are most iconic in the song, and I'll play those. Some of the really synth-y sounding guitar stuff I could probably have the keyboard player replicate, since it does feel more keyboard-y in the attack and release of the notes. I'm thinking I might bring a second guitar player out on tour so I can do some of the guitarmony. So, if you guys are done with your Vegas residency, I might need you to come out on the road.
Dude, I'm down. How do you know when you're working on a new record? Is that something that you conceive of right from the beginning, or is it just like, "Okay, cool, I've got enough tunes, so let's put out the 37th record this year."
There are three projects that I'm always working on, which are Vulfpeck, Fearless Flyers, and Cory Wong. And with both Vulfpeck and Fearless Flyers, it's much more of a "hey, we're going in and making an album" approach. You go in for a week, prepare a bunch of stuff ahead of time, or sometimes not … and maybe just show up and figure it out. With my solo albums, I'm just constantly writing and exploring and producing to keep myself creatively charged. I've always thought that creativity is a vine that blossoms rather than a gas tank that empties. The more that I'm creating and the more that I'm around other people that are creating, I just find myself constantly inspired. I do release a lot of music, but I think part of it is because I give myself permission to be around really creative people. I'm not afraid to learn and grow and ask for input and have no ego about it. If it's somebody that I trust musically and would be fun to work with, then I'm always down and open to explore and see where it goes.
I want to talk about the solo on "Separado," which I read was improvised.
That solo is one take. I was practicing some of these 16th-note patterns high up on the neck and I thought it would be an interesting thing to put in a solo. I was working on that pattern for a couple weeks and it just came out. I felt I needed something big and really climactic at the end of the solo. It was about the energy arc, where I'm going to start with a more melodic line, a little more space, and then I'm going to create something that picks up momentum. And then I'm going to start to dive even farther into it and land at this big 16th-note pattern that I had been working on. Once I finished that one I was stoked. It's okay to celebrate the wins.
WONG ON ICE! // Musical & Athletic Performance
.
Obviously on that day you were in the zone, you were feeling it. What do you do on the days when you're not feeling it?
The main way that I approach that is I try to make sure that I'm keeping a really good baseline of my technical facility. That way, at the bare minimum, I'll just be able to rely on the fact that I know that I can play this. Some days it is harder, but I do know that it is there because I've spent enough time on it and worked it out. I also try to do the same thing for references. Having things that I know I can draw from as far as inspiration and creativity is super important to me. I'm making sure that I'm listening to music from all eras, listening to music of different instruments, consuming art of different mediums—visual art, graphic design, film. Sometimes I'll just find something really interesting, take a screenshot on my phone, and say "I might need that someday." I'll sometimes just scroll through my pictures and look at something and go, "Oh that was cool. You know what, I like the colors on this. How can I apply colors to what I'm doing as far as my guitar tone?"
"I'm not afraid to learn and grow and ask for input and have no ego about it."
But then there are also some days where I feel in the moment, but it's not happening and your emotions can play tricks on you. When you have this confidence in the room and you listen back and think, "Yeah, that was really good, but I don't know that it was maybe as good as I thought," and that's okay. Sometimes you just let the parts do the work. These are good guitar parts, they've been tried and tested in the studio, it's gone through several filters and several nights of playing on tour. Why tonight do I feel like it's not the right thing? The work's been done and I need to let my hands do what they know to do and let it rip.
You've mentioned how you were influenced by a movie for the track "Acceptance."
One of my friends told me about this sci-fi movie called Arrival. It's this weird thing where aliens come to Earth and we try to learn how to communicate with them. What was most compelling to me about the movie is that they teach the main character this way of looking at time, and looking at language, and everything that happens in the world. Time is more cyclical than linear. And she was able to see her life and everything that happens in it knowing the ending of this thing is going to be very painful, and it's going to be so much heartbreak. But the moment right now is going to be so beautiful. There's this level of acceptance—knowing that something is going to be terrible and heartbreaking in the end, but enjoying the love and the beauty of the moment that's happening, and finding peace in the acceptance of that.
It's a beautiful song. When you're doing those volume swells, are you doing that manually or are you doing that on a pedal?
I've tried to do the pinky thing. I just can't get comfortable with it. So, I just use a Hotone Soul Press II volume/wah pedal. A volume pedal is so much fun because you can be really expressive. And when I was tracking that one, I needed to use a real volume pedal for that.
On the solo you have a lot of those intervallic jumps on a single string. Where does that come from?
I would say it is a Mayer-ism combined with a Jay Graydon-ism from the "Peg" solo. Literally, the same string, too. One of the main sources of inspiration for that solo is the Mayer solo on "Gravity," from Where the Light Is. That's an iconic solo to me.
"There's this level of acceptance—knowing that something is going to be terrible and heartbreaking in the end, but enjoying the love and the beauty of the moment that's happening, and finding peace in the acceptance of that."
Every time I talk to you you're running different setups depending on what you're doing live and what backline's available. So, what's your go-to setup these days?
When I'm recording, my main rig that I absolutely have to have is the Wampler Wong Compressor into the Neural DSP Archetype: Cory Wong plugin. All the guitar sounds on this album are from the plugin. As far as playing live, I've been going back and forth between using a pair of Fender Twin Reverbs, a pair of Super Reverbs, or the DV Mark Raw Dawg Eric Gales signature amp, which is a great solid-state hybrid amp. It's got a lot of clean headroom and it's really powerful.
Finally, you've also jumped into being a podcast host. Wong Notes has become the guitar podcast. What have you learned from doing 73 episodes?
I think the main takeaway that I've had from interviewing all those people is that a lot of guitar players think that there's a competition between each other. And in some ways there is. I think there's a fun level of competition between musicians in a way that actually is healthy. It's so much less about how good you are at guitar, and it's more about having something unique and compelling to do with the instrument itself. We're in such a comparative era of humanity with likes and follows and numbers—these vanity metrics. But at the end of the day when it comes to making art, and when it comes to the guitar, the thing that I find that all of these guitar icons are most concerned about is, "Am I doing something that feels compelling and unique, and am I doing it with excellence?"