Charvel today released the Jim Root Signature Pro-Mod San Dimas Style 1 HH FR E/M, the latest in a long line of innovative FMIC (Fender Musical Instruments Corp.) instruments crafted to honor the legendary Slipknot guitarist's brutal tone and dexterous playing.
"For almost 30 years Slipknot's attention-grabbing, aggressive style of music, energetic and chaotic live shows have influenced and honored heavy metal and its impact on music culture," said Jon Romanowski, VP Category Management Charvel. "Jim Root is an innovative and ferocious player – we could not be more excited to introduce his new Signature Pro-Mod San® Dimas model, continuing our long-standing collaboration with an incredible talent who has dedicated most of his life to his career."
Although Root is one of metal's most beloved players, his history with Charvel began long before he was shredding in front of packed arenas. As a teenager, he spent night after night watching Headbanger's Ball on MTV, falling in love with the lightning speed riffs and chugging rhythms of early hair metal. But one player grabbed his attention like none other—Warren DeMartini of Ratt. While his playing left him speechless, Root was particularly mesmerized by DeMartini's rotating arsenal of ornate Charvel guitars. Needless to say, when Root got a Charvel of his own for Christmas that year, it was a dream come true.
Introducing the Jim Root Signature Charvel Pro-Mod San Dimas
"I freaked out. It was a Charvel Model One with the fulcrum tremolo. One humbucker and a hockey stick headstock," said Jim Root. "It was like a goal to reach, you know? I would always think to myself, one day I will have one of those Charvel guitars. And then, there it was."
The Jim Root Signature Pro-Mod San Dimas® Style 1 HH FR E/M is as much an ode to the classic Charvel guitars that captivated Root as a child as it is a perfect representation of the Slipknot guitarist's progressive, earth-shaking sound. The heart and soul of this guitar is its mahogany body; the heavy wood provides a rich and warm tone that is the foundation for much of Root's sludgy yet melodic playing. Paired with the custom EMG Jim Root Daemonum humbucking pickups, the Jim Root Signature is a versatile metal making machine unlike any other.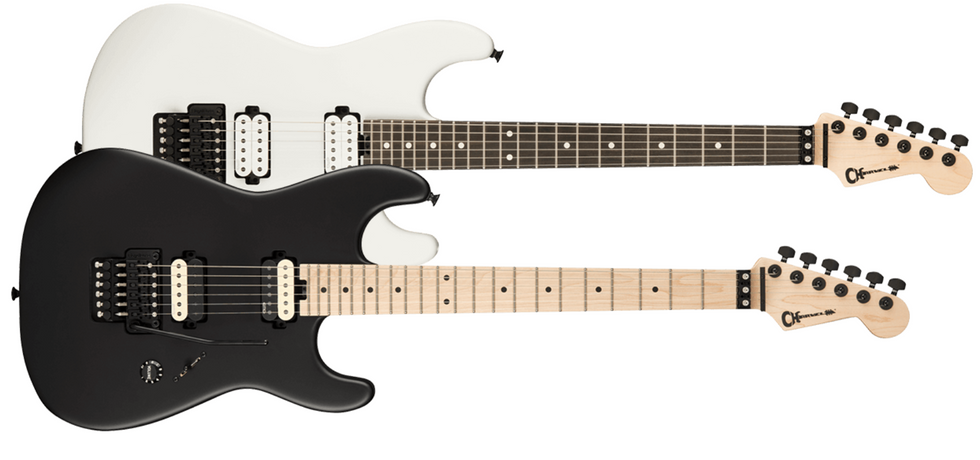 "The signature pickups have the high output of active pickups but with the response of passive pickups," said Jim Root. "They're as good for artificial harmonics and dive bombs as they are for chimey, clean jazz."
In addition, the Jim Root Signature is outfitted with a bolt-on maple neck that is reinforced with graphite, making this the ideal workhorse for any touring guitarist. While the neck is tough as nails, the 12"-16" compound radius fingerboard with rolled edges and 22 jumbo frets make easy work out of the most delicate and complex riffs. And even though the amount of features and versatility that this instrument boasts might seem dizzying, much like Root's style, it is straightforward and to the point. The guitar features streamlined controls consisting of a three-way blade pickup switch and a single skirted Strat®-style volume knob. The guitar also features a heel-mount truss rod adjustment wheel, Luminlay side dot fret markers and a Floyd Rose 1500 Series double-locking tremolo to fulfill any dive-bombing needs. Models include a maple fingerboard option in Satin Black and an ebony fingerboard in Satin White. Both colors feature black hardware and come in a Charvel multi-fit hardshell gig bag.