Harakiri for the Sky Defies the Rules of Heavy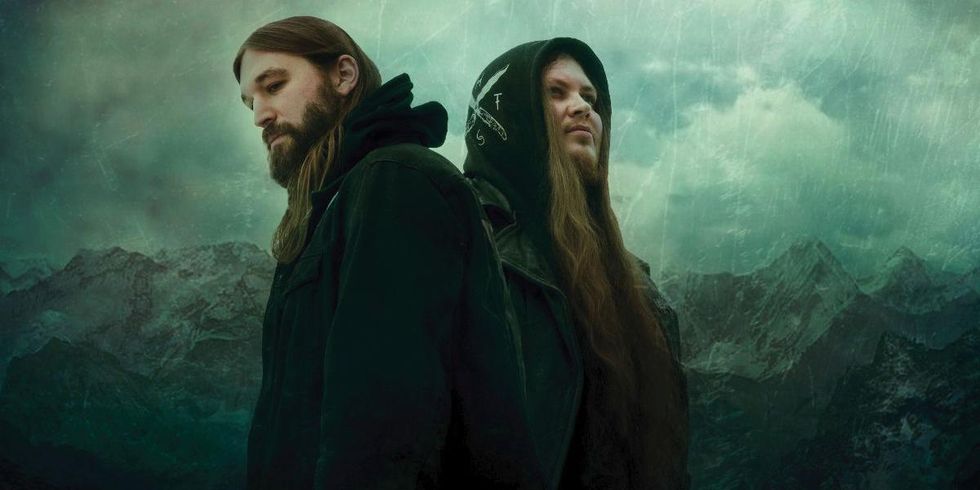 Austrian black-metal magus Matthias Sollak realizes his panoramic vision for Mӕre via cues from prog, shoegaze, and neo-classical.
For all the black-metal bona fides Matthias Sollak has accumulated as a guitarist, his musical range extends into areas you might not expect from a 31-year-old who's been running with headbangers for most of his life. Even during his long stint with Bifröst, the band he co-founded in his native Salzburg, Austria, at the age of 16, he brought elements as far afield as bagpipes, folk instruments, and keyboard samples to a freewheeling and unpredictable sound that helped set the group apart from their self-avowed "pagan metal" contemporaries.
---
Sollak launched Harakiri for the Sky with singer-lyricist Michael V. Wahntraum (known simply as J.J.) in 2011, while he was still a member of Bifröst. Conceived as an outlet to explore a more personal narrative in their songwriting, HFTS quickly became a full-time pursuit for Sollak, whose primal riffs, intricate melodic textures, and instinctive feel for subtle and moody dynamics put his peers on notice. A versatile guitarist with a producer's ear, Sollak wrote all the music and played all the instruments, including drums, on the duo's first three albums, only giving up the kit to veteran death metal drummer Kerim "Krimh" Lechner beginning with 2018's Arson.
In the past, I could always cheat a little bit with a lot of distortion, but as soon as you crank it down, it automatically forces you … to hit the downstrokes harder and play tighter.
Mӕre, the group's new double-disc epic, finds Sollak and friends crafting an even wider and more diverse sonic palette. Gloom, doom and redemptive catharsis still play their roles, but there's a quasi-shoegaze feel to the album opener "I, Pallbearer," which concludes with a lone guitar soloing in the murky distance behind a poignant piano melody. "Sing for the Damage We've Done" builds slowly and resolutely in its gradual onslaught before pivoting into an Opeth-like break, stripped down to the barest prog essentials with guest vocalist Stéphane Paut, known to French metal fans as Neige, from the band Alcest. And these are just the first two songs—so there's a lot more to Mӕre than the term "post-black metal" can do justice.
It was a long road to get there, and, as Sollak describes it, HFTS wrapped production under unusual circumstances. "We got pretty lucky because we finished the recording two weeks before we went into [COVID-19] lockdown," he recalls. "The only thing we still had going on were some of the guest vocals, which was a bit problematic because Neige is living in Paris, and they had the toughest lockdown of all. But by then we had to delay the release anyhow."
As it turned out, Sollak was able to make maximum use of the extra time during the album's mixing phase. But to grasp how he did, first it helps to understand how he changed up his routine to record the guitars on Mӕre. "We always have the music and the lyrics worked out before we go to the studio," he says. "I write the music and send it to Jimbo [J.J.], and he writes the lyrics—we have a strict separation because it just works for us." From there, Sollak relies on a Kemper Profiler to layer his guitar tracks, and normally records the rhythm parts on his trusty Jericho Elite with the Kemper's distortion effect cranked.

This time, however, he took a different approach. "I was definitely not going with the full-blast distorted sound," Sollak explains, "but I was listening to the actual DI track while we were recording. We had the distorted sound mixed into the background, because that automatically forces you to play way tighter. In the past, I could always cheat a little bit with a lot of distortion, but as soon as you crank it down, it automatically forces you, with the rhythm guitars, to hit the downstrokes harder and play tighter, and I think that's something you can hear in the overall sound."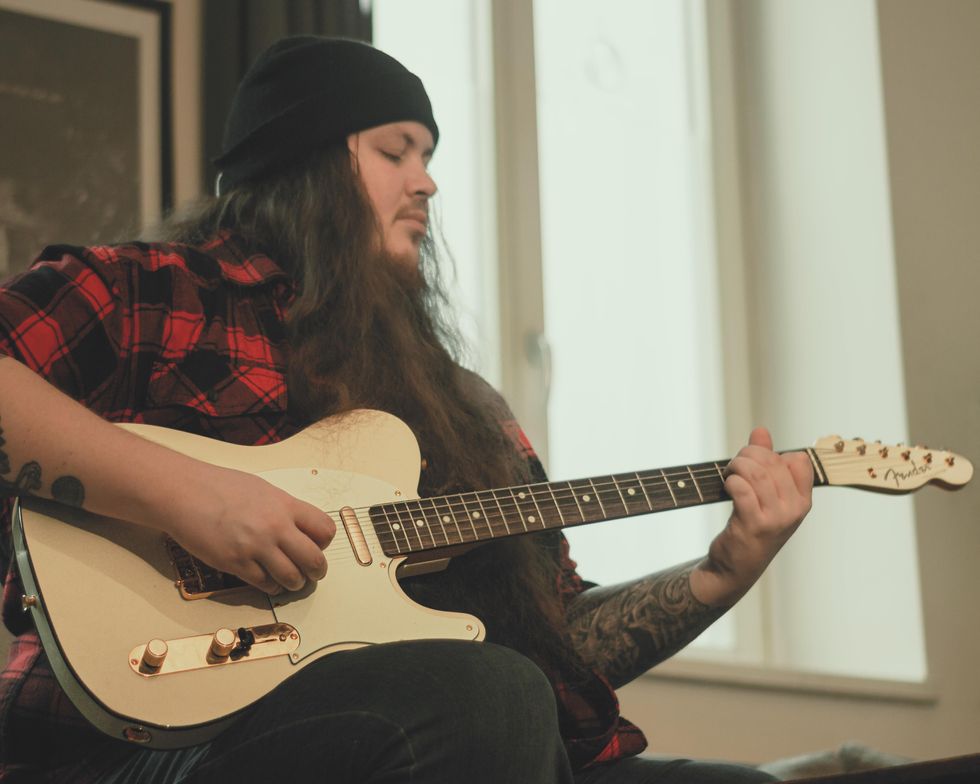 Although Harakiri for the Sky have earned their place in the contemporary heavy music spotlight, Matthias Sollak has eschewed shredding, sweep picking, and other genre conventions to concentrate on songwriting and the specific techniques—and instruments—his songs require.
Photo by Soralover
Sollak mixed the album with Vienna-based producer Daniel Fellner, whose own history as lead singer and guitarist for the now-defunct Devastating Enemy was integral in raising the sonic stakes on Mӕre. "He has a huge amount of amplifiers," Sollak says, "so we decided to try them out and just reamp everything. We used some typical things, like a Peavey 5150, a Marshall JCM800, a Fender Bassman, and a really old Framus Dragon, but the freakiest thing was using a Roland Jazz Chorus for the clean sounds. It just sounded really good, and I would have never imagined using such an amplifier. It was just sitting around, so we thought, 'Hey let's try this out.' That was definitely a mind-opening experience."

Sollak and Fellner also used different amps on the left and right sides of the stereo mix, and reamped with very little gain. Taken together, the reamping and mixing techniques bring out all the articulation and complex melodies in "I'm All About the Dusk," an 11-minute excursion that, in some sections, rolls thick with as many as four guitar parts. "Silver Needle // Golden Dawn"—which features a cameo from the nameless lead singer of Portugal's mysterious black metallurgists Gaerea—is another instance where the song benefits from careful reamping and attention to dynamics. It actually recalls the compression-heavy, high-transient sound that Tom Scholz perfected back in the mid '70s on the first Boston album, only heavier.
TIDBIT: For Mӕre's solos and lead lines, Sollak dipped into producer Daniel Fellner's amp collection, which included a Peavey 5150, a Marshall JCM800, a Fender Bassman, a Framus Dragon, and a Roland JC-120.
But the song that really lights a roaring fire under Mӕre is "Us Against December Skies." Sollak's favored drop-D-flat tuning helps define the mood. He opens with a siren-like repeating octave, accentuated by chord punches that Lechner echoes with precision on the drumkit, before a soaring, almost Wagnerian wave of sound takes hold—a symphony of guitars that seems to inspire J.J. to pin his vocal performance in the red. About halfway through, everything stops on a dime, with another round of chord punches opening the door for a guitar lead (after J.J. full-throats the line "You can touch the sky") that Sollak develops into a theme, pushing the song to its coda: a dialed-back groove with stacked clean guitars that quickly surges into yet another wave—this one positive, powerful, and uplifting.

"I love when the song builds up, goes back a bit, and then explodes again," Sollak raves. "If you already have a repeating riff, and then, for example, the vocals drop out all of a sudden, it needs to expand in another way, which I usually do by adding another guitar melody so it doesn't totally die down. I try to alternate everything a little bit. So there are some parts that are similar, but then I might add a piano melody. If you want someone to pay attention for 10 minutes, then you have to create music in an interesting way."
As gifted as he is in arranging and producing, Sollak insists he's a shirker in the woodshed. He took up classical piano at a very young age but lost the patience for it. Getting his hands on his first electric guitar inspired him almost immediately to start writing and arranging. He used early versions of Guitar Pro and Magix Music Maker to teach himself how to sample beats, create sequences, and record tracks—so learning to shred became less of a priority.
Matthias Sollak's Gear
Guitars
FGN Mythic 6
Fender Limited-Edition Daybreak Telecaster
Fender Jim Root Tele
Jericho Fusion Blacktop
Jericho Elite
ESP Horizon
Godin LGX
Schecter JL-7
Epiphone Les Paul Classic
Sire Marcus Miller V7 bass
Amps
Kemper Profiler
Peavey Triple XXX
Peavey 5150
Fender Bassman (studio)
Marshall JCM800 (studio)
Roland JC-120 (studio)
Framus Dragon (studio)
Effects
TC Electronic Flashback
TC Electronic Hall of Fame
Maxon OD808
ISP Technologies Decimator
Strings & Picks
Elixir (.011–.049 and .012–.052 sets)
Nologo picks .76 mm standard
"I'm really, really lazy when it comes to practicing," he quips. "I'm not a fast shredder, and I'm not good at sweep-picking and all this stuff, but by writing more music and trying to mature with it, I definitely got better—just less sloppy with everything, with no special focus on a certain technique. In general, it gets more important to me not just to play anything, but to play those things that I can play as tight as possible."
Considering that Sollak started out by diving into the deep end—by age 10, he was already listening to In Flames classics like Whoracle and Clayman—it's no surprise that chasing the sound he had in his head became a lifelong mission. Along the way, he discovered Iron Maiden, and then eventually Deftones and Placebo—bands with low-tuned guitars who wrote distinctively melancholic melodies.
"I didn't have this classic thing going from '70s bands to harder music," he says. "It was all completely mixed up, but maybe it influenced me as well in my style of playing. Back then, I just went to the record stores with this really small, hard and heavy section, and I tried to listen to Sadist or other bands that sounded similar because I was just in love with old In Flames. Later on, I listened to Nirvana and all this other stuff that came."
Co-bandleaders Sollak and vocalist J.J. have recorded most of their group's catalog themselves, but onstage Harakiri for the Sky expands into a 5-piece.
Photo by Helsing Photo
Fittingly, Mӕre closes with a cover of Placebo's "Song to Say Goodbye," which was on a short list of tunes Sollak wanted to cover. "It was easy to choose," he says, "because J.J. said he has a personal connection with that song from when he was younger. He's not as big a fan as I am, but I think with Placebo in general, when you read their lyrics and listen to their music, it's not too different from what we do. They're very thoughtful, very melancholy songs, mostly."

Sollak pauses to consider a broader question about the music that inspires him, and how his influences still drive him today. "Sometimes—don't ask me how—I have certain songs from my youth in my head. 'Under The Bridge' by the Red Hot Chili Peppers—that guitar riff has stayed in my head for, I don't know, 12 years now? It always comes back because it's a signature hammer-on, pull-off thing, and I thought, why can't you combine that with some leads and a lot of
feel
? Bands like Katatonia are doing that. So I try to take these different influences—it could be Opeth, or a composer like Johannes Bornlöf, or even a prog-y Norwegian metal band like Borknagar—and then create something of my own. There's no formula. I'm just trying things out."
YouTube It: Harakiri for the Sky - "Stillborn"