Photo by Adam Malik
On their newest full-length rager, Electrified Brain, the thrash vets reference classic heavy riffs and tones while rocking their hearts out.
Municipal Waste guitarist Ryan Waste is passionate about old-school metal. "I'm as much a fan as a player," he attests, "so I try to keep as true to the roots as possible." His allegiance to metal's early days is loud and clear on Electrified Brain—the band's most recent record—a 14-track, 34-minute explosion of vintage, full-throttle thrash at its finest. Leaning heavily into the sonic template forged by albums like Metallica's Ride the Lightningand Slayer's Reign in Blood, Electrified Brain easily qualifies as a contemporary torchbearer for the genre and effectively associates Municipal Waste with the New Wave of Traditional Heavy Metal scene. By embracing the tried-and-true '80s-era sonic stew of Marshall amps and standard-tuned guitars, and by avoiding modern production aesthetics that rely on click tracks and drop-tunings, the band has crafted an album that captures the incendiary spark of pure, unadulterated OG thrash.
Since forming in 2001 in Richmond, Virginia, Municipal Waste has released seven studio albums, three EPs, and four splits, with founding members Waste and lead vocalist Tony Foresta solidly guiding their musical amalgamation of '80s thrash and hardcore punk. The current lineup also includes Philip "Landphil" Hall on bass, Dave Witte on drums, and their latest addition, Nick Poulos, on lead guitar. Long-running metal label Nuclear Blast released Electrified Brain, the follow-up to 2017's widely praised Slime and Punishment, which was the first to feature Poulos on guitar—though the band also released the EP The Last Rager in 2019. Prior to that, Municipal Waste was a four-piece, with Waste handling all guitar duties.
MUNICIPAL WASTE - High Speed Steel (OFFICIAL LYRIC VIDEO)
Over the course of the last two decades, albums like The Art of Partying (2007) and The Fatal Feast (2012) have burnished Municipal Waste's reputation as the world's foremost purveyors of "party thrash." Electrified Brain continues that trend across a set of short, insistent songs with tongue-in-cheek titles like "Last Crawl," "Ten Cent Beer Night," "Crank the Heat," and "Paranormal Janitor." A good example of putting the "party" into "party thrash" is the "Rock You Like a Hurricane" riff that concludes the propulsive "Ten Cent Beer Night." These dudes have a sense of humor, and it's one of Municipal Waste's coolest attributes.
Poulos confirms that the initial intent for Electrified Brain was to be a bit more "traditional," and cites elements of Metallica's "For Whom the Bell Tolls" in the song "High Speed Steel." "There's a little lead that I do at the end that is pretty 'Kirk-y,'" he says.
Beyond these towering musical influences, the pandemic also had a profound impact on the creation of Electrified Brain. "We had more time than we've ever had for an album," recalls Waste. "Instead of rushing through—write, hit the studio, hit the road—this one was like, 'Okay, we're going to write, let the songs marinate a little bit, revisit them, and then collectively go in the studio.'" During the height of the pandemic, they holed up in Redwoods Recording Studio with engineer Arthur Rizk in Philadelphia, Pennsylvania, for two weeks and got down to business.
"Now that we have the power to pull off double guitars live, we're going to really let it shine." —Ryan Waste
"We were all masked up—five of us—in an Airbnb and just taking Lyft to South Street every day and working 11, sometimes 12, hours," recalls Poulos. "We were so ready to do just about anything as a band. Obviously, we couldn't play shows at that time, but the studio was a real cool escape from the world and everything that was happening."
Poulos says both he and Waste recorded two guitar tracks each per song, so when you listen to Electrified Brain, you're hearing four rhythm guitar tracks. "We would finish a pass of the song, punch-in, fix whatever mistakes, and then go ahead and do a whole other take," he recalls.
Poulos cut his rhythm tracks with his late father's vintage Gibson Explorer, calling on a pair of Marshalls for his amplification needs: his own '88 JCM800 for his primary rhythm tracks, and one of Rizk's studio Marshalls for his second tracks. Poulos also "messed around with" a Boss SD-1 Super Overdrive. "I play out of my JCM800 with the reverb cranked at about two-and-a-half, three o'clock, with a Tube Screamer and Overdrive. I just run them both and have it dialed in so it's not completely noisy. It's pretty primitive, honestly. There's really not much to it, but when you put a microphone up to it the way Arthur did, it sounds awesome—very Slayer, Trouble, even early 'Tallica. You just can't go wrong."
Ryan Waste's Gear
Back in the early days of the band, Ryan Waste, here with singer Tony Foresta, designed the Municipal Waste logo. Since 2008, he's worked with a series of builders to bring that logo to life, culminating in his crushing signature model, the RIP MW-AX.
Photo by Tim Bugbee
Guitars
RIP Custom Guitars MW-AX with Kahler 2300 Tremolo and Seymour Duncan JB Trembucker pickup
Strings & Picks

Ernie Ball Regular Slinky (.010–.046)
Dunlop Tortex Standard .73 mm
Amps
Effects
Ibanez TS9 Tube Screamer
Boss TU-3 Chromatic Tuner
Waste followed the same tracking protocol, using his own JCM800 amp from '86 with a V2 mod that boosts the gain and the low end. "It's definitely loud as shit, but a little less gain-y than mine," says Poulos. The guitarist runs just a single Ibanez Tube Screamer in front.
Waste tracked Electrified Brain using his RIP Custom Guitars MW-AX, built by Rob Gray. It's a custom model in the shape of the band's logo. "I'm a left-handed player. Not being able to find a Flying V or find guitars at a guitar shop, I had a custom guitar made in the shape of our logo as far back as 2008," explains Waste. In the time since, he's turned to various builders to make the guitar, from luthier Andy Strangio, who made the initial model, to Fernandes, and to local Richmond builder John Gonzales. "I've had five incarnations," explains Waste. "And now, I teamed up with Rob Gray at RIP Custom Guitars, which is Radical Instrument Products. He's made the final MW-AX that I've actually marketed and made a signature model out of that kids can buy."
To capture the most brutal sounds around, the band headed up I-95 to Philadelphia and engineer Arthur Rizk. In the City of Brotherly Love, they spent two weeks carefully crafting their riffage—though they recorded their guitar leads at the home of bassist Philip "Landphil" Hall.
Both guitarists credit Rizk with helping them get the desired results. "He's a great guitar player himself and understands that we want a crunchy, natural tone," says Waste. "He got my favorite sounds, drums-and guitar-wise, on this album, so I was psyched."
Even though Electrified Brain is the third Municipal Waste record to include Poulos, it's their first release to prominently feature a lot of lead guitar playing. "On this one, we're really letting him shine with more leads," says Waste. The guitarists decided to take a different approach to tracking their solos than they did to their rhythm parts, cutting them at bassist Philip Hall's house and shipping them to Rizk fox mixing.
Rig Rundown: Municipal Waste
Poulos says he went into each solo with a rough blueprint of what he was going to play before they hit record. "For most of the stuff, I had an idea of how I was going to execute it, but I definitely came up with a couple of cool things on the fly that I'm really stoked on." He differentiated his tone by using his Ibanez RG550 for solos, and adds, "I just used a couple of different pedals. For the leads, I used a Waza Craft Metal Zone. It's not like most Metal Zones. I know a lot of people hear the term Metal Zone and think basement metal and Battle of the Bands, but the mod definitely helped make it less noisy. You can really just tone back and dial it in to be great for leads."
Poulos also admits that in the past he's been terrified when it came to tracking leads in the studio. "But now, especially working with Phil, we have this rapport," he explains. "It's calm, it's easy. And my abilities have improved over the past couple of years. I really try to do some extracurricular activities, as far as thinking outside of my go-to tricks and my normal toolbox of moves. I'm level-headed, I'm ready to do it, and it feels good. Once you hit something really sick, it's like, 'Wow, that sounds really cool.'"
Nick Poulos' Gear
Electrified Brain is Nick Poulos' third album with the band, but this time, Waste says, "We're really letting him shine."
Photo by Adam Malik
Guitars
Ibanez RG550 Genesis Collection
Gibson Explorer
Strings & Picks

Ernie Ball Regular Slinky (.010­–.046)
Dunlop Nylon Max Grip 1 mm
Amps
Effects
Ibanez TS9 Tube Screamer
Boss SD-1 Super Overdrive
Boss MT-2W Waza Craft Metal Zone
Boss TU-3 Chromatic Tuner
The band also embraced more of the creative possibilities of their two-guitar lineup. "Now that we have the power to pull off double guitars live, we're going to really let it shine," promises Waste. On "Last Crawl," they took the opportunity to trade leads. "The trade-off stuff is cool," he says. "I think maybe we'll do more of that." But it's also refreshing for Waste to be able to focus on his rhythm work. "It was just such a relief, like, 'Okay, you're the lead guitar player now.' I have no ego about it whatsoever, man."
Perhaps their generous guitar partnership stems from the guitarists' collaborations outside of the band, which have been ongoing for some years. They both play together in two more traditional heavy metal bands, Bat and Vulture. Waste plays bass in both, which may account for his willingness to play a more supportive role. It also perhaps highlights his seemingly innate ability to conjure great, single-note, air-guitar-worthy riffs. "I was a bass player long before I was a guitar player, so, honestly, I'm more comfortable playing bass," he confesses. "I even feel more proficient at bass. I didn't pick up a guitar until I was 18. Back then it was funny. I played bass since I was 13, and everyone told me I played bass like a guitar player, because I'd be up high on the neck doing stuff. So, I was like, 'I might as well get a guitar.' And now I feel like I play guitar like a bass player, so I can't win, man." [laughter]
"The studio was a real cool escape from the world and everything that was happening at the time." —Nick Poulos
Waste points to Geezer Butler and Lemmy as huge influences, and says he loves "bass that stands out and you can hear it. I'm a champion of the bass. I want to be able to hear it in recordings. I love a nice distorted, loud bass tone. I love Mob Rules, the Dio Sabbath— 'Country Girl.' There are some bass lines on that one." Ultimately, Waste says his playing style likely evolved from his sense that "riffs are more important—you can shred all day, but can you write a song?"
Poulos cites a slew of influences, starting with "a lot of the British guys, like Jeff Beck. These cool, nonchalant, guitar slingers—they just made it look so easy." He says he got really into Carcass when he was young and is a fan of guitarists Bill Steer and Michael Amott. "I love Glenn Tipton's playing on a lot of those post-'70s -era [Judas] Priest records too, like the early-'80 stuff, where he really honed his ability and got a little flashier." He goes on to gush about Whitesnake's Adrian Vandenberg, Vinnie Moore, and Thin Lizzy—singling out Gary Moore. "Also, my dad was a blues guy," he adds. "He always instilled this sense of how to work around a pentatonic and make it sound more bluesy, and that's driven into my skull. I'm definitely trying to open my mind to stuff like Freddie King."
After discussing a wide range of players, Poulos circles back to the conversation about the band's intent to make a more traditional-sounding record, and ultimately concludes that labeling Municipal Waste could be a futile endeavor. "The 'New Wave of Traditional Heavy Metal' label is a little ridiculous," he chuckles. "Heavy metal is timeless."
Municipal Waste - Live @ Hellfest 2019 (Full Live HiRes)
Premier Guitar's Chris Kies is on location at the at the NIU Convocation Center in DeKalb, IL, where he catches up with Green Day's guitar and bass techs before their spring 2013 99 Revolutions tour in support of their three latest albums, Uno, Dos, and Tre'.
Billie Joe Armstrong's Guitars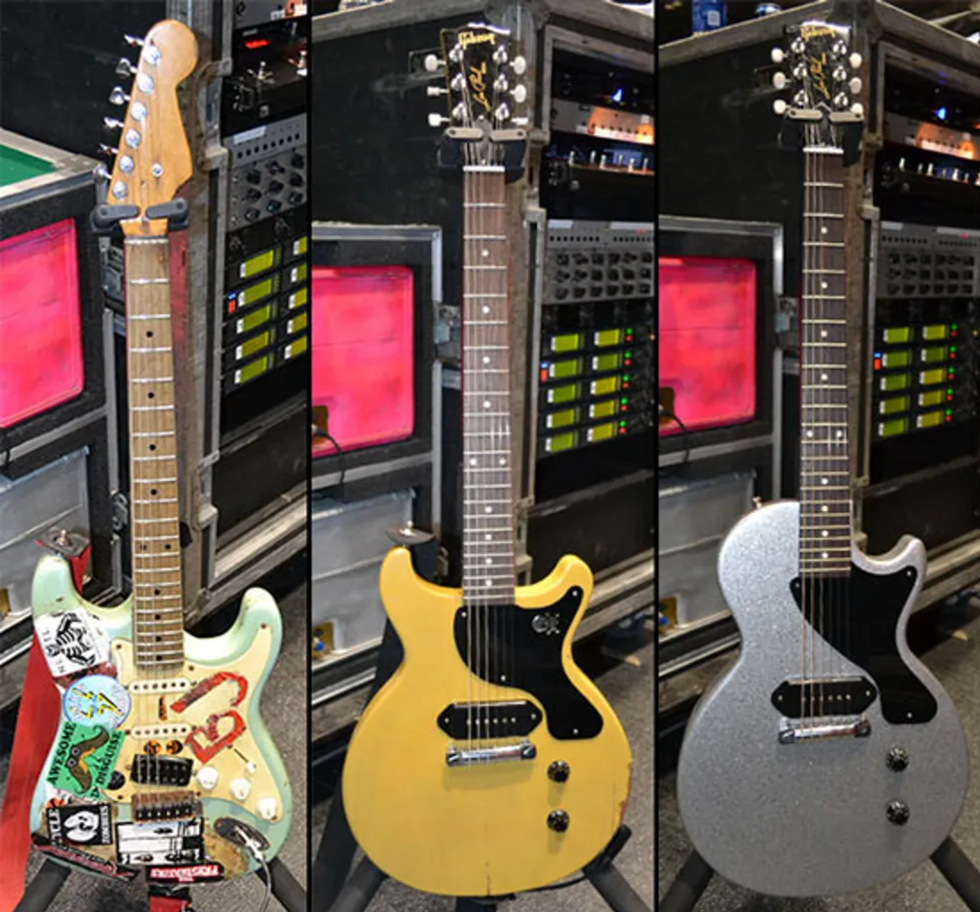 Armstrong brings a mixed bag of new and old guitars on tour with him. The mass majority of them are Gibson Les Paul Jr models, but the most iconic guitar dating back to the early-90s is the super-strat coined Blue. The stickered axe is a Fernandes Stratocaster copy that he got for his birthday when he was 11. Among the things BJA has changed on this axe was the bridge pickup, which he originally swapped out the stock single-coil for a Bill Lawrence humbucker, but eventually deciding in the late '90s to go with a Seymour Duncan SH-4 JB that is set at an EVH-inspired angle. In addition, the guitar's pickup selector is locked in the bridge position and the middle and neck pickups are disconnected. Armstrong uses Blue on primarily Green Day's earlier stuff like "Basket Case," "Longview," "Brain Stew," and "Hitching' a Ride," so the guitar is tuned to Eb and is strung with Ernie Ball Slinky .010--.046 strings (the rest of Armstrong's guitars are tuned to E standard with .010s, too). Other go-to guitars Armstrong uses during live performances includes the repaired TV-yellow Gibson Les Paul Jr doublecut that he busted during the Las Vegas I Heart Radio festival, and a silver-sparkle signature Gibson Les Paul Jr singlecut with a Seymour Duncan P-90 Antiquity in the bridge.
From his collection of vintage Jrs, BJA's brought a doublecut '59 TV yellow model and a '55 black singlecut both outfitted with a single P-90 in the bridge. New acquisitions to Armstrong's touring arsenal are a Rickenbacker 330, modified with only one volume control, and a late '60s Martin GT-70 has a bolt-on neck and original DeArmond pickups.
Billie Joe Armstrong's Amps and Effects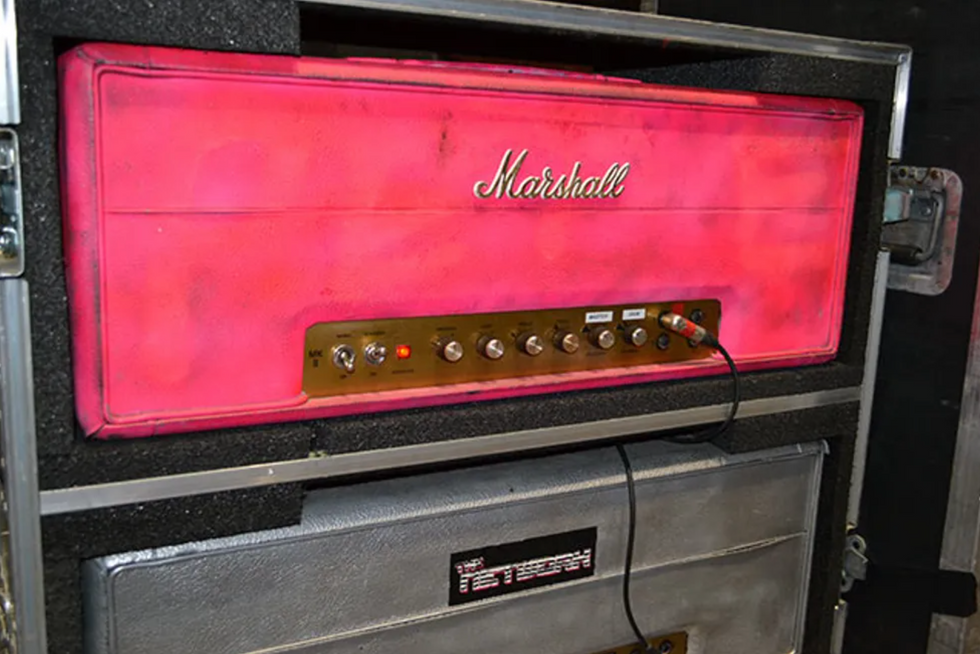 His two Marshall 100-watt 1959 SLP reissue heads were modified by Martin Golub at L.A. Sound Design. The top head (Pete) has a crunch mod (a.ka. "Dookie" mod or Bradshaw gain mod) and Meat (lower head) has Golub's SE Lead mod, which adds another preamp tube for more gain. The two heads have been Armstrong's got-to amps since even before their iconic 'mud set' at Woodstock '94 performance. For his clean tone, BJA uses a rackmount Custom Audio Electronics 3+ SE guitar tube preamp. Both heads and the CAE 3+ SE run through two Marshall 1960B cabinets that are equipped with Celestion Vintage 30s.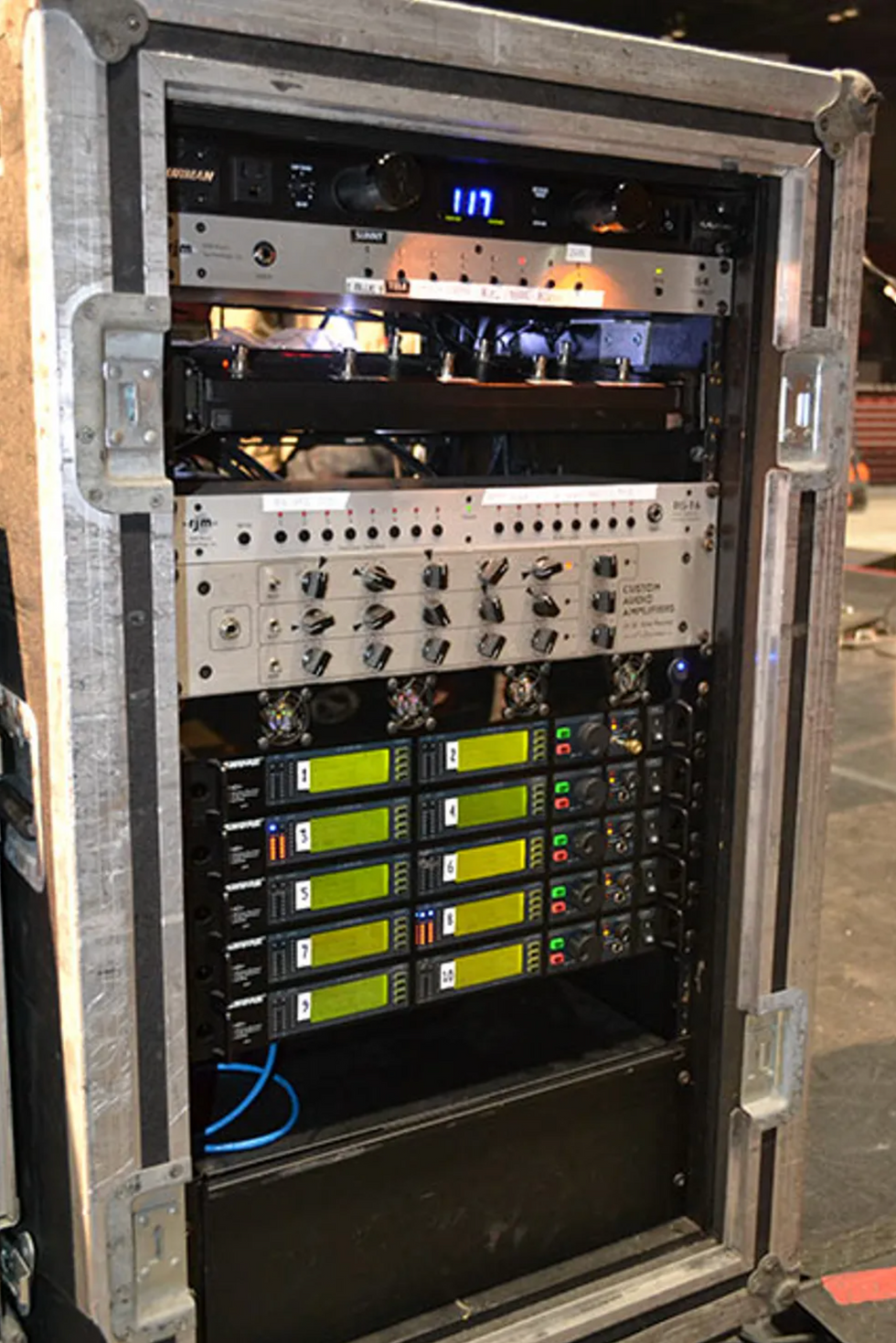 The Shure R4D+ wireless units go into a RJM iS-8 allowing Buscher to switch between eight guitar inputs, which then splits off into either the CAE 3+ SE preamp or Marshall heads and the RJM RG-16 switcher and MasterMind MIDI controller that engage the four main presets that Billie uses. The controller's presets are Clean and Mid (both settings bypass the Marshalls' preamps in favor of a Custom Audio Electronics 3+ SE guitar tube preamp), Big (both Marshalls without the CAE preamp), and Big Effect (which kicks in a Boss BD-2 Blues Driver pedal for solos). BJA does have a MXR Carbon Copy Delay that is used for "Kill the DJ."
Jason White's Guitars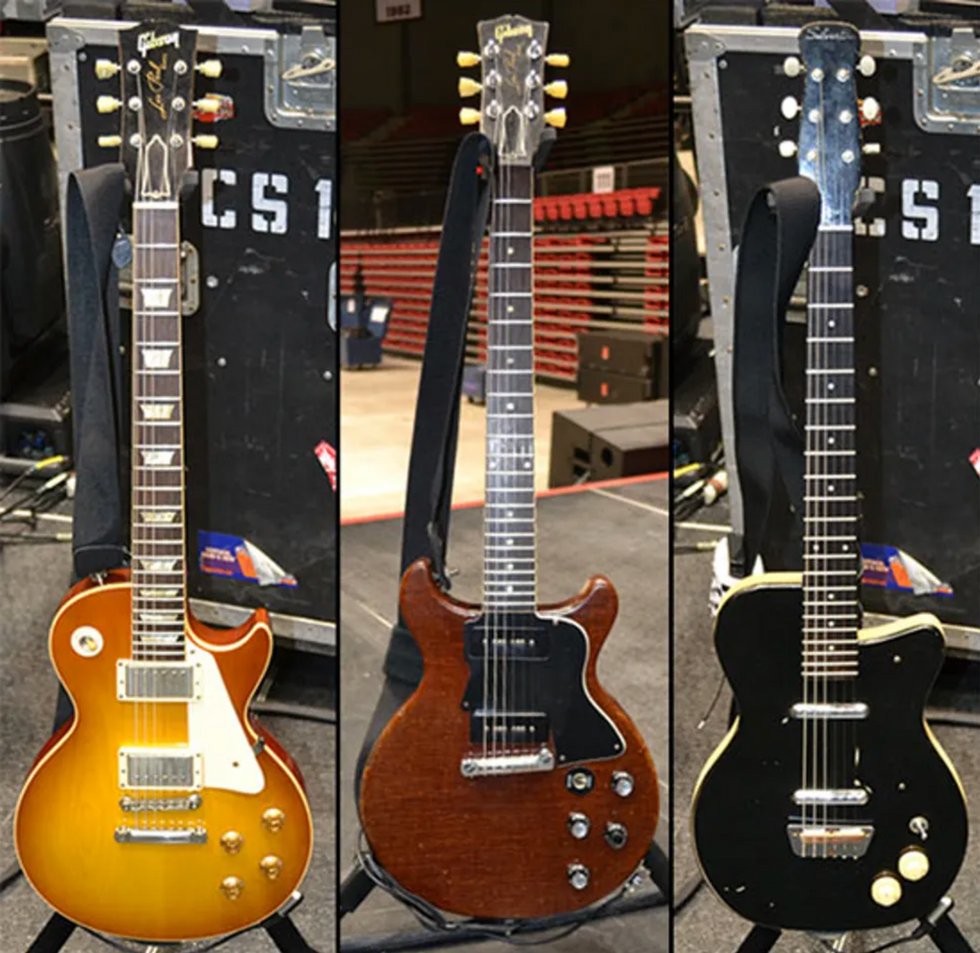 White's main guitar is a '50s Gibson Les Paul Jr doublecut with two P-90s (and a Gibson Les Paul goldtop with P-90s as its backup) that White uses on rhythm duties, while his Gibson Les Paul is used on any of the band's newer where White takes lead guitar duty. For thin-and-jangly tones, White leans on his Silvertone for "Kill the DJ" and "Stray Heart." For acoustic tones, he goes with one of his two Gibson ES-335s that are outfitted with a Fishman piezo pickup through a Fishman Aura preamp set to dreadnaught. For '90s material, White counts on his black Gibson Les Paul that is tuned to Eb.
Jason White's Amps and Effects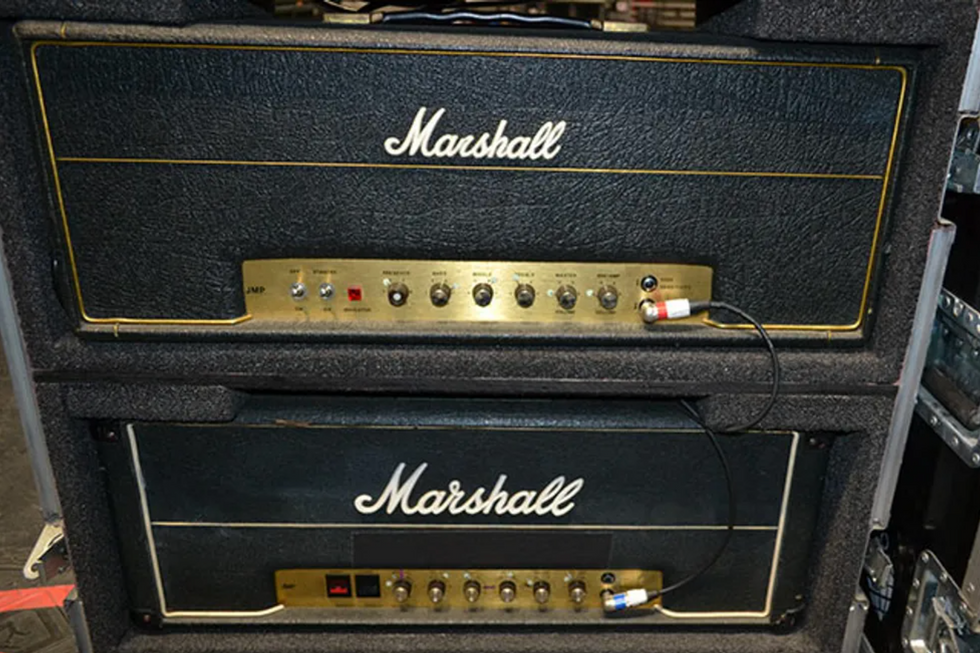 White uses the same 100-watt Marshall heads with the same Dookie mod (top) and SE Lead mod (bottom), and like Billie's two-headed monster, White's amps are always used in conjunction with each other for a full, rich, rounder sound with sustain and cut. Whereas BJA's Marshalls are set to noon, White scoops mids on the SE Lead head. Also, White's clean tones are coming from the CAE 3+ SE tube preamp. For White's Big Effect patch, he uses a Chandler Limited Little Devil Colored Boost. Also in his rack is a Dunlop Crybaby Rack Module (with remote foot controller onstage) and a rackmount Line 6 Echo Pro (set to a basic eighth note triplet), and both are used on White's solo for "Boulevard of Broken Dreams." Other pedals in his rack (but not used) are a MXR Phase 90 and a Boss PS-6 Harmonist. The Shure R4D+ wireless units go into a RJM iS-8 White's tech Chris Schleyer to switch between eight guitar inputs, which then splits off into either the CAE 3+ SE preamp or Marshall heads and the RJM RG-16 switcher and MasterMind MIDI controller that engage the four main presets that Jason uses.
[Updated 12/30/21]
The Fuchs Frost 100 is one of the latest offerings from amp wizard Andy Fuchs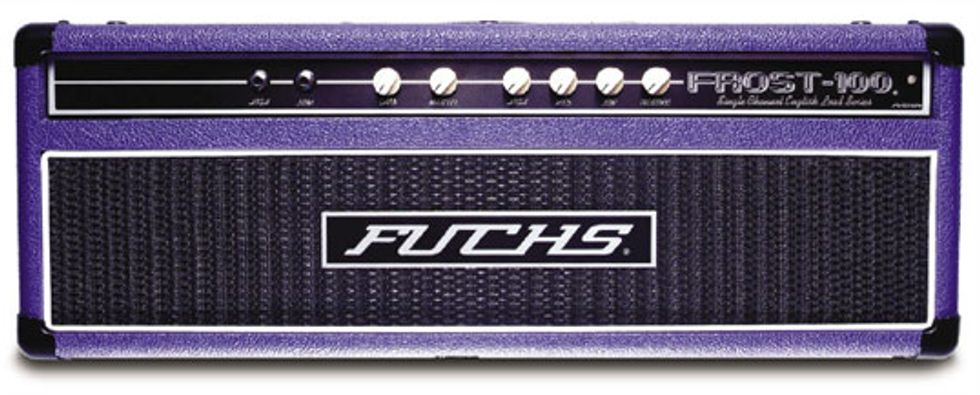 The Fuchs Frost 100 is one of the latest offerings from amp wizard, Andy Fuchs. He has been responsible for some of the coolest (no pun intended) amps to come along lately. Available in single or dual channel models, the Frost was designed in cooperation with metal guitarist Jack Frost (Seven Witches, Savatage, Bronx Casket Company). This month, we'll be putting the single-channel Frost 100 through its paces.
---
Face First
This purple-covered beauty was originally described to me by a fellow player as a JCM800 Marshall on steroids. The front panel of the Frost reflects this, with its control layout consisting of Presence, Lows, Mids, Highs, Master Volume and Gain. It's a no-frills, no bells and whistles amp, designed simply for the production of tone.
Visually, one of the first things I noticed – besides the purple tolex, of course – was the use of an LED as a pilot light. It's bright, won't burn out and doesn't draw much current. A cool idea indeed! Speaking of cooling, the amp does have a small internal fan keeping the tubes frosty, which is something that I think pays big dividends in tube life.
These types of amps usually run a bit higher plate voltages and push things harder in order to get their unique sound, so I see the cooling as a worthwhile function.
---
"Tonally I found the amp to be, first of all, very punchy. It has a strong power section, a lot of headroom and can be driven hard to become quite loud without going to pieces and becoming mushy on the low end"
---
Power Up
The Frost 100-1 harnesses a quartet of Tung-Sol 6550s and the usual three 12AX7 tubes for the preamp and phase inverter. Because of the construction and design attributes of this amp, I noted that there was not even a hint of microphonics in any tube, which is a bit surprising given some of today's tubes.
On a bit of a side note, for a while in the '70s and '80s, Merson, who distributed Marshall in the United States, felt that the EL34s they were furnishing with their amps (Mallard manufactured) were responsible for excessive warranty problems, so they decided to switch to 6550 tubes.
6550 tubes do produce more low end, mids and result in slightly raspier highs compared to their EL34 counterparts – many people using the 6550s then switched back. I asked Andy Fuchs if EL34s would be available in this model by request and he said that was no problem. The choice of which tubes to use defaults to the player; I think the newer players may in fact prefer the 6550s, while older school blues guys and classic rock guys may like the EL34s.
The rear panel of the Frost 100-1 has output jacks to accommodate the various impedance needs of the player. I personally prefer this to rotary switches, because of the possibility of switch failure, which could cause problems. There is an effect loop, which will handle different levels of effects, from pedals to rack mounted line level effects. Also on the rear panel is the loop bypass switch. This is one of my favorite features for effects loops; when a loop is engaged, there is a bit of difference in the tone caused by the different amounts of signal getting through to the power amp. This may range from subtle to major. I always tell my clients to plug a short cord between the in and out of loops and play for five minutes and then pull the cord out and check out the difference. With the Fuchs amp this is not necessary – just switch the loop in and out to hear the difference. It should be noted that this loop is a pretty good sounding one. Sometimes there are applications where you are not using the loop and I recommend it to be bypassed.
Sound Off
Tonally I found the amp to be, first of all, very punchy. It has a strong power section, a lot of headroom and can be driven hard to become quite loud without going to pieces and becoming mushy on the low end. It has more than adequate gain, which is where I think it differs from a JCM800. I would say the Frost 100-1 can achieve about 20% more gain than a stock amp, which could eliminate the need for overdrive pedals.
The gain achieved is very tight and punchy. With medium output humbuckers, I found three o' clock to be great. The low end is tight and there is a pretty good supply of it, again more than any JCM800 would have. The high end is versatile and can easily be either tamed or adjusted to scream, whatever your tastes require. By choosing either the high or low input jacks, you can further manipulate the gain to your needs.
The amp cleans up fairly well when the guitar is turned down – remember, to achieve this, the master volume must be up to a decent level. The middle frequencies are wide ranging and will supply pretty much whatever you need. Take some time with this control, as it is sensitive and very active, but it's all in there. Remember that this does change, depending on the power tube type used.
Final Mojo
Overall, I found the Frost 100-1 to be of a good build quality. This amp would be a good fit for the professional guitarist who knows what he/she is looking for, in terms of tone, responsiveness, and feel. A pretty cool amp, this Frost.
Rating...
Tone...
 
Craftsmanship...
 
Features...
 
Value...
 
Overall...
 
---
Fuchs Audio Technology
MSRP $2495
357 Broad Street
Bloomfield, NJ 07003
973-680-1200
www.fuchsaudiotechnology.com
Our expert has stated their case, now we want to hear yours. Log on to premierguitar. com, click on "Forum" and share your comments and ratings.