Fuchs Frost 100-1 Amplifier
The Fuchs Frost 100 is one of the latest offerings from amp wizard Andy Fuchs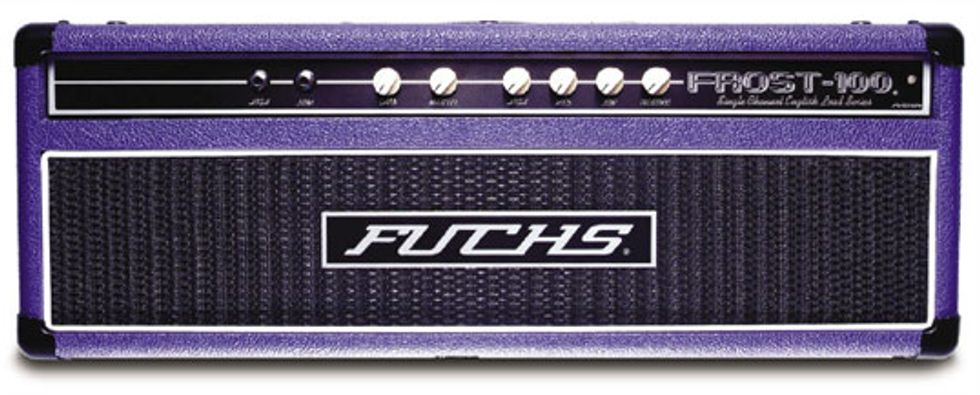 The Fuchs Frost 100 is one of the latest offerings from amp wizard, Andy Fuchs. He has been responsible for some of the coolest (no pun intended) amps to come along lately. Available in single or dual channel models, the Frost was designed in cooperation with metal guitarist Jack Frost (Seven Witches, Savatage, Bronx Casket Company). This month, we'll be putting the single-channel Frost 100 through its paces.
---
Face First
This purple-covered beauty was originally described to me by a fellow player as a JCM800 Marshall on steroids. The front panel of the Frost reflects this, with its control layout consisting of Presence, Lows, Mids, Highs, Master Volume and Gain. It's a no-frills, no bells and whistles amp, designed simply for the production of tone.
Visually, one of the first things I noticed – besides the purple tolex, of course – was the use of an LED as a pilot light. It's bright, won't burn out and doesn't draw much current. A cool idea indeed! Speaking of cooling, the amp does have a small internal fan keeping the tubes frosty, which is something that I think pays big dividends in tube life.
These types of amps usually run a bit higher plate voltages and push things harder in order to get their unique sound, so I see the cooling as a worthwhile function.
---
"Tonally I found the amp to be, first of all, very punchy. It has a strong power section, a lot of headroom and can be driven hard to become quite loud without going to pieces and becoming mushy on the low end"
---
Power Up
The Frost 100-1 harnesses a quartet of Tung-Sol 6550s and the usual three 12AX7 tubes for the preamp and phase inverter. Because of the construction and design attributes of this amp, I noted that there was not even a hint of microphonics in any tube, which is a bit surprising given some of today's tubes.
On a bit of a side note, for a while in the '70s and '80s, Merson, who distributed Marshall in the United States, felt that the EL34s they were furnishing with their amps (Mallard manufactured) were responsible for excessive warranty problems, so they decided to switch to 6550 tubes.
6550 tubes do produce more low end, mids and result in slightly raspier highs compared to their EL34 counterparts – many people using the 6550s then switched back. I asked Andy Fuchs if EL34s would be available in this model by request and he said that was no problem. The choice of which tubes to use defaults to the player; I think the newer players may in fact prefer the 6550s, while older school blues guys and classic rock guys may like the EL34s.
The rear panel of the Frost 100-1 has output jacks to accommodate the various impedance needs of the player. I personally prefer this to rotary switches, because of the possibility of switch failure, which could cause problems. There is an effect loop, which will handle different levels of effects, from pedals to rack mounted line level effects. Also on the rear panel is the loop bypass switch. This is one of my favorite features for effects loops; when a loop is engaged, there is a bit of difference in the tone caused by the different amounts of signal getting through to the power amp. This may range from subtle to major. I always tell my clients to plug a short cord between the in and out of loops and play for five minutes and then pull the cord out and check out the difference. With the Fuchs amp this is not necessary – just switch the loop in and out to hear the difference. It should be noted that this loop is a pretty good sounding one. Sometimes there are applications where you are not using the loop and I recommend it to be bypassed.
Sound Off
Tonally I found the amp to be, first of all, very punchy. It has a strong power section, a lot of headroom and can be driven hard to become quite loud without going to pieces and becoming mushy on the low end. It has more than adequate gain, which is where I think it differs from a JCM800. I would say the Frost 100-1 can achieve about 20% more gain than a stock amp, which could eliminate the need for overdrive pedals.
The gain achieved is very tight and punchy. With medium output humbuckers, I found three o' clock to be great. The low end is tight and there is a pretty good supply of it, again more than any JCM800 would have. The high end is versatile and can easily be either tamed or adjusted to scream, whatever your tastes require. By choosing either the high or low input jacks, you can further manipulate the gain to your needs.
The amp cleans up fairly well when the guitar is turned down – remember, to achieve this, the master volume must be up to a decent level. The middle frequencies are wide ranging and will supply pretty much whatever you need. Take some time with this control, as it is sensitive and very active, but it's all in there. Remember that this does change, depending on the power tube type used.
Final Mojo
Overall, I found the Frost 100-1 to be of a good build quality. This amp would be a good fit for the professional guitarist who knows what he/she is looking for, in terms of tone, responsiveness, and feel. A pretty cool amp, this Frost.
Rating...
Tone...
 
Craftsmanship...
 
Features...
 
Value...
 
Overall...
 
---
Fuchs Audio Technology
MSRP $2495
357 Broad Street
Bloomfield, NJ 07003
973-680-1200
www.fuchsaudiotechnology.com
Our expert has stated their case, now we want to hear yours. Log on to premierguitar. com, click on "Forum" and share your comments and ratings.