A fresh take on a classic bass design with a solid build, quality components, and relative affordability.
Joe Zon has always had a reputation for building top-quality guitars. But the quality and design ingenuity typical in his instruments doesn't come cheap. And a lot of folks admire Zon basses from a distance—typically in the "just can't swing it" camp.
Most of Zon's instruments are less traditional, but recently, the company released a series of Chinese-built, J-bass-inspired instruments under the Mosaic Mojo name that gives players a crack at a Zon bass for under a grand. Here, we take a P/J-pickup-configured Mosaic Mojo for a spin.
Got My Mojo Working
The ice-blue finish on the Mojo's alder body and headstock is a thing of beauty. I almost always favor a natural finish over paint, but the blue hue on this instrument just looked so right. It's also available in black, white, and red, and there's an available upgrade to an ash body ($200) that offers the choice between a natural-gloss or sunburst finish.
Mosaic Mojos go through a meticulous inspection and setup when they arrive at Zon's shop in California, including Plek'ing and handpolishing the frets. Even after logging some serious miles in transit, the action and feel was spot-on. Fretwork was excellent too, and there wasn't a hint of a sharp edge.
The 24-fret, 3-piece, bolt-on maple neck is topped with a rosewood fretboard and dressed with classic clay dots for position markers. Up past the 1 9/16" graphite nut, the 2-on-a-side, Gotoh-style tuners feel solid and, with their unique, offset placement, look cool on the tilt-back headstock (no string tree needed here).
I was nothing less than impressed with how nice the satin-finished neck felt under hand.

Though the headstock deviates from J-bass-style convention, the curvaceous body looks and feels as familiar as can be, with its chrome control plate, a Fender-style machined-brass bridge, and a set of three knurled-chrome knobs wired for master volume/blend/tone.
The pair of Aguilar passive pickups includes a hum-cancelling 4P/J-HC in the bridge and a 4P-60 P-bass-style pup in the neck position. (The Mosaic Mojo is available in P/J active, J/J active, or a J/J passive configuration as well, so there is something for everyone.)
At just 8 pounds, the 34"-scale Mosaic Mojo is pretty svelte, which enhances the overall sense of comfort when you play it. The satin-finished neck feels wicked-fast, buttery smooth, and effortless.
Say Hey P and J
To get acquainted with the Zon, I fired up a Gallien-Krueger 800RB head pushing a TC Electronic RS410 cab, plugged in, and set the amp's EQ dials flat. I turned the Mojo's volume and tone knobs all the way up and set the blend dial to favor only the neck pickup.
Aguilar designed the Mosaic Mojo's alnico 5 P-bass-style pickup after closely studying the pickups from a pair of early '60s Precisions. Little surprise then that I was greeted with a recognizable, mellow and clear P-bass sound full of vintage-y warmth, big bottom end, and round high-mids. Whether plectrum picking through rock riffs, or fingerpicking blues lines or country shuffles, the Mosaic Mojo delivered much of the same warm, woody tone that has makes the P-bass such a chameleonic instrument.
Ratings
Pros:
Fantastic neck and fretwork, and a very nice pair of pickups.
Cons:
In a crowded category, the price could scare some off.
Tones:


Playability:


Build/Design:


Value:


Street:
$899
Zon Mosaic PJ Passive
zonguitars.com
Dialing down the blend knob close to halfway (favoring the split-coil) for a 60/40 split between the pickups coaxed definition, and crisp attack from the output, while still maintaining bottom end and volume. By rolling the tone knob down to about 75 percent, I got in a tone space where finger pulling melodic-jazz chords or digging in hard with a pick for fast and furious metal was equally natural.
Like many, I rarely rely on a bridge pickup alone. Still, I rolled the blender all the way back to disengage the neck pup and check it out by itself. Predictably, the tone thinned out and I perceived a volume drop compared to the soloed neck pickup. Hum was not an issue at all, however, and the resulting burpy tones are great for funky textures.
For the most part, however, I favored the neck pickup, blending in just a touch of spice from the bridge, and diming the tone control. The resulting fat, full, defined and punchy goodness is something the Mosaic Mojo PJ delivers with ease.
The Verdict
Zon's new take on the tried-and-true J-bass is ready to go to work right out of the case. Yes, $899 is not chump change, and borders on pricey compared to other imported J basses or J-style basses out there. But the Zon's neck is one of the nicest I've handled in recent memory. And when you also consider the quality components, attention to build detail, and available tones, the Mosaic Mojo is a solid value that can return your investment in reliable, versatile, sweet sounding performance.
A surprisingly honest depiction of the blues legend's rise to glory, including his troubled years and his journey back from the edge.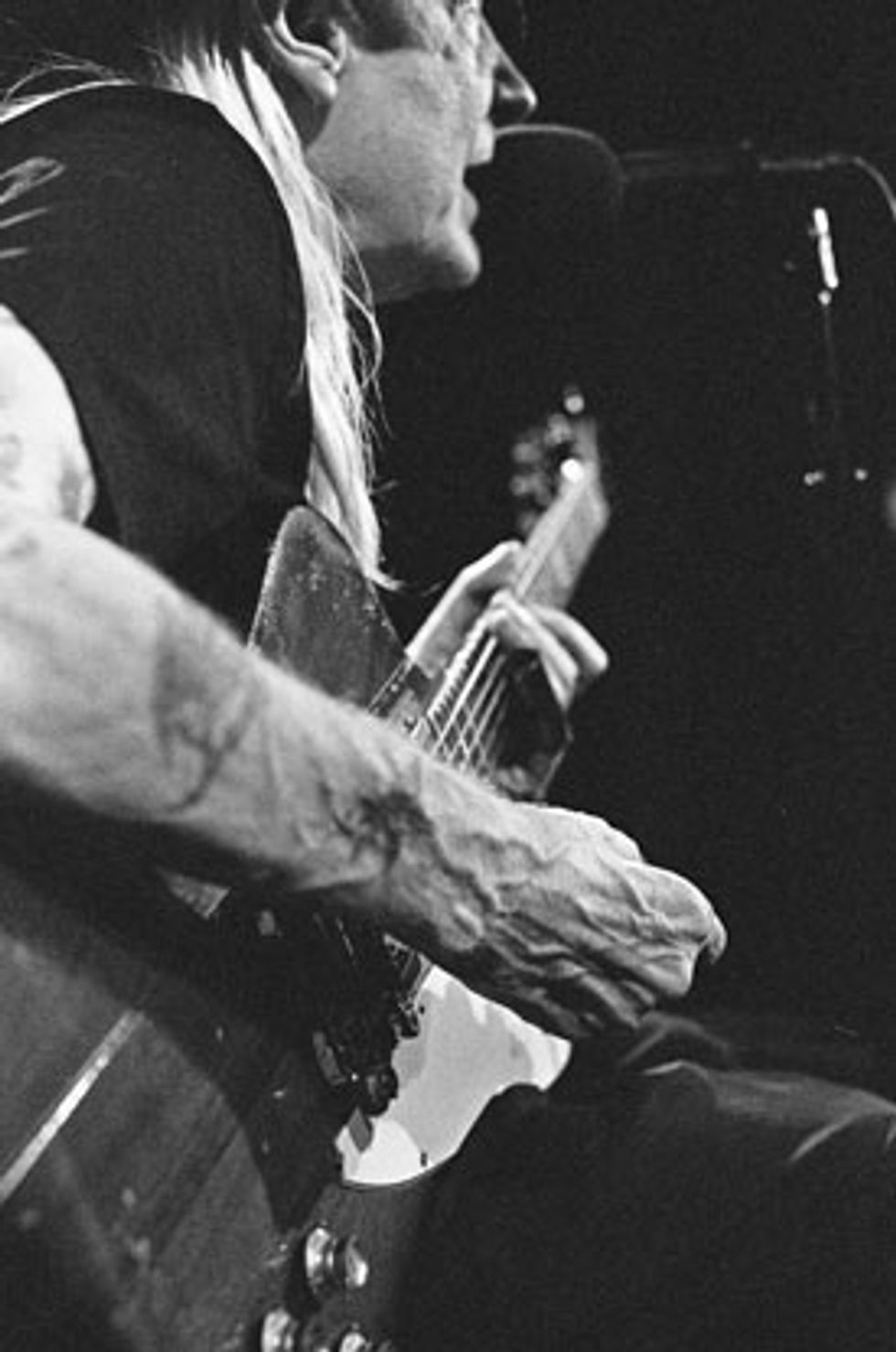 MOVIE
Johnny Winter: Down and Dirty
Secret Weapon Films

Johnny Winter has lived pretty much all of the stereotypical elements of a hard-living elder statesman of the blues—including bouts with drugs, bad management, and sometimes surprisingly subpar performances. However, Winter, now 70, still has undeniable spirit. Even if he'd hung up his Firebird decades ago, his career would be hall of fame-worthy. And in Down and Dirty, Winter's story gets its due through his own words and those who helped him through his darkest times.
Director Greg Olliver follows Winter and his crew from the swamps of Florida to the concert halls of Hong Kong in a quest to document his origins, where he is now, and the most important steps in between. The movie isn't a strict chronological journey of Winter's history, but nearly every era of his life is touched upon—the good and the bad.
The '90s were an especially bad decade for Winter, and here Olliver pulls no punches. Guitarist Warren Haynes tells us of a rehearsal for a 1990 John Lee Hooker tribute where Winter was so "out of it" that he knew something was wrong. And archival footage from a 1998 SXSW performance shows Winter wobbling back and forth, barely holding things together as he goes through the motions. Winter admits his embarrassment about this period, speaking openly and candidly about it.
According to the film, Winter's condition during this period was due to his then-manager encouraging him to rely on antidepressants that adversely affected his creativity. Down and Dirty contends that once Paul Nelson, guitarist in Winter's band, took over management duties, the legend began his trek back from the chemically induced haze.
When the topic of Muddy Waters comes up, Winter is visibly touched by the memory of his mentor. "I finally felt I was doing what I really wanted to do," says Winter about the time he spent playing with and producing the Chicago blues legend. Though Waters passed away over 30 years ago, the pain is still on the surface for Winter. "He called me his son. We were very close."
But it's not all tragedy—not by a long shot. The film captures everything from Winter's soulful rendition of Ray Charles' "Georgia on My Mind" in a sushi/karaoke bar to the quiet moments before he goes on stage. We see how today Winter struggles with OCD, but still manages to function quite well for a man of his age and history.
One of the most poignant moments comes when Winter puts his Robert Johnson King of the Delta Blues Singers LP on his turntable, listens to "Crossroads," and describes how much he learned from it—and how Cream's version "wasn't near as good." Yes, Winter is as outspoken as ever. Though his fretboard pyrotechnics have faded a bit, the fire still burns bright.
Watch the trailer:
What's the only contact point on a bass that affects all notes? Let's investigate the implications.

Photo by Frank Behnsen.
The one part of our beloved bass that has seen the most design changes over time is the bridge. Unlike the nut, which only influences the tone of open strings, the bridge is the sole contact point that affects all notes. That's a significant role for any piece of hardware. To understand what to expect from a modern bridge, let's investigate different bridge concepts and look at how bridge design has evolved over time.
When you compare a 1951 Precision bass bridge (Photo 1) to a modern design, you find the same pattern of change that has impacted many other bass components. Even a quick glance at today's instruments reveals the enhanced role bassists play in modern music. That said, the first P-bass bridge offered a huge amount of adjustability—string height and intonation—compared to the bridge on an upright bass. Of course, acoustic instruments require different construction because you want to avoid heavy metal parts weighing down those light, resonant tops. That's why light, simple bridges are still found on the most acoustic basses. Weight can also be critical for most hollowbody electrics.
But there's no need to save weight on a solidbody, at least from a sonic perspective. This explains why the very first fretted electric bass (the 1933 Audiovox Model #736 Bass Fiddle created by Paul H. Tutmarc) had a non-adjustable metal bridge.
Height and length adjustments for each string are all you need to set intonation and action, yet the option of moving strings sideways to alter their spacing is intriguing.

Later, many manufacturers—and by extension, bassists—promoted high-mass bridges for better low end and increased adjustability. Gibson bass bridges are a good example of this trend, starting with the EB-1 in 1953 and leading to the early '80s Grabber. This evolution started with a simple bar bridge with height adjustment at each side and rough intonation adjustment via two small hex screws. The 1960 Thunderbird bridge was Gibson's first to offer individual string intonation. The 1981 Victory bass came with the Tri-4 Wedge bridge, Gibson's first with 3D adjustability (forward and backward, up and down, and left and right).
Height and length adjustments for each string are all you need to set intonation and action, yet the option of moving strings sideways to alter their spacing is intriguing. In theory, you have the ability to choose between two possible spacing schemes: equal distances (center-to-center) or equal gaps between the strings. As flexible as this may sound, I doubt many players take advantage of it.
Today we see a huge array of bridge designs. While most offer the same functionality, their usability varies. Did you take a close look at the bridge when you bought your most recent bass? I've rarely seen anyone fiddle with the setup possibilities in a music store before buying an instrument. And that's understandable, given that the average user doesn't constantly readjust the bridge. Still, a less sophisticated bridge design can present unfortunate surprises. Example: Breaking a string onstage is bad enough, but losing loose parts is worse. Also, a good design lets you access all adjustments with minimal tools. A small Allen wrench fits in every pocket. Having to carry several sizes plus a screwdriver is less handy.

Photo courtesy ETS Hardware (ets-hardware.com)
A few more issues to ponder: A locked saddle can be prone to changes caused by vibration—something we hopefully have a lot of. Separate locks for each saddle can save you from accidentally altering others. Some designs use fewer screws for a cleaner look, but then mix a screw's functionality. This can lead to a situation where adjusting height also affects intonation. A sharply angled string (as seen on many string-through-body models) puts so much pressure on the saddle that you must completely loosen the string before adjusting anything. Tune back to pitch, check your adjustment, loosen the string again, make another adjustment ... well, you get the idea.
Carefully examining the bridge before you purchase your next bass can ultimately save you a lot of time and let you focus on playing. Could this be why so many players remain satisfied with the simple Fender bridge design, which gives you access to all functions and just works?
There's more to this story, especially when it comes to bridges on extended-range instruments (Photo 2). It's worth taking a look at the ideas behind these special constructions—and that's what we'll do next time.