The little brother in the Fender solidbody line impresses with chiming tones and silky smooth playability.
 

Ratings

Pros:

Zingy, even, and articulate pickups. Slinky playability. Vibrato is relatively tuning-stable.

Cons:

Pickups may sound comparatively flat for fans of vintage Fender voices. Three-way switch positioned inconveniently for aggressive strumming.

Street:

$1,099

Fender American Performer Mustangfender.com

Tones:Playability:Build/Design:Value:
You have to admire the plucky little Mustang. Since 1964, it's lived and toiled in the shadows of legendary big brothers—often dismissed by "serious" players as the guitar equivalent of training wheels. But with the electric guitar cosmos expanding beyond established musical constraints (and stale ideas about what makes a great electric guitar), the case for the clear ringing tones and playability of the Mustang is stronger than ever.
Apart from a gap in Fender's 1980s transitionary years, the Mustang remained in near-constant production from 1964. And though trad rockers never had much time for the model, Kurt Cobain, Sonic Youth, Mudhoney, and Ty Segall, among many others, managed to make fantastically powerful, even revolutionary, music with the Mustang.
The new American Performer Mustang is the first U.S.-built production-line Mustang since 1982. It's also one of the most refined Mustangs yet. Much of the refinement is down to the new Tim Shaw-designed Yosemite alnico II and IV pickups and a more stable version of the idiosyncratic Fender Dynamic Tremolo. But both improvements address old design shortcomings and play to the Mustang's inherent strengths. Not coincidentally, perhaps, they're also potential assets to pedal-crazed contemporary players.
The Compact Contrarian
So much is made of the Mustang's student model status and its associations with musical contrarians that the beauty and inspiration in its design are often overlooked. While it may not have the svelte lines of a Stratocaster or the perfect simplicity of a Telecaster, it's beautifully proportioned—a surprisingly tricky feat when designing a small-bodied guitar.
Those proportions aren't just aesthetically pleasing. They also translate to a very comfortable, light, and well-balanced instrument that I happily sat with for hours. Such extension-of-the-body comfort underscores the fact that the Mustang is an ideal instrument for players of small stature or with smaller hands. That said, it certainly doesn't feel like a student model when you play. The 24" scale makes super-expressive string bending a breeze (particularly with the .009 string set that the guitar shipped with). And I felt no less "pro" indulging in the deep quasi-raga- and Richard Thompson-style bends the short scale enables and encourages. Chords, too, are a pleasure on the 24" scale neck. And while I'm sure that players with extra-large paws could find the Mustang's neck cramped, I think most will find the ease with which one can execute extended chord shapes creatively intriguing.
The comfort of the shorter neck is enhanced in the American Performer Mustang's case by Fender's Modern C profile, jumbo frets, and the 9.5" fretboard radius. On most Fenders, I strongly prefer a vintage-style 7.25" radius and smaller, vintage spec frets. On the Mustang, however, the new combination really works—adding a welcome sense of stability, smoothness, and heft.
The 24" scale makes super-expressive string bending a breeze.
If there's one drawback in this recipe, it's the jumbo frets, which can pull intonation sharp if you have a heavy fret-hand grip. Less experienced players still trying to find their ideal fret set-up should definitely spend some time with the Mustang to figure out how fat frets fit into their own style. The factory set-up, by the way, was excellent. Intonation was spot-on. And though the action was just a tiny bit high for my taste, lowering the bridge with a half turn on each of the mounting posts put the guitar more squarely in my comfort zone.
The improved Dynamic Vibrato remains quirky as ever, and a ton of fun. It's a bouncy, twitchy, sometimes hyper-responsive unit with a fast pitch-shift taper that feels less elastic than a Stratocaster or Jazzmaster vibrato. It sits high above the body and, in general, it requires a subtle touch. But mastering that touch yields truly unusual vibrato textures that are more satisfying for the new unit's enhanced tuning stability.
Oxygenated Output
Compared to other Fenders, the Mustang's voices and output are relatively subdued. It doesn't have a Telecaster's bite, a Jaguar's spiky-to-bell-like attack, or the full-spectrum breadth or volume of a Jazzmaster. But for many applications the Mustang's output is arguably a more versatile blank slate.
In the new Yosemite pickup configuration, the Mustang uses alnico 2 magnets in the bridge and alnico 4 magnets in the neck. And both units exhibit classic characteristics associated with their respective magnet types. The bridge pickup is airy and even from the first to 6th string. It lacks some of the top-end spikiness you associate with Fender bridge pickups. But it is still bright, present, and full of air, striking a lively blend between a Stratocaster bridge unit and a Rickenbacker toaster-top. The more restrained and even output is a great match for overdrive pedals and time-based effects set for expansive sounds. And what you might lack in muscle up front, you gain in articulation and detail on the back end.
The alnico 4 neck unit, too, is articulate and responsive. It's much less smoky and less wooly in the bass frequencies than a lot of Fender neck pickups. And you certainly won't mistake the Mustang for an ES-335 in a mix. But it's ideal for suggesting jazzy mellowness in chords and lead lines without retreating metaphorically into some dank Greenwich Village basement. Combined pickup settings, again, suggest a cool cross of Fender zing and toaster-top atmosphere—an awesome combination in my book. And in every setting the pickups are very quiet for single-coils.
The Verdict
The Mustang's many virtues—comfort and balance, airy, open, and chiming tones—reveal it to be a guitar of many possibilities. The build quality is excellent. The playability and compact dimensions make the guitar positively inviting to hold and play. And while the even tonalities of the Yosemite pickups may not satisfy Fenderphiles that prefer the rowdier side of the single-coil spectrum, they are a thoughtfully voiced set that provoke creative interaction with the guitar—especially when you have a lot of atmospheric effects in your line.
Learn the history—and hype—behind the flagship guitar of the Cipher line.
I began playing guitar in the fifth grade. For many years I never thought about the history of the guitars I loved, but that all changed in my late teens when I came across this crazy Inter-Mark Cipher guitar (Photo 1). So many switches, knobs, and pickups—everything I love. The unusual wording on its neckplate (Photo 2) was the match that lit my burn to learn about guitar production. It reads:
Detachable
Adjustable
Warp Proof
Steel Reinforced Neck
Handsomely Sculptured Cutout
No one seemed to know who made Inter-Mark guitars, and that really bugged me, so I realized I'd have to be the guy to figure it all out. I started with the Inter-Mark company, which was located at 29 West 36th Street in New York City. Back in the day, Inter-Mark specialized in importing Japanese merchandise—mostly tape recorders and electronics. Searching out old advertisements, I found the hype was out of control. (Of course, this was true of many companies back then.) Take this introduction to their guitar catalog:
The Valor borrowed heavily from Italian Eko guitars from the era, complete with accordion-style push-button switching and the Eko tremolo.
CIPHER. What's in a name? Plenty … if it's CIPHER.
CIPHER doesn't break your wallet into little pieces while giving you peak performance.
Cipher? Well, that was simply the Inter-Mark brand name that appeared on most of their imported products. In the mid '60s, Inter-Mark began importing some really intriguing guitars carrying that Cipher name. Perusing an old, original Cipher catalog, I finally discovered I owned a 4-pickup Valor. And there was even more sensationalistic ad writing:
MMM ... is for the magnificence of CIPHER sound. Cipher's standout beauty is achieved by the use of natural laminated choice Birch wood. The bodies have multiple coats of quality enamel plus a beautiful protective guard and satin finished metal decoration for added luxury. The Cipher taper-thin, jet-quick neck has a brass rod reinforcement to insure warp-proofing. Designed and Engineered in AMERICA, CIPHER instruments are precision built by one of the world's leading industrial giants—JAPAN. CIPHER products are put thru Rigid, Exacting Tests here in AMERICA at CIPHER'S test/research facilities in New York City.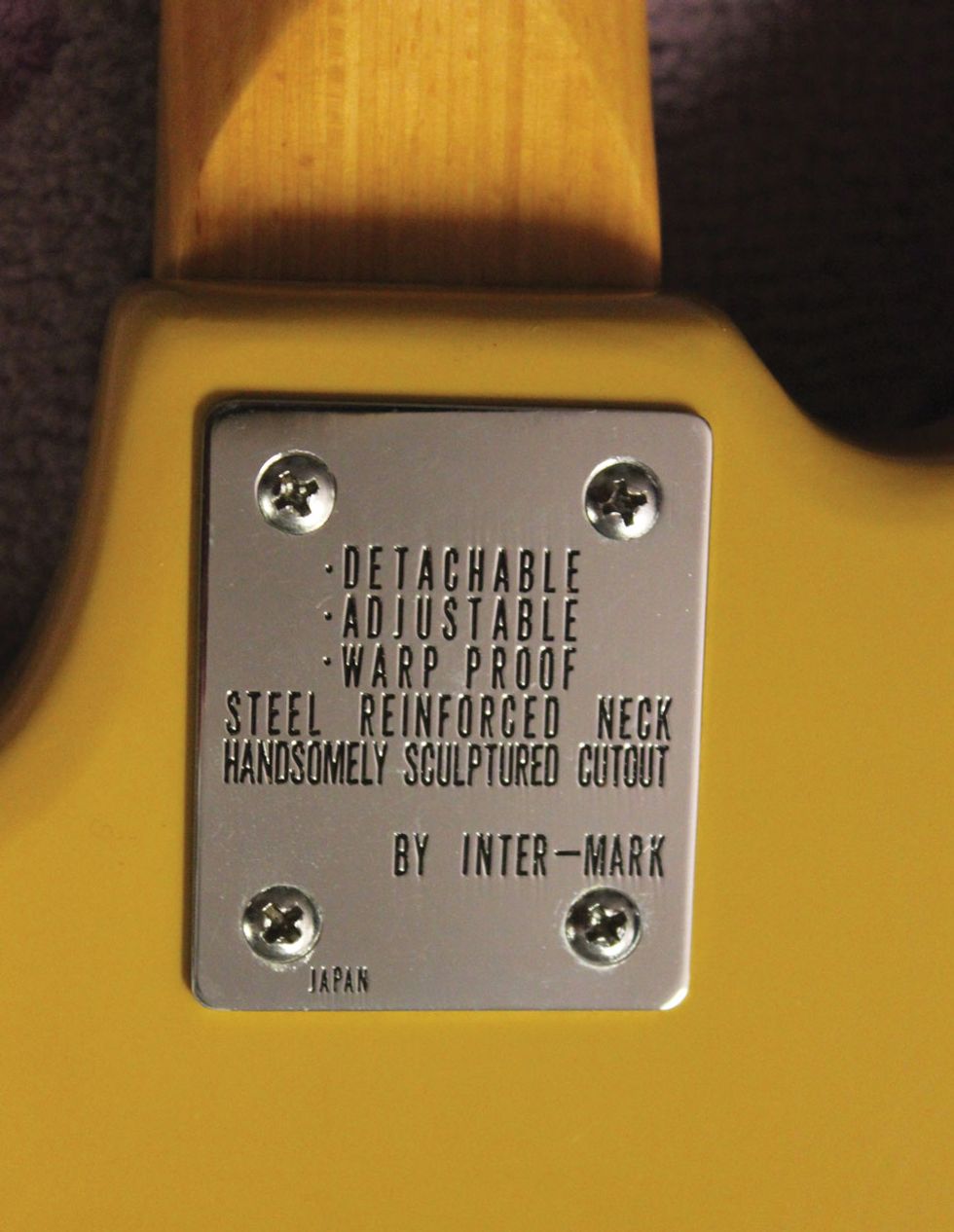 Now, I don't know how much the good folks at Inter-Mark "designed and engineered," or even viewedthese guitars, but I do know the company only sold the Cipher guitar line for about two years. Several sources tell me these guitars were available through the old Columbia Records catalogs, which wouldn't surprise me, because guitars and record stores make a perfect union for lifting money out of kids' pockets.
All the Cipher guitars were built by a fine factory called Shinko Gakki, which was located in the beautiful area of Tatsuno, Japan. A long-standing maker of musical instruments, Shinko Gakki aimed to make a splash with their electric guitar line. Unfortunately, the company went bankrupt after roughly three years of electric guitar production, so all we have left are the fascinating remnants of Shinko's ambitions.
The Valor, along with most other Shinko Gakki guitars, is made rather well. Shinko was the first Japanese company to use a laminate construction for necks, and the instruments had quality wood and electronics. The Valor borrowed heavily from Italian Eko guitars from the era, complete with accordion-style push-button switching and the Eko tremolo. When it came to vintage electrics, Inter-Mark guitars were among my first obsessions. (At one time, I had over 40 different models, though now I'm down to three.) And to think, it all started with a crazy tagline on a neckplate.
See and hear this 1965 Inter-mark Cipher Valor demoed by Mike Dugan:
Filthy delays—when regular analog dirt just won't do.
Samples recorded using a Ron Thorn SoCal S/S guitar with TV Jones Classics (aka Filter'Tron) pickups, into the clean channel of a Friedman Small Box head and 2x12 cab.
The first section repeats the same phrase four times, using the both-pickups setting on the guitar, first with the Dirty Delay off, then on with Dirt knob at minimum, then Dirt knob 50%, then Dirt knob 100%.
The second passage (at 0:53) is on the guitar's neck pickup, with more moderate Time, Reps and Blend settings, and 0% Dirt.
The third passage (at 1:26) is on the guitar's bridge pickup, with the Dirty Delay set for slapback, and about 40% on the Dirt knob.
 

Ratings

Pros:

Characterful analog delay cleverly designed to enhance the distortion inherent in classic tape echoes. Well built and simple to use.

Cons:

Less dirt at lowest settings would expand potential. Advanced dirt knob settings get hairy fast.

Street:

$199

Daredevil Bootleg Dirty Delaydaredevilpedals.com

Tones:Ease of Use:Build/Design:Value:
One of the real peculiarities of electric guitar tone is that a little distortion sounds good with just about anything. Certain playing styles and musical genres just don't even work without some distortion coming from the amplifier. Similarly, many guitarists hooked on delay just can't dig in quite right without a little analog fur hanging on the tail of each note.
Enter the Bootleg Dirty Delay, made by Daredevil Pedals of Chicago, Illinois. This digital pedal replicates the distortion inherent in analog delays, then emphasizes and enhances it by intentionally adding extra (and adjustable) dirt to the brew. In doing so, it suggests the preamp drive and tape distortion of old-school tape echoes, and the extra drive from analog units like the Deluxe Memory Man, while adding new twists and extra aggression in a compact easy-to-use pedal.
Repeat Offender
The Bootleg Dirty Delay is housed in a die-cast aluminum pedal box and loaded with familiar, requisite functions for any basic analog delay. Blend (aka mix), reps (repeats), and time (delay time) do exactly what you'd expect. The dirt control, however, adds extra gain to the repeats as you turn it up. There is another important difference between the Dirty Delay and most tape and analog delays: Decays become brighter as they tail off—the opposite of most tape and analog units (and their digital emulations, for that matter). Maximum delay time is 560 ms, which is in the ballpark with the Maestro EP-3 Echoplex and most classic bucket-brigade delays like the Boss DM-2 and MXR Analog Delay. And while a little over half a second might not sound like a lot by modern digital delay standards, it's plenty for long, atmospheric echoes.
In addition to its standard mono input and output, the Bootleg also has a 1/4" jack to connect an external momentary pedal for tap-tempo selection. The 2.1 mm center-negative connection for an external power supply (not included) accepts 9V DC supplies only. No internal battery connection is available.
Inside the pedal, neatly handwired connections are made on a tidy, through-hole PCB that's home to all circuit components, including the Princeton 2399 IC responsible for the pedal's sweet, dirty, tape-like sound.
While it can perform a lot like a traditional semi-dirty analog delay pedal, it ultimately reveals itself as a very different creative tool than the average analog delay.
Dirty Dancing
I tested the Dirty Delay with a tweed Deluxe-style combo and a Friedman Small Box head and 2x12 cab, using a Gibson Les Paul Reissue and a Thorn SoCal S/S with TV Jones Classics. With each combination, the Bootleg Dirty Delay delivered mightily on its promise of crud-encrusted echo. And while it can perform a lot like a traditional semi-dirty analog delay pedal, it ultimately reveals itself as a very different creative tool compared to the average analog delay.
To be clear, there's always at least a little distortion on the repeats from this unit. But rolling up the dirt control adds a lot of fuzzy, gritty character that's bold and very apparent in the repeats and remains evident at high rep and blend settings. The dry signal, meanwhile, stays clean and unsullied.
I found the Bootleg particularly adept at enabling nasty rockabilly riffage, lending the edge of a half-busted Echoplex or a voltage-starved EchoSonic to everything it touched. Psychobilly, here we come! Longer delays also benefited from judicially enhanced echoes, which spiced up rhythmic Edge-like dyads (thickened with just a little dollop from the dirt knob) and propelled gnarled long-delay excursions.
Though musical, the Bootleg Dirty Delay isn't exactly subtle. Guitarists who only need the usual little bit of analog distortion inherent in traditional tape and bucket brigade delays might find there's too much extra distortion even at the slightest dirt settings. Curious texturalists, noise-crafters, and other delay fanatics, however, will likely enjoy exploring these more unusual textures.
The Verdict
If you're the breed of delay fan that feels like you're not reallyhearing echo unless there's dirt on it, the Bootleg is a pedal well worth checking out. It's a clever and compact design with just enough features to get the job done and no excess clutter. It's also built robustly enough to stand the kind of abuse I suspect many distorted echo fans tend to dish out.
Watch the First Look: